This is Dr. James David Manning.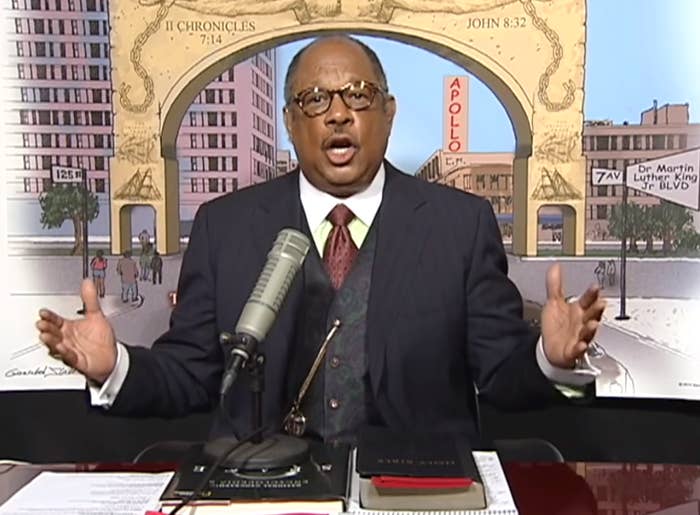 Manning is the chief pastor of Atlah Worldwide Missionary Church in Harlem, New York. Outside, he maintains a sign with messages about gay people and other issues. Some are like this.
But Manning may lose the building. Court records show a judge ordered Atlah church to be sold in a public foreclosure auction after failing to pay more than $1.02 million to creditors, DNAinfo reported last week.
Now, one group ready to head to that auction is the Ali Forney Center, a nonprofit organization that provides shelter and services to homeless LGBT youth.
Last Friday, the center began a fundraising drive to buy the property.
Carl Siciliano, executive director, told BuzzFeed News on Wednesday the group has already raised $150,000 to buy the building after being encouraged by neighbors.
The facility would house 18-20 young LGBT people, making a dent in the waiting list of 200 homeless LGBT youth currently on NYC streets.

But Manning made a YouTube video this week responding to "our enemies."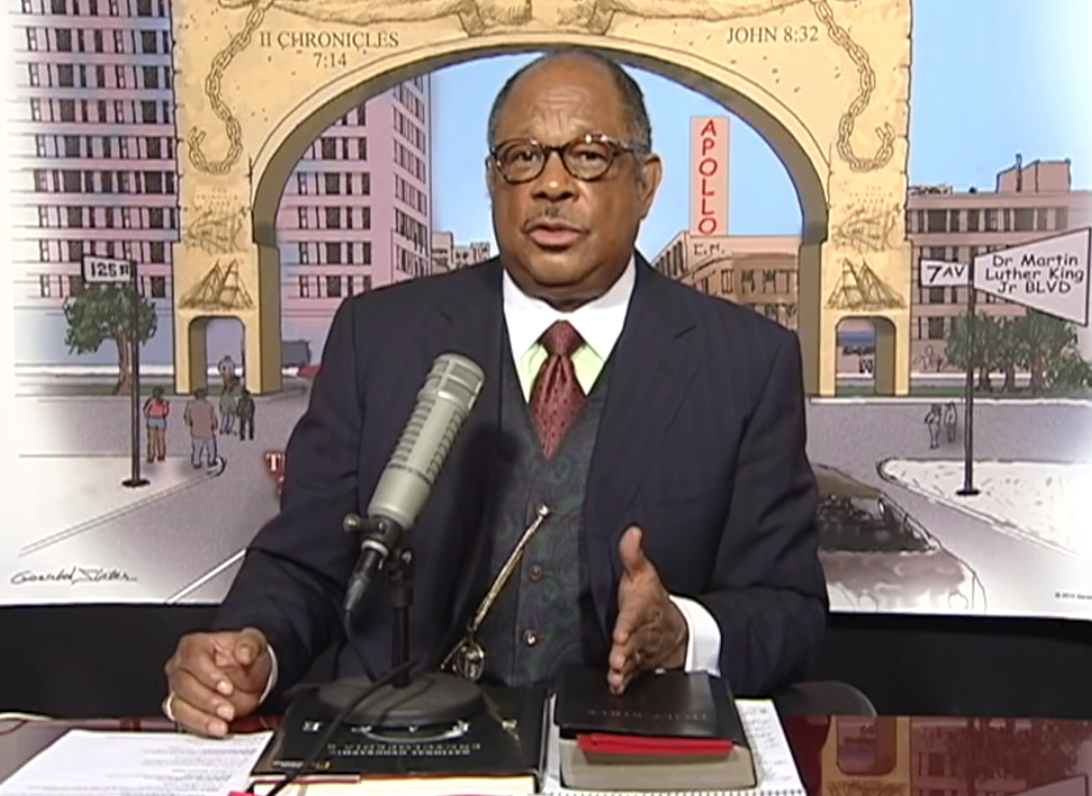 "I'll share this with you, all the sodomites that think you are going to purchase this church in a foreclosure sale," he warned. "This is the lord's house! This ain't no damn bathhouse! It ain't no fag house!"
Manning then got graphic. (Warning: this rant is not for the faint.)

"Men who are fags with testicles will be carrying babies in their testicles and giving birth to them through their anus," he expounded. "That's how impossible it is for you to get this house. When you start carrying a baby in your bags and birthing that baby through your ass, then you can own this house! But until I see you pull a baby out your ass, you ain't gonna pull this church out from underneath us."
"Boom shaka-laka goes right there!" he concluded. "And all you fags can go to hell!"

Reached by phone, Manning told BuzzFeed News he doesn't think the building will ever go to auction.
The debt in dispute is for a water bill, he said, which he argued the church doesn't owe because churches are exempt from such bills. He said the disputed debt has been smoldering for 16 years, and now, "the sodomites have resurrected the issue for a quick land grab."

As for his signs, Manning declared, "I have spoken only what the Bible says."

As for a sign that said, "Jesus would stone homos," Manning cited a chapter of the Bible in which Jesus said he would fulfill the law.
Asked about a sign that read, "many of the homos moving in Harlem looking for some black meat," Manning conceded, "Homos moving to Harlem for black meat isn't in the Bible, but people go to bars looking for sex. We can use expressions of cultural reality."
Manning said he plans to show in court later this month that he doesn't owe the money.
"I have been accused of using hate speech, and I don't necessarily think it is," he continued. "Just because some people enjoy these lurid, evil sexual practices, they think can force this on the rest of the world. They are trying to smear me, to make me look like an awful person."

But Siciliano said Manning's signs are especially hurtful to homeless LGBT youth who have been rejected by religious families.
"What he his saying in these signs is what they were hearing in their homes," Siciliano said. "For them to see the broader LGBT community stand together and stand in opposition, it would be a triumph of love and compassion over the hatred that has shaped so many of their lives."
If Ali Forney Center prevails, they said they're looking forward to removing the sign.
"If we get the building," Siciliano said, "I would love to have a ceremony — that sign has been insulting and inciting hatred and violence for so long, I would love to have people to gather and take the damn thing down."