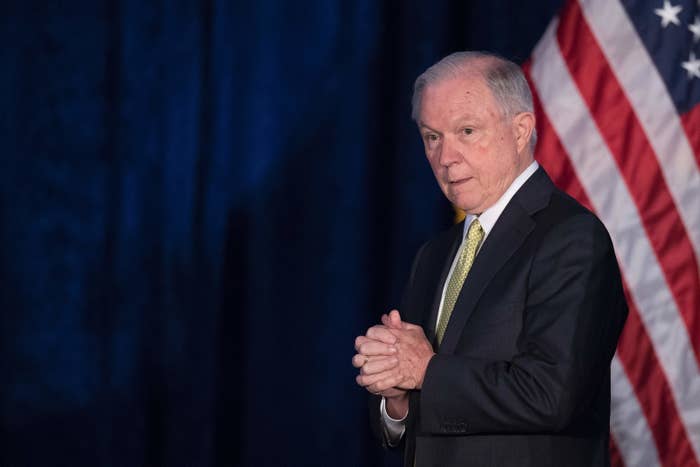 The Justice Department could weigh in on a major gay-rights case before a federal appeals court ahead of a court-imposed deadline this week, either fortifying or resisting a legal argument that longstanding civil rights laws ban discrimination on the basis of sexual orientation.
Taking a stand against the gay plaintiff in the case would be an unusual step for the Justice Department, given that another federal agency dealing with civil rights enforcement in the workplace, the Equal Employment Opportunity Commission, supported the man last month in a court filing. And during the Obama years, the Justice Department took what some saw as the first step in arguing that gay people are protected under Title VII the Civil Rights Act of 1964.
Yet numerous activists in the LGBT legal community told BuzzFeed News rumors are flying the Trump administration will weigh in on this current case, partly because Attorney General Jeff Sessions has distanced himself from the previous administration's policies on LGBT rights and dropped lawsuits to protect transgender people.
A spokesperson for the Justice Department didn't reply to BuzzFeed News' request to comment on the lawsuit. The new administration, however, has already taken different positions in other instances from other federal agencies in court — facing off against the Consumer Financial Protection Bureau, for example.
The sexual orientation case, Zarda v. Altitude Express, is before the full US Court of Appeals for the Second Circuit for what is referred to as en banc review.
In 2010 Donald Zarda, a skydiving instructor, filed the suit against his employer in federal court in New York, alleging the company terminated him for his sexual orientation in violation of Title VII — which bans discrimination on the basis of sex.
After rulings in lower courts and appeals, the court set a July 26 deadline for amicus briefs against Zarda's argument at the 2nd Circuit.
A victory for Zarda, who died in a base-jumping accident in 2014, would set new precedent in the circuit by overturning two cases from the 2000s.
In recent years, federal courts have increasingly interpreted bans on sex discrimination to protect transgender people — saying gender identity discrimination is a form of sex discrimination.
And likewise, some courts have found that Title VII's ban on sex discrimination covers sexual orientation, too. In April, the Seventh Circuit Court of Appeals ruled in favor of a gay ban making that claim.
Any action by the Justice Department in Zarda's case could offer insight into Sessions' trajectory on this issue — whether he will support affirmatively interpreting existing civil rights laws to say they do, or don't, cover LGBT people.
James Esseks, the director of the American Civil Liberties Union's Lesbian Gay Bisexual Transgender & HIV Project, said the Justice Department stepping in "would be a gratuitous and extraordinary attack on LGBT people's civil rights. DOJ would be reaching out to offer its opinion on these issues, since they are not a party to this case."
"Fortunately," Esseks told BuzzFeed News, "whether the Civil Rights Act protects LGBT people is ultimately a question for the courts to resolve, and not for the Attorney General."
Shannon Minter, the legal director of the National Center for Lesbian Rights, downplayed the impact of the Justice Department arguing against gay rights in the case, "because any such shift would inevitably be viewed as political and, as such, would likely be given little if any weight by the courts."
Under former Attorney General Loretta Lynch, the Justice Department somewhat dialed back its argument that gay people weren't covered by Title VII. The government did not ask a judge to dismiss the case of Baldwin v. Foxx in 2016 — leaving the door open for the argument to proceed.
For this administration, Minter said, "Other than anti-gay bias, there is no reason to carve out that type of gender-based discrimination from Title VII's broad scope."