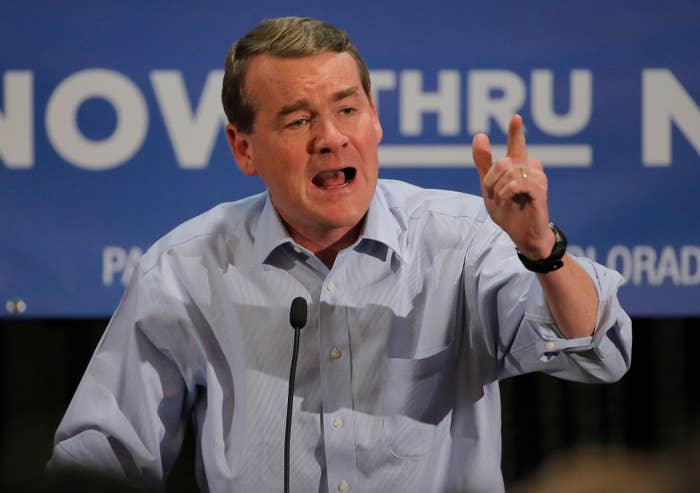 Sen. Michael Bennet, a Democrat from Colorado, where voters legalized marijuana in 2012, sent a vehement letter to the White House on Thursday that accused its new anti-marijuana committee of trying to skew data for "backward" political purposes and asked the administration to reverse course.
"I am deeply concerned by this intentional effort to mislead the American people," said Bennet, who noted the eight states with legalization laws are ready to work with the administration. "At a time when we should be investing in objective and peer-reviewed scientific research on marijuana and the effects of legalization, the White House is instead using taxpayer money to spread a politically-driven narrative."
BuzzFeed News first reported Wednesday on the existence of the Marijuana Policy Coordination Committee, a massive coalition of federal agencies assembled by the White House. Officials issued memos to 14 agencies and the Drug Enforcement Administration indicating it seeks to combat public support for cannabis and find problems with legalization measures. The memos sought solely negative information on the drug, in part to prepare a report for President Donald Trump, who has previously supported states' rights on marijuana.
In the letter to James Carroll, acting director of the White House's Office of National Drug Control Policy, Bennet cited BuzzFeed News' reporting, noting that one of the committee memos described trying to "turn the tide" on marijuana attitudes and saying officials wanted only "data demonstrating negative trends."
"The only way to 'turn the tide' on any issue with the public is to be a credible voice," the senator wrote. "By cherry-picking data to support pre-ordained and misinformed conclusions on marijuana, the Trump administration has further eroded any credibility it has on this issue."
The Trump administration has presented conflicting stances on marijuana. The White House at one point said more pot enforcement would be forthcoming in states with legalization laws, but Trump has never said he was on board with that agenda, and he announced in June that he "really" supports new bipartisan legislation in Congress that would let state marijuana legalization thrive.
Even absent that bill passing, its Republican coauthor, Colorado Sen. Cory Gardner, has said Trump gave him assurances that he wouldn't interfere with legalization in Colorado.
But the marijuana committee's work indicates pressures within the administration — from Trump or others — toward a hard-line, anti-pot approach that ignores the upsides of state legalization laws.
"Unfortunately, the Committee's work will further contribute to the Administration's incoherent and backward-looking policy on marijuana enforcement and regulation," Bennet wrote. "It is my hope that the Administration will re-consider its efforts to misuse data for political purposes rather than to support conclusions that are fully grounded in peer-reviewed science."
Bennet's office said it is awaiting a response from the White House and may request a meeting.