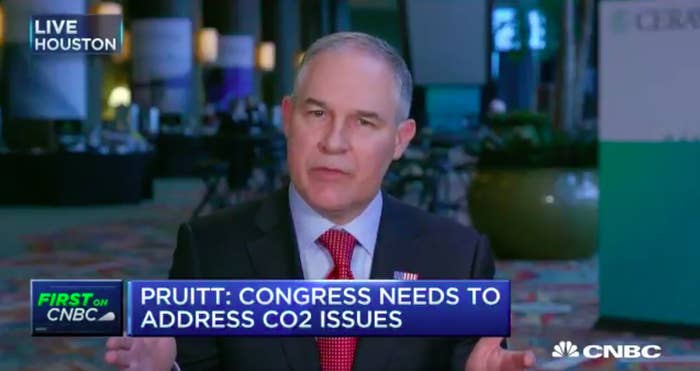 For the first time since being sworn in as the head of the nation's top environmental agency, Scott Pruitt has reiterated his doubts that human activity is driving global warming.
The new Environmental Protection Agency chief's doubt that the planet's temperatures has risen through the release of heat-trapping gases into the atmosphere comes despite decades of scientific evidence, and the scientific position being held by the vast majority of scientists who study Earth's climate.
When asked during an interview on CNBC on Thursday if he believes carbon dioxide is the main "control knob" warming the planet, Pruitt said "measuring with precision human activity on the climate is something very challenging to do and there's tremendous disagreement about the degree of impact."
"I would not agree that it's a primary contributor to the global warming that we see," Pruitt said, speaking from an energy conference in Houston. "But we don't know that yet."
But the climate science community says it does know. According to reviews of the body of scientific literature, 97% of climate scientists agree that humans have caused recent warming.

NASA and the National Oceanic and Atmospheric Administration (NOAA), the two US government agencies responsible for observing Earth's atmosphere, identify "carbon dioxide and other human-made emissions into the atmosphere" as the reason global temperatures have risen 2.0 degrees Fahrenheit since the late 19th century, when scientific measurements began.
Pruitt did not refute land- and satellite-based readings that show global temperatures have indeed been on the rise through the 20th and 21st centuries, as some other skeptics of climate science, like Sen. Ted Cruz of Texas, have done.
Among the many US scientific agencies, in addition to NASA and NOAA, that officially disagree with Scott Pruitt is the EPA itself.

Recent news reports indicate that the Trump administration will next week call for withdrawal of the EPA's "Clean Power Plan," aimed at cutting power plant greenhouse gas emissions, and stop the legal defense of a lawsuit (initiated by Pruitt while he was Attorney General of Oklahoma) by states opposed to the plan.
In 2007, the Supreme Court ruled that carbon dioxide should be considered an "air pollutant" under the Clean Air Act. Using that authority, President Obama's EPA determined in 2009 that carbon dioxide and other greenhouse gases, as contributors to global warming, are harmful to human health and should be regulated.
The attorneys general of several conservative states, including Pruitt in Oklahoma, sued to overturn the EPA's so-called endangerment finding. They lost, and Pruitt during his Senate confirmation hearing said he would respect those court rulings.
"The climate is changing, and human activity contributes to that in some manner," Pruitt told the Senate in January.
When pressed at his confirmation hearing by Sen. Bernie Sanders of Vermont on his "in some manner" qualification, Pruitt responded, like he did recently on CNBC, that "the ability to measure with precision the degree of human activity's impact on the climate is subject to more debate."