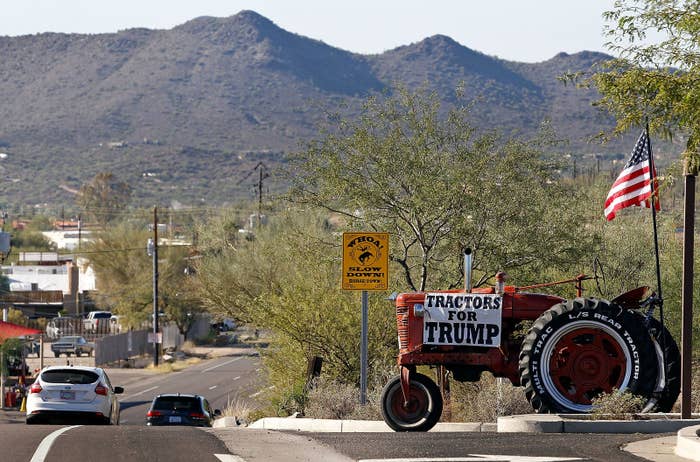 The US Department of Agriculture has banned scientists and other employees in its main research division from publicly sharing everything from the summaries of scientific papers to USDA-branded tweets as it starts to adjust to life under the Trump administration, BuzzFeed News has learned.

The ban was rescinded on Tuesday.
According to an email sent Monday morning and obtained by BuzzFeed News, the department told staff — including some 2,000 scientists — at the agency's main in-house research arm, the Agricultural Research Service (ARS), to stop communicating with the public about taxpayer-funded work.
"Starting immediately and until further notice, ARS will not release any public-facing documents," Sharon Drumm, chief of staff for ARS, wrote in a department-wide email shared with BuzzFeed News.
"This includes, but is not limited to, news releases, photos, fact sheets, news feeds, and social media content," she added.
Indeed, the last tweet from ARS's official account was sent the day before Trump's inauguration on Jan. 20.
Though the terse internal note did not explicitly mention the new presidential administration, department scientists around the country interpreted it as a message from Trump that changes were coming to the department.
The memo was also met with some confusion. When asked if the notice constituted a halt on the publication of academic articles, one regional director told scientists that research papers could be published in academic journals and presented at conferences, but that all media interviews must be approved by the office of communications in Washington.
In a statement on Tuesday to BuzzFeed News, the department acknowledged sending an internal email that halted the release of "informational products like news releases and social media content" on Monday. "Scientific publications, released through peer reviewed professional journals are not included," he added.
"As the U.S. Department of Agriculture's chief scientific in-house research agency, ARS values and is committed to maintaining the free flow of information between our scientists and the American public as we strive to find solutions to agricultural problems affecting America," Christopher Bentley, a spokesperson for ARS, said in the statement.
Though some Agricultural Research Service work touches on sensitive subjects like pesticides and genetically modified food, its research is generally less politically charged than that conducted by other agencies, especially those focused on understanding climate change, such as the Environmental Protection Agency.
But under the Obama administration, the Agriculture Department funneled research money into finding ways of cutting down the release of methane, a potent greenhouse gas, from cows.
The nomination of former Gov. Sonny Perdue of Georgia as agriculture secretary puts the fate of that and other department research touching on climate change into question. Like President Trump himself, Perdue has in the past bucked the overwhelming consensus among climate scientists that Earth's atmosphere and oceans are warming due to human activity.
"It's become a running joke among the public," Perdue wrote in the National Review in 2014, "and liberals have lost all credibility when it comes to climate science because their arguments have become so ridiculous and so obviously disconnected from reality."
Other agencies are under lockdown as well since Trump moved into the White House.
Employees at the National Park Service were told to stop tweeting from official park accounts. The Trump administration has also imposed a freeze on grants and contracts from the EPA, the Huffington Post and ProPublica reported on Monday. The EPA, too, is no longer issuing press releases or posting on social media, according to the reports.
UPDATE
This story has been updated to include a statement from the USDA.
CORRECTION
Methane is an odorless gas. An earlier version of this post misstated its pungency.