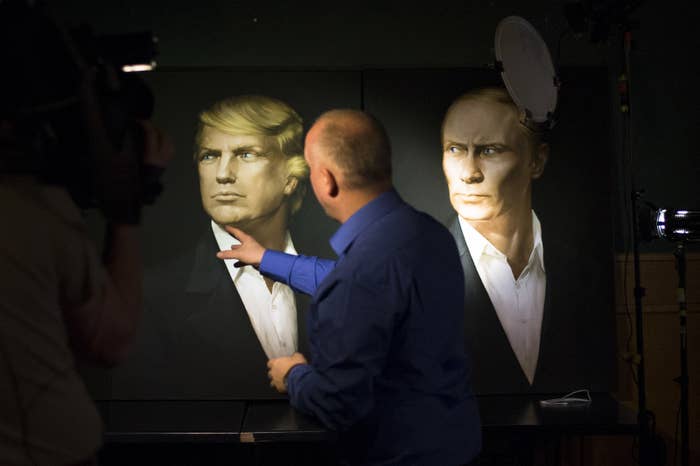 Rex Tillerson, who President-elect Donald Trump interviewed this week for the job of secretary of state, once was merely a rising star at Exxon Mobil in the early 2000s.

Back then, Tillerson was responsible not only for managing oil well sites across the globe — at the time, Exxon operated in more than two dozen countries on every continent except Antarctica — but also for finding new spots to start pumping for the largest US oil and gas company.
Tillerson was intrigued by a nation with one of the largest untapped reserves of crude oil left the world.
"He had a particular interest in Russia because of the reserves," Bruce Misamore, a former executive at the now-defunct Russian oil company Yukos, told BuzzFeed News. Together, Tillerson and Misamore served on the board of the US-Russia Business Council, a trade association that seeks to open up Russia for Western investment.
"He's overseeing the entire Exxon Mobil oil and gas operations worldwide," Misamore said. "Yet he's on the US-Russia Business Council. That's really how important the Russia relationship was to him."
Bucking hard-line orthodoxy on both sides of the aisle that has sought to punish Russia for invading Crimea and other parts of Ukraine, Trump has pushed for a warmer relationship with Russia's president, Vladimir Putin. Few Americans have sought that goal as much as Tillerson, who, if Trump nominates him, could be the next president's conduit to the Kremlin. While Trump has claimed he has never met Putin, Tillerson has — many times.
Exxon Mobil often keeps employees for life and, unlike other corporate powerhouses such as Goldman Sachs, has little tradition of sending its executives into public service. (Exxon declined to comment on the meeting).
Tillerson, who has worked at Exxon Mobil since being hired as an engineer in his early 20s, may at first appear to be a foreign policy neophyte. But international oil deals require their own form of diplomacy. With so-called easy oil drying up in developed nations, Exxon Mobil has increasingly had to convince nations with less stable governments in Africa, Asia, and South America to allow it to explore for oil.
"He spent a huge amount of time trying to figure out whether governments are serious about reforms that they're announcing," David Victor, a professor of international relations at the University of California, San Diego, told BuzzFeed News. "That skillset around being able to assess the credibility of government is an extremely important one."
Plus, building US-Russia relations is nothing new to Tillerson. He has done it under two presidential administrations. But in both cases, Exxon was burned.
In 2001, then president George W. Bush, back when he famously peered into Putin's eyes and got "a sense of his soul," sought to mend political ties to Russia by deepening commercial ties. Exxon Mobil was already pumping in Russia, leading a consortium of oil companies drilling in Russian waters off the coast of an island called Sakhalin. In the late 1990s, Tillerson managed the Sakhalin account as president of Exxon's subsidiary in Russia.
The administration encouraged Exxon and Chevron to invest more in the country. So in 2002, Tillerson announced a $140 million contract with a Russian shipyard to renovate one of the Sakhalin platforms a day before one of Bush's diplomatic visits to Moscow.
That catch was prelude to a bigger fish. Exxon sought a stake in Yukos, a privately held Russian oil firm whose CEO, Mikhail Khodorkovsky, was looking to sell.
At least that was until the Kremlin seized Yukos's assets and arrested Khodorkovsky, a Putin critic.

Seven years later, yet another US leader, President Obama, wished to "reset" Russian relations. And again, Exxon Mobil's CEO played a central role.
"I dealt with Exxon Mobil a lot as ambassador and when I was at the White House," Michael McFaul, Obama's ambassador to Russia from 2012 to 2014, told BuzzFeed News in August. "They were moving forward in what Mr. Putin said was one of the most important developments in US-Russia relations in the last couple of decades."
That development was a $500 billion deal signed in 2011 between Exxon Mobil and Rosneft, a state-owned Russian oil company, to drill offshore for oil in the Russian Arctic.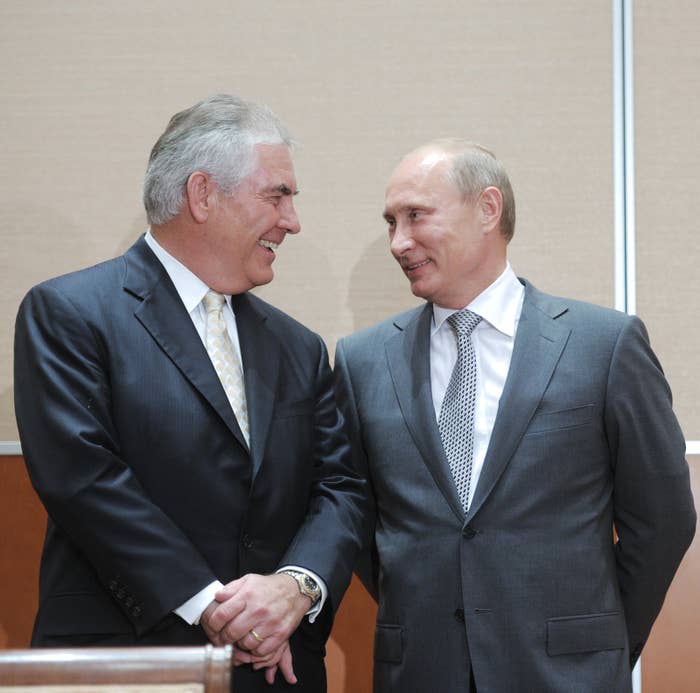 Russia, short on technological know-how after years of Soviet control, needed the engineering prowess of a major Western oil company to access oil and gas locked under the kind of ice-strewn Arctic waters ExxonMobil had plumbed successfully for years.
But two years later, after Putin annexed Crimea and was accused of supporting separatist rebels in east Ukraine, Obama imposed a web of economic sanctions against people and corporations tied to Putin.
Both through public speeches denouncing sanctions and behind-the-scenes dissuading Congress from codifying those specifically targeting the energy sector, Tillerson has made his wishes regarding Russia clear.
"We do not support sanctions, generally, because we don't find them to be effective unless they are very well-implemented comprehensively — and that's a very hard thing to do," Tillerson told shareholders in May 2014 when Treasury Department officials were determining which Russian firms US companies could no longer do business with.
A few months later, Rosneft was added to the sanctions list. Since then, the $500 billion Rosneft–Exxon Mobil deal has been put on pause.
As businessmen running companies with international holdings — oil and gas leases in the case of Exxon Mobil, or real estate in the case of the Trump Organization — Tillerson and Trump are acutely aware of the impact of international sanctions.
"Sanctions have been vital to getting key players either to the table or to containing them," Victor said. "That has been a very important and often effective instrument of US foreign policy that I suspect we'll be much more reluctant to use because they're more familiar with the short-term business consequences.
Because all of Obama's sanctions against Russia were done through executive order, they could be undone by the stroke of soon-to-be President Trump's pen after January 20.
"If you are trying to lift sanctions on Russia and get back to business with Vladimir Putin," McFaul told BuzzFeed News this week, "Rex Tillerson would be an excellent choice."