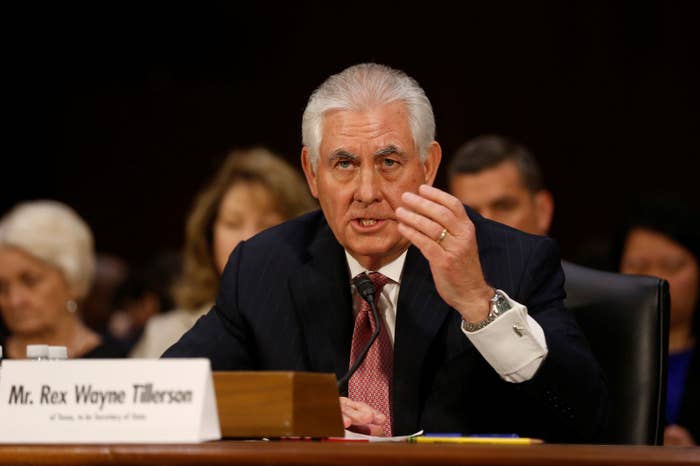 WASHINGTON — Donald Trump's choice to run the State Department, Rex Tillerson, testified in Congress that, to his knowledge, the company he ran for a decade did not lobby against economic sanctions issued by the United States.

"To my knowledge, Exxon never directly lobbied against sanctions," the former chief executive of ExxonMobil told the Senate Foreign Relations Committee under oath on Wednesday morning.

But documents filed by the company suggest otherwise. Since Tillerson took the reins of the largest US oil and gas firm in 2006, disclosure after disclosure in filings on "lobbying activity" show that Exxon lobbied on several pieces on legislation regarding sanctions against oil-producing nations, including Iran and most notably Russia.

Senate Minority Leader Chuck Schumer, the chamber's top Democrat, said on the Senate floor Wednesday that he was "very concerned" about Tillerson's comments, noting that the Senate has "registered lobbying disclosures from ExxonMobil itself documenting their involvement" in the lobbying effort.
Tillerson's relationship with Russia has been a major focus of questioning in the hearing on his nomination for the secretary of state job Wednesday.
One of the most powerful instruments in a president's diplomatic toolkit, economic sanctions ban US companies from doing businesses with individuals and institutions in designated foreign countries. Their purpose is to put pressure on countries to comply with international law — in the case of Russia most recently, to respect the sovereignty of its neighbor Ukraine.
Earlier this year, for example, Exxon disclosed in paperwork plans to lobby on a bill that sought to make permanent a series of sanctions the Obama administration issued against entities in Russia, including a state-owned oil firm with which Exxon was drilling, named Rosneft.

Because the sanctions were done through executive orders, they could be undone with the stroke of a pen by the next president unless Congress passed the bill. A bipartisan group of senators are currently working to codify those sanctions and add others in response to intelligence reports showing that Russia was behind cyberattacks targeting the American political system last year.
The lobbying pressure from Exxon and others in the US business community seemed to be successful. Between being introduced in April and passing committee in July, the bill was stripped of a provision codifying the specific executive order — Executive Order 13662 — used to sanction Rosneft and other members of the Russian energy sector.
Even after the modified bill, titled the STAND for Ukraine Act, passed the House of Representatives in September, Sen. Bob Corker of Tennessee, chair of the Senate Foreign Relations Committee, which is holding the hearing on Wednesday with Tillerson, let the bill languish in committee.
Exxon also lobbied on sanctions legislation in 2014. As President Obama began sanctioning Russia for the annexation of Crimea that year, there were at least three proposed pieces of sanctions legislation that would, among other things, increase military aid to Ukraine and issue sanctions specifically against Russian energy firms.
Exxon lobbied on all three bills, filings show. While the filings don't indicate the details of Exxon's lobbying effort, Tillerson himself made the company's views clear at the time.
"We do not support sanctions, generally," Tillerson told shareholders in 2014. "We don't find them to be effective unless they are very well-implemented comprehensively — and that's a very hard thing to do."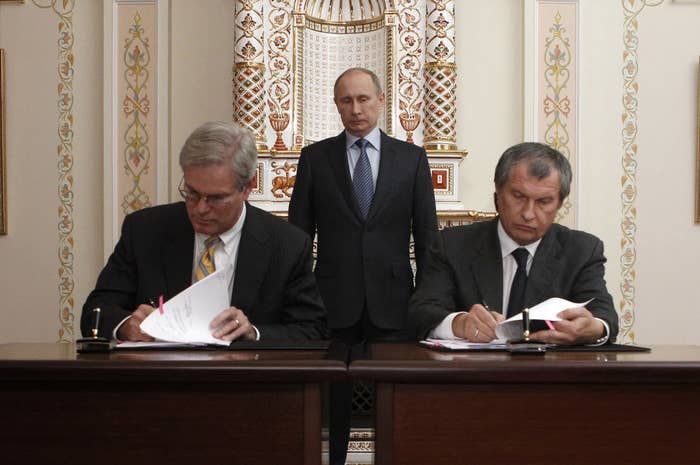 But Obama acted more quickly than Congress, announcing sanctions against Russia's energy industry in September of that year, while Exxon was exploring for oil offshore, north of Siberia.

"ExxonMobil was in the middle of drilling a well in the remote part of the Russian Arctic in the Kara Sea, several hundred thousand miles away from any safe harbor," Tillerson said during his testimony Wednesday, explaining that he was worried about the environmental risk of leaving too quickly.
"I engaged immediately with the State Department and the Treasury," he said. The company was granted a temporary license to secure the wells before leaving.
The license also afforded Exxon the time to officially announce the discovery of over 1 billion barrels of oil and oil equivalent in the Kara Sea only a few days after Obama issued the sanctions.
Initially during the hearing on Wednesday, Tillerson was emphatic when describing Exxon's lobbying. "I never lobbied against the sanctions," he said. "To my knowledge, ExxonMobil has not lobbied against the sanctions."
Corker, seemingly confused, interjected. "I think you called me at the time," he said.
Eventually Corker called for a early break before noon. When questioning reopened, Corker's first question was to ask Tillerson to clarify his statement: Has Exxon simply lobbied on sanctions rather than "against" them?
"Senator, that is correct," Tillerson responded. "I never lobbied against the sanctions." He added that "the characterization that ExxonMobil lobbied against the sanctions is just inaccurate."
Tillerson's former employer echoed that explanation.
"As our former chairman said, we provided information about impact of sanctions, but did not lobby against sanctions," Alan Jeffers, a spokesperson for Exxon, told BuzzFeed News. "The lobby disclosure reports you cited do not contradict his testimony."
But some Democrats on the committee were skeptical of the claim. At one point in the hearing, Sen. Bob Menendez of New Jersey held up Exxon lobbying disclosure documents printed out for him.
"I know you weren't lobbying for the sanctions," he said.