Trump's First 100 Days Promise On Climate Change Will Take Longer Than He Wants
"He cannot roll all this back with the stroke of a pen," said a legal expert.
One of Donald Trump's first acts as president was to announce a rollback of two Obama administration environmental efforts, one to protect waterways from pollution and the other to curb heat-trapping gases in the planet's atmosphere.
But while the Trump administration made the announcement on day one of his presidency, it may be years before his wishes can come to fruition, legal experts say.
"He cannot roll all this back with the stroke of a pen," Jody Freeman, professor and founding director of the Environmental Law and Policy Program at Harvard Law School, told BuzzFeed News.
However, while the new White House's actions are challenged in court, the last administration's rules won't be in effect — effectively giving Trump his wish.
As Trump spoke at his inauguration ceremony on Friday, the administration updated the White House website with his "America First Energy Plan."
"For too long, we've been held back by burdensome regulations on our energy industry," the announcement read. The White House said scaling back these environmental regulations would increase US wages "by more than $30 billion over the next 7 years" — a figure that appears taken out of context from a paper that was not peer reviewed, and would amount to a $20 annual raise for everyone in the US.
Following a promise on what he would do during his first 100 days in office, the new president vowed to eliminate two specific Obama-era initiatives: the Waters of the US rule and the Climate Action Plan.
"The courts have agreed that the EPA has exceeded its authority. That the EPA has not acted within the framework that Congress has established," said Oklahoma Attorney General Scott Pruitt, Trump's pick for EPA administrator, at his recent confirmation hearing.
The water rule, issued in 2015, greatly expands the number of lakes, rivers, and marshes that fall under the jurisdiction of the Environmental Protection Agency and the US Army Corps of Engineers.
Meant to resolve the longstanding question of which waterways are covered by the federal government's 45-year-old water pollution law, the Clean Water Act, the new rule gave the government power to protect drinking water and vulnerable ecosystems in states with weak regulations.
But critics, including companies affected in energy and agriculture, called it a federal power grab. Some Republicans in Congress such as Rep. Doc Hastings of Washington, who chaired the House Committee on Natural Resources, said the rule was so broadly written that it gave the EPA power to regulate dry streambeds. Attorneys general in red-leaning states — including Pruitt — mounted a lawsuit that successfully halted the rule from taking effect.
That federal lawsuit ruling gives the Trump administration time to figure out how to undo the water rule.
"It would not be difficult for the new administration to tell the courts that they want to reconsider the rules issued during the Obama administration, and then to take their sweet time in the reconsideration," Michael Gerrard, an environmental law professor at Columbia Law School, told BuzzFeed News.
But ultimately, Trump would have to go through the slow process of finding an alternative justification to any new rules.
"The Army Corps and EPA, which jointly issued this rule, would have to rescind the current rule and replace it with something else and go through a 'notice and comment' process," Freeman said.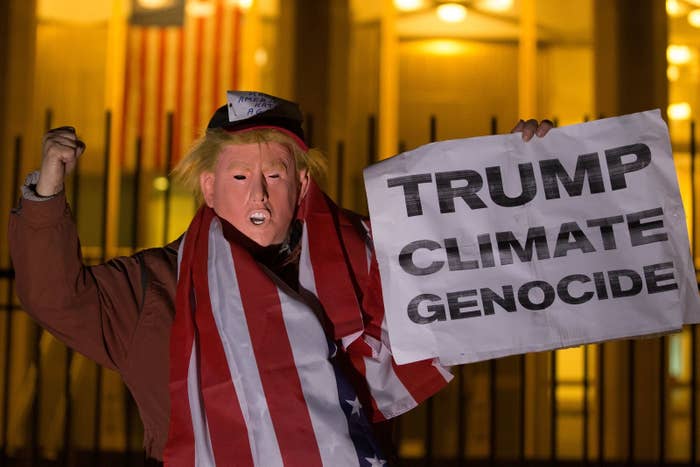 What "eliminating," as Trump said, the Climate Action Plan means is less clear.
While the water rule concerned the Obama administration's interpretation of a specific statute, the climate plan was a broad call in 2013 to nearly every part of the federal government to find ways to reduce carbon emissions and prepare for sea-level rise, floods, droughts, and other effects of climate change.
Perhaps the most controversial effort born from the Obama plan, the EPA's Clean Power Plan, set a limit on how much carbon dioxide US power plants can release.
It, too, was halted by federal courts. But during Obama's first year as president, the EPA came to a scientific conclusion that the buildup of carbon dioxide in the atmosphere posed a danger to human health.
This "endangerment finding" means the agency is required by law to do something about it — or else be sued. And EPA has already lost, in 2007, a Supreme Court case that ruled greenhouse gases were pollutants that required regulation. The Clean Power Plan was the Obama administration's solution to that ruling.
"The responsible agencies like EPA must go through a rigorous legal process of rescinding rules, which takes time and is subject to challenge in the courts," Freeman said.
Already, environmental organizations like Natural Resources Defense Council and the Sierra Club are gearing up for potential lawsuits.
But while any new rule is stuck in court, Trump is getting his rollback.
"Those cases can take quite a while to resolve," Gerrard said, "and meanwhile no rule is in effect."

---