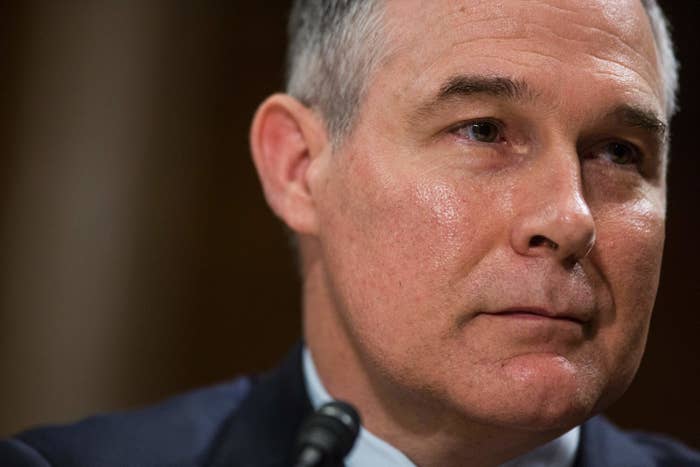 WASHINGTON — Just a day before the Senate is slated to vote on Oklahoma Attorney General Scott Pruitt's nomination run the Environmental Protection Agency, a state district judge ruled Thursday that his office must release of up to 3,000 requested emails that have not been publicly released.
Email correspondence between Pruitt and energy executives during his tenure as attorney general has become the subject of scrutiny from environmental activists and their Democratic allies in the Senate. The Center for Media and Democracy, an advocacy group, has fought to have the messages released, arguing that they will highlight the cozy relationship between President Trump's EPA choice and the oil and gas industry he will be tasked with regulating if approved by the Senate.
"The public has the right to know what's in those emails," said Sen. Tom Carper of Delaware, at a press conference on Thursday before the ruling. Carper is the top Democrat on the Senate Committee on Environment and Public Works, which oversaw Pruitt's confirmation hearing earlier this year.

Carper and other Democrats on the committee boycotted the vote on Pruitt's nomination earlier this month, and now say the full Senate vote slated for Friday afternoon must be delayed until senators have the opportunity to review the emails.
The attorney general's office has until Tuesday to release all 3,000 documents that the CMD requested relating to Pruitt's relationship with oil and gas interests.
But the stalling tactics, which include plans for overnight speeches from Sen. Tammy Duckworth of Illinois and other party colleagues, are unlikely to cause Senate Majority Leader Mitch McConnell to delay the final vote on Pruitt. McConnell has repeatedly warned Democrats against stalling on Trump's cabinet nominees, saying the president "deserves" to have his hand-selected team in place.
When asked whether McConnell would delay the vote in light of the judge's ruling, spokesman Don Stewart said only, "A bipartisan majority of the Senate voted today to move forward with the vote," in an email to BuzzFeed News.
Sen. John Barrasso, top Republican on the committee that approved Pruitt, said there would be no delay.

"Attorney General Pruitt has been more thoroughly vetted than any nominee for EPA administrator," Barrasso told BuzzFeed News through a spokesperson. "The EPA needs an administrator. It is time to confirm him."

The vote, 54-46, included two Democratic yea votes from Sens. Joe Manchin and Heidi Heitkamp, to allow the Senate to move forward and have a final vote to confirm Pruitt on Friday.
In 2014, a New York Times investigation revealed that Pruitt sent letters to the EPA, the Department of Interior and President Obama arguing against the administration's environmental regulations. While those letters were sent under Pruitt's name, many were drafted by lawyers at Devon Energy, an Oklahoma City-based oil and gas firm.

For that story, reporter Eric Lipton relied on emails and other documents he received from open-records requests he filed with the Oklahoma Office of the Attorney General.

But the CMD argued in its suit that at least 27 emails provided to the newspaper in 2014 were not given to the nonprofit organization through its own series of open-records requests begun in January 2015. The center argued those messages fell within the perimeters of its requests.
"The thing that really shocked us when we received them was how few records there were," Nick Surgey, the CMD's research director, told BuzzFeed News.
Among the missing emails, according to the CMD, was a July 2013 message sent by a Devon lobbyist to Pruitt's assistant attorney general, Clayton Eubanks, regarding a letter drafted by the company for Pruitt to send to the Interior Department about a new fracking rule pushed by the Obama administration.
"They have been very heavy-handed in excluding emails that show that close relationship," Surgey said.
During his confirmation hearing in January, Pruitt did little to ease the concerns of those who worry that his correspondence is indicative of a larger conflict of interest. For example, he declined to commit to recusing himself from any of the eight ongoing lawsuits the state of Oklahoma has against the EPA, if confirmed to head the agency.
But with only one Republican, Sen. Susan Collins of Maine, announcing their opposition to Pruitt's nomination, it's likely that he will be confirmed. Republicans need just 51 votes to approve him.