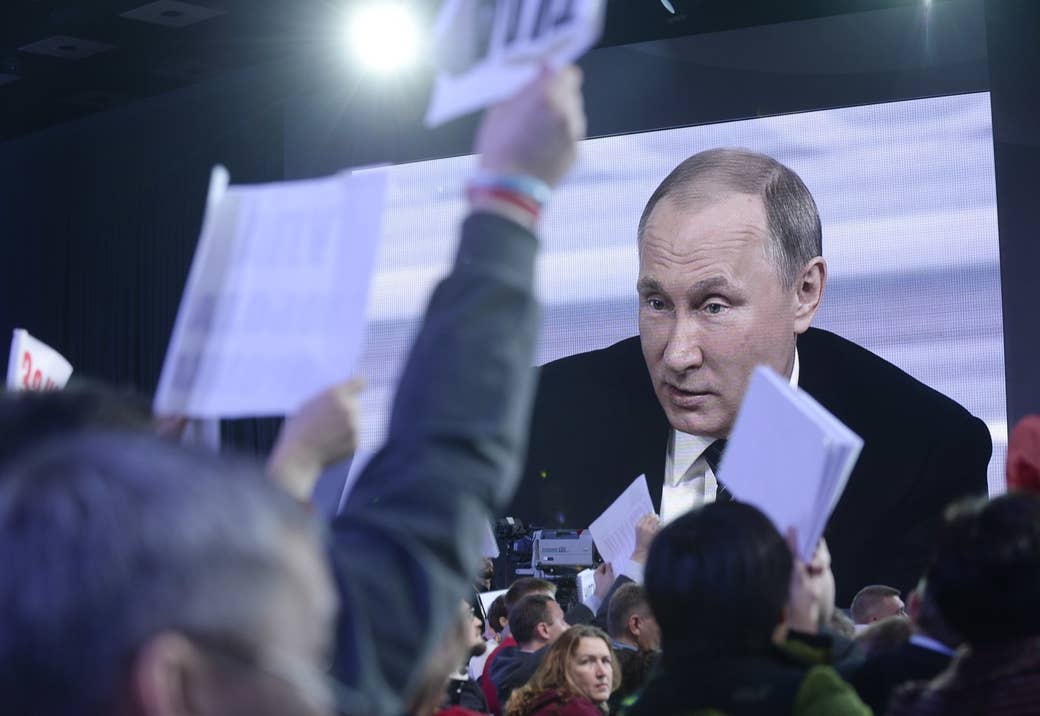 A behind-the-scenes battle is underway on Capitol Hill pitting skeptics of Russia against a potential Donald Trump administration and the oil industry, which has massive business interests there.
Trump's apparent coziness with Russia and its president, Vladimir Putin, has alarmed both Democrats and Republicans. Trump said, for example, that he would consider lifting the sanctions Obama placed on Russia after it annexed Crimea and used force in east Ukraine.
Now a bill is quietly making its way through Congress that would stymie a future president from easing up on Russia. And the battle offers a glimpse at an industry that appears to be quietly laying the groundwork for a Trump administration.
Trump wasn't yet the Republican nominee when the bill, called the Stand for Ukraine Act, was introduced, in April. But House members are now motivated to pass the legislation in order to stop a potential Trump administration from lifting sanctions, according to two staffers working for representatives who shaped the legislation and are on the House Foreign Affairs Committee, which passed the bill in July. The staffers agreed to speak on background so they could talk freely.
Because President Obama sanctioned Russia through a series of executive orders in 2014, the measures — which stop certain Russian individuals and businesses close to Putin from traveling to the US or doing business with American companies — could easily be undone by a future president. The bill would make that much harder, allowing a president to remove certain sanctions against Russia if and only if Putin gives up Crimea.
Now energy companies appear to have won an early fight to weaken the legislation. The US–Russia Business Council, a trade association of about 150 businesses and other organizations, including oil industry giants ExxonMobil and Chevron, told BuzzFeed News it has asked lawmakers not to make the sanctions against Russia permanent. And in documents filed in late July, ExxonMobil itself disclosed plans to lobby on the bill.
At stake for ExxonMobil is a massive $500 billion deal with Rosneft, a state-owned Russian oil company, to drill for oil in the Russian Arctic.
In September 2014, only two months after the Department of the Treasury put Rosneft on the sanctions list, the two companies announced that they had discovered about 1 billion barrels of oil and oil equivalent off the Russian coast. With the sanctions, ExxonMobil was forced to wind down the well.
The discovery was just a fraction of the 85 billion barrels of oil and oil equivalent the two firms said in 2012 they expected to find at spots offshore, made more accessible by the decline of Arctic sea ice as temperatures rise globally. The Russian company needed ExxonMobil's expertise in offshore Arctic drilling in order to get to the oil and gas.
As of the end of 2015, ExxonMobil had lost at most $1 billion due to the sanctions against Russia, according to paperwork it filed with the Securities and Exchange Commission.
ExxonMobil is still seeking new inroads into Russia. In June, CEO Rex Tillerson visited Moscow for an investors' summit he had skipped for the previous two years after the Ukraine crisis, Reuters reported.
"Rex Tillerson is very, very aware of all the difficulties of operating in Russia," Bruce Misamore, former chief financial officer of the now-defunct Russian oil company Yukos, told BuzzFeed News. "His experience is not always positive in being there, but he's not going to give up on the reserves and the oil production."

Misamore would know. ExxonMobil sought a similar partnership with Yukos in the 2000s, scrapped after the Kremlin seized Yukos's assets and arrested its CEO, Mikhail Khodorkovsky, who had been critical of Putin.
In the years before Russia took Crimea, Putin told the Obama administration that the ExxonMobil–Rosneft partnership "was one of the most important developments in US–Russia relations in the last couple of decades," Michael McFaul, the US ambassador to Russia from 2012 to 2014, told BuzzFeed News.
ExxonMobil submitted documents on July 20 disclosing lobbying activities on the bill, though a company representative denied lobbying.
"We have not lobbied on the bill," Alan Jeffers, spokesperson for ExxonMobil, told BuzzFeed News. "Our activities on the bill constitute monitoring of congressional activities."
The company likely filed the lobbying paperwork because it is preparing to lobby on the bill when Congress is in session again, Richard Skinner, a policy analyst at the Sunlight Foundation, told BuzzFeed News.
Still, the legislation has already been amended in a way that may favor ExxonMobil.
Between being introduced in April and passed by the House Foreign Affairs Committee in July, the specific executive order used to sanction Rosneft and other members of the Russian energy sector — Executive Order 13662 — has been removed from the bill's language.
That change was made due to pressure from Rep. Ed Royce of California, the committee chairman, and other Republicans, who wanted to spare harm to the business community, according to a congressional staffer who requested anonymity. The bill required the approval of Royce in order to proceed.

Cory Fritz, deputy communications director for the Republicans on the committee, declined to comment, referring BuzzFeed News to Rep. Engel's office.

The US–Russia Business Council, of which ExxonMobil is a member, has also been trying to convince representatives to tone down language in the bill.
"Our member companies are obviously very concerned about a level playing field with their foreign competitors," Daniel Russell, president of the US–Russia Business Council, told BuzzFeed News. He said US companies in general are worried they will be outmaneuvered by their European counterparts in gaining access to Russian resources.
The bill was introduced by Democratic Rep. Eliot Engel of New York and Republican Rep. Adam Kinzinger of Illinois, who has become one of Trump's most vocal critics on the GOP side of the aisle in Congress.
Earlier this month, Kinzinger said he could not vote for Trump after the GOP nominee said the US did not need to come to the defense of NATO members if attacked. This week, Kinzinger called for an investigation into Trump and his campaign chairman, Paul Manafort, for alleged ties to Russia.
"There's been this affection in this campaign for Russia and Vladimir Putin, so in my thought, I have concerns for the chief adviser of Donald Trump having done work for a pro-Russian government in Ukraine," Kinzinger said on CNN this week.
Indeed, Trump has repeatedly signaled his desire for a rapprochement with Russia.
"The people of Crimea, from what I've heard, would rather be with Russia than where they were," Trump told George Stephanopoulos in an interview in July, echoing the Kremlin's own justification for entering Crimea. That same month, Trump told reporters he would "be looking into" lifting sanctions against Russia.
Maura Gillespie, communications director for Rep. Kinzinger, told BuzzFeed News his office hopes for a vote in the House of Representatives in September.