WASHINGTON — President Trump's new Environmental Protection Agency chief, Scott Pruitt, may have received emails on a private email account despite telling senators that he only does official business with his government-issued account.
A recently released batch of more than 7,000 pages of emails sent to and from Pruitt's office while he was attorney general of Oklahoma contain several instances of messages being sent to a redacted email account — one that begins with "scott.pruitt" and ends with the domain name blacked out.
In April 2013, for example, a staff member at the American Legislative Exchange Council (ALEC), a conservative nonprofit organization, emailed Pruitt at that redacted address, along with two aides, about Pruitt speaking about the oil and gas industry at an ALEC event.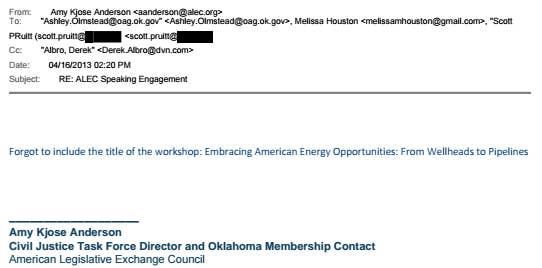 The Center for Media and Democracy (CMD), the nonprofit that sued to release Pruitt's emails, believes that the redacted address may be Pruitt's personal account.

"Very few of the records provided are emails directly to or from Pruitt," CMD told the Oklahoma County District Court, which ruled last week that Pruitt's office must release thousands of emails under an open-records request. "A few of the records provided, moreover, have a redacted email address for Pruitt, suggesting that they were sent to a personal email account."
The EPA did not return a request for comment from BuzzFeed News.

On Friday, Oklahoma's attorney general office confirmed to KOKH, a Fox affiliate in Oklahoma City, that Pruitt used a private email for government business.
Earlier this month, the news station obtained through its own open-records request a set of Pruitt's emails, which included some messages to and from a redacted Pruitt account. The state's attorney general office did not return a request for comment from BuzzFeed News.
If the redacted account is indeed Pruitt's non-governmental email, that information contradicts written and oral testimony Pruitt gave as he sought to become the nation's top environmental chief.
"Have you ever conducted business using your personal email accounts, nonofficial Oklahoma Attorney General email accounts, text messages, instant messenger, voicemails, or any other medium?" Sen. Cory Booker of New Jersey, a Democrat on the Senate Committee on Environment and Public Works, asked Pruitt in writing as part of his confirmation.
"I use only my official OAG [Office of the Attorney General] email address and government issued phone to conduct official business," Pruitt replied.
He added that he had "used two e-mail addresses since becoming Attorney General of Oklahoma" — an "oag.ok.gov" email for government business and a "me.com" email for personal use.
Similarly, when asked by Sen. Sheldon Whitehouse of Rhode Island during his confirmation why a "me.com" email was listed as a business email in a pre-hearing questionnaire, Pruitt said its inclusion was a mistake.
"The 'me' address is not a business email address," Pruitt told the senators. "I am not sure why it was designated as such."
Given that the batch of messages sent to CMD contains several email chains that include Pruitt's "oag.ok.gov" email address unredacted, it's "likely" that email is his personal account, according to Nate Jones, the director of the Freedom of Information Act Project at George Washington University's National Security Archive.
"It appears that the emails are private, but it's not dispositive," Jones told BuzzFeed News.
"There is a chance a .gov could have been sloppily redacted," he added.
Nick Surgey, CMD's research director, told BuzzFeed News that the emails it received contained no instance of Pruitt sending messages from the redacted account — "not that we could find."
"We are not confident that a full search has been carried out of his personal email," Surgey said.
Using a private email for work as a Oklahoma state employee "doesn't contravene the open-records law per se," Adam Marshall, a litigation attorney at the Reporters Committee for Freedom of the Press, told BuzzFeed News.
"But you have to comply with the open-records act" and release work documents on private account, he said.

Under current federal law enacted partly in response to Hillary Clinton's use of a private email service while serving as secretary of state, Pruitt in his current position as EPA administrator is legally barred from using his personal email for government business.
"Secretary Clinton," Jones said, "learned that lesson the hard way."