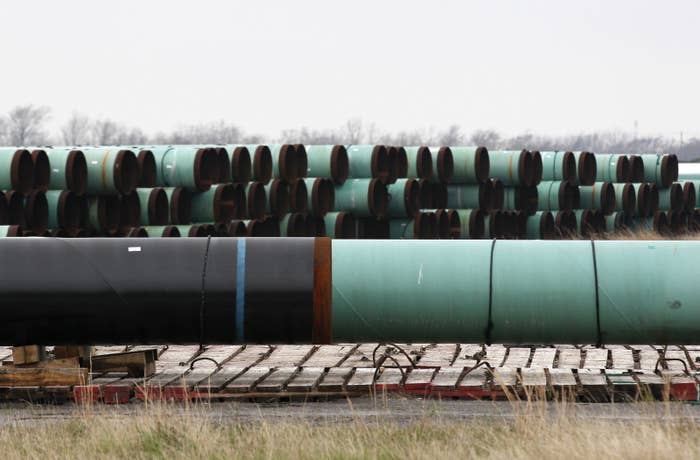 While talk of banning Muslim immigrants and bolstering libel laws got all the headlines, Donald Trump stumped during his campaign again and again on the seemingly tedious topic of infrastructure.
With railways rusting and sewers overflowing across the nation, rebuilding the decaying infrastructure in the US has become a slow-burning issue that rhetorically both major political parties have been committed to, but one that Republicans, gripping the state's purse strings, have yet to do much about.
Trump, with populist flourish, brought the issue to the fore during the election.
"Our airports are like from a Third World country," Trump riffed once in September. Returning to that theme during his victory speech, Trump promised to "rebuild our highways, bridges, tunnels, airports, schools, hospitals."
But during that speech, he neglected to list an aspect of his infrastructure plans that's bound to cause controversy: oil pipelines.
Embedded in Trump's infrastructure proposal, which he wants to sign into law during his first 100 days in office, are new tax breaks for oil and gas companies to build pipelines and other projects.
"This is one of those areas where I think we can come together as a nation," Jack Gerard, president of the American Petroleum Institute, chief lobbying arm of the US oil and gas industry, said about infrastructure under the Trump administration during a press call this week.
"I'm hopeful that on a bipartisan basis we can gather around an approach to infrastructure and release those investment dollars that are anxious to be invested," he added.
So far, Democratic leadership has said it's willing to work with Trump on infrastructure, generally. "We can work together to quickly pass a robust infrastructure jobs bill," House Minority Leader Nancy Pelosi said in a statement after Trump's win.
"If President Trump wants to spend money on helping to rebuild Connecticut's roads and bridges and rail lines, then sign me up," Sen. Chris Murphy of Connecticut added in his own statement.
With Senate Majority Leader Mitch McConnell cold to the idea of infrastructure spending, Trump may need that help from across the aisle. Yet it's unlikely that most environmentally minded Democrats have the oil and gas sector in mind when calling for rebuilding infrastructure.
"Energy is typically not part of the surface transportation funding packages that get passed periodically at the federal level" David King, an assistant professor of urban planning at Arizona State University, told BuzzFeed News.
Last month, two of Trump's economic advisers released a report detailing the candidate's infrastructure plan. In it, private builders would receive tax credits for construction projects, including pipelines and natural gas facilities.
But because these companies would presumably be making more money and employing more people — thus leading to higher tax revenues on corporate profits and wages — the infrastructure plan will supposedly be revenue neutral, according to its authors, Wilbur Ross, a private equity investor, and Peter Navarro, an economics professor professor at the University of California, Irvine.
The plan is designed to work hand in hand with Trump's deregulation agenda, which includes issuing more permits for pipelines to be built and for government lands to be opened to fossil-fuel drilling in the Western United States, much of which is federally owned — and far from cities where fuel is refined and sold.
"Because of their geography, there will be infrastructure needed to get the hydrocarbons to where they will be consumed," Ross told BuzzFeed News.
But US oil and gas companies are already heavily subsidized, and some infrastructure experts say projects that generate far less profit — think water pipes, like the Flint, Michigan drinking water system that Trump often brought up on the campaign trail — need government aid more urgently.
"It's not the government's job to ensure profitability," King said. "In terms of infrastructure, there are very few national, shared priorities right now."
Wrapping fossil-fuel projects into an infrastructure plan portends future clashes with environmentalists and scientists, who are already agitated by Trump's call to cancel the historic Paris climate agreement.
For years, these organizations have pressured the federal government to halt the construction of pipelines in the US — most notably, Keystone XL, which Trump said he will allow to be built. But it's unclear how activists will press a president who has denied climate change is even occurring, as Trump has.
Indeed, Trump has said he would like to see the company behind the controversial Keystone XL pipeline — a conduit rejected by the Obama administration that was meant to bring Canadian tar-sands oil to refineries in Illinois and Texas — reapply for a permit. After the election, TransCanada, the pipeline builder, said it is eager to work with Trump.
"Our strategy with Obama was always to appeal to his better nature," Jamie Henn, co-founder of the environmental nonprofit 350.org. "With Trump, we'll clearly have to offer a stiffer resistance. I'm not exactly sure the way forward, but I know we'll fight like hell."