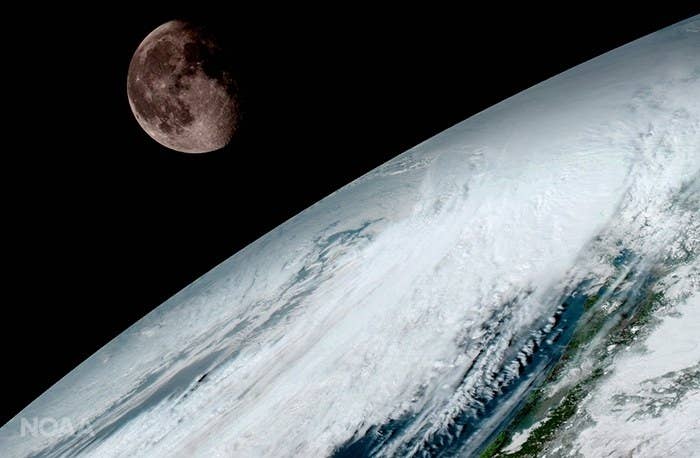 When cyclones barrel along the Pacific and tornadoes rage across the Midwest, satellites eye the tempests and send real-time weather data earthward.
But the weather science community is worried they won't always get those crucial views and other data, because of a proposed auction of one scientific band of the radio spectrum that's under consideration by the Federal Communications Commission (FCC).
Just a bit of radio interference can throw off calculations used to make accurate weather predictions that are "extremely sensitive" to even small temperature differences, said Jordan Gerth, a researcher at the Space Science and Engineering Center at the University of Wisconsin-Madison.
"Even 2 or 3 degrees can be the difference between a rapidly growing thunderstorm and one that's not going to pose a threat," Gerth told BuzzFeed News.
Right now, the Geostationary Operational Environmental Satellite (GOES) system beams weather images and other information to terrestrial dishes — primarily, to those at a National Oceanic and Atmospheric Administration (NOAA) facility on Wallops Island in Virginia.
Isolated off the state's Eastern Shore, transmissions to the island usually go off without a hitch. But three times in 2015, portions of photographs of weather events — including Hurricane Patricia, the second-most intense tropical cyclone ever recorded — were blacked out.
Interference in the electromagnetic spectrum — the invisible corridor by which everything from radio broadcasts, to cell phone calls, to television signals are delivered to devices through the US — was the culprit.
"That interference was traced to a commercial operator in an adjacent band," Mark Paese, deputy assistant administrator for satellite and information services at NOAA, told BuzzFeed News by email.
Scientists studying climate change and other Earth systems rely on these eyes in the sky to do their work. But the community fears interference with satellite signals may get worse.
That's because a private company called Ligado Networks is seeking permission from the FCC — the federal agency responsible for allotting slices of spectrum — to share the band of radio frequencies that NOAA relies on to communicate with the GOES satellites.
Right now, that band of spectrum acts as a buffer between Ligado's existing network and channels NOAA uses to retransmit high-resolution satellite images and other data to weather centers around the country.
Protecting those channels is crucial to the transmission of weather observations to not only NOAA itself, warn experts, but also to dozens of private firms and academic institutions, like the University of Wisconsin.
"We need to be able to get the data in the timely matter," Gerth said.
But the company pushing the proposal argues that its plan, instead of interfering with the delivery of weather information, will actually help get that data to thousands of other scientists who currently don't have access to it.
Or, in the words of Reed Hundt, a former chairman of the FCC appointed by President Bill Clinton and a member of Ligado's board of directors, "Ligado is going to democratize weather information."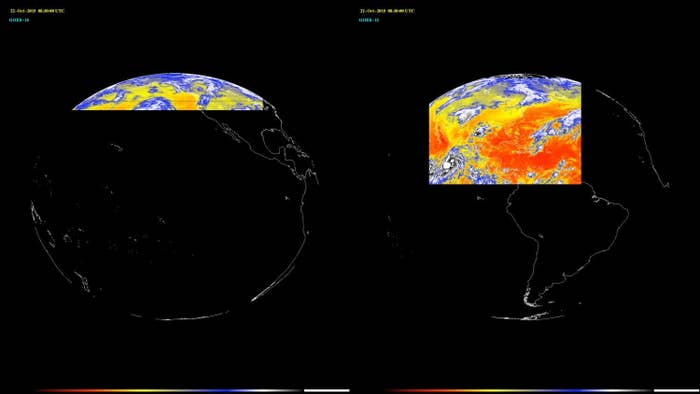 Ligado's proposal stems back to 2010 when the Obama administration, in a push to increase internet access in the US, asked agencies to find 500 megahertz to share with private companies. When finished, the initiative would nearly double the amount of spectrum available to businesses.
NOAA, scientists say, had done its part in response by giving up 50% of its spectrum in the 1670–1710 megahertz range, and redesigning its GOES satellite in the process. In November, NOAA put the latest satellite in the GOES series into orbit. That spacecraft is capable of sending back images with four times the resolution of other GOES satellites.
"We did not push back on that," Alexandra Shultz, director of public affairs at the American Geophysical Union (AGU), which represents Earth and space scientists in the US, told BuzzFeed News. "Until now, there hasn't been something so crucial that we felt the need to actually protest."
But Ligado's proposal is for the FCC to auction off the rights to share the 1675–1680 megahertz range with NOAA. In addition to satellite images, the agency currently uses a channel at the edge of that band to relay data from thousands of stream gauges nationwide. Stream gauges, which measure the height of bodies of water in lakes and rivers across the country, are crucial to predicting floods and calling for evacuations.
Ligado says it has a solution to the problem of interference: It proposes that whichever company wins the the bid for the spectrum band must black out its network around NOAA sites, including the one on Wallops Island, so that weather satellite signals can reach government dishes unimpeded.
But those blackout zones do nothing for the 100 or so universities and private firms with their own dishes to collect satellite weather data.
For that, the company says it has a novel solution: Build a portal on the Internet where anyone can see NOAA's weather satellite data transmitted to Wallops Island and other protected ground stations. Plugged in online, not only can the institutions that currently use GOES data get access, but other places with small budgets, like startups and secondary schools, can use it too.
"You never know who's going to come up with what idea when they just have the data in their hands and they can play with it, like modeling clay," Valerie Green, executive vice president and chief legal officer at Ligado, told BuzzFeed News. "If you open it up to more people, you'll inevitably get more innovation and more science."
Ligado has built a version of such a web portal and said its idea has received a warm reception among some scientists, including those at George Mason University, which received a grant from Ligado to test the prototype.
"We anticipate that the data stream from Ligado will help us develop new tools to help students and scientists better understand weather," Jim Kinter, director of the Center for Ocean-Land-Atmosphere Studies at George Mason.
But others in the Earth science community are skeptical of distributing the information online.
"How do you ensure the quality of that data?" Shultz of AGU said. "How is it stored? How is it archived? Who has access to it? Who ensures continuity to it? Who ensures its security?"
Ligado has attempted to make other inroads in the climate science community, sending representatives over the past eight months to two meetings of the American Meteorological Society (AMS), which represents weather, water, and climate scientists. But relations appear strained.
In December, a joint letter from AMS and AGU to the Obama administration's commerce secretary, Penny Pritzker, accused Ligado of questioning "the Earth science community's understanding of physics."
"Such communications suggest that Ligado is dismissive of these issues and not a good faith partner in our effort to protect the nation's severe weather forecasting capabilities," wrote Keith Seitter and Christine McEntee, the executive directors of AMS and AGU respectively.
It may be a while before the spectral scuffle is resolved. Ligado first submitted its proposal to the FCC, known for its lengthy deliberative processes, in 2012. In April of last year, the FCC issued a public notice about the proposal, asking scientists and others concerned to comment on it.
When asked by BuzzFeed News, an FCC spokesperson declined to say if and when the next step in the process — issuing a notice of proposed rulemaking — will begin.

UPDATE
This story has been updated with a comment from a professor at George Mason University.