That Time Tim Kaine Went To Bat For Big Coal
Hillary Clinton's vice presidential pick has pushed back against fossil fuel interests — with one big exception.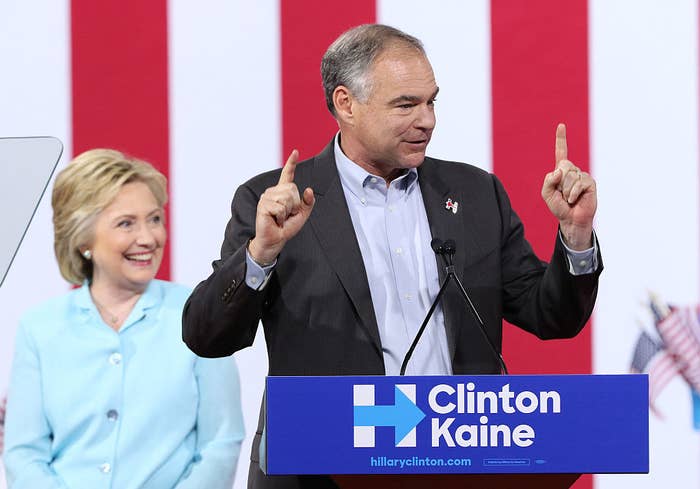 In the U.S. Senate, Tim Kaine has been held up as one of the chamber's the most environmentally friendly members.
As senator, he called for cutting subsidies to big oil companies. And he pushed the Obama administration to reject approving the controversial Keystone XL Pipeline long before it was clear the president would do so.
After Hillary Clinton picked him as her running mate on Friday, one environmental group, the Sierra Club, hailed Clinton and Kaine as "the strongest environmental ticket we've ever seen."
But environmentalists back in Kaine's home state aren't as sure. They remember when, during his term as Virginia's governor from 2006 to 2010, Kaine went to bat for the one fossil fuel abundant in the state: coal.
While coal production was slowing down in the U.S. as natural gas boomed, Kaine backed a proposal from Dominion Resources, Virginia's largest electric utility, to build a massive coal-fired power plant in a rural southwestern corner of Virginia near the town of St. Paul.
"It was hugely controversial when he supported it," Mike Tidwell, founder and director of the Chesapeake Climate Action Network, told BuzzFeed News. "It was the defining environmental issue in Virginia at the time."
In 2008, Dominion sought approval from the state to build a coal plant that would become the Virginia City Hybrid Energy Center. In response, several environmental groups in Virginia filed a lawsuit to halt the project.

In the middle of the fight stood Gov. Kaine, who between 2001 and 2008 had received $250,000 in campaign donations from Dominion, according to data from the Virginia Public Access Project, which tracks campaign financing in the state.
Technically, the decision to grant the plant permits was out of Kaine's hands. Dominion needed an air-quality permit from the state's Air Pollution Control Board.
But a former member of that board, Vivian Thomson, now a professor of environmental science at the University of Virginia, told BuzzFeed News that Kaine administration officials tried to stop the board from imposing strict limits on how much mercury and sulfur dioxide the plant could emit — pollutants known to lead to cancer, lung problems, and other health effects.
"The Kaine administration tried to undercut the board," Thomson said.
The board did not back down, however, and ultimately did get the strict mercury and sulfur dioxide emissions limits it sought, making this plant one of the "cleanest" coal plants in the country, Dominion says.
"Dominion believes that the emissions limits for the Virginia City station are the strictest ever written into an air permit in the United States," the company boasted in a video when the plant opened.
"Dominion agreed to meet those strict standards and the power station remains in compliance today," Robert Richardson, a spokesperson for Dominion, told BuzzFeed news by email. Kaine did not respond to questions from BuzzFeed News about his environmental policies.
Another concern of environmentalists was the amount of planet-warming carbon dioxide the coal plant would emit. On this issue, too, environmentalists say Kaine's record was mixed.
Earlier in his administration, Kaine had committed himself to fighting climate change. In 2007, he issued an executive order to put together a commission of policymakers, scientists, and other experts to address how Virginia should reduce greenhouse gas emissions and guard itself against rising sea levels.
"I do think then-Gov. Kaine deserves credit for creating Virginia's first ever climate commission to begin addressing the problem of global warming pollution," Cale Jaffe, assistant professor at the University of Virginia School of Law, told BuzzFeed News. Back in 2008, Jaffe was a lawyer with the Southern Environmental Law Center, one of the environmental organizations that unsuccessfully sued to stop the coal plant.
But while the governor's commission — headed by Kaine's secretary of natural resources, Preston Bryant — called for new legislation to require power companies and vehicles in the state to be more energy efficient, it also voted down a recommendation to ban the construction of new coal-fired power plants — just like the one Dominion would have up and running by 2012.
"Our politics in Virginia are dominated by Dominion, it doesn't matter who the politician is," Glen Besa, retired former director of the Virginia chapter of the Sierra Club, told Buzzfeed News. "Dominion has immediate access to any elected official in the state. With few exceptions, they get what they want."