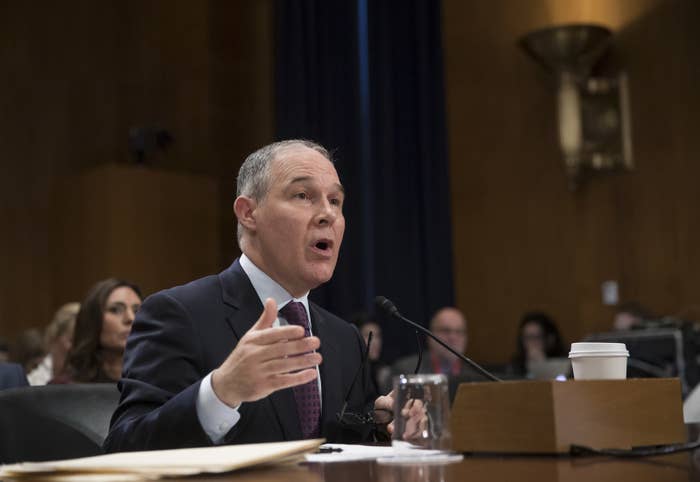 Donald Trump's choice to lead the Environmental Protection Agency, Scott Pruitt, declined to commit to recusing himself from any of the eight ongoing lawsuits he filed against the agency he is set to head.
If confirmed, Pruitt would be in an unprecedented position: defender of the EPA against lawsuits he filed against it.

Since 2010, Pruitt made a reputation for himself in conservative legal circles by filing some 14 lawsuits against the top environmental law enforcement agency in the US. They include efforts to stymie efforts to reduce the emissions of planet-warming methane from natural gas wells and cancer-causing mercury from coal plants.
Before his hearing in front of the Senate Committee on Energy and Natural Resources, the question hovered: Would Pruitt let other EPA employees handle the defense in those cases without him?
His answer, in short, is no — though Pruitt's response during one of the more tense lines of questions during the hearing, from Sen. Ed Markey of Massachusetts, was hardly succinct.
Earlier this month, an ethics agreement between the nominee and U.S. Office of Government Ethics required Pruitt to recuse himself from any lawsuit in which the state of Oklahoma is party for one year, unless he received a waiver.

"But Mr. Pruitt, isn't it correct that these lawsuits may very well continue for much longer than one year?" Markey asked.
"If there's a matter that arises before the EPA within the one-year period," Pruitt responded, "a particular matter or a specific case that involves those entities, then the recusal would be in order."
Markey pressed again: Would he agree to extend his commitment for his entire tenure?

Pruitt said he would defer to the judgement of the agency's in-house ethics office.
"There will be opportunity to get counsel from the EPA at that point," he added.
Before the hearing, Democrats pointed out that Carol Browner, an EPA administrator under President Clinton, would withdraw herself from issues she worked on at her previous job as head of the Florida Department of Environmental Regulation.
But Pruitt has a history of entanglement with oil and gas interests in his home state. In 2011, for example, he went so far as to copy nearly word for word a letter critical of new EPA rules written by lawyers an Oklahoma driller, Devon Energy, and sent it under his own masthead to the agency, a New York Times investigation found.

"I think that's a big mistake, Mr. Pruitt," Markey added as his five-minute questioning period wound down.