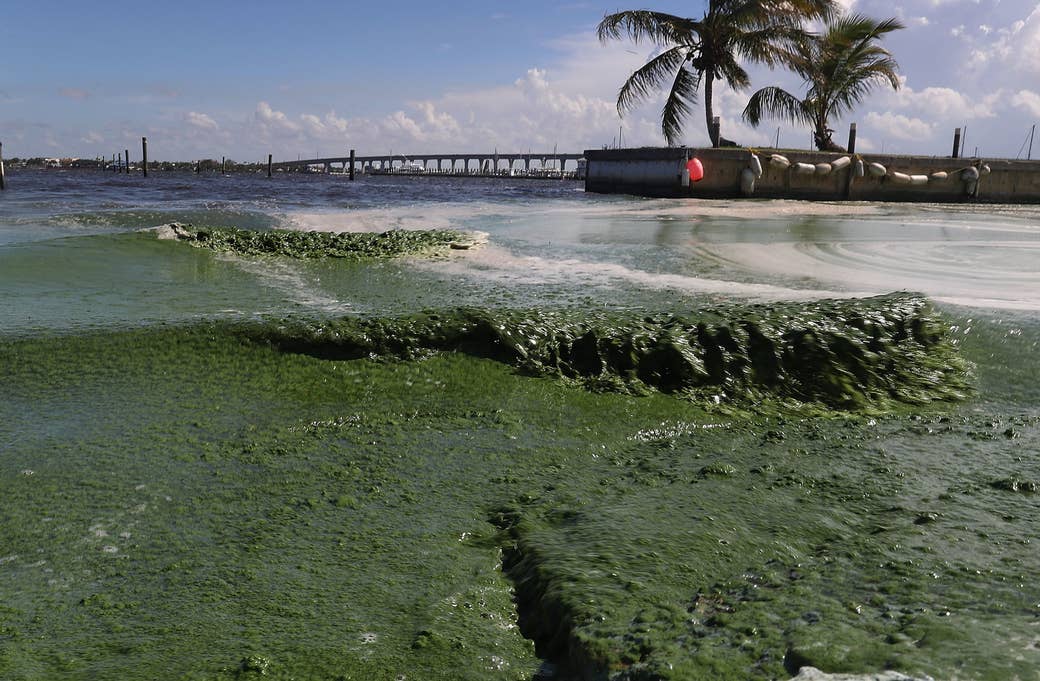 STUART, FLORIDA — During the final stretch of the presidential race, Hillary Clinton and Donald Trump have found themselves stumping on a strange environmental problem: a toxic bloom of algae.
Presidential candidates have always delved into provincial issues to win votes. But unlike corn in Iowa or coal in Pennsylvania, algae emerged unexpectedly in the 2016 race — both to locals here along Florida's Treasure Coast north of Miami and to the presidential candidates appealing to them.
Both Trump and Clinton have tried to weave the algae into very different narratives each is telling about the state of the country. For Trump, the algae is yet another consequence of deteriorating US infrastructure, often neglected by Democrats. For Clinton, the smelly bloom is an environmental crisis that, like climate change, the federal government must head off.
In June, toxic blue-green algae emerged along miles of coastline in Lake Okeechobee, the St. Lucie River, and the Indian River Lagoon. The thick, foul sludge crippled the coastal community here by closing beaches and marinas, sickening locals, and driving away tourists. The bloom lasted through the summer and fall, only dissipating this month.
The algae appeared here before, in 2005 and 2013, but this was the first year the bloom reached the county's beaches, major tourist attractions here, according to Deborah Drum, ecosystem manager of Martin County.
At its peak, "it smelled like a combination of raw sewage and dead bodies," Drum told BuzzFeed News. "Most people would have a gag reflex."
"This year, I would say, was the worst year ever," Irene Gomes, the owner of Driftwood Motel in nearby Jensen Beach and a water quality activist, told BuzzFeed News. She said she lost $12,000 in business from fishers and other tourists who canceled trips since the beginning of July. "People still call to ask if we have any algae," she said.
Last week, the Clinton campaign published a video on the "Hillary for Florida" Facebook page featuring Gomes' complaints.
Clinton has peppered her Florida speeches with algae references for months. "This is a serious and complicated problem, isn't it, for the entire Treasure Coast?" she said in September, praising the Martin County commissioners for addressing the crisis. "It is a reminder, if we needed it, of how important good leadership is."

Trump, on the other hand, points to the algae as yet another problem he will fix as president. "It's very sad. I'm looking at it," Trump told reporters in July. "I actually want to find out what causes it."
"It's very sad. I'm looking at it," Trump told reporters in July.
But scientists already have a good idea of what's behind the blooms. This summer, a surge of freshwater from Lake Okeechobee, along with an influx of nutrients from local agricultural runoff and unusually high temperatures in the estuaries, created "a perfect set of conditions that resulted in a massive algae bloom," Drum said.
This part of Florida is not alone in facing larger outbreaks of blue-green algae, which is not truly an algae but rather a buildup of bacteria. The rise in ocean temperatures worldwide favors the spread of this bacterial growth, the US EPA says.
By mid-July, the algae was so bad that Sen. Marco Rubio delivered his Republican National Convention speech by video in order to stay in Florida and address the crisis. Later that month, county commissioners in Stuart, the seat of Martin County, invited both Clinton and Trump to tour the algae blooms.
In perhaps a demonstration of the reported gap between Clinton's and Trump's field operations, Clinton's camp sent a surrogate, Carol Browner, who ran the EPA during Bill Clinton's administration and is a South Florida native. Although Trump has addressed algae and water quality issues in speeches and press conferences, he has yet to respond to the county's proposition.
"Our invitation is still extended," Gabriella Ferrero, spokesperson for Martin County, told BuzzFeed News. "We'd be thrilled to have the candidate here." The Trump campaign did not respond to a request for comment from BuzzFeed News.
Clinton's gesture made an impression on Barbara Osborn, a retired bookkeeper who lives on a boat in Stuart and had to flee to family in Tennessee after the water began to reek "like a toilet" this summer.
"At least Hillary showed more interest," Osborn told BuzzFeed News. "Donald Trump recently has just said a few little perfunctory statements because he had to. I don't think he cares a bit about water quality or the environment."
A lifelong Republican who voted for Romney in 2012, Osborn said Trump's disinterest in water quality, among other things, turned her off. She said she will vote for Clinton this year.
In public, both candidates have sought to tie the algae to larger issues animating their campaigns.
For example, in an op-ed that ran in three local newspapers, Clinton said that the algae was yet another example of the many environmental crises plaguing Florida, along with "sea levels [that] are already causing the streets of Miami Beach to flood at high tide."
"This is a recurring problem for the Treasure Coast and other parts of the state, and it deserves a long-term solution," Clinton wrote of the algae.
Meanwhile, Trump seemed to blame the algae on the Obama administration. This month in a speech in Panama City, Florida, the ad-libbing candidate mentioned the Treasure Coast's water quality issues in the same breath as lead contamination in Flint, Michigan.
"The Obama-Clinton EPA spends billions on failed climate projects, instead of repairing water infrastructure in cities like Flint. Remember Flint? What a shame," he said, before pivoting back to Florida. "My administration will address important environmental priorities, like the Everglades, and ensure quality water all across America, including the fixing of water problems, like Lake Okeechobee."
The governments of Martin County and the state of Florida are actually controlled by Republicans, and some have tried to propose solutions. Joe Negron, a Republican representing Stuart and surrounding towns in the Florida State Senate, has called for buying 60,000 acres of sugar farmland to build reservoirs for excess freshwater and direct it to the Everglades — with the federal government paying for half the project.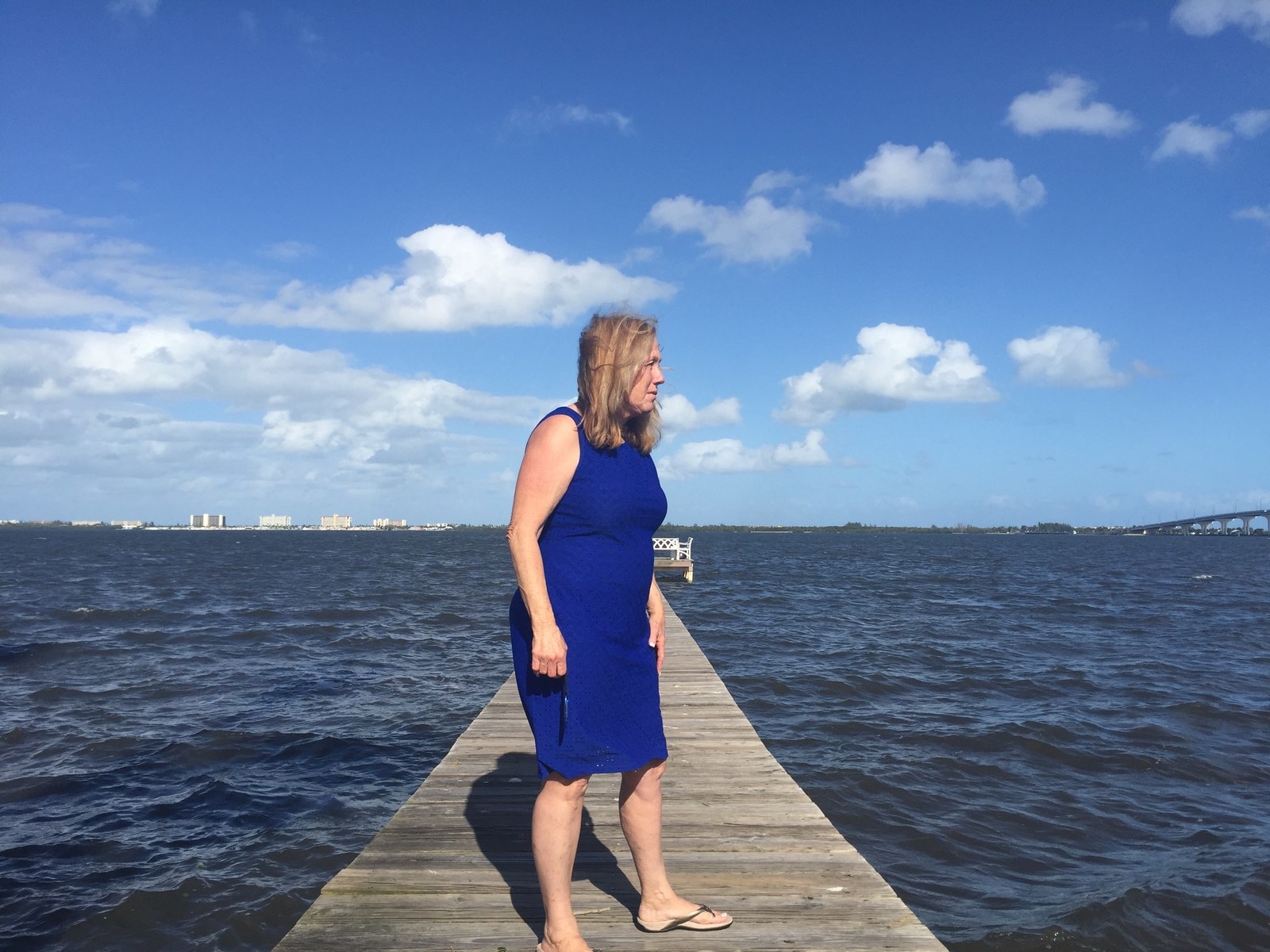 Martin County officials, who sought but failed to get the federal government to officially declare the algae a disaster, say Washington can help mitigate the algae in at least two ways.
In the short term, the Army Corps of Engineers, which is responsible for the water level in Lake Okeechobee, could release less of the freshwater the algae thrives on into the Atlantic. It could also repair the outdated dike keeping water from flooding farmlands to allow the lake to hold more water.
But leaving the lake swollen strains its marshes there and increases the risk of flooding in the event of a large downpour from a hurricane.
In the long term, locals want the state and federal governments to restore the flow of water from Lake Okeechobee to the Everglades, most likely by buying farm acreage around of the lake to store excess freshwater and direct it south. In her op-ed, Clinton blamed Florida's Republican governor, Rick Scott, for dragging his feet in making that purchase.
For Treasure Coast residents, the rhetoric from Clinton and Trump sounds similar to what they have heard from local politicians for years.
"The fear is that this is an election year, that they're just saying that to be elected," Mary Radabaugh, manager of the Central Marine marina in Stuart, told BuzzFeed News. Radabaugh said mats of dead algae clogged the marina and shut it down for much of the summer.
Since the 2005 bloom, elected officials have given lip service to the algae with no real solutions offered, added Radabaugh, who is an undecided between Clinton and Trump.
"So that gives people worries that it will continue on," she said. "We can't go on for another 11 years."