My Life As An NFL Ball Boy
I spent the 2008-2009 season as a ball boy for the Pittsburgh Steelers. I was barely paid, untrained, and pretty much undercover.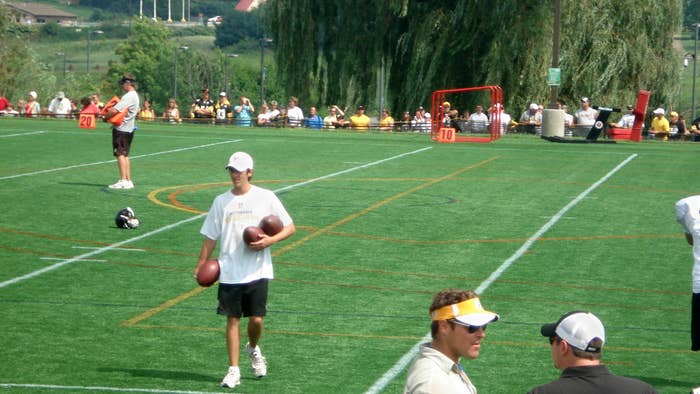 It was the kickoff to the 2008-2009 NFL season, and my throws were consistently coming up short. The Pittsburgh Steelers were playing in their first meaningful game since winning the Super Bowl the previous year, and were tied 10–10 with the Tennessee Titans with less than two minutes left on the clock. With QB Ben Roethlisberger driving down the field in hurry-up mode, the ball had to be placed in the field of play as quickly and accurately as possible.
But it wasn't. And it was all because of me. Frustration was mounting among the referees, whose eyes shot increasingly frightening daggers at me for every errant throw. My tosses had an unfortunate tendency to land a few yards in front of their targets, bouncing randomly as footballs are wont to do, which sent the referees chasing after them with the kind of hilarious desperation that made me laugh so hard that I probably should have gotten fired.
The umpire, Darrell Jenkins, was the main victim of my lack of skill. It was his job to place the ball at the proper field position, and, as the pace quickened dramatically in these final minutes, the job required a well-tuned efficiency that I was simply not capable of. I was 17, scrawny as hell, and had never played football in my life. Yet there I was, sporting an NFL-sanctioned uniform (one which I was told to make sure covered — at all times — the head-to-toe Steelers paraphernalia hidden beneath it) with a bright orange X across my chest.
I was an unpaid, untrained, and superficially undercover employee of the NFL. I was a ball boy, and I was sucking — hard — at my job.
Life as a ball boy went something like this: A team gained possession of the ball and I tossed the ball to the referee, who then placed the ball at the proper field position. The team would run a play, and the used ball would pass from one referee to another, and finally to me. Meanwhile, I was already in the process of tossing out a new ball to the downfield referees. It was a relatively simple chain of events, but one that could quickly be muddled with the slightest error — and, at this all-important moment in the game, the process was falling apart.
After one particularly awful throw, the referees decided that the death glares weren't going to be enough. Jenkins took me aside and delivered one of the hardest-hitting, most angrily sarcastic talking-tos I'd received in my young life. He asked if I knew how to throw a football, offered lessons on the subject, and ended on a particularly sour, "Got it?"
Despite my desire to "get it," my arm and my nerves weren't falling into line. The ball continued to sail off in random directions or fail to make it to its target. The refs finally resigned themselves to my throws, positioning themselves like baseball players ready to scoop up any ground balls that came their way.
Adding to the weight of pressure already bearing down on me from the bright lights of the NFL was the fact that I'd grown up idolizing the team I felt I was sabotaging. Even though I'd never played, I was entirely obsessed with football — I'd often surprise myself with the savant-like ability to pull out obscure players and statistics whenever I needed to show off my football trivia prowess. My dad, who I only saw on weekends, had inspired my passion. Our Sundays spent together yelling at the TV or screaming "defense" in the stadium are still some of my favorite memories — rare moments of father-son communion, our normally guarded interactions broken down by our shared passion for football.
It was, in fact, my dad who even gave me the opportunity to be a ball boy in the first place. He worked for a law firm owned by the Rooney family, who also owned the Steelers, and pushed me to send in my resume with a three-page essay detailing my passion for the organization and why I thought I'd make a good ball boy. I left out the detail that I'd never played football in my life — something I would later realize made me unique among the coaches' sons and athletes who constituted the rest of the ball boys.
Most of the time this didn't matter: During summer training camp, when I lived with the team for about a month, the majority of our job was spent on mundane activities like scrubbing balls, catching sweaty towels in the locker room, and carrying equipment from point A to point B. On game days, however, with the Steelers driving down the field with the game on the line, I'd often wish I'd spent a little less time memorizing obscure statistics and a bit more working on my spiral.
The Steelers ended up winning that game against the Titans despite my delays, and, much to my surprise, I was given the same position for the rest of the season. Why my managers at the Steelers decided that I was best-suited for this position, instead of doling out water or holding players' equipment like most of the other ball boys, I'll never know.
Though I never truly swung the outcome of a game with my pathetic throws, I certainly pissed off a lot of referees and a few justifiably impatient players (though, to their credit, players were consistently more understanding than any of the refs). And while my throws barely improved, I did learn to position myself as closely as possible to the refs in order to minimize the chance for error.
Looking back, I realize now that it was a powerful position that I'd found myself in. Football plays a large role in the fabric of American society, but it's particularly noticeable in a football-crazy city like Pittsburgh. Millions of dollars, countless hours of preparation, and a city's unhealthy love affair were all flowing through the footballs dangling under my scrawny arms.
Being a ball boy changed my relationship with football in a complicated way. My time on the sideline helped me gain a greater appreciation for the ungodly speed and violence of the game, which, in light of the increasingly obvious fact that football causes serious brain damage, both amazed me and disturbed me. This season in particular has shaken my fandom to its very core — I watched Super Bowl 49 with an apathetic glaze over my eyes, the game no longer the escape it once was.
Deflategate seemed like the proper end to a season rocked by controversy, a scandal that seems to receive much more play than many of the other very real concerns eating at the foundations of my now guilty passion. As I read about the story, memories of my time as a ball boy came flooding back to me. The hours spent cooped up in dimly lit rooms with 10 other kids scrubbing those pigskins until they were perfect came back the strongest, the smell of leather filling my nostrils again as my memory was suddenly stuck on the gold NFL logo emblazoned on the ball.
Dillon Baker is a writer and editor based in Queens. He has a love/hate relationship with many things, but his love for David Bowie remains pure. Follow his random musings on Twitter @dillonmbaker.

Contact Dillon Baker at dmbaker412@gmail.com.

Got a confidential tip? Submit it here.