It's a Saturday night in midsummer at Los Angeles's Club Shine, one of the city's best parties by and for transgender women. The party is held at Oxwood Inn, a seedy bar in an unassuming suburb 25 minutes outside of L.A.; it draws droves of trans women and their admirers every week. Tonight, Hollywood's trans starlets from Amazon Studios' Transparent, a group of women in their early thirties, have gathered to party with their sisters. Zackary Drucker arrives in blue jeans, high-heeled boots, and a smoky eye. Together with her fellow co-producer Rhys Ernst, Drucker handles everything on Transparent from nitty-gritty feedback on scripts to recruiting transgender actors, writers, and crew.

Now, Drucker cuts through the fog machine's exhaust toward her friend and colleague Van Barnes, the personal assistant to Transparent's lead actor, Jeffrey Tambor. Barnes is wearing a bright chartreuse skirt cinched at the waist. She and Drucker kiss each other's cheeks. They've been friends for more than a decade and now find themselves employed together in Hollywood. Trace Lysette, an actress on Transparent, emerges between the parted smoke. She has been perched by the bar, her hair slicked into a high bun, gold hoop earrings bouncing against her neck, and now springs from her seat toward the dance floor, moving her hips to the music.
On the show, Lysette portrays a trans woman named Shea. Though she'd been in the film industry for years before Transparent, she never before felt safe disclosing her gender. After twirling once or twice beneath a disco ball, she steals away from the crowd, shifting through more smoke and tightly packed partygoers, then slips out a back door into the parking lot. Resting upon a silver guardrail, she tells me that Transparent is different than any other production she's worked on. "There is an underlying sense of home."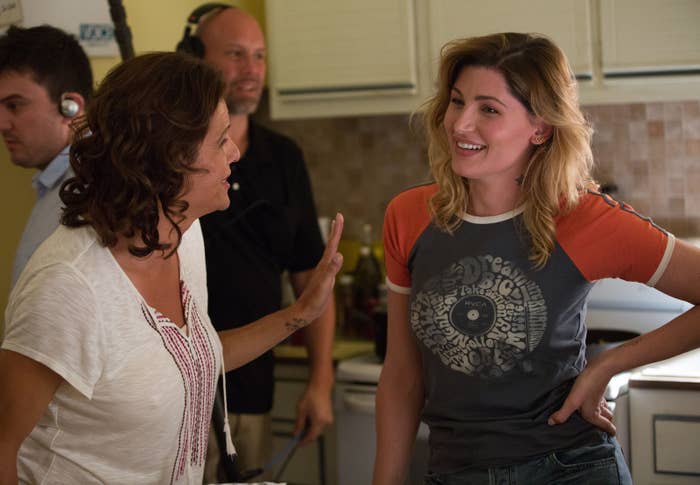 Since she began working on Transparent, Lysette's career has flourished. She was in an NBC pilot, Curse of the Fuentes Women, and performed alongside legend Sir Patrick Stewart in Blunt Talk, the new Starz series by Jonathan Ames. "We're on a new frontier," she says. "Space is being created for us. It's important we step up and take those opportunities so that the generation that comes behind us will have even more than we did."
When Lysette talks about space, she doesn't just mean room at the party: She's talking about both the cultural movement for transgender equality and the structural integration of transgender talent and staff throughout the production chain of Transparent. From creator Jill Soloway, Transparent follows the transgender patriarch turned matriarch of an upper-middle-class Jewish family, Jeffrey Tambor's Maura Pfefferman, as she comes into womanhood amid the intersecting storylines of her unhinged adult children. The Amazon Studios series debuted in the fall of 2014 to instant critical acclaim, winning two Golden Globe Awards the following January and five Emmys this past September. While the entirety of Season 2 debuts on Dec. 11, the first episode, which follows Maura's family during her daughter Sarah's wedding, began streaming for Amazon Prime users on Nov. 30. Television fanatics and transgender activists alike are eager to see how the rest of the second season will measure up in terms of transgender representation and, of course, quality storytelling. While mainstream praise of the series abounds, Transparent has not escaped controversy, especially within the transgender community: Many feel the lead role should have been given to someone who is themselves transgender.

Previously, there have been few major accomplishments in mainstream media for transgender representation. Candis Cayne made television history in 2007 when she portrayed a trans woman in a recurring role on ABC's Dirty Sexy Money. But it wasn't until the summer of 2013 that the issue became relevant to film industry leaders, or the general public. When Laverne Cox first portrayed a trans character in the Netflix series Orange Is the New Black, her performance dovetailed with a greater cultural and political transgender movement.
Transparent has involved the creative contributions of trans people since its inception, but for the second season, Soloway has doubled down on her mission to employ trans people in every production department. She's hired an unprecedented number of trans collaborators, including Silas Howard, who directs one of the episodes; a full-time writer, Our Lady J; and model, actress, and It girl Hari Nef.
What does it take to produce a major, multimillion-dollar television show that centers on a marginalized, historically destitute population? And how important is it, really, to have members of that marginal community represented both in front of and behind the camera in productions that spotlight their storylines? The transgender community in the United States has a long history, one of survival and kinship within an inhospitable world. Trans people have come to understand their own obscurity within pop culture — for many of them, it's beyond surreal to see trans life start emerging in the limelight.
Now, outside of the Oxwood, a woman entering the club holds the door for us, and Lysette and I dash through. We're carried back to the dance floor. There are cisgender men waiting eagerly along the wall, hoping to pick up a beautiful transgender woman. But here, the men are secondary. Women reign supreme.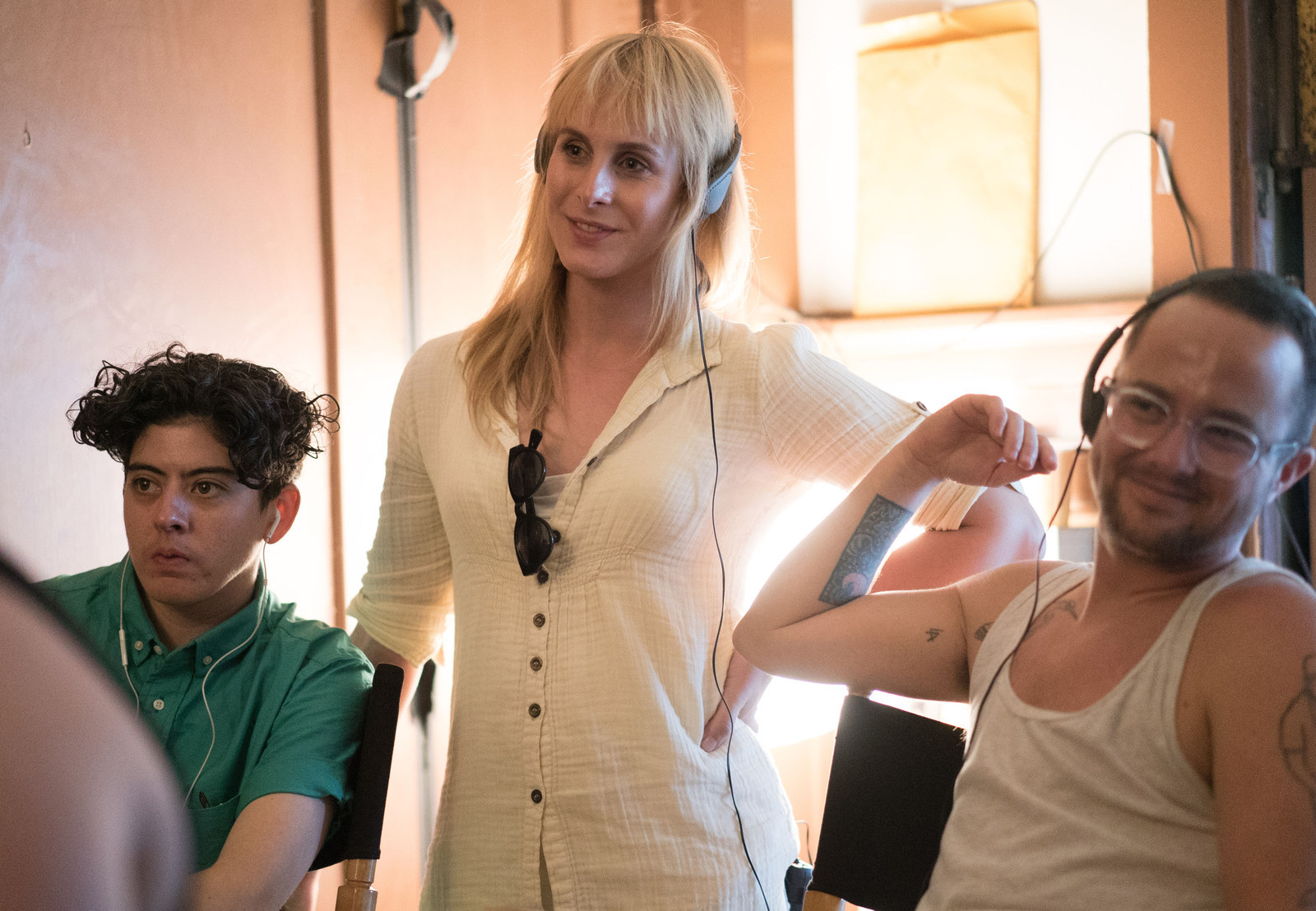 I witness a similar inversion of power on a bright Monday morning when I arrive at the sunlit studios of Paramount Pictures.

It's 8 a.m., and the front corridor of a tan, generic Paramount office building, where this morning's shoot is taking place, has been commandeered by Soloway's feminist enterprise. Some hundred men and women mill in and out. The production crew have already shot the first several episodes of Season 2; the episode they're shooting now falls midway through the season. Cameras, lights, and wooden director's chairs strapped with black canvas, their backs emblazoned with the show's title in orange lettering, dot the room. Jeffrey Tambor is standing near a row of monitors, talking to Silas Howard, Transparent's first transgender director. (This is the first and only episode Howard has directed for the show; Season 1 was directed by Soloway and Canadian film director Nisha Ganatra.)
I envy the perfect periwinkle lacquer of Tambor's pedicure. It works seamlessly with his wardrobe: that of an airy, confident, and comfortable Californian woman of a certain age. His long gray wig is held by a butterfly clip. Howard leans in to give him direction for the scene's next take. As they huddle, a familiar voice sounds from my side. Barnes, Jeffrey Tambor's assistant, is sitting in a nearby chair. She calls to me with one black headset strategically planted below her coiffed blonde hair, holding another in her hand. "Here, honey, put these on," she says in her charming country drawl.
The camera follows Maura through the L.A. LGBT Center after she receives her first prescription of hormone replacement therapy. HRT is the medication she'll take to change her sex from male to female. Hormones are a rite of passage for transgender people — they're often the first step taken to transition. I'd had my own version of Maura's moment myself, and I've seen countless tearful girlfriends clutch that same crinkling paper bag of pills.
Between takes, Drucker hurriedly breezes past on her way to a meeting. Barnes is seated behind the monitor to my right. Howard give actors feedback on their performances. Two trans crew members, Thomas and Zoe, help orchestrate behind the camera. Natasha London, a trans woman who works in wardrobe, is nearby and ready to assist. Four transgender extras populate the set. Outside of LGBT-centric environments, like a community center or health clinic, being trans can feel like an obstacle between you and the rest of the world. The Transparent Season 2 set feels like a trans separatist commune in the heart of Hollywood.
The trans presence at Paramount isn't only evident on set. A diverse group of gender-nonconforming people are found both onscreen and off, including trans women, men, and nonbinary individuals. Nearly all of them say that the show has made a significant impact on their lives, including Rain Valdez, who is employed in accounting. Valdez has worked in postproduction for years, elevating through the ranks from assistant editor, to editor, to producer before starting account work for Transparent. Like Trace Lysette, before working on Soloway's show Valdez wasn't out about being transgender at work or in most of her personal life. "About a year ago I started thinking about my life and realizing that I never really looked back and appreciated what I went through," she says. "To do all of that to just be in hiding, to be in secret, just didn't make any sense."
In order to break free of secrecy, she went to the L.A. LGBT Center, and began to attend their trans support group, Perceptions. In the fall of 2014, Transparent debuted. Valdez was familiar with the show long before she was approached to work on the second season. "There's some scenes where [Tambor] is at the group, the transgender Perceptions group, and I was like — that's my group! This is my life!"
"I started to realize that I'm kind of a success story," she added. "There's so many deaths, there's so many threats, hate crimes, and abuse... I started to realize that, oh my gosh, I've been hiding all this time when in reality I could probably be helping people."
Valdez began working for the Economic Empowerment Group at the L.A. LGBT Center in order to help other trans people find success in their transitions. Unemployment in the transgender community is an epidemic. A study from 2013 titled A Broken Bargain for Transgender Workers, put out by several organizations in conjunction with the Human Rights Campaign, reveals this inequity. Among other findings, the study shows that trans workers report unemployment at twice the rate of the general population, and are nearly four times as likely to make less than $10,000 a year. The study traces this disparity to several factors, including discrimination on the job and in the hiring process. Other obstacles further clarify the cause: Trans people experience difficulty changing legal identity documents, and health care exclusions are common, limiting their options.
When producers Drucker and Ernst contacted the Economic Empowerment Group at the center when they were hiring for Season 2, Valdez was thrilled. Transparent is the first place she's worked where the person running the show is a woman. "I pinch myself every day," she says.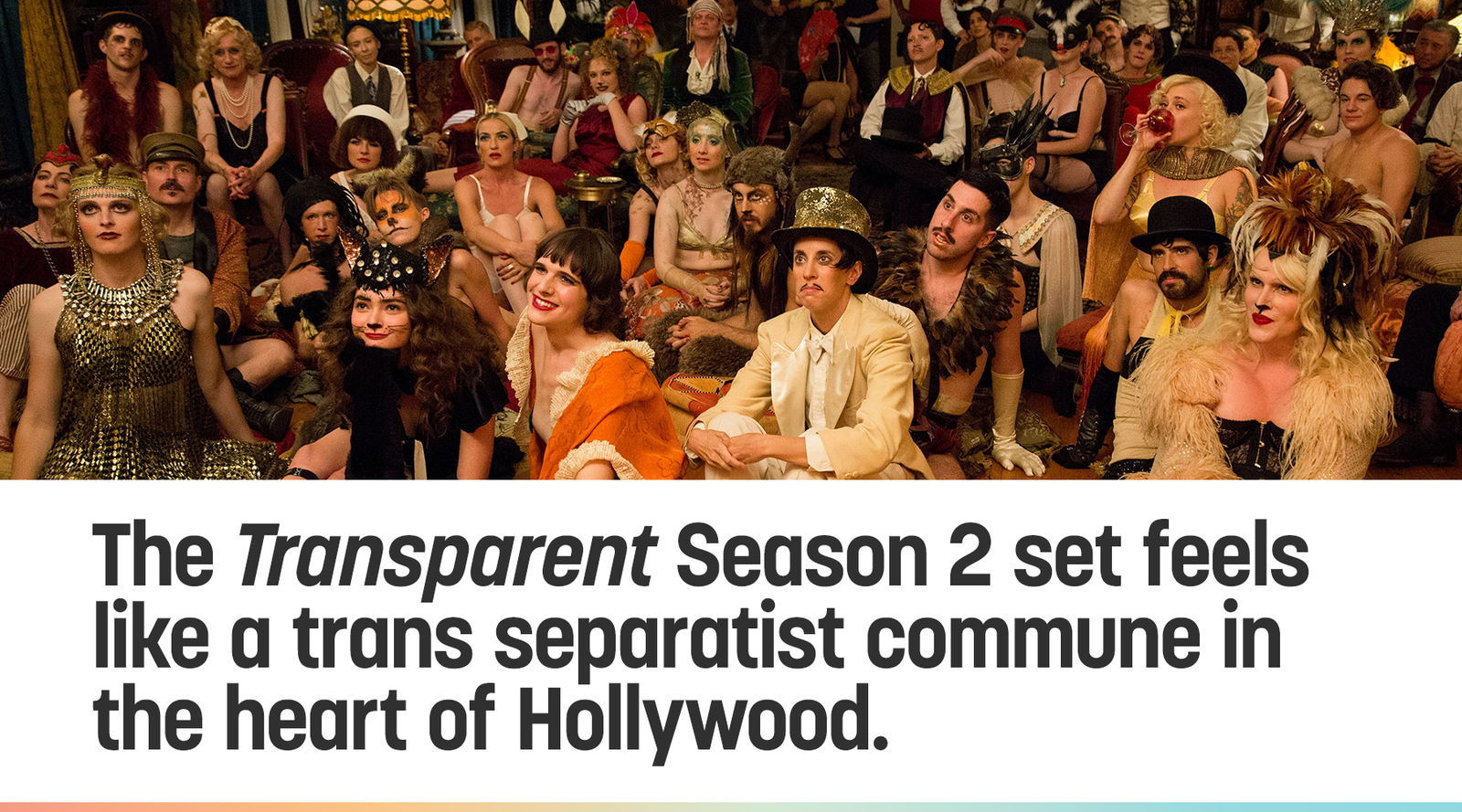 Tambor's trailer is nestled in a small colony near the soundstage. It's Monday afternoon and he is seated near a desk, his assistant close by. He's no longer Maura, her periwinkle toes now hidden in thick leather loafers, the butterfly-clipped braid momentarily retired. "This is quite a moment in America," Tambor says, referring to the contemporary transgender movement. "I certainly am a contender for the 'luckiest actor in the room' award."

This past September, Tambor made history by becoming the first actor to receive an Emmy for a role portraying a transgender person. His was among five Emmys Transparent took home this year, out of 11 nominations. Clutching the golden-winged statue, he thanked the people he called his teachers, including trans producers and collaborators Ernst, Drucker, and Barnes. Earlier in his acting career, he had another teacher: someone who used to say, "When you act, you have to act as if your life depends on it." "And now," he said, "I've been given the opportunity to act because people's lives depend on it."
According to Tambor, the role of Maura Pfefferman changed his life. She's given him a sense of responsibility. Tambor cocks his head to the side. His eyes narrow, and he uncrosses his legs as he underscores the greatness of a truly human transgender character. "I like to say my politics are in my performance... I need to know that the human quotient is there at all times."
The majority of trans characters are depicted as villains, sex workers, and victims. That is beginning to change in the 21st century, but most Americans, including Tambor, are being introduced to the humanity of the trans community for the very first time. Transgender people are tired of seeing their storylines interpreted by someone outside the fold, because transgender experiences have historically been perverted and sensationalized by gawking outsiders, while the real people those storylines are based on remain oppressed and marginalized.
"What I love about this year is that we're sort of taking the Bubble Wrap off of her, Saint Maura," Tambor says of his character's development in Season 2. The writers have explored her fallibility. Maura isn't idyllic. She is meant to be a person, with normal needs and flaws. In the season premiere, Maura has taken on a new confidence. In the beginning of the episode at her daughter's wedding, when standing for a family portrait, the photographer misgenders her, saying, "Chin up, sir" — and, clearly having had enough, Maura marches proudly away from the shoot. In another moment, during an uncomfortable confrontation with an estranged sister who cannot stomach her sibling's true identity, Maura quickly pivots from an icy conversation to privately choking up at the intolerance she faces even inside her own family. She's subject to error and anger. "I love that," Tambor says.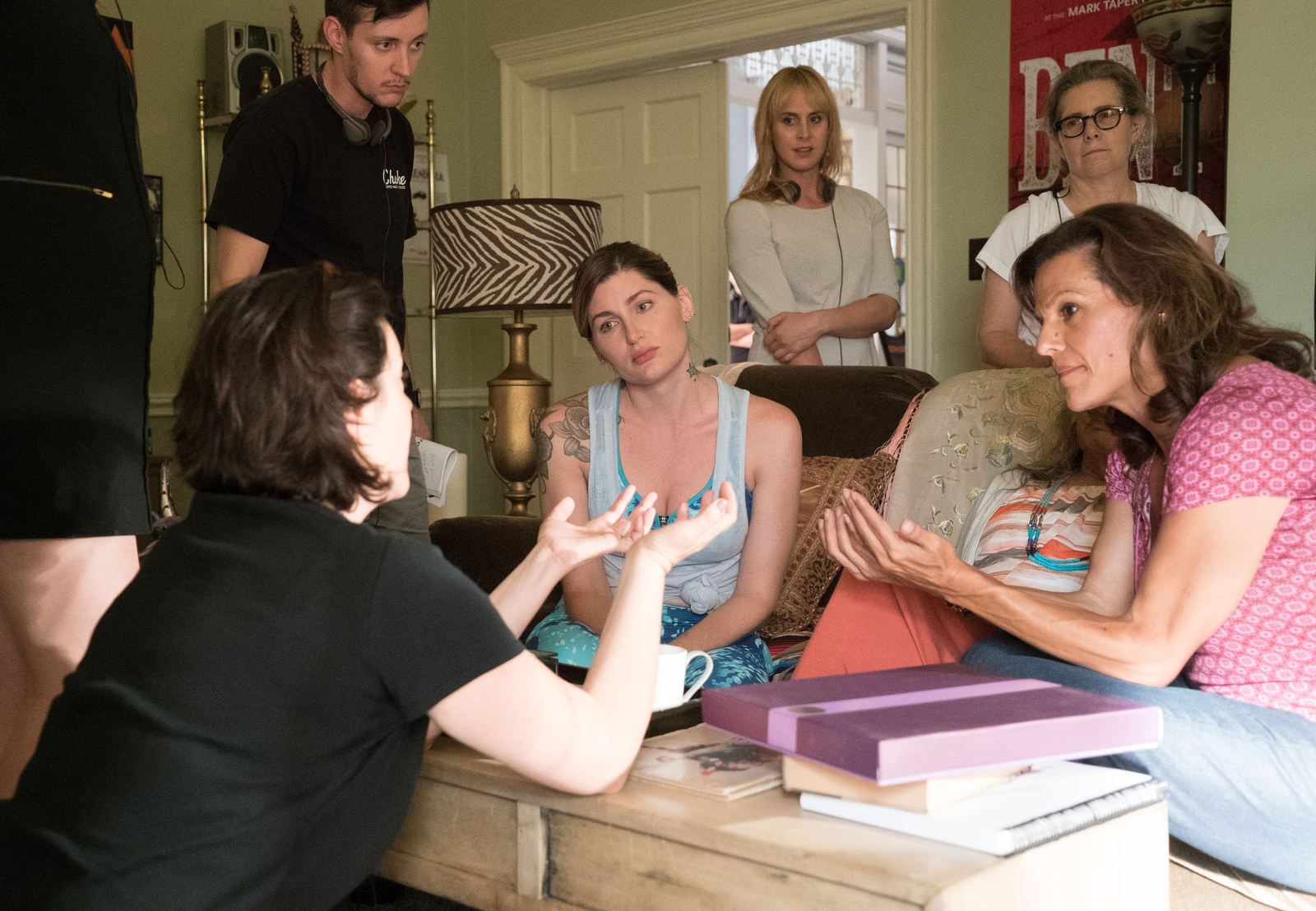 He particularly loves that the general audience of Transparent — the cisgender American viewer — can watch Maura and say, "I'm like that," when they see her short temper, her desires, and her fears.
The second season will also be exploring other complex trans storylines. Hari Nef, who landed a contract at the major modeling agency IMG this past spring, makes an elusive appearance in the season premiere, which intercuts the Pfefferman present-day Jewish wedding with flashbacks to a party in 1930s Berlin, where hundreds of colorful, gender-nonconforming queers dance together with Nef in the center. Here, Transparent stays true to a tradition of ambitiously tackling uncharted chapters of the past century. Season 1 follows Maura to a 1980s cross-dresser retreat, rarely represented in pop culture, while Season 2 has leaped decades back in time and half a world away to portray the exploration of sexual and gender identity in Europe before World War II. The modern-day wedding and 1930s party run parallel until they merge when Nef's character appears in the final scene, as a figment on a patio chair outside the hotel where the Pfefferman wedding occurred.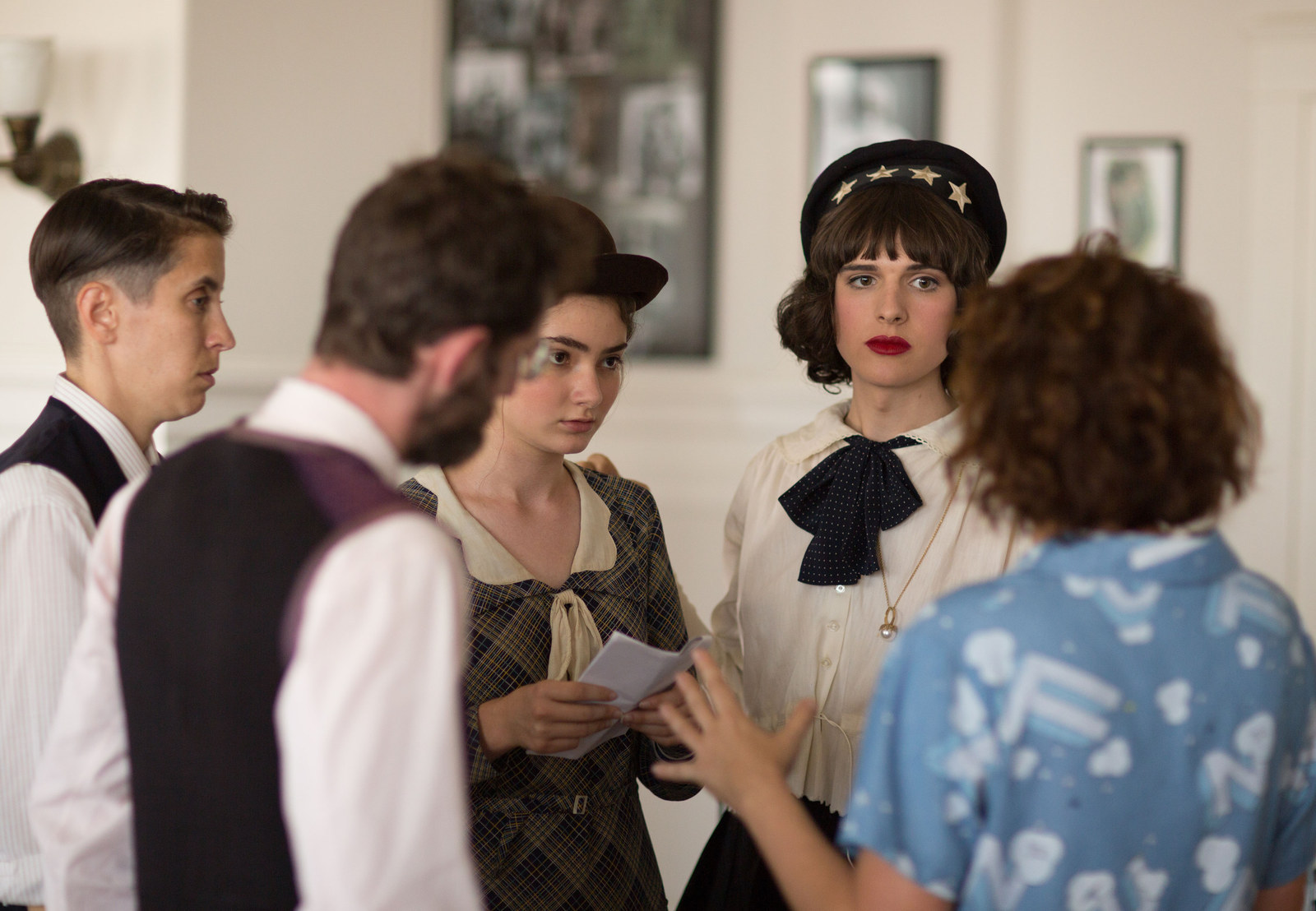 This kind of challenging trans storytelling is relatively new for the film and television industries. It wasn't long ago when trans stories, when told at all, were little more than crude caricatures. In recent years, Laverne Cox opened the door for widespread critical discourse about the casting and representation of transgender characters in television and film. The tension was palpable when, in the fall of 2013, Jared Leto portrayed a trans woman named Rayon in Dallas Buyers Club. Though Leto won an Oscar for his performance, he was highly criticized for taking a role that many felt should have gone to a transgender person. Without the transgender community's blood-spilled history, writers would not have invented Rayon, nor would she have inspired acclaim. Leto's acceptance speech at the Academy Awards failed to pay homage to that history, and thus the criticism worsened. This marked a turning point in Hollywood. It was the first time that audiences, as well as industry insiders, began to question what ethical and responsible transgender storytelling might look like.

Meanwhile, Soloway was developing Transparent. The pilot was released in the winter of 2014 on the heels of Leto's Rayon blunder. As she likely anticipated, Soloway received criticism for casting a cisgender actor in a trans role. That criticism has been somewhat curbed by the bigger picture of Soloway's efforts. Casting is an important point in the upheaval of trans media representation, but it is only one part of a much bigger movement to empower trans film industry professionals and diversify Hollywood.
Now, in Tambor's trailer, I tell him that a lot of the trans crew I've spoken with feel that Transparent has changed their lives.
Tambor smiles wryly and looks toward his colleague. "Yeah," he teases, "everyone except for Van."
"I take it for granted," Barnes laughs, her eyes meeting Tambor's. She began working on the show during the first season and has taken on many roles, both onscreen and behind the scenes. Last year she had a cameo role, worked in set decorating, and gave her insight in the writer's room. After working with Tambor a few times, Barnes was offered a job as his personal assistant.
"I thought he was joking," she says. At first, she dismissed his request. In fact, she'd forgotten all about it, but when the two reconvened at Transparent's premiere last fall, Tambor asked again. "It helps him in understanding a transgender person's past. ... He and I have a lot of hours together so we discuss trans issues. ... I do what I can to help him have a well-rounded understanding on what it really is like to be trans, and not just the 1% trans either."
Transparent's first season largely focused on that 1% — Maura Pfefferman is an upper-middle-class white woman — which led some viewers to criticize the show for representing a small, privileged aspect of trans experience. While trans women like Maura are subject to discrimination, the bulk of that burden falls disproportionately upon trans people of color living in poverty. If the general audience for Transparent is ignorant to the reality of most transgender people, then portraying the trans experience only within the context of white wealth can be considered misleading.
That said, the trans people who are now a part of Transparent report major life-changing experiences and emotional catharsis. Last season, Barnes had a cameo role as a cam girl. She was laced tight in a black corset with her blonde hair teased out of fat rollers. Barnes says the scene was done very well, with compassion, and not yet another cliché trans sex-work shot. She says the process helped her to let go of some of the trauma of her past.
"Shame doesn't live here anymore," she tells me. "I lost an element of shame that had been with me for years [before] I did that scene. Here you are, a trans woman, on a soundstage at Paramount, on a set that has been built for you. All these people are clamoring to get this dramatization of you, and you realize — there's no reason I should ever allow any level of shame to ever touch me anymore."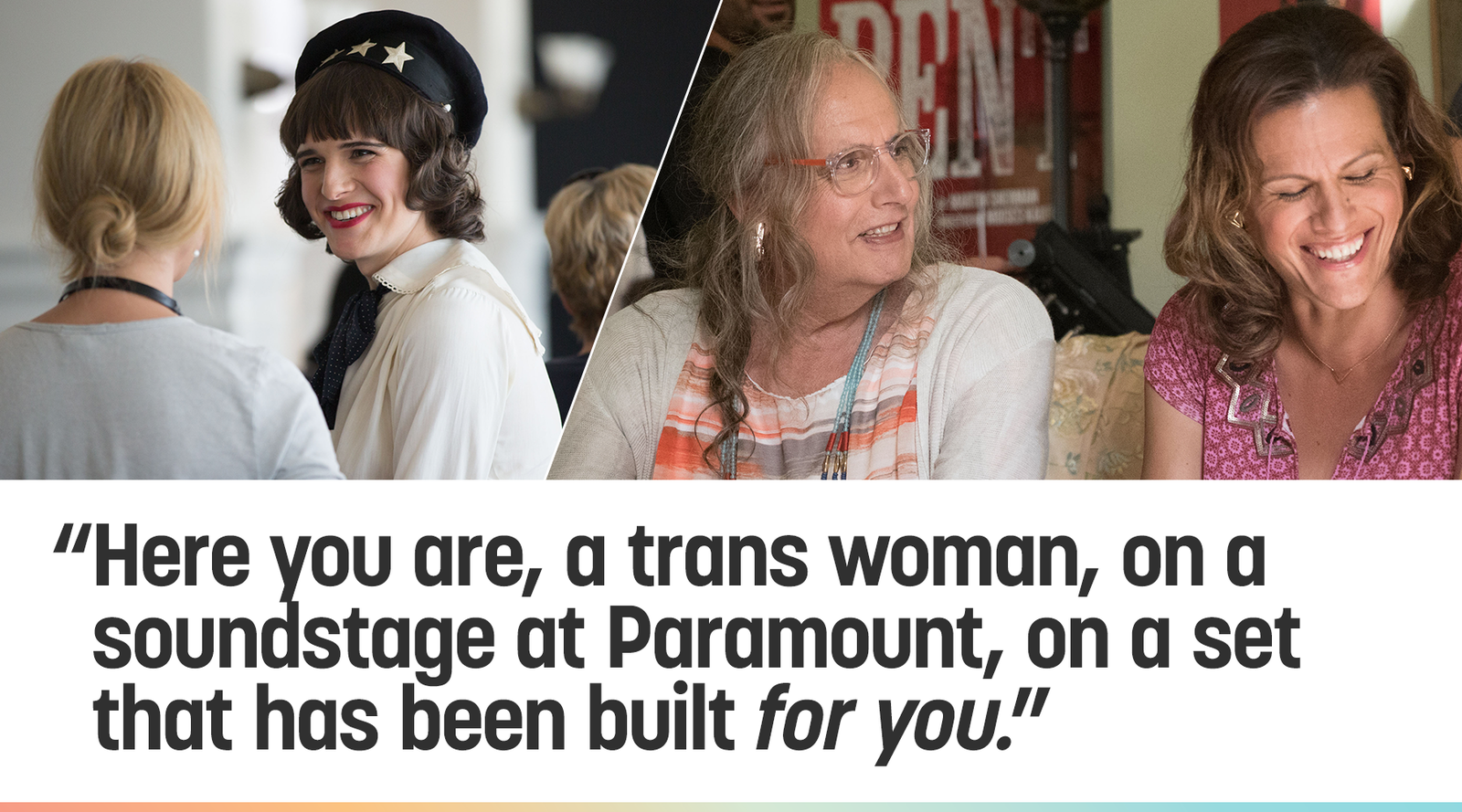 The Emmy banner is small in the background of Paramount's permanent New York City set, a series of buildings and streets plucked from the Northeast. It is a cool summer night in a patchwork world of fantasy. Palm trees cast long, low shadows over cobblestones. Earlier there'd been a constant stream of film industry professionals hurrying across campus, but now the lot is quiet. The episode's director, Howard, strolls by.

Howard has been an active participant in the queer arts for decades. In the '90s he ran a café in San Francisco called the Bearded Lady. The venue hosted performances by greats like trans icon Kate Bornstein and feminist author Kathy Acker. In 2000 he decided to make a transgender feature film titled By Hook or By Crook, so he sold the café. His film ran the festival circuit, earning awards at Outfest, Sundance, and SXSW, among others. He's recently finished working on a project set in Los Angeles, featuring the transgender performer Justin Vivian Bond.
Years ago, Soloway and Howard both directed shorts based on queer author Michelle Tea's book Valencia. Last year Howard heard about Soloway's new series, and he reached out to see if he could be involved. Howard tells me his work is very indie and hasn't historically been supported by big budgets.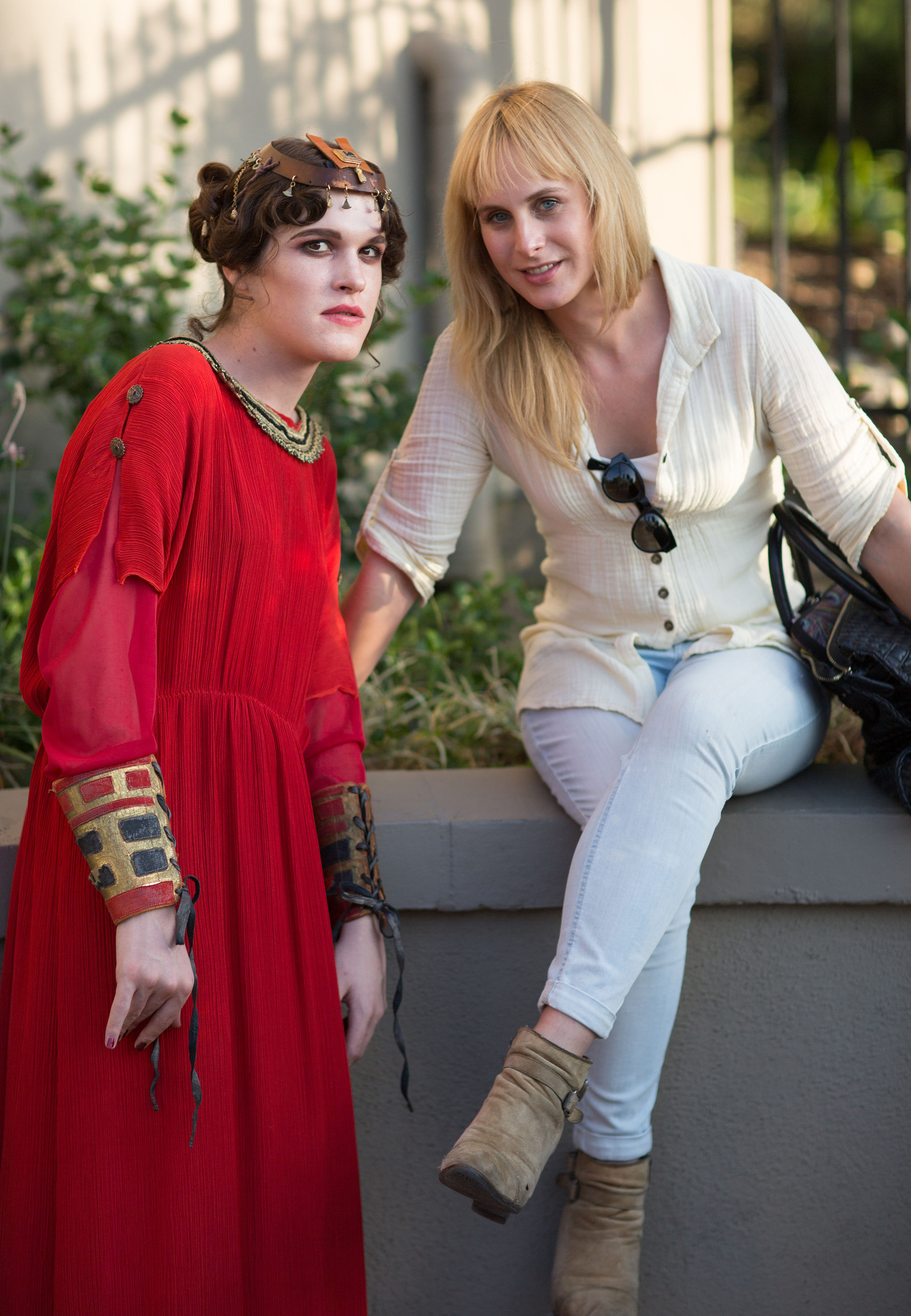 As he sees it, the significance of his gender in relation to his work as a director on Transparent comes down to paradox. While trans people gain a lot emotionally, mentally, and spiritually by coming out, we sometimes lose a lot too: relationships, jobs, and social acceptance are often stripped away post-transition. Howard uses these paradoxical experiences frequently in filmmaking because it helps him recognize the depth and complexity of a character or story. Little is absolute.
"I don't always get to bring myself everywhere," he says. I nod because I understand all too well. In order to survive, trans people often edit out the parts of themselves that are too complicated or socially unacceptable. Many trans people hide their gender from their employers or learn to minimize that part of themselves because it can make other people uncomfortable. "To be on a job where ... they want you to reach for the depths of everything you've been through. ... We're in these rooms together. I'm not here alone."
Early the next morning, the chaos of film production dissolves through what appears to be an average kitchen doorway. Lights, cameras, and countless crew members coil madly around each other, but the camera's lens is pointed at a scene that comes over the screen with perfect clarity.
Maura is by Shae's (Lysette) side making lasagna. Davina (Alexandra Billings) is rinsing dishes. They banter the way trans women do: Shae teaches Maura about trans lingo, like ki ki and kai kai. The former basically means girl time, while the latter refers to trans ladies romancing other trans ladies. It's language I never expected to hear at Paramount Studios. I probably wouldn't have, had Lysette not improvised it into the scene. I doubt the proximity between real trans life and Hollywood's re-creation of it has ever been so close.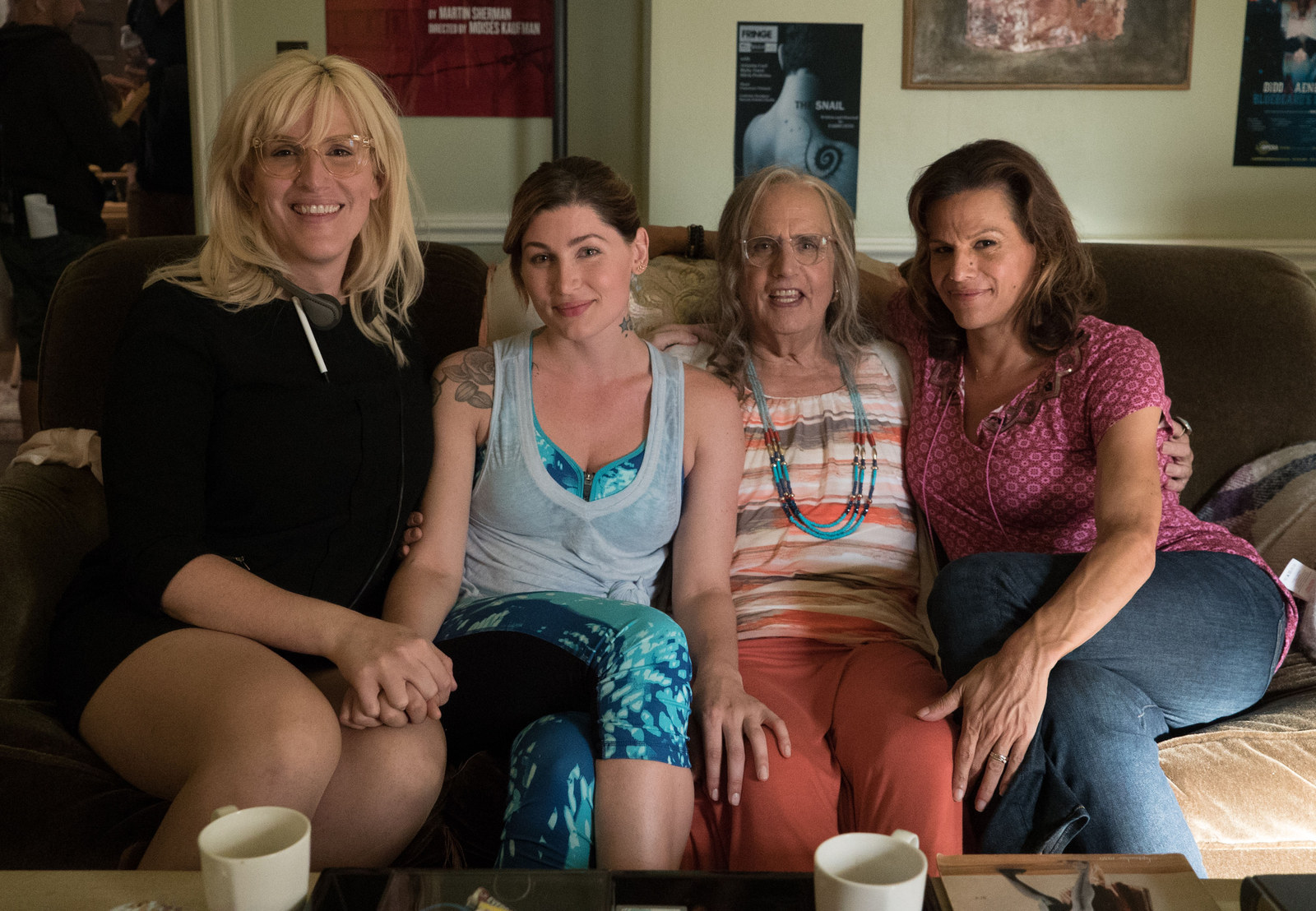 Later, Davina's boyfriend joins the scene. Tambor wasn't exaggerating when he said this season they're touching on more challenging subject matter. Sal, portrayed by Sopranos actor Ray Abruzzo, is a straight, cisgender man primarily attracted to trans women. If there are few trans role models in the media, there are even fewer for partners of transgender people. Maura picks their brains, inspired by the ease of Davina and Sal's affection.

Around noon, the cast gathers together with the writers, director, and producers to read the new script for the next episode. Among their fellow cast members, Judith Light, Amy Landecker, Gaby Hoffmann, and Tambor sit around a large table with bottles of Perrier. Jill Soloway is seated at one end. Drucker and Ernst follow among rows of other producers and writers. There are two large buffet tables in the hallway and scripts placed on every empty chair.
Before the reading begins, we observe a moment of silence as a female rabbi sets the intention, offering an inspirational blessing for their work. She invokes prior generations of transgender people and asks those present to hold that history close to their hearts, to handle their craft with great care so these lost stories can finally be told.
Near the end of the script, there is a monologue written for Davina. The script speaks to the raw quest trans women endure to be accepted and loved. It's good, but when it comes time for Billings to read, she's got something better. Billings discards what's been written for her, speaking instead from another, deeper place than the page. The room is silent as Billings speaks about violence, rejection, and survival as a trans woman of color. Eyes dart across lines to find where she is reading, but it's clear it comes from her heart. Later, when I ask Billings about the scene, she confirms it was improvised. "I lived it," she says.
Trans writer Lady J wasn't in Los Angeles when I visited, but we spoke on the phone. J told me she hopes to bring realistic elements to the trans characters. While that likely has shown itself in the scripts, Transparent still strategically makes use of improv.
Billings pours herself into Davina. Her impromptu monologue underscores the significance of having a trans person portray a trans character. In an ideal world, cisgender actors should be able to craft trans characters, just as trans actors ought to star in cisgender roles — but Billings' improvisation is culled from a raw well of personal experience that no cis person could possibly know.
The reading concludes, and the room erupts into applause.
"I lived through the AIDS plague," Billings says, drawing from an electric cigarette as she walks back to her trailer after the table read. "I lived through the revolution at Stonewall, and I lived through Harvey Milk. My generation goes back to when we were arrested for walking across the street." Billings explains that this history is directly related to her work on Transparent. "A lot of this show is about this family whose spiritual maladies lie in their own inability to connect what's divine within them. We as trans people innately understand that."
Billings is the sort of woman who will give you compassionate, stern advice that cuts to the quick. She has the calmness of an older woman whose grit and charm inseparably coalesce. "We're so underrepresented, we all but disappear," she says, contextualizing the media's present fascination with transgender phenomena. "This show treats us like we're you and me standing here talking." And that in itself is profound. As Billings succinctly explains, "Our normalcy is odd to the rest of the world."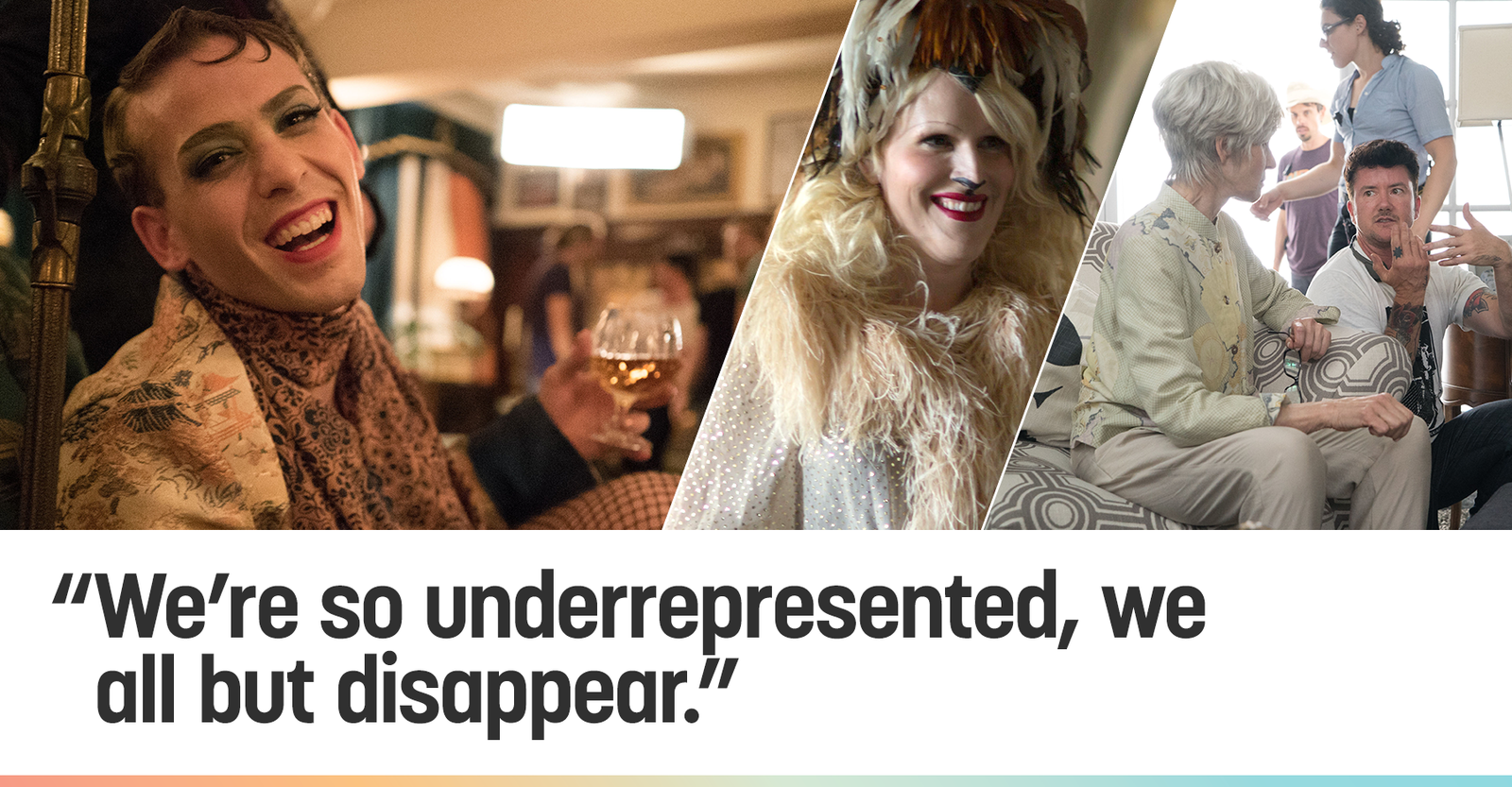 It's late on Tuesday afternoon, and crew members are loading into a van for one last shoot, which takes place at a recording studio down the road. A production assistant dodges clusters of actors and crew as he runs down the driveway, his arms full of sweating water bottles. He hands one to Soloway.

"I've been thinking about this desire thing for female filmmakers," Soloway says, leaning against the garage. "The same may be true for trans people. Because we're so used to looking at filmmaking and directing as an embodiment of cis male desire, we're all used to being objects in the storylines of cis male subjects." With the exception of Maura's son, Josh, Transparent overwhelmingly centers on female and queer narratives. "Just the act of drawing the lines wider for what desire looks like for people who aren't white cis males removes people from the object position and puts them in the subject position."
When I ask her about the initiative to hire transgender people throughout the show, Soloway says, "In some ways it took care of itself, because it just became part of the culture." She explains that Transparent passed the point where they were looking around and counting, "Oh, there's a trans person in this department, and there's a trans person in this department. It's kind of a world now, as opposed to a program."
Building a trans world on set has personal implications for Soloway. Transparent was inspired by her own transgender father, who became "Moppa" after coming out as trans in her seventies. When Soloway accepted her Emmy for Outstanding Directing in a Comedy Series, she took the stage in a in a polka-dot-print black suit. Before honing in on the focus of her speech, Soloway thanked "the goddess."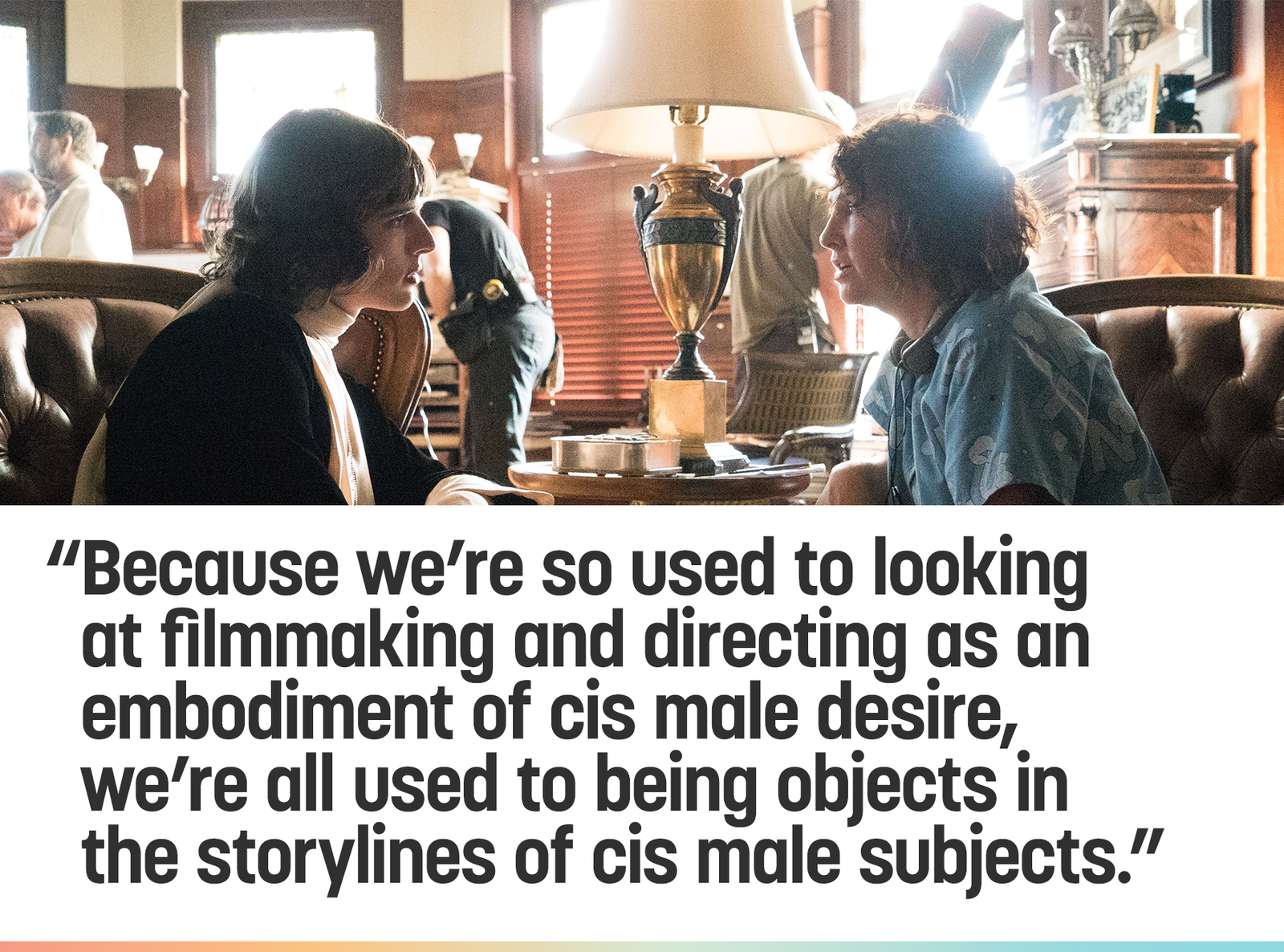 "Something interesting about my Moppa, Carrie," Soloway said. "She could, tomorrow, go and try to find an apartment, and in 32 states, it would be legal for the landlord to look her in the eye and say, 'We don't rent to trans people.' We don't have a trans tipping point yet. We have a trans civil rights problem, so go to transequality.org and vote to pass the trans equality bill. Thank you." Not all filmmakers use their award acceptance as an opportunity to advocate for a political cause, but the source of inspiration for this Hollywood production comes from a community that is close to Soloway's heart and mired in decades of misrepresentation, discrimination, and violence. By urging people to vote a particular way, Soloway made the political drive of her work clear, doing away with the fantasy that art exists in and of itself, outside of the world in which it was conceived.

"I love looking around [the Transparent set] and seeing how many trans people there are," Soloway says with a warm smile. Lysette is seated at a picnic table behind her. "And I love imagining being trans and being in this world and being like, Everybody's trans!" She specifically thanks two familiar producers for their help structuring the radical foundation of trans politics from which Transparent has grown. "Rhys and Zackary should be named for exactly how much they do."
After Soloway disappears into the recording studio, I return to the Paramount lot and head to the Transparent office. Walking up the stairs, I pass a gender-neutral bathroom and framed artwork by trans photographer Amos Mac and the Museum of Transgender Hirstory & Art. Ernst welcomes me into his office.
"I feel like that's kind of what Transparent is in a way: this pop culture and politics cross section," he says. It was Ernst whom Soloway called when she began developing the pilot for Transparent. His motivation to empower the trans community is personal. "I have a particular affinity for helping people into the industry."
Ernst worked in TV and film for 11 years before his work on Transparent began. At the start of his career he had not yet transitioned. "That was really difficult. On the phone people were interested in hiring me, and then I wouldn't get the job."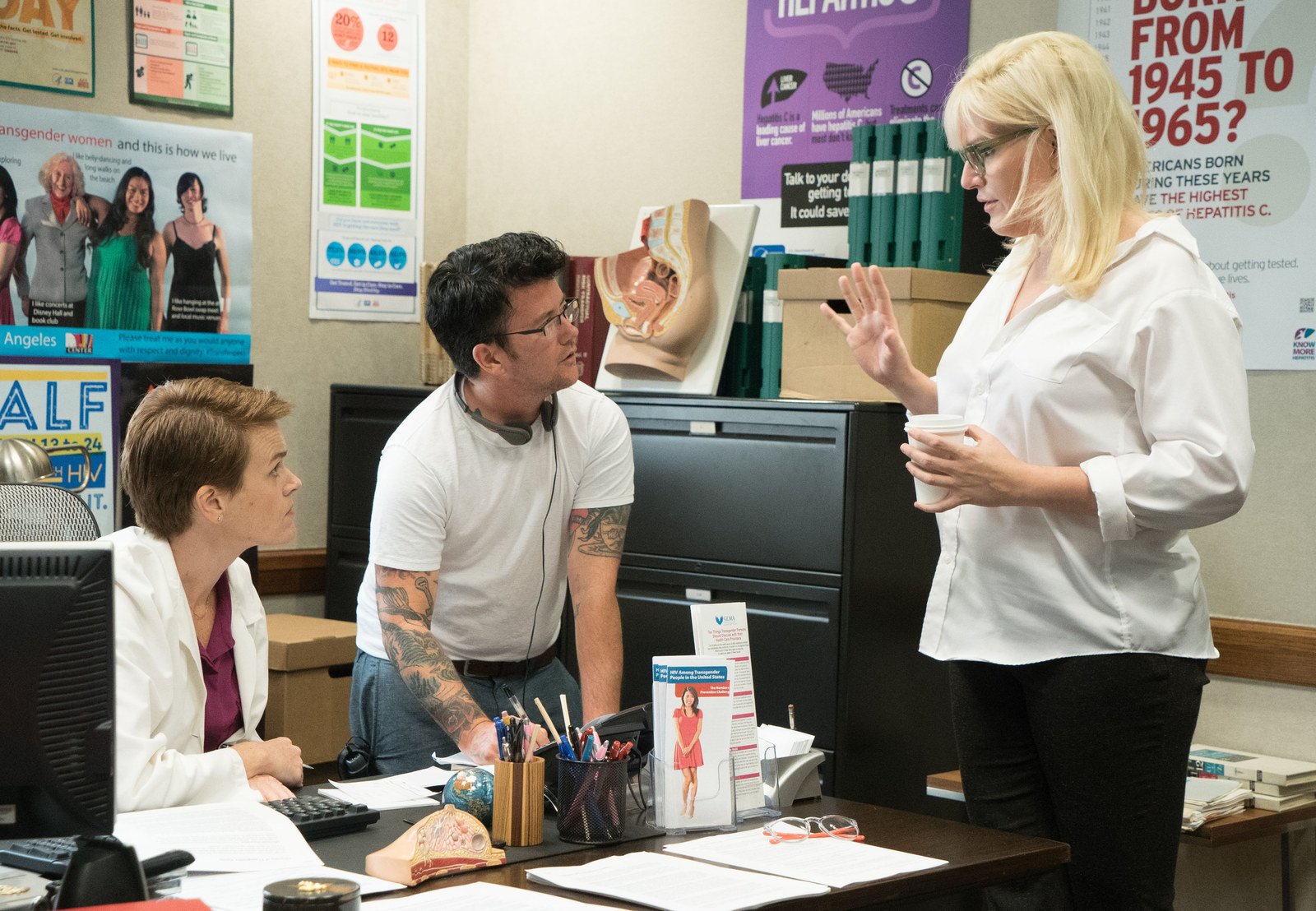 He and Drucker tapped directly into L.A.'s trans community to form a pool of talent that was sorely lacking in Hollywood. "L.A. has one of the biggest and oldest trans pride events in the country," Ernst explains. Last summer they set up a casting table at the event and arranged corporate sponsorship for the first time in L.A. Trans Pride's long history. "They were so happy because they actually had a budget." With Amazon's funding behind them, the organizers didn't have to worry about raising money for the production of Trans Pride on their own. In addition to getting trans people established in the industry, he and Drucker negotiated higher wages on behalf of Transparent's transgender extras. They get paid more than the standard rate.
"We hope to set a new precedent with trans inclusion in film and television production," Drucker says, poised in her turquoise home office later that night. "We hope that moving forward, more productions will include trans people, and not just on content that's trans-specific. Employment discrimination has long been an impediment to our community's development."
Coming from academia and the art world, Drucker always saw herself as a fringe artist. "The throughlines in my work as an artist have always been identity, gender, relationships, performing, directing. Those things inform what I do on Transparent."
Carrying her craft into the mainstream has been more than personally rewarding. Like her colleagues, she sees Transparent as an immense responsibility. It's part of a much broader cultural opportunity to empower transgender people at large. "Things can change within creative industries. Hollywood in particular has the power to shape public opinion, sometimes faster than legislation. Those two things sort of work in tandem. So there is an activist and a political imperative to how we work, to the very structure of Transparent."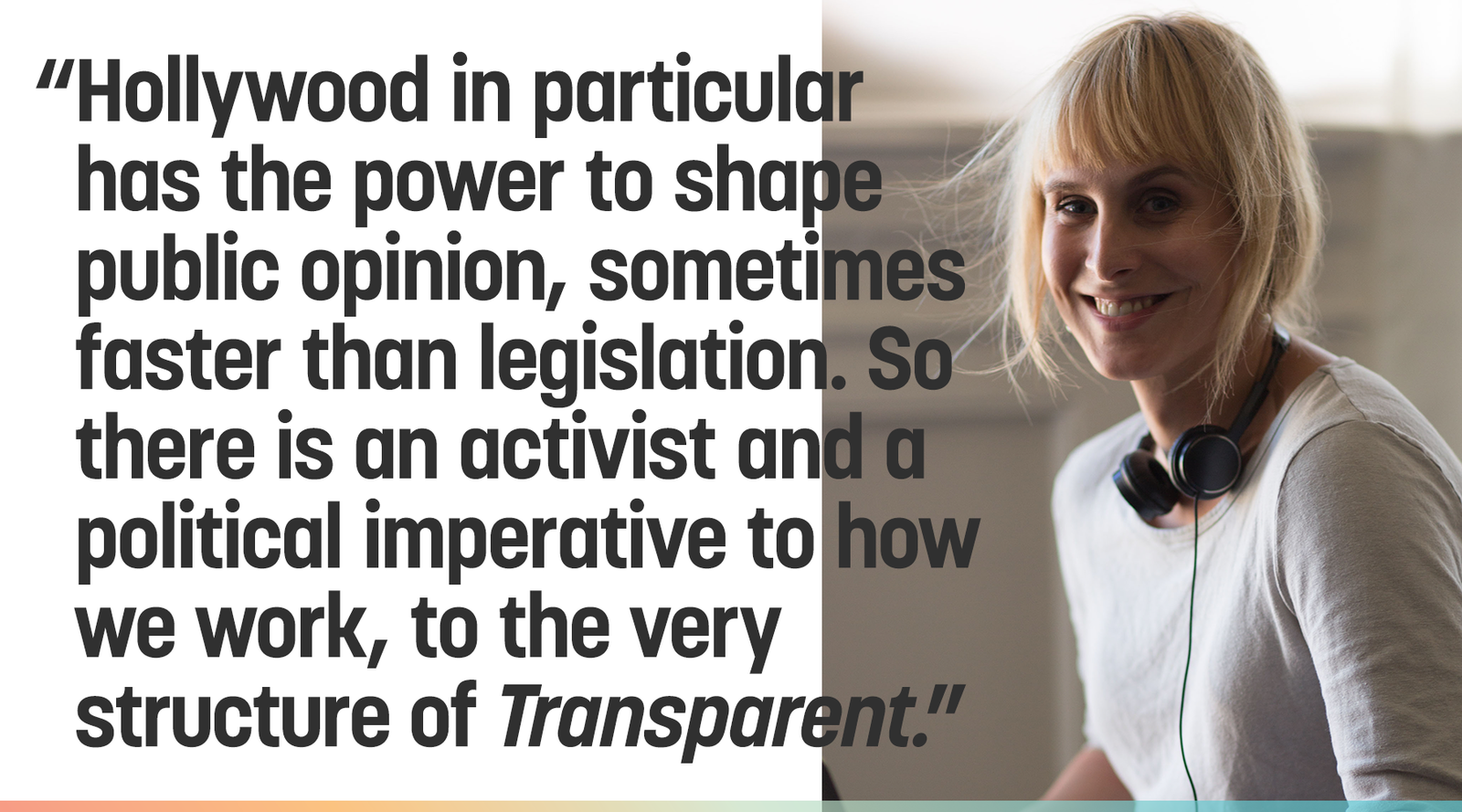 I stay in Los Angeles a few more days after my last visit to the set. There happens to be a party scene filming on Wednesday, the following night, and I am invited to join the background. The scene doesn't have anything directly to do with trans people; it's just a music industry party in the Hills. Nonetheless, the white marble mansion is crowded with transgender women dressed to the nines. Trans models Arisce Wanzer and Cetine Dale dance with me near the infinity pool. There are a hundred others in eccentric designer outfits surrounding a spread of fake set food, including rubber sushi circled by plastic cocktails, and the music is pumping. Before the cameras roll, someone tells us to keep dancing, even when the music turns off. Drucker is talking with Ernst in the distance. Howard focuses on the monitor. The cameraman sweeps over the front lawn, onto the polished concrete walkway, and through the front door into the party. I purse my lips, tighten my waist, and extend my hands toward the ceiling, even as the music stops.

The shoot is over in a handful of hours, but it took decades to have happened at all. Transgender sisters circle their hips, toss their hair, and clasp each other's hands. When the light breaks over us, I forget we're filming.