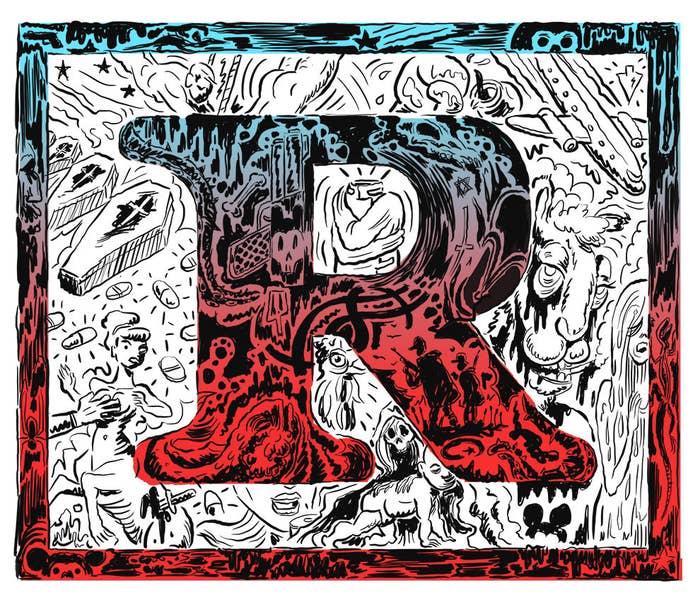 RESTRICTED FOR LANGUAGE

Of course, I can never say what I really want to say because language itself is a straitjacket. Between love and desire are 600 nonwords that can only be grunted or painted or danced. This is not to imply that I have given up on trying to free myself and stretch. Nineteenth-century doctors thought reading novels — even nonscandalous ones — induced mental illness. Houdini claimed he dislocated his shoulder in order to escape his straitjacket, but that has since been proven false. I have often found that by employing wiggles, patience, and silence, a close-enough word will come along.
RESTRICTED FOR VIOLENCE
On Sept. 11, 2001, Sandra Bradshaw called home to say that she and another flight attendant were boiling pots of water to throw at the terrorists. In the film United 93, male passengers storm the cockpit, but it is quite possible that Bradshaw and her friend were the ones responsible for crashing the plane into a reclaimed strip mine in Pennsylvania. CNN is full of stories of male heroism, but according to Susan Faludi's Terror Dream, scalding water is what very well might have saved the White House.
RESTRICTED FOR ACTION AND PERIL
The enforcers of the Hays Code insisted that the animators of Disney's Fantasia cover the female centaurs in flowered bras.
RESTRICTED FOR ADULT ACTIVITY
Mortgage payments. Voting. Car insurance. Taking that car to the mechanic. Networking. Time in suburbia. Child-rearing. Matching dishes and place settings. Retirement accounts. Scrapbooks. Arguing about politics. Vacuum cleaners, lawn mowers. Wills, living wills. Dinner parties, flirtations. Loan modification. Midlife meltdowns. Taxes. Marriage. Adultery. Shame. Cholesterol. Fiber. Sympathy cards. Renewing a driver's license. Squinting at small print.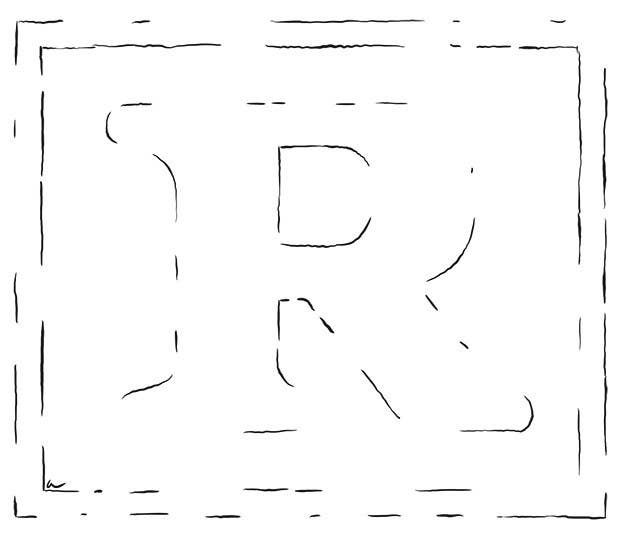 RESTRICTED FOR CRUDE SEXUAL CONTENT
The Carnal Knowledge Quartet puts on a good show. The Masturbation Nation Celebration always receives a standing ovation. You can't go wrong with the Sixty-Nine Chorus Line or the Coitus Ventriloquist. The Cunnilingus Olympics leaves everyone breathless. And you haven't really lived until you've seen Anal Sex Acrobats fly above Fellatio Bongos. What about the Seduction Jugglers? Or the Hickey Hypnotist? You just missed the Phone Sex Circus — and the Gangbang Parade. You'll enjoy the one-act play about foreplay, the Fisting Magician, and the Dirty Talk Impersonators. But we also understand some of our viewers are quite refined.
RESTRICTED FOR CRUDE SITUATIONS
Medical damage resulting from the BP oil spill of 2010 is capped as follows: cleanup workers, $60,000; residents living within one-half mile of the water, $900 to $36,000.
RESTRICTED FOR SUGGESTIVE MATERIAL
That lone purple flip-flop I tripped on in the park. Or the bankrupt Trump Tower in Hollywood, Florida — 200 units but only the same three windows lit each night.
RESTRICTED FOR HARD LANGUAGE
The Waste Land. The Wastebasket Land. The Waistband Land. The Pantywaist Land. The Waistcoat Land. The Waste Water Treatment Land. The Waist-Deep-In-It Land. The Haste-Makes-Waste Land. The Waste-Not-Want-Not Land. The Waste-No-Time Land. The Waste-Your-Breath Land.
RESTRICTED FOR ALCOHOL
Everyone agreed I looked the oldest, so my friends pushed me into the liquor store to buy peppermint schnapps, the drink that we thought came with its own breath mint, so our parents couldn't possibly know what we'd done. The man behind the counter didn't ask for ID. Have fun, he winked, returning to his girly magazine. On the way out, I pocketed a pack of Slim Jims.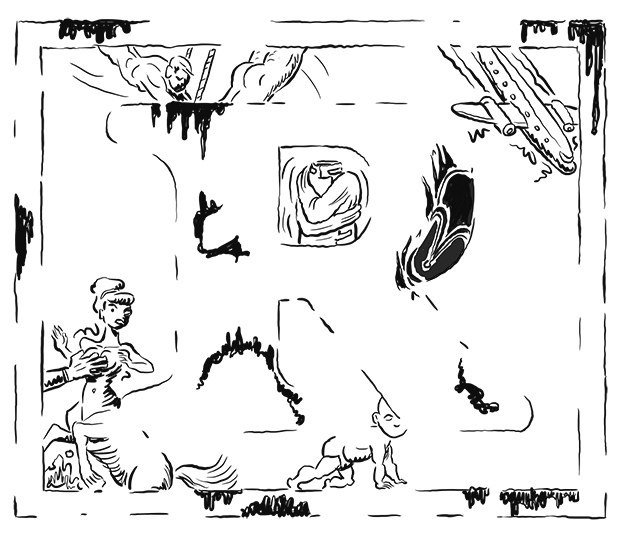 RESTRICTED FOR DISTURBING/STARTLING IMAGES

The ban (1991–2009) on photographing the coffins of American soldiers coming back from Afghanistan and Iraq. Blackhawk helicopters. Chinook helicopters. A dead child carried over a parent's shoulder. The astonishing beauty of certain eyes. The empty sockets where eyes have been blown out by a dirty bomb. Drones. IEDs. Halliburton's 39.5 billion dollars' worth of contracts.
RESTRICTED FOR THEMATIC EVENTS
You are bending into the washing machine, trying to come clean about the past, a volcano of bubbles up to your ankles. In the dream your sudsy toes are enormous, which means you want to move forward with your life.
RESTRICTED FOR HORROR
I dressed as Carrie one Halloween and made the pigs' blood from red dye and Karo syrup that stained my skin for a week, that gave me a temporary strawberry patch on my neck. Two pink footprints on my woolly bath mat.
RESTRICTED FOR BLOODY HORROR
O, precious blood, the blood of Christ and every soldier who is torn open, spilling human blood. O holy wars and domestic abuse. I'm doing for this for you, says Jesus, says the president who sends the soldier. Paternal blood, fathers and sons. Maternal blood and menstruation, childbirth and its gore.
RESTRICTED FOR STRONG HORROR
Shrimp born without eyes. Fish of all kinds with large pink masses hanging over their gills. Crabs with holes in their misshapen shells, crabs dying inside. Blue crabs without claws. Fish covered in lesions. Mutagenic dispersants entering the genome. The official word from BP: "Seafood from the Gulf is among the most tested in the world, and, according to the FDA and NOAA, it is as safe now as it was before the accident."
RESTRICTED FOR SEXUALLY ORIENTED NUDITY
As H.G. Wells wrote, "Moral indignation is jealousy with a halo."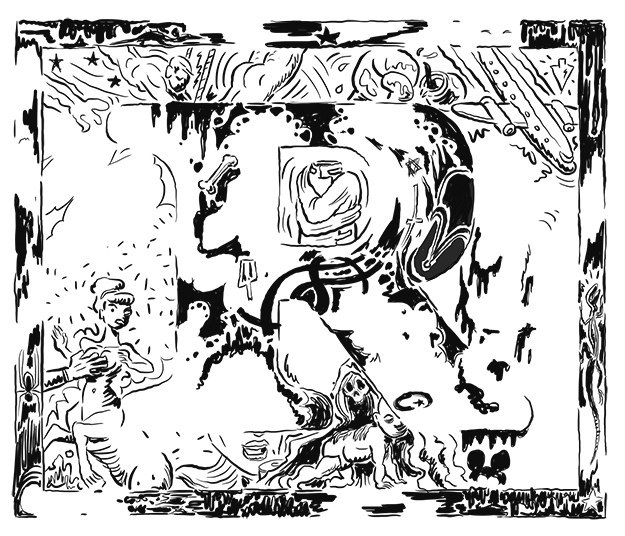 RESTRICTED FOR EMOTIONAL INTENSITY
The Skinner box rewards the animal inside for certain behaviors, punishing it for others. Its inventor B.F. Skinner predicted in 1962, "In the not-too-distant future, the motivational and emotional conditions of normal life will probably be maintained in any desired state through the use of drugs." His utopian novel, Walden Two, describes an almost conflict-free existence. Even though he was encouraged by Robert Frost, Skinner knew he'd never write the great American novel. He just hadn't experienced enough.
RESTRICTED FOR DRUG USE
high cholesterol / high glucose / glucose meter / glucose intolerance / intolerance to dairy / intolerance to wheat /dairy-elimination diet / dairy-free recipes / diet pills / diet blogs / pill cutters / pills under the tongue / cutters and bulimics / cutters and misfits / bulimics and addicts / bulimics and kleptomaniacs / addicted to violence / addicted to porn / violence against women / violent video games / women and guns / women and HIV / guns and hunting / guns and hormones / hunting for results / hunting for the highest high
RESTRICTED FOR TOBACCO USE
After research showed that American 6-year-olds were as familiar with "Joe Camel" as they were with Mickey Mouse, the cigarette companies went elsewhere. In Albania, Marlboro Girls roam the streets, giving out free cigarettes to kids. British American Tobacco's "Project Z" sells single cigarettes to those in Central America who otherwise couldn't afford a whole pack. Internet star Aldi, the Indonesian toddler who smoked and twirled his cigarette with aplomb, went to rehab before he was 4. He threatens to start smoking again when his mother refuses to buy him certain toys.
RESTRICTED FOR DISCRIMINATION/BULLYING
Tub of lard. Four Eyes. Freak.
Drink bleach, you geek.
Loser. Slut. Pussy. Wimp.
I'm a pacifist. I'm going to pass my fist through your teeth.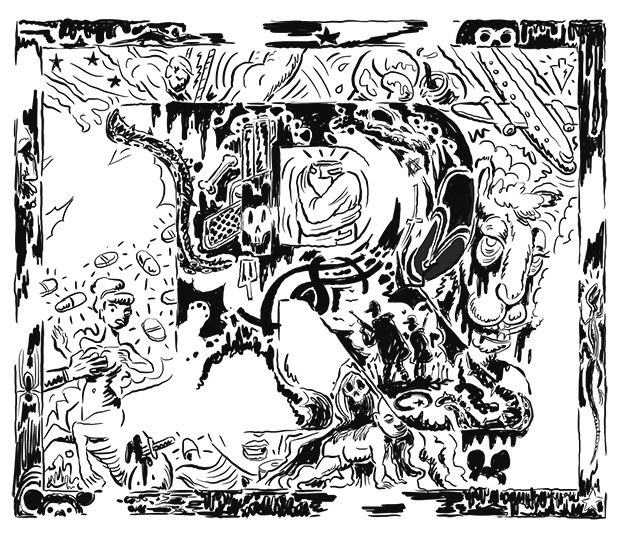 RESTRICTED FOR ROUGH AND/OR PERSISTENT VIOLENCE
Ziad Jarrah, the suspected hijacker of United 93, lived on Harding Street in Hollywood, Florida, just a few miles from me. The mail carrier said he'd delivered lots of packages and books to Jarrah, assuming he was a student. On Sept. 7, 2001, Mohamed Atta drank five Stolichnayas with orange juice at Shuckum's on Young Circle, a place where I'd been with friends. Atta boasted he was a pilot, then left a crappy tip, $3 on a $45 bill. For the rest of 2001, when I drove home from teaching, I avoided U.S. 1 Fitness, where the terrorists took martial arts training. Its sign boasted a red boxing glove. I was glad when it went out of business and became CrossFit ATP, where the clients jump rope and deadlift. One of the trainers wears a gray Infidel T-shirt.
RESTRICTED FOR FRIGHTENING SCENES
Sometimes I fear I am the literary equivalent of horror vacui, filling up pages with details, leery of white space. Sometimes when I talk I forget to pause, assaulting my friends like a sonic Book of Kells or Crumb cartoon. Horror vacui is often seen in the obsessive line drawings of psychiatric patients. I know what it's like to circle around, follow a line, loop and dive to find the right word. I could say more, but I voluntarily fold my arms across my chest and request you tie the straitjacket's sleeves behind my back.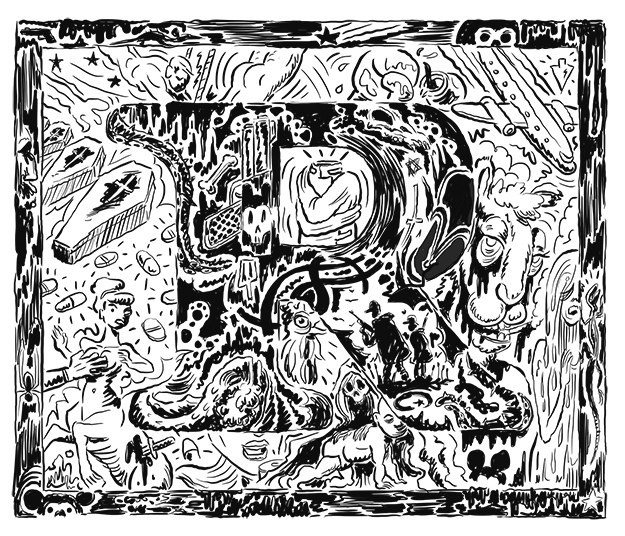 Denise Duhamel's most recent book Blowout (University of Pittsburgh Press, 2013) was a finalist for the National Book Critics Circle Award and winner of a 2014 Paterson Poetry Prize. She has been awarded fellowships by the National Endowment for the Arts and the Guggenheim Foundation, and she is a professor of English at Florida International University in Miami. "Rated R" is from her forthcoming collection Scald (University of Pittsburgh Press, 2017).