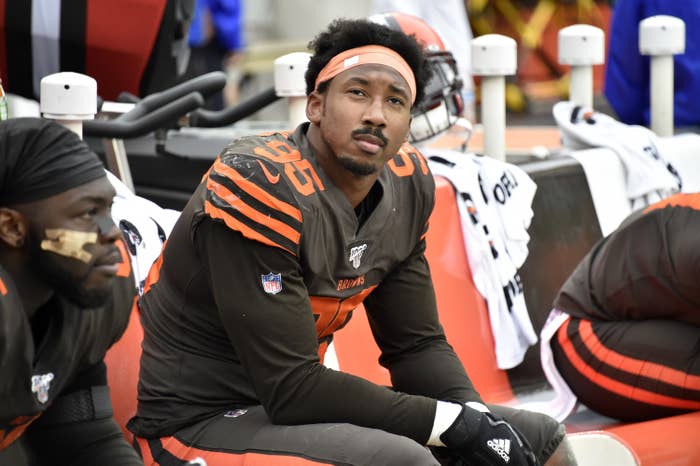 The NFL has suspended Cleveland Browns defensive end Myles Garrett "without pay indefinitely" for removing Pittsburgh Steelers quarterback Mason Rudolph's helmet and hitting him over the head with it.
The suspension will last, at the very least, for the rest of this season and postseason if the Browns advance to the playoffs.

The fight broke out at the end of Thursday night's Steelers–Browns game. With seconds to go and the Browns leading 21–7, Garrett tackled Rudolph to the ground after the quarterback completed a pass.
After the late hit, Garrett and Rudolph scuffled before members of both teams joined them. In video of the incident, Garrett is seen taking off Rudolph's helmet and, seconds later, hitting him over the head with it before getting tackled by Rudolph's teammates.
The NFL released a statement on Friday announcing Garrett's suspension.
"Garrett violated unnecessary roughness and unsportsmanlike conduct rules, as well as fighting, removing the helmet of an opponent and using the helmet as a weapon," the statement read.
The Steelers and the Browns were fined $250,000 each over the incident. The Browns' Larry Ogunjobi and the Steelers' Maurkice Pouncey were also fined and suspended.
The Browns released a statement expressing disappointment and "sincerely apologizing" to Rudolph. In a postgame interview, Garrett said, "I made a mistake. I lost my cool and I regret it."
In his own postgame interview, Rudolph said he felt fine but that the attack was "cowardly" and "bush league."

Garrett released a statement Friday apologizing to Rudolph and his own teammates and fans. "What I did was selfish and unacceptable," he said. "I know that we are all responsible for our actions and I can only prove my true character through my actions moving forward."

The fight has been met with outrage online with people criticizing Garrett's actions.
Others noticed that Rudolph was left out of the league's statement penalizing players involved in the fight.