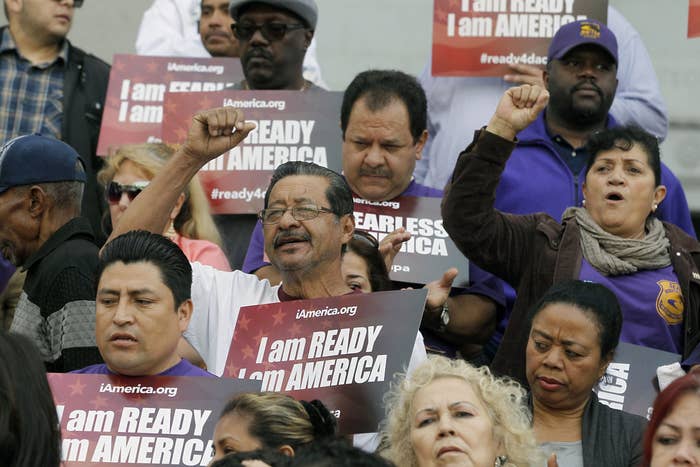 Thousands of undocumented immigrants who gained work permits as part of an Obama administration effort to shield young people from deportation are suddenly losing their ability to work legally as the federal government struggles to renew their authorizations on time.
Exactly 11,028 young immigrants have had their Deferred Action for Childhood Arrivals (DACA) status and work permits expire in spite of having applied on time, according to numbers released for the first time to BuzzFeed News by U.S. Citizenship and Immigration Services, the agency that handles the permits. The number of lapsed cases represents roughly 5% of the total number of DACA renewals that USCIS has approved so far.
Yael Pineda, a 19-year-old undocumented student at UCLA, owes her job to DACA, the Obama administration's 2012 program that gave her a work permit and protected her from deportation because she had arrived in the United States as a child. When her DACA status started nearing the end of its two-year term, Pineda applied to renew well within the window of time recommended by USCIS, according to documents she shared with BuzzFeed News.
But the renewal process dragged on. As Pineda entered finals week, her DACA and work permit expired. She immediately stopped working her job within the UC system, and her boss told her she had to get a fresh permit within two weeks or he would open her position to somebody else.
A USCIS spokesperson told BuzzFeed News that the agency "has heard concerns about delays in adjudicating some of these cases and is looking into measures to address the issue without compromising the integrity of the adjudication process." The spokesperson also listed a number of reasons why renewals might be delayed, most of which involve the need to double-check information.
These lapses reflect the ad-hoc nature of Obama's program for deferring deportation for so-called Dreamers, young immigrants who entered the country illegally as children. With other forms of immigration status, such as green cards or work-related visas, immigrants do not normally face serious consequences because of processing delays, said Muzaffar Chishti, the director of the Migration Policy Institute's office in New York. In those cases, either USCIS issues automatic extensions in the event of delays, or the underlying status of an immigrant doesn't change in spite of the expiration of a particular document.
With DACA, however, the expiration means the immigrant is once again completely undocumented, subject to deportation, and unable to work legally. "This is hugely different," Chishti said. "That's why it's very critical, with DACA, that you have your status in hand in time, otherwise there will be consequences."
Advocates and legal services providers around the country say that these cases, along with others in which immigrants came close to losing their permits but barely got them in time, risk undercutting the undocumented immigrant community's trust in the program.
"For us, it's really about making sure that people trust the system enough to come out of the shadows and take this opportunity," Luis Perez, legal services director of the Coalition for Humane Immigrant Rights of Los Angeles, told BuzzFeed News. "And that's harder to do when we hear cases of people who are now out there and almost about to lose their jobs because they took advantage of a policy that's not getting renewed properly."
Betsy Plum, director of special projects at the New York Immigration Coalition, said that there were problems with the renewal process from the start. USCIS released the guidelines for renewals in June 2014, which meant that some of the earliest deferred action recipients were unable to finish the complex application process on time. Those who received deferred action in September 2012 were more likely to have their work permits and deferred action expire in September 2014, before USCIS was able to renew them.
In total, there have been more than 65,000 cases in which DACA renewals were approved after the expiration date. This number includes people who applied later than USCIS recommends, but it is unclear how many of these are immigrants who were unable to apply on time because of when the guidelines were released.
From the beginning, USCIS said that it would grant temporary extensions in the event of serious delays on a case-by-case basis. But both the American Immigration Lawyer's Association and the National Immigration Law Center, which have been tracking DACA renewal cases around the country, said they have not heard a single report of an immigrant who was granted such an extension — even though several have tried.
Yael Pineda, the UCLA student, was among them. As the expiration date on her work permit approached, Pineda called USCIS's helpline to ask about an extension, but they told her there was nothing they could do.
Pineda's new work permit landed in her mailbox three weeks after it had expired. Her boss had not found anyone to replace her, so she was able to get her old job back. But it seemed, in the intervening days, that she might have to start over.
"What DACA gives you is this sort of stability, this ability to sustain yourself and not have to be a burden," said Pineda, who entered the country from Mexico when she was 4 years old, and recently turned 20. The possibility of losing that stability, she said, was difficult to describe. "I guess you could say it was a very unstable month in terms of what was in my future."