There are more Latinos in Escondido, California, than people of any other ethnicity. And yet, over the last decade, this city just north of San Diego has made a name for itself as one of the most unfriendly places in the country for undocumented immigrants.
Surveys have consistently shown that Latinos tend to oppose restrictive immigration measures, but Latinos have been rarely represented in Escondido's city government. The result is a strange paradox: a heavily Latino city with a Spanish name led by an immigrant mayor whose administration has committed to an aggressive approach to stopping illegal immigration.
The city's approach is so harsh that immigrants in Escondido call their home "Little Arizona," in reference to the state's history of passing laws against the undocumented. Nearly half of Escondido's 148,000 residents are Latinos, many of whom are undocumented or are permanent legal residents. Non-Hispanic whites, meanwhile, constitute 42.6% of the population.
There is only one Latina on the city council, Olga Diaz. But Diaz has been unable to counter the prevailing approach championed by the city's mayor, Sam Abed, who regularly brings up the fact that he is a legal immigrant from Lebanon when he explains his positions on immigration.
"We are not a sanctuary city," Abed told BuzzFeed News. "You cannot come here and do what you want."
During last summer's border crisis, Escondido, which means "hidden" in Spanish, refused to accept a housing facility for unaccompanied Central American minors, prompting a lawsuit from the ACLU. The lawsuit, which was filed on Tuesday, accuses Escondido of manipulating local zoning laws to prohibit the facility and of citing unfounded land use concerns as a pretext to discriminate against the migrant children.
Abed counters that the city's decision had nothing to do with immigration and everything to do with land use. "We don't want it built anywhere in the city, because the land use does not allow it anywhere in the city," Abed told BuzzFeed News.
Yet in interviews when the facility was still being debated, Abed explicitly said he was concerned about illegal immigration. "Why Escondido?" he said in a June interview with local radio host Mike Slater that was cited in the ACLU's complaint. "We have been disproportionately impacted in the past by illegal immigration, and we had to take some policy measures to stop the influx of people to our city."
The proposed facility provoked heated exchanges between Escondido residents during meetings of the council and planning committee. Some residents opposed to the shelter stuck to concerns about traffic and noise, but others worried about undocumented children carrying Ebola or opposed rewarding people who had broken the law by coming into the country illegally.
"We're telling our children: If you don't like the law, then it's OK to break it," Orv Hale, an Escondido resident, said during a council meeting in October.
The council voted 4 to 1 against the shelter. The lone dissenting vote was Diaz, the only Latina on the council. Diaz is the second Hispanic person elected to the council in Escondido's history. The first, Elmer Cameron, was elected in 1996 — he is of Mexican descent, but he didn't discuss his ethnicity during his campaign, and his family had changed their surname from Carreras when he was a child.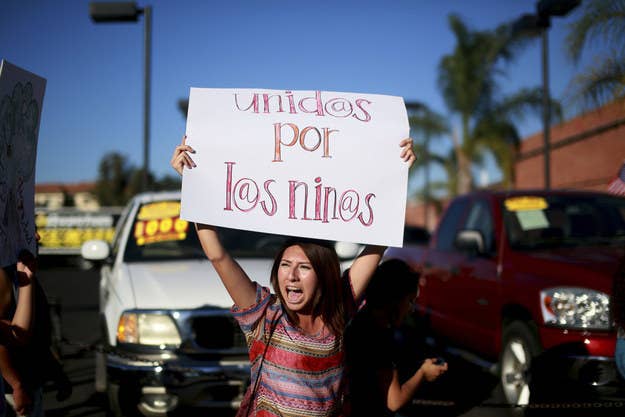 A 2011 voting rights lawsuit forced the city to change from citywide council elections to district-based ones, creating one district out of four with a predominantly Latino population. After the city switched to district-based council elections in 2013, another Latina, Consuelo Martinez, ran for the single majority-Latino district but narrowly lost. Angela S. Garcia, a researcher at the Center for Comparative Immigration Studies at the University of California, San Diego, said this probably had to do with the fact that many of Escondido's Latinos are immigrants, and even many of those with legal status are permanent residents, not voting citizens.
The result, Garcia said, is that "there's a feeling among Latinos in Escondido that the city council is against them, not for them."
Diaz, the only Latina council member, was elected to the city council in the years following Escondido's first notorious effort to restrict undocumented immigration, a 2006 ban against renting property to people without legal status. The ACLU challenged the ban in court and reached a settlement with the city in which they agreed to repeal it.
In the following years, the police department set up networks of roadblocks and checkpoints intended to catch drunk or unlicensed drivers. The police said the sole concern was public safety, but Latino activists said the checkpoints were designed to catch and deport undocumented immigrants.
The city also banned parking on front yards and attempted to pass a law that restricted how many cars could park on the street in a predominantly Latino neighborhood. Garcia said these measures were aimed disproportionately at people who live several families to a single household — immigrants. "It's a thinly veiled, facially neutral way of restricting" immigrant communities, Garcia told BuzzFeed News.
Then there was the unusual "Joint Effort" agreement between the Escondido Police Department and Immigrations and Customs Enforcement, which placed ICE agents inside the city's police headquarters and allowed them to patrol alongside the city's officers. It is highly informal — there is no memorandum of agreement between the police department and ICE. "There's nothing that's in writing," Garcia said.
An ICE spokesperson confirmed that there is no formal memorandum of agreement governing the Joint Effort program.
Abed told BuzzFeed News that, other than the rental ban in 2006 and the partnership with ICE, Escondido's measures have not been about immigration, but rather have been about public safety and quality of life.
Patricia Serrano, an activist and undocumented immigrant who has lived in Escondido for 20 years, said the ICE partnership has made undocumented immigrants live in constant fear of deportation. "The city has been very hostile to people," Serrano said. "They don't treat the illegal population as if we were human beings."
Garcia, the researcher at UCSD, said that the new district-based elections, coupled with the fact that many U.S. citizen children of immigrants are growing to voting age and becoming politically engaged, may change the political balance in Escondido in coming years. "If I had to put money on it," Garcia said, "I would say Escondido won't be able to continue down this path for too much longer."
For now, however, Abed and his allies on the council remain comfortably in power. Diaz, the sitting Latina council member, ran against Abed for mayor in last year's election. Abed won handily.
"She is for illegal immigration. She is for leaving them alone, she is against the checkpoints," Abed told BuzzFeed News. "And she was crushed in the election."