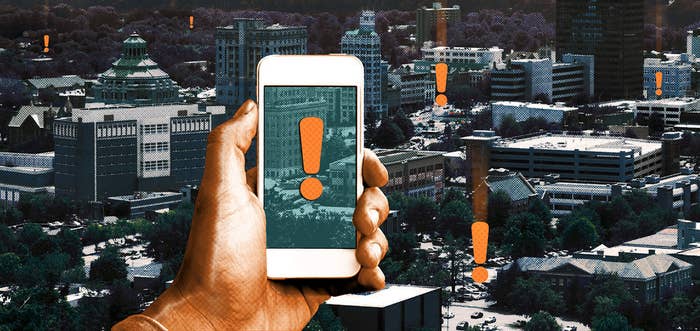 When Alfredo Rodriguez and his friends sit around a table drinking a beer, it's not unusual for all of their phones to light up with the same message.
Possible checkpoint, the text messages read in Spanish, followed by the name of a street or an intersection. Have a friend without PaseLaVoz? Get him to call 832 810 1576.
Rodriguez is an undocumented immigrant in North Carolina, and PaseLaVoz — Spanish for "spread the word" — is a text-message-based peer-to-peer network that subscribers use to notify one another about the precise location of police checkpoints, allowing them to avoid encounters with law enforcement and possible deportation. The service works by gathering text reports from users, modifying them slightly for readability, and redistributing them out to people who sign up to receive messages within certain zip codes.
According to its founder, PaseLaVoz has gathered more than 600,000 users since it launched in 2011, including its core group of Spanish-speaking immigrants and a fast-growing base of English speakers, who also use it to communicate about police checkpoints, though for different reasons. Its creators say the service is signing up, on average, close to 900 new users a day. The network's success suggests that there is a great, largely untapped potential for technologies designed to help undocumented people navigate life in the U.S. It also shows how, even as federal policy shifts away from deporting immigrants without criminal backgrounds, life for undocumented people is still defined by the need to hide.
In many immigrant communities, especially in the South, it is common to find that people know at least one person who has been deported after a routine encounter with police. For Rodriguez, it was a friend named Cristian, who was lucky enough to have his family in Mexico. But Rodriguez has a wife and three children in North Carolina. "What would they do?" he said. "You can imagine how that feels — the fear."
It was this fear that led Rodriguez — and most of the people he knows — to sign up for PaseLaVoz. "It's a precaution," he said. "It helps you keep an eye out."
So far, PaseLaVoz has not encountered any significant backlash from law enforcement, either local or federal. BuzzFeed News reached out to nearly a dozen local police and sheriff's departments in areas where PaseLaVoz is popular. Most were not aware of the service, while others were simply resigned to it and others like it.
"We don't really do anything in particular to try and combat that," said Sgt. Jake Smith of the Gwinnett County Police Department in Georgia. "It's just an aspect of technology that exists and that we have to deal with."
Federal immigration authorities were similarly untroubled. Immigrations and Customs Enforcement "fully respects the right of people to communicate with each other in a lawful manner," ICE spokesman Vincent Picardi said in a statement.
Even the recent controversy over Waze, the Google-owned app that allows people to broadcast the location of police officers, involves the possibility that people might use it to target cops, not avoid them entirely. Then again, people have been using technology to avoid the law for a long time.
"Crowdsourcing technology for police checkpoints is just a much more effective version of the old CB radio," said Ira Rothken, a prominent tech lawyer and online consumer advocate. "Those seemed to pass muster back in the 1970s."
David Iberkleid, the creator of PaseLaVoz, said it has occurred to him that the service could be used by people trying to get away with more serious crimes. However, he sees its use as an exercise of free speech, and one whose benefits far outweigh any potential downsides. "I think the service is doing more good than anything else," Iberkleid told BuzzFeed News.
Iberkleid got the idea for PaseLaVoz while he was an information sciences student at the University of North Carolina. At the time, he was also teaching computer literacy classes to immigrants, most of them from the impoverished countryside of Mexico and Central America. Iberkleid is Bolivian, the grandson of "Nazi-escaping Jews" from Poland, so he spoke the language of the immigrants he was teaching.
Some immigrants had smartphones and used social media, many others did not know how to use the internet, but all of them had cell phones and texted constantly. Iberkleid noticed his students were communicating urgent information over a medium that most people used for personal conversations.
"I wasn't going to spend months teaching them how to use the internet, because the internet was changing all the time anyway," Iberkleid said. "So why not meet them halfway?"
Iberkleid said he watched as PaseLaVoz drew users from all over the South. To handle the rapidly expanding volume of users and information, Iberkleid hired two people in Mexico, just across the border from San Diego, to staff an ad hoc call center. Iberkleid sits in for one of them about once a week.
So far, Iberkleid has been unable to make PaseLaVoz profitable enough to live off of it comfortably, though he does pay the handful of people he employs. (Iberkleid would not share how much he pays them, but said that it's more than minimum wage.) Now that he has a dedicated user base, Iberkleid is pursuing ways to better monetize the system. PaseLaVoz already has some advertising, usually from small, local businesses. Iberkleid is exploring bigger advertising partnerships and working on a smartphone app.
Iberkleid also charges certain users in a "freemium" model. The vast majority of users sign up to receive alerts from a single zip code, but additional zip codes cost more — an entire county, for example, costs $3.99 a month. Less than 1% of users pay, but Iberkleid said he wouldn't consider an across-the-board paywall, mostly because the service depends on having users report checkpoints, and a paywall would cause subscribers to drop out. "We try to have everybody participate freely," he said. "Nothing would work without that."
Iberkleid has also considered taking donations, sometimes at the urging of his own users. One such user, an immigrant named Wilson Ramos, told BuzzFeed News he would gladly pay to use the service. "They help us a lot," Ramos said. "We should reciprocate."
If nothing else, PaseLaVoz has accumulated a group of devoted and profoundly grateful users. In the spring of 2012, Iberkleid sent out messages over the service in three North Carolina zip codes asking for feedback. Hundreds of people responded, with several describing the service as a bendición, a blessing.
This was the exact word used by Maria Escobar, an undocumented immigrant who lives near Chapel Hill. On multiple occasions, police have set up checkpoints on the only road leading out of the trailer park where Escobar's sister and her family live.
"One time we received the alert while we were in church," Escobar said. "We decided not to go see if it was true. We just stayed in the church that night. They have a place where you can sleep."