The fire department called before dawn. Daoud Abudiab and his 13-year-old daughter were already awake, so they got in the car quickly. From about a mile away, Abudiab saw a plume of black smoke rising above the low skyline and started getting nervous. He thought back to the arguments over whether to mark the Islamic Center of Columbia, Tennessee, the only mosque in the hundred-mile stretch between Nashville and Huntsville, with a large sign or a small, unassuming one. They had opted for a large one.
Abudiab and his daughter could feel the heat of the fire when they stood at the yellow police tape. A black swastika was spray-painted on the mosque's facade. Flames pushed out from the burst windows and up through the collapsed roof. Abudiab's wife arrived with the rest of the kids, followed by other congregants and their families.
Abudiab looked at the women and all he saw was headscarves. "Go home," he pleaded. "Don't go out. Don't go to Walmart. Don't go anywhere."
The ringleader of the band of white supremacists who burned down the mosque with Molotov cocktails justified the act by saying, "What goes on in that building is illegal according to the Bible." This was February 2008. The theory of Barack Obama's crypto-Islamism was faint chatter on the fringes. But in the years after Obama's election, Tennessee became a key battleground in a national anti-Muslim movement whose influence has culminated, for now, in the presidential campaigns of Republican frontrunners Donald Trump and Ted Cruz, both of whom are being advised by people whose views on Islam were once considered too extreme for mainstream politics.
Abudiab and his daughter could feel the heat of the fire when they stood at the yellow police tape.
Tennessee, like much of the South, was once a friendly place for Muslims to live. Abudiab and his family had been in Tennessee and Arkansas for more than two decades, and they'd felt at home in the Bible Belt — glad, like many Muslims they knew, to raise their children among People of the Book, people they could count on to share many of their values and who, by and large, welcomed them.
The firebombing blindsided Abudiab, but it seemed like a terrible, isolated incident, after which life would go back to normal. Over the next few years, though, Abudiab came to look back on this as the opening shot in an ongoing, ever-intensifying, hostile campaign playing out in Nashville and the surrounding small towns and suburbs. His kids were bullied more often in school, and he became the target of violent online threats. Many of Tennessee's legislators fell under the sway of conspiracy theories about Islamist infiltration of government and schools, and the state became a testing ground for campaigns to curtail the building of mosques and the resettlement of refugees. The pulpits and radio airwaves were filled with vitriol, and more mosques were vandalized.
Today, Abudiab says, he can't leave the house in the company of his wife — a white convert who wears the hijab — without feeling viscerally uncomfortable. His 9-year-old son has started asking when they'll need to leave the country.
"It's never been like it is now," Abudiab says.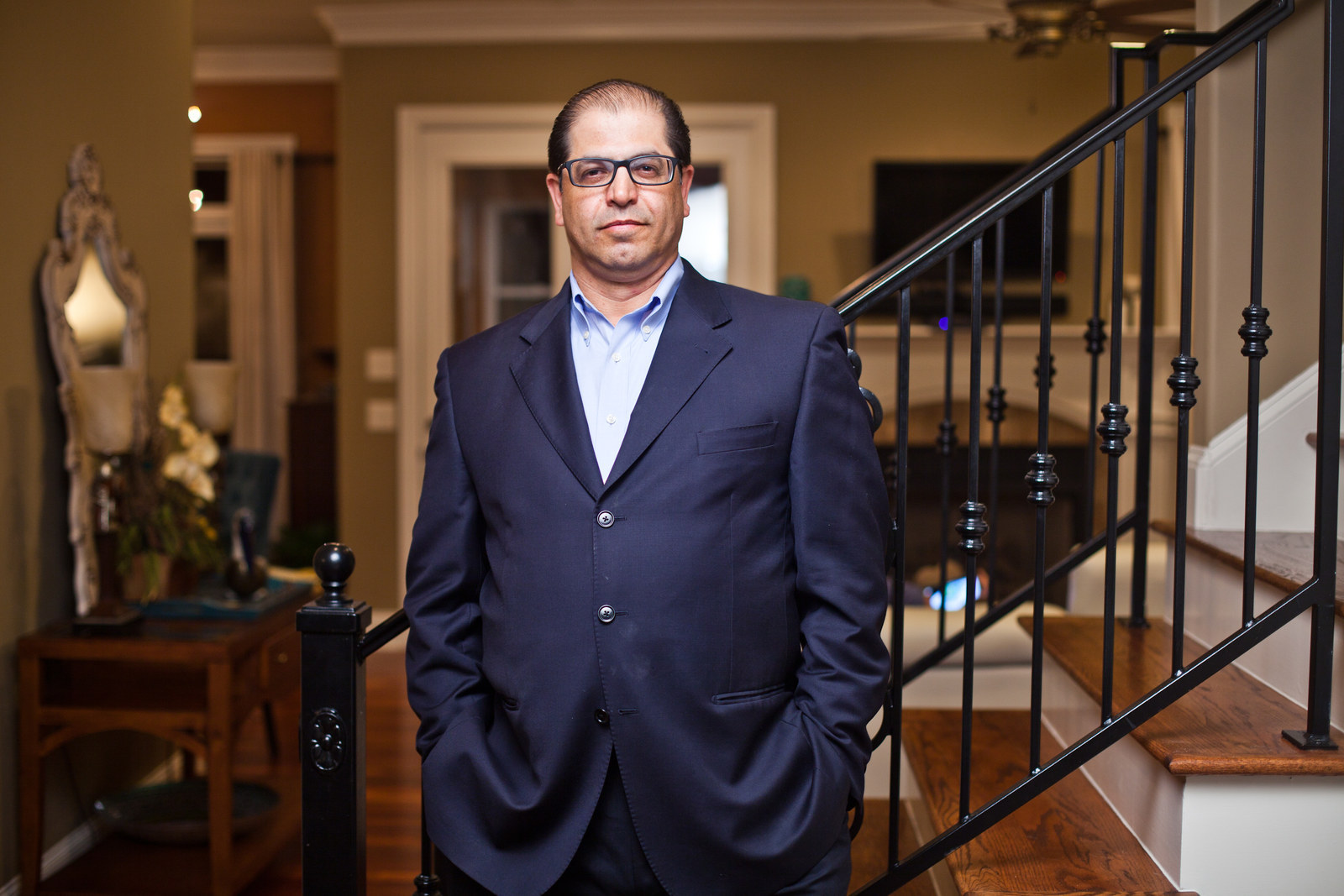 Abudiab, a broad-shouldered, jocular man of 48, left Jerusalem to go to college in Little Rock, Arkansas, in 1985. He left behind an urban, comparatively secular family: His father was a labor organizer, and some uncles on that side belonged to the Marxist-Leninist bloc of the Palestine Liberation Organization.
But largely due to his mother's influence, Abudiab grew up living a pious life — to this day, he has never had a drink. In Little Rock, he was in some respects the cosmopolitan outsider, unable to find stores that sold the trendy American clothes he used to buy in Jerusalem. But he was also more traditional than many of his classmates, who drank heavily and dated casually. He didn't shun them, but neither was he tempted to join them.
Abudiab met his future wife at a Halloween party at BJ's Honky Tonk in Little Rock. Robin was undergoing a crisis of faith. She came from an observant evangelical family, but had struggled to find a church in Arkansas while she studied nursing. "My friends, who were considered good Christian people, were out partying, out doing drugs, out sleeping around," she says. "And that just wasn't the lifestyle I wanted or cared for."
The two had many long conversations after that night. Robin liked everything she heard about Islam, particularly the clarity of its instruction on daily existence. "This is a religion you can live," she thought. When that first Ramadan came around, she fasted for two weeks without telling Abudiab.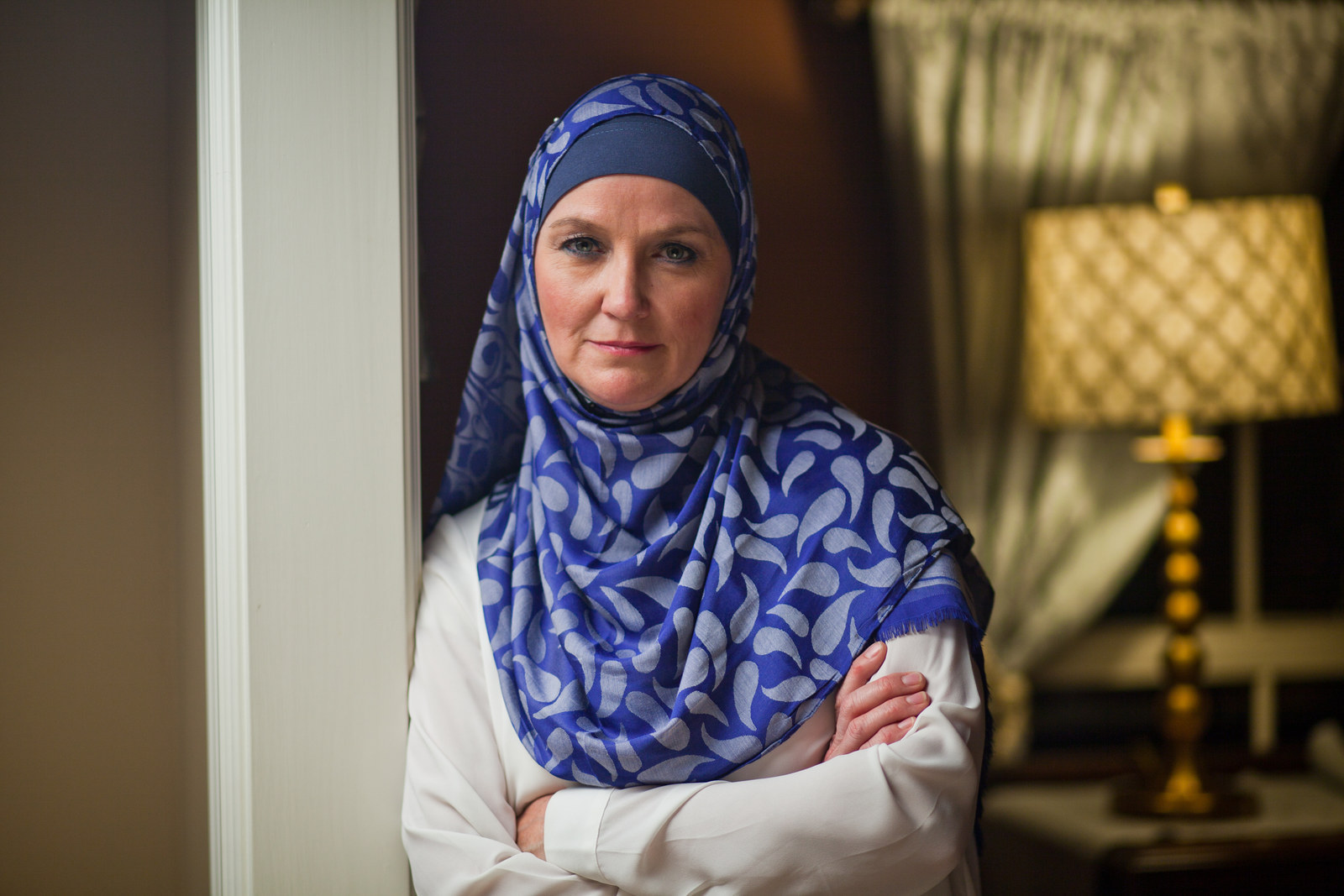 For the first few years after she married Abudiab, Robin was too afraid of losing her family to tell them she had converted. She finally forced herself to have the conversation when she was pregnant with their first child, a daughter. At first, her parents were bewildered and hurt. Her father, who was embarking on a second career as a Methodist preacher, told her that Abudiab was perfect for her in every way, except he was a Muslim. Robin responded that it was his Islam that made him "perfect."
"Well, maybe you're right," her father said. Over the years, Robin's parents saw that she was raising their grandchildren much as if she had never left their evangelical fold.
In 1998, Abudiab, who had studied health care administration in Arkansas, moved the family to Columbia, Tennessee, to run a medical office. At the local mall, Robin met a group of Egyptians who owned a clothing store. Abudiab began joining them to pray amid shoeboxes stacked in the back of the shop. Then they got a larger group of local Muslims together to rent a strip mall auto garage without carpets or heating. "It was a cold Ramadan," Abudiab says.
The group grew steadily, showing clear demand for a proper Islamic center to serve the rural counties south of Nashville. In 2000, they pooled their money to buy a modest one-story building on Main Street. One day Abudiab got a call from Robin, who said she had gone to the grocery store wearing a hijab. Abudiab hadn't expected this of her. "We didn't really talk about it. I didn't grow up with it, and I had some biases against it," he says. "For me it wasn't the educated, it wasn't the elite, it wasn't the urban. But it was something that grew on me."
This was a few months shy of September 11, 2001. Muslims in Middle Tennessee typically describe feeling a jolt of fear after the attacks. Many anticipated a backlash and avoided going out in public. As they emerged, they were instead surprised by the goodwill they encountered. Robin says a stranger approached her in a parking lot in the weeks that followed only to tell her she had nothing to be afraid of. Muslims who were visible in the community, including Abudiab, started getting requests from local churches to deliver short lectures on Islam.
Over the years, Robin's parents saw that she was raising their grandchildren much as if she had never left their evangelical fold.
There were, of course, moments of ugliness. Abudiab recalls stopping at a gas station on the way to work in Pulaski and seeing a newspaper announcement for a sermon series at a megachurch in Nashville titled "Islam ... The Evil Religion."
"I didn't care," Abudiab says wryly. "You're in a church. You're already Christian. I have no plans to convert you. So you're going to think Islam is not for you — big deal."
The congregation of the Islamic Center of Columbia grew to a peak of nearly 50. There were immigrant doctors who drove in from small towns dozens of miles away, and there were black converts who had grown up in Columbia. At least once a month, they would gather at the mosque on weekends for potluck feasts.
"That felt good," says a congregant who asked to remain anonymous so as not to draw attention to his family. "It was our home."
On one of their visits from Jerusalem, Abudiab's parents gifted him with a large, ornamental Qur'an to use as the mosque's Ramadan prayer book. Abudiab was proud. "You know," he says, paraphrasing Muhammad: "For those who establish a mosque, God will establish a house in heaven."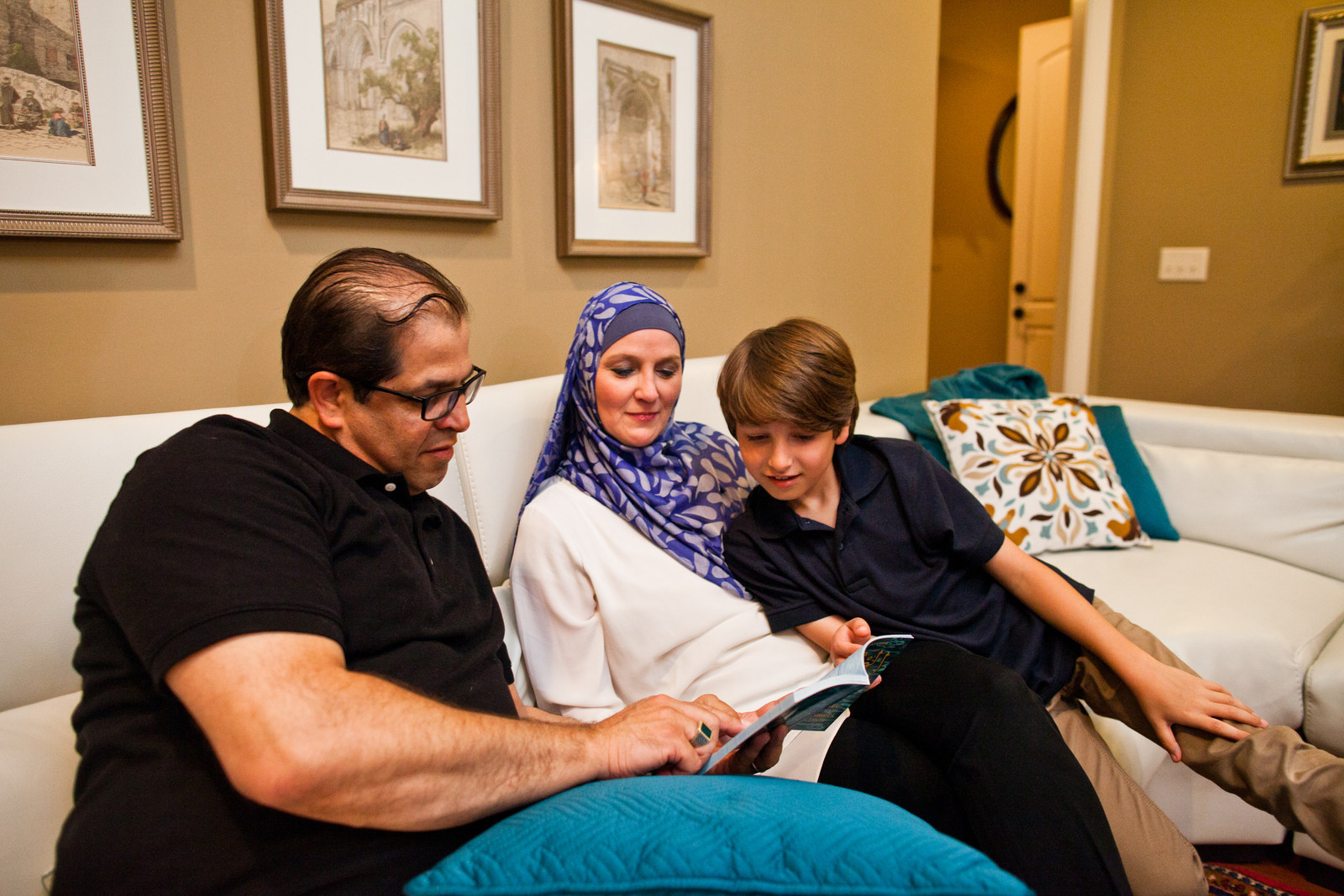 A new generation of Muslims began arriving in the United States after immigration laws were loosened in 1965. Because new visas went mostly to professionals, this group was distinctly educated and affluent. "They came with Ph.D.s, with M.D.s, with master's in engineering," says Edward E. Curtis IV, author of Muslims in America: A Short History. Many chose to settle quietly in far-flung suburbs and small towns. "They became the eye doctors and surgeons for underserved rural areas, and they provided essential services to the corporations and the factories."
Sabina Mohyuddin's parents were among them, having moved from Bangladesh to Massachusetts before settling, in the 1970s, in Nashville. Mohyuddin is 44, with a sweet demeanor that belies a sharp mind and a pugnacious self-confidence. In seventh grade, she decided to start wearing a headscarf. "A lot of people assumed I had just come to America and didn't know any better," she says. "They didn't understand it was a choice." Mohyuddin's closest friends in school were pious Christians. "When you don't date, you connect with other people who don't date for the same reasons."
While studying at Vanderbilt University, Mohyuddin married a Bangladeshi immigrant who was finishing his medical residency, and years later they moved to Tullahoma, a small town in the wooded hills near the Alabama border. In the mid-2000s, Mohyuddin decided to educate her children at home, and she asked to join a Christian homeschooling cooperative. Some families threatened to leave the co-op if it admitted a Muslim family, but they were overruled by the families who threatened to leave if they were rejected.
"In a world where secularism is the norm, and being religious is actually sometimes looked down upon, finding someone who is religious is comforting."
One day, a mother at the co-op vented to Mohyuddin about how her teenage daughter had confessed to liking a boy. She was willing to let them go on a date, as long as they took a chaperone.
"I was like, 'Wait, that's what we do!'" says Mohyuddin.
Mohyuddin is far from alone in her affection for the South. In Journey Into America, a study of Muslims across the United States, anthropologist Akbar Ahmed notes that "the Muslims we interviewed in the South say they were by and large happier than those living in places like New York City." Much of this sentiment comes from the harmony between the social conservatism of Islam and evangelical Christianity.
Tennessee developed its first substantial Muslim enclave in the 1990s, when the Clinton administration admitted thousands of Iraqi Kurds fleeing Saddam Hussein's regime and resettled them in Nashville. Today, the city is home to the largest Kurdish population in the United States.
The Nashville area — which has a plethora of Christian educational institutions and, by some measures, the highest number of churches per capita in the nation — proved a suitable home. Nawzad Hawrami, the president of the Salahadeen Islamic Center, notes that Middle Tennessee's climate is oddly similar to Kurdistan's. He recalls taking his wife to the hospital to give birth to their first daughter only days after arriving as refugees. Hospital staff brought them flowers and balloons.
When he started sending his kids to public school, Hawrami found a twofold comfort in the fact that many of their teachers were likely to be conservative Christians who were nevertheless bound to let the children practice Islam in peace. At Christmastime, Hawrami instructed his daughter to tell her teachers: "I'm Muslim. I don't eat pork, and don't call on me to sing 'Jingle Bells'!"
Sentiments like these are nearly uniform among devout, first- and second-generation immigrant Muslims in Middle Tennessee.
"In a world where secularism is the norm, and being religious is actually sometimes looked down upon, finding someone who is religious is comforting," Mohyuddin says. "Even if they're not of your faith."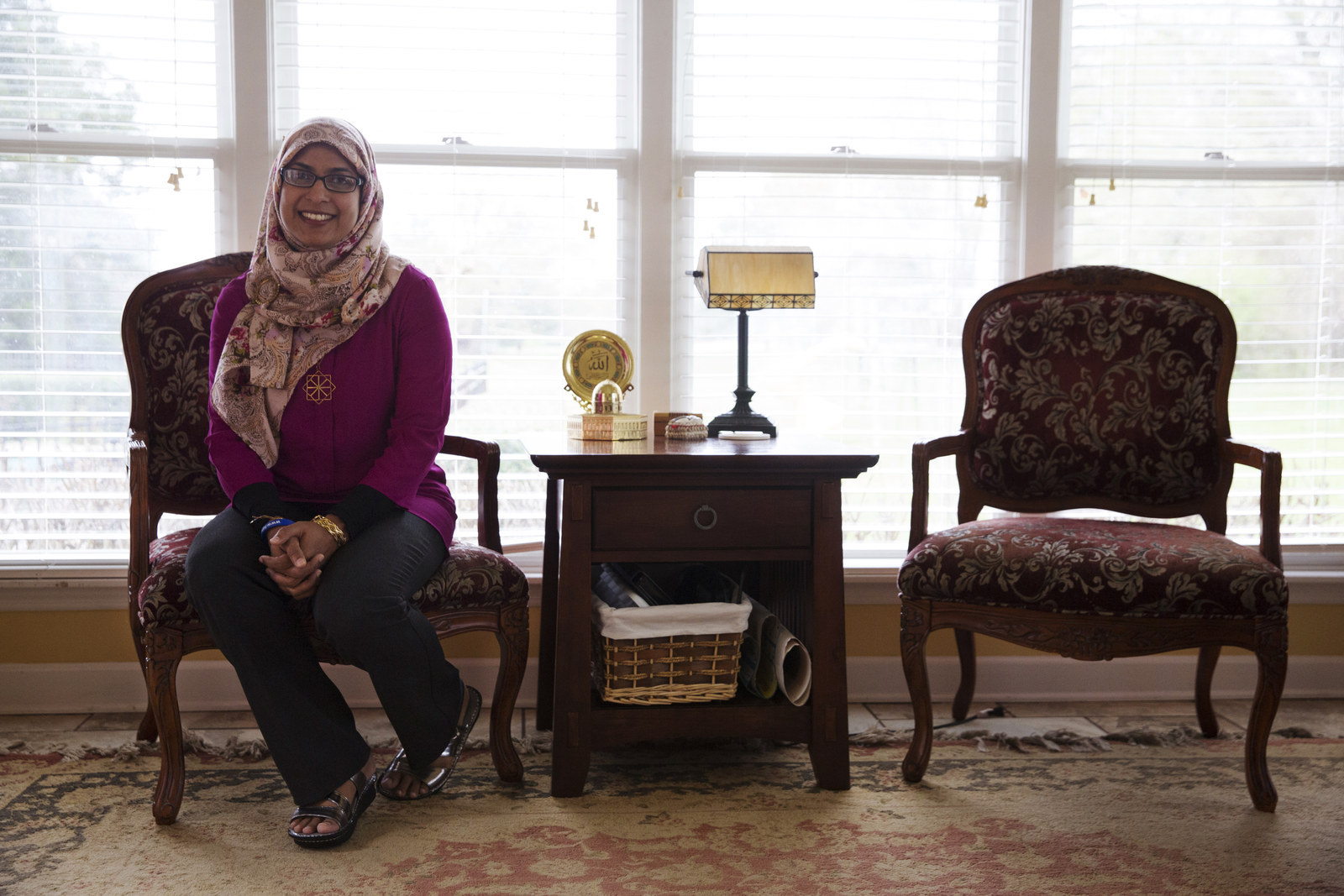 In the early hours of February 8, 2008, Eric Ian Baker and two friends drank 40s of malt liquor and hatched a plan to burn down the mosque on Main Street. Baker had no substantive ties to broader white nationalist movements, according to one of his prosecutors. Instead, he spent his days drinking beer and listening to neo-Nazi hardcore with lyrics about lynchings. After his arrest, investigators discovered a notebook in his trailer with a detailed organizational chart for an army to fight in the impending race war.
Baker was charismatic enough to have gathered around him a coterie of impressionable young men, and he gave his group the aspirational name Aryan Alliance. It was with two of his proteges that Baker drove his '83 pickup to a gas station shortly before 5 a.m. and filled two empty 40 bottles with gasoline. He then drove to the Islamic Center, where the three men smashed the glass of the rear door. While Baker spray-painted swastikas and white power slogans on the outside, the other two brought a lighter to the rags of their Molotov cocktails and hurled them inside.
Within 24 hours, all three were arrested and confessed to the crime. Baker explained that he aligned himself with the Christian Identity movement, which holds that Aryans are the chosen race, Jews are biologically descended from Satan, and the rest are "mud people." One of the accomplices, who was 18 at the time, explained that Baker had awarded him two "stripes" for the arson, and Baker gave investigators the line about Islam being "illegal according to the Bible."
In the meantime, Abudiab was trying to make sense of things. He watched two of his close friends and fellow congregants wandering dazed through the ashes, picking up stray, scorched pages of the Qur'an and small plastic furniture they had put there for the children. "I don't know why, but to me, they seemed broken," Abudiab says.
When she said that American Muslims regularly condemn terrorism, one man repeatedly shouted out, "Taqiyya!" and "You're a liar!"
Arson investigators brought Abudiab a plastic bin with the decorative Qur'an he had received from his parents. It was badly damaged, but much of it remained intact. The only proper way to dispose of it was to finish what Baker and his friends had started. After holding on to the book for a few weeks, Abudiab burned it in the fire pit in his backyard.
Some months before the firebombing, in late 2007, Abudiab had found himself conversing more and more frequently with friends about the anti-Muslim rhetoric cropping up in the presidential primary campaign. Now he wondered whether something new and dark was afoot. The Abudiabs couldn't dispel their fear. Robin talked about getting a guard dog. Abudiab was relieved by the arsonists' prompt arrests, but he remained apprehensive. He testified at the arraignment and forced himself to make eye contact with the perpetrators. "It didn't last long," he says. "I was afraid."
Bill Williamson, a Presbyterian pastor, raised $1,800 from his flock and offered to let the mosque's attendants pray in his church. Other scattered members of the community reached out; many were already figures in the interfaith world, and very few were from Columbia itself.
One of the first calls Abudiab received was from the Nashville-based Tennessee Immigrant and Refugee Rights Coalition, which offered to help put together a vigil. Abudiab resisted them at first. "A lot of us in the Muslim community, we don't think of ourselves as immigrants. We're different than the Mexicans," Abudiab says. "Particularly the Arabs. We have this elitist view of who we are." Still, Abudiab noticed that TIRRC was the only organization that didn't pressure him or tell him what to do. Another group, for instance, had immediately proposed replacing the mosque with a multi-faith prayer center. Abudiab felt this idea missed the point entirely.
So Abudiab agreed to the vigil. He even agreed to let members of The Farm, a notorious hippie commune near Columbia, join in with a drum circle. Still, Abudiab couldn't shake the feeling that this warmth was manufactured, external — that Columbia's silence was hiding a deeper mistrust. "There were no fundraisers, no lunches, no fish fries," Abudiab says. "But we made it look pretty. We put lipstick on the pig."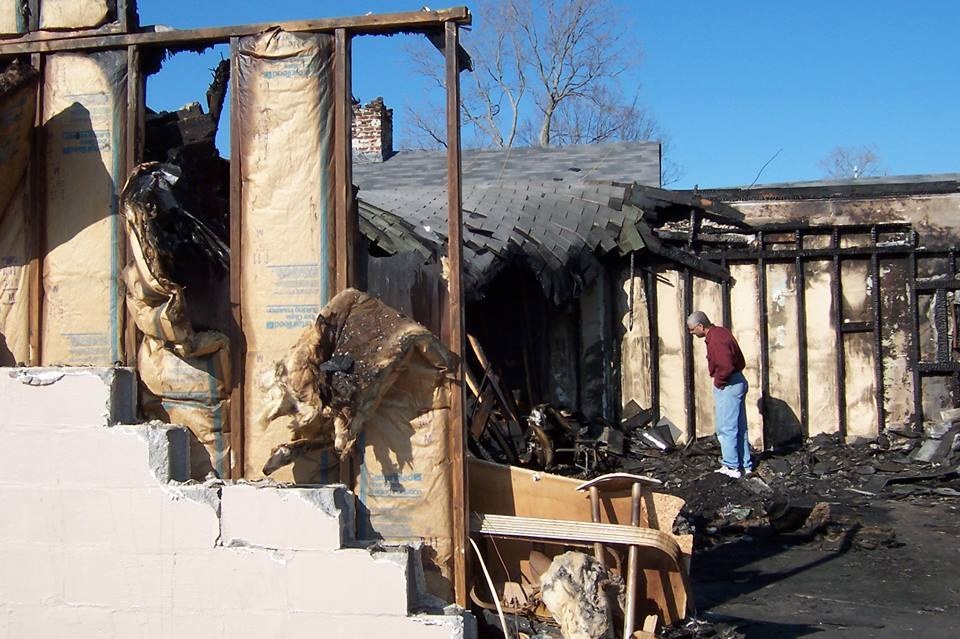 "There's three times Muhammad allowed Muslims to lie," says Pastor Maury Davis, holding up two fingers and a crooked pinky. "They could lie to their wife for family unity, they could lie to their brother for peace in the family, and they could lie to an infidel for any reason."

Davis leads Cornerstone, an evangelical megachurch a few miles north of Nashville. In 1975, when he was 18, he murdered Jo Ella Liles, a middle-aged Sunday school teacher, by stabbing her and nearly decapitating her. Eight and a half years into his sentence, Davis was released for good behavior after Texas was forced to reduce overcrowding in its prisons. Today, backed by a three-guitar rock band, he preaches his tale of redemption to thousands of people every week.
I had told Davis that I was interviewing several Muslim residents of Middle Tennessee, prompting his erroneous definition of taqiyya — a teaching that allows Muslims, particularly Shias, to lie about their faith to avoid immediate persecution or death. In Davis's version, which is prevalent in anti-Islamic circles, taqiyya means that all Muslims are potentially lying all of the time — especially the millions of seemingly peaceful Muslims who are actually carrying out a covert mission to turn America into an Islamist state from within. "So the question, when you talk to a person who is Muslim, is how do you know if they're telling the truth?" Davis says.
Davis is the pastor who, in 2002, held the sermon series "Islam ... The Evil Religion" — the series that Abudiab saw advertised in a newspaper and dismissed as irrelevant and unrepresentative. But, beginning around 2010, the kind of proudly anti-Muslim rhetoric that Davis had long championed became more and more common, and more and more mainstream, in Tennessee.
This happened concurrently with the rise of a now-prominent anti-Muslim movement on the national stage. While certain groups and individuals have been promoting fear and suspicion of Muslims in the U.S. for decades, a new, far more organized and politically influential movement has taken shape in recent years. Organizations that track anti-Muslim sentiment often peg the arrival of this movement to the unexpectedly intense opposition, in the summer of 2010, to Park51, the so-called "Ground Zero Mosque" in lower Manhattan.
That controversy was tied to another in Middle Tennessee. When the members of the Islamic Center of Murfreesboro, a town about an hour away from Columbia, filed zoning papers to build a bigger mosque, they were stunned to find themselves the target of lawsuits and rallies. Several of the national figures leading the campaign against Park51 — such as Pamela Geller and Robert Spencer, who that same year had founded the group Stop Islamization of America — also publicly opposed the mosque in Murfreesboro.
As they prepared to erect the mosque, someone set fire to an earth hauler and other construction equipment, intimidating contractors away from the project. In October 2010, the Justice Department saw itself forced to weigh in on a lawsuit against the Islamic Center, filing a brief in federal court asserting that Islam is, in fact, a religion entitled to the protections of the First Amendment.
That same year, the Tennessee legislature introduced one of the earliest and harshest in a national wave of so-called anti-Sharia bills. These laws are ostensibly designed to prevent "creeping Sharia," the conspiracy theory dictating that Muslim infiltrators are attempting to force Islamic law on American courts. But Tennessee's bill went a few steps further, essentially criminalizing the practice of Islam.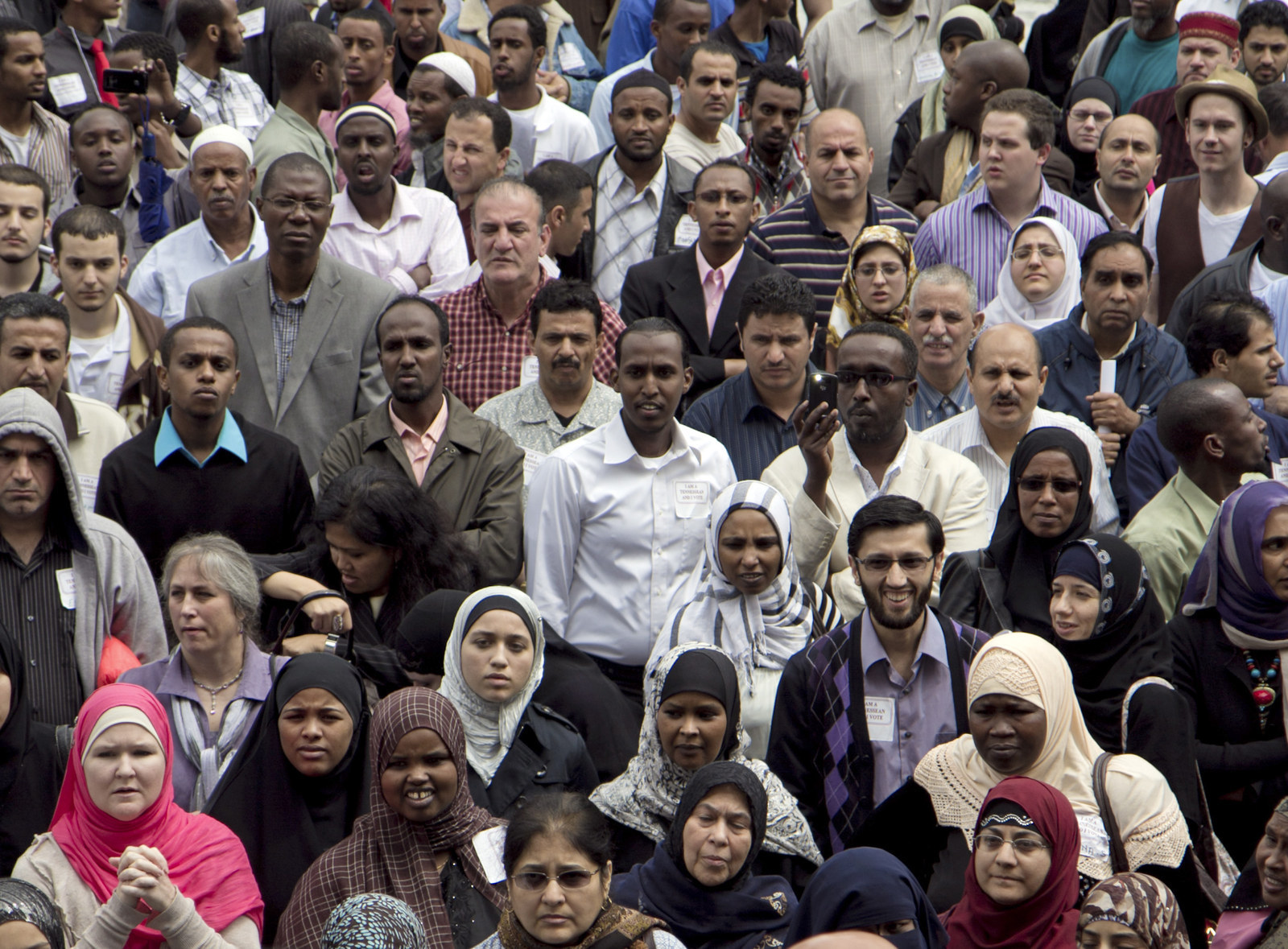 In November 2011, Geller and Spencer both attended a conference in Nashville promoted as the "first true national conference on Sharia and the Islamization of America." National groups were finding fertile ground in Tennessee.
The anti-Sharia bill was only one in a volley of legislative efforts targeting Muslims and immigrants. Stephanie Teatro, co-executive director of TIRRC, notes that the same legislators who sponsored the anti-Sharia bill, as well as measures to halt the resettling of refugees in Tennessee, were behind Arizona-style crackdowns on the undocumented. "Over the last two decades you've seen an incredible growth in the immigrant and refugee community, not just in cities like Nashville but in a lot of suburban and rural counties as well," says Teatro, who recently co-authored a report on Islamophobia in Tennessee. The early Kurdish refugees were followed, for example, by refugees from Somalia. "We really see it as much as a reaction to Islam as it is to foreign-born communities generally."
In 2012, Tennessee's Republican governor, Bill Haslam, appointed a young lawyer named Samar Ali to the state's economic development agency. The hiring caused a furious backlash, with several local and national figures claiming Ali had been brought on to make Tennessee "Sharia-compliant." Many of the accusations came from the Center for Security Policy, a major anti-Muslim group run by former Reagan-era defense official Frank Gaffney. A resolution to condemn Ali's hiring was pushed by Kevin Kookogey, who was then the chairman of the Williamson County Republican Party and is now the Tennessee chairman of Ted Cruz's campaign. Gaffney is now one of Cruz's foreign-policy advisers.
The furor gave Ali a sharp sense of whiplash. She was born and raised in Nashville, the daughter of Palestinian and Syrian immigrants, and she describes her childhood as "almost Pollyannish." She considered herself a patriot. "I took an oath of office to uphold the U.S. constitution," she says. Yet there she stood, publicly accused of belonging to a jihadist fifth column. "It was a very painful experience."
After serving in Haslam's government for less than two years, Ali decided to stay in Nashville. She had previously lived in Washington and New York, and to this day friends ask her why she didn't go back. Pointing to Gaffney and his cohort, she explains: "A lot of this, especially the financing, actually came from the Northeast. I think it's really important to understand this. I don't see it as a Southern problem."
Daoud Abudiab and Sabina Mohyuddin both testified against the anti-Sharia bill before the legislature. Hundreds of Muslims showed up to the statehouse in protest, and the bill that eventually passed was significantly watered down. This mobilization was organized, in large part, by TIRRC and other civil- and immigrant-rights groups. While Abudiab and Mohyuddin welcomed the alliances, many other Muslims felt forced into them by circumstance. Ossama Bahloul, the imam of the Islamic Center of Murfreesboro, recalls feeling deeply uneasy when LGBT groups expressed their support during the campaign to stop the building of his mosque; recently, he declined to support one of these groups in return.
"You might find it very confusing," Bahloul says. "Politically, how am I going to support someone who is against my personal values? Because he supports my existence? And the very conservative person shares with me the same values — but he is against my existence."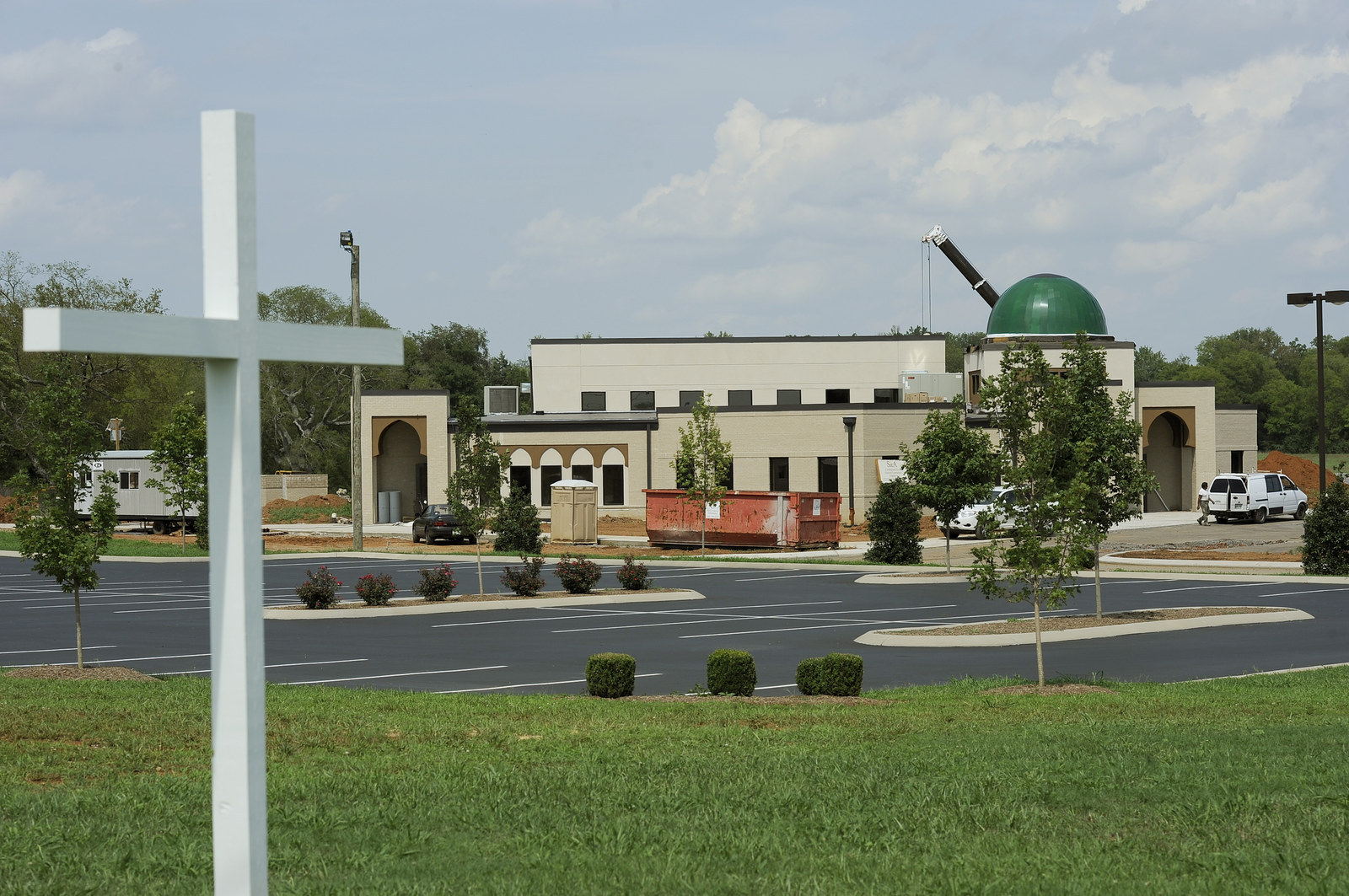 In November 2012, Sabina Mohyuddin went to a lecture on the evils of Islam at a small Baptist church in Tullahoma. The event was organized by ACT for America, a sprawling, highly effective national organization divided into local chapters. (If Geller, Spencer, and Gaffney provide the intellectual framework and national media campaigns for the anti-Muslim movement, ACT and its founder, Brigitte Gabriel, provide its grassroots muscle.) Mohyuddin sat in the back with a group of Muslims and listened to the usual talk about how Muhammad was a warmongering pedophile and all devout Muslims are complicit in global jihad.
Afterward, Mohyuddin saw a pair of teenagers who used to study with her children at the homeschooling co-op. She politely greeted them and asked after their families.
Mohyuddin started getting used to this kind of thing. Less than six months later, in April 2013, Barry West, a county commissioner where Mohyuddin lived, posted a picture to Facebook of a man in a cowboy hat staring down the barrel of a shotgun with the words "How to wink at a Muslim." In the outcry that followed, Mohyuddin and her brother-in-law invited West to talk over tea. West asked why Muslims didn't condemn terrorism. Mohyuddin said they condemn terrorism constantly, it's just not often covered in the media. West seemed plausibly convinced. "I think we connected," Mohyuddin says.
Inspired by that meeting's success, the American Muslim Advisory Council, of which Mohyuddin was a founding board member, decided to host a forum on the topic of hate speech, and invited a U.S. attorney and an FBI agent to speak. They booked a room at the convention center in Manchester and arranged for enough food and refreshments for about 50 people.
The local paper ran a story in the days leading up to the event, which quoted the U.S. attorney saying that the federal government is prepared to defend the civil rights of Muslims. From hundreds of miles away, Pamela Geller and Robert Spencer seized on these small-town rumblings and rallied their supporters to show up in protest. Mohyuddin and the other organizers braced themselves.
Abudiab watched this unfold from afar and thought, privately, that his allies had made a mistake by featuring speakers from law enforcement, which framed the conversation in threatening terms. Still, on the day of the forum, Abudiab drove down to Manchester to show his support. The parking lot was packed with loud throngs of people. Some wore T-shirts that read, "Keep Calm and Eat Pork." Others had firearms displayed in holsters at their sides. Pamela Geller was standing on a stage, shouting into a microphone. It seemed like every cop in a 20-mile radius was there. As he waded through the crowd, Abudiab kept thinking, This is not safe.
Inside, every seat was filled, and people were standing in the back and in the aisles. When the U.S. attorney spoke, the crowd shouted him down to the point that he was inaudible.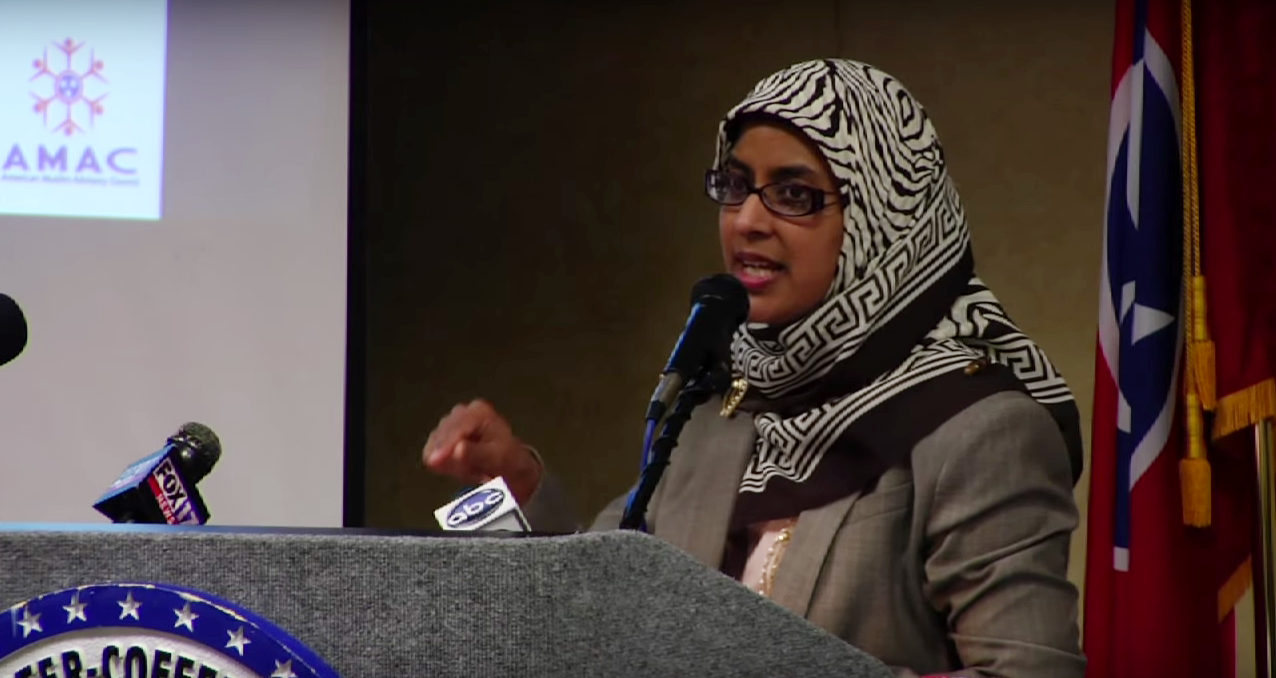 Toward the end of the program, Mohyuddin got up to speak. Video of the event shows her wearing a black-and-white patterned hijab and narrow, plastic-framed glasses. The subject of her speech was Muslims in the United States, and the crowd heckled her from the start. When Mohyuddin identified herself as Nashville born and raised, one woman yelled, "On how much welfare?" When she said that American Muslims regularly condemn terrorism, one man repeatedly shouted out, "Taqiyya!" and "You're a liar!"
The small-voiced Mohyuddin was defiant, jabbing her finger in the air and demanding that people quiet down. "I think there was this idea that, as a Muslim woman, I would be scared," she says. "But I wasn't."
When Mohyuddin's speech turned to the subject of Islamophobia and hate crimes, she mentioned the firebombing of the Islamic Center of Columbia and showed a slide of the building's charred, collapsed husk. The crowd immediately erupted into cheers. "Shame on you!" Mohyuddin said, prompting even louder clapping and whooping.
At that moment, Abudiab was standing just outside the conference room, getting a cup of coffee at the refreshments table. He could hear everything. When he heard the cheering, his mind went blank, and he briefly forgot what he was doing. He shook his head and put down the cup of coffee. He couldn't bring himself to walk back into the room and face the crowd.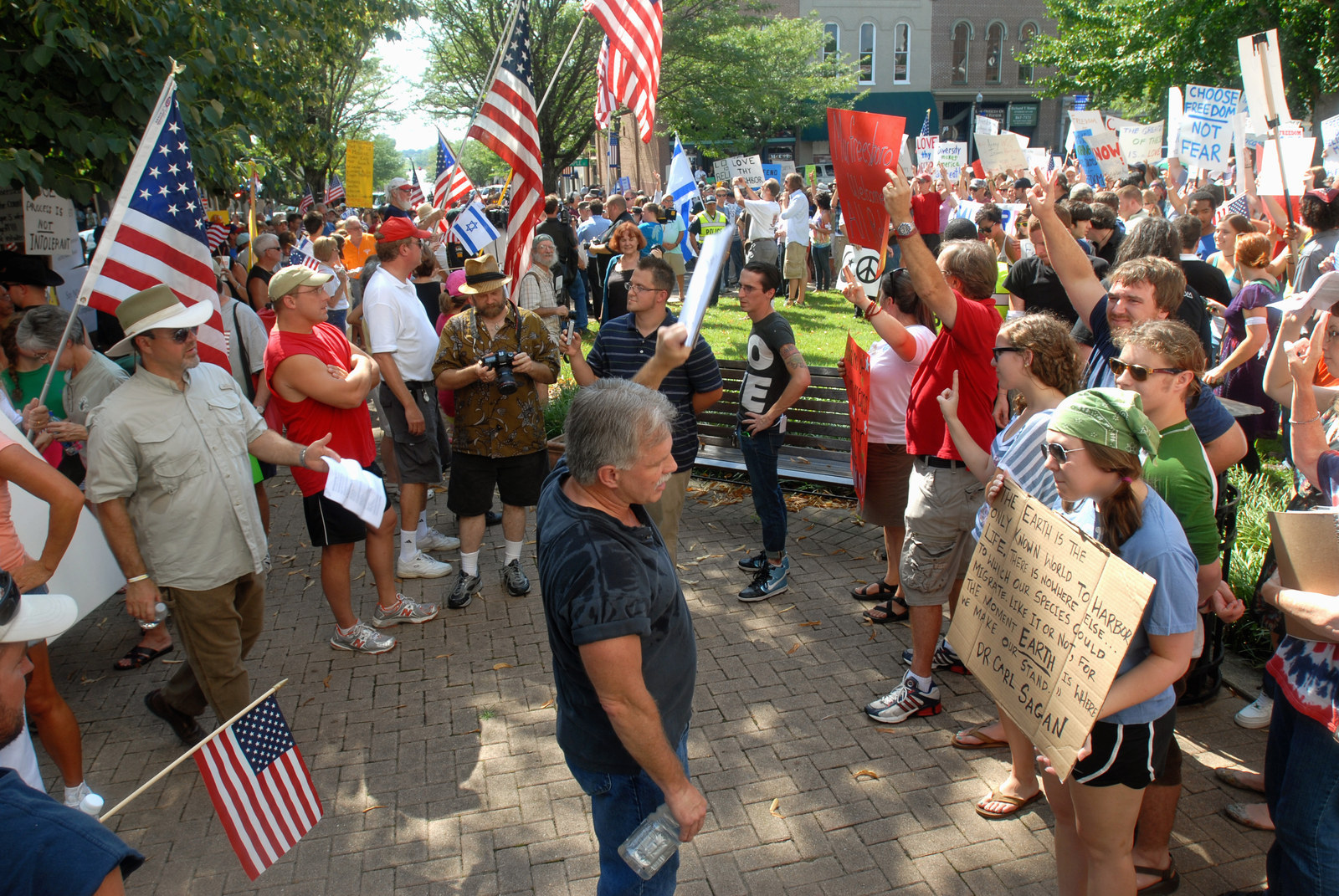 One morning this past February, the state Senate in Nashville debated a resolution to prevent the federal government from resettling refugees in Tennessee. The room was filled with camera crews and protesters.
The afternoon before, Cathy Hinners, a prominent local anti-Muslim blogger and activist, went on the air to urge people to show up for the hearing. "It isn't about having them come to assimilate and be great humans and citizens," she said. "If they follow the Prophet Muhammad, they are violent, they do assault women and use women as slaves, and they do have pedophilia that runs in their bloodstream."
Another bill before the Tennessee legislature moves the teaching of world religions from the seventh grade to the tenth. Walking through the halls of the statehouse, Rep. Bud Hulsey, one of the bill's co-sponsors, explained that he signed on after meeting with a man named Kamal Saleem, who claims to be a former jihadist trained by the Qaddafi regime in Libya and, in Hulsey's words, "sent here to do jihad and education in the South." (Various elements of Saleem's story have been called into question.)
On the lapel of his suit jacket, Hulsey wears a pin with the Arabic equivalent of the letter N, for Nazarene, in reference to Christians. "It's what some Muslims are spray-painting on Christians' homes to target them for rape and murder and pillage," Hulsey says. "Kinda like Hitler. So I just wear it as 'Bring it on.'"
"If they follow the Prophet Mohammed, they are violent, they do assault women and use women as slaves, and they do have pedophilia that runs in their bloodstream."

By now, Abudiab is accustomed to the rhetoric, especially coming from high places. But sometimes it gets more personal. In February 2014, Abudiab and his family moved one county north. He learned that he was living in the same town as Victoria Jackson, the former Saturday Night Live actor turned Christian conservative activist. Jackson had recently moved to Tennessee and was running for a seat on the Williamson County commission, partly on a platform of fighting Islamic infiltration.
Abudiab posted something on Facebook about his move and Jackson's campaign. In response, Jackson published an article on her website accusing Abudiab of conducting "stealth jihad," then put a link on Facebook that read: "This Muslim posts my name and location on his FB and says he just moved to my neighborhood…" (Abudiab had not posted Jackson's address, only the town she lived in, which she had discussed publicly.)
The post drew hundreds of comments, many of them violent: "Shoot the muslim," "Bomb his house," "Smear your ammo with lard, Ms. Jackson." Several of Jackson's fans asked her to post Abudiab's address. "I have weapons and will travel," one wrote. Another: "He'll be gutted and fed to pigs with all his family." Some were unsettlingly specific: "Get a big gun and some wasp spray it will shoot about 30' and put his eyes out."
Standing in his new home, Abudiab began to feel differently about the large back windows, which looked down an open, sloping lawn. Someone standing outside could easily see into the kitchen. As a precaution, he got in touch with the FBI. When he met with two agents in downtown Nashville, they said there was nothing they could do. "People say a lot of things," said the agents, before turning the conversation to why people in Saudi Arabia drink their tea hot instead of iced.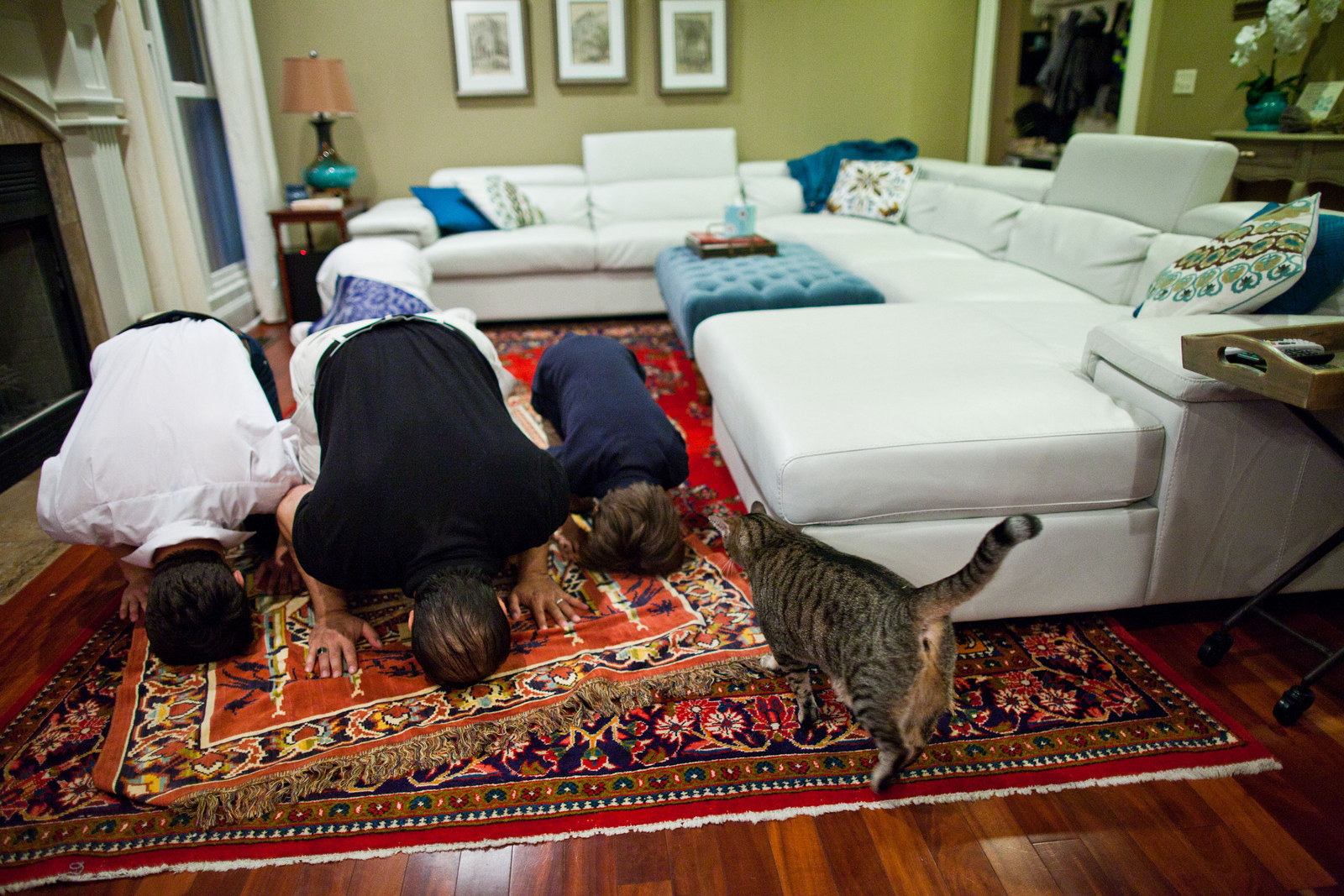 The Islamic Center of Columbia never fully recovered after the firebombing. Abudiab found a new building — a former church — but the congregation dwindled. One recent afternoon, Abudiab led a Friday prayer for a group of four. Three had been around since the bombing, and one, a Columbia native and ex-convict wearing full Saudi-style robes and a head wrap, was a recent addition.
Abudiab delivered a sermon about how Muslims, however misunderstood they may be, also had a responsibility to understand and respect the faith of Christians and Jews. Muhammad, he stressed, had once let a group of Christians pray in his mosque. It was a message straight from the interfaith work that has consumed Abudiab's life since the firebombing. In 2012, he started the Faith and Culture Center, whose principal project is Our Muslim Neighbor, an initiative to foster direct, personal relationships between Muslims and non-Muslims in Middle Tennessee. "Those who know us are not afraid of us," Abudiab says. "It is those who don't know Muslims who are afraid of Muslims."
"It is those who don't know Muslims who are afraid of Muslims."

The centerpiece of Our Muslim Neighbor is a program called A Seat at the Table, a series of dinners in which people get to know each other through guided conversations. I attended one such dinner in February at the elegant home of a Muslim couple in Nashville. Everyone present spent the evening bemoaning all forms of ignorance and prejudice. At one point, a white American convert to Islam suggested that Our Muslim Neighbor was "preaching to the choir."
Abudiab is familiar with the critique. "It's not preaching to the choir," he says after dinner, with some frustration. People with deeply ingrained xenophobic ideas about Muslims may never agree to attend such an event, he says, but there is a vast "movable middle" that can be compelled to fight Islamophobia. "Everyone at that table has friends and family" who might harbor anti-Muslim ideas, Abudiab says. "And I hope they will no longer just sit back, that they will engage them and challenge them."
Still, Abudiab sometimes feels daunted by the task. Last summer, after a Tennessee-raised Muslim man shot and killed four Marines and a Navy sailor at two recruiting stations in Chattanooga, Tennessee, Abudiab was forced to modify the program for a Seat at the Table event because nearly every Muslim who had signed up called at the last minute to say they couldn't make it. They all had unrelated excuses, but Abudiab wondered whether they simply didn't want to spend an evening disentangling themselves from terrorists not only in the Middle East but in Tennessee, too.
Robin's mother recently posted a meme to Facebook that characterized Muslims as inherently bloodthirsty and warlike. It came as a surprise to Abudiab and to Robin, who says her parents long ago accepted her and her family's faith. But lately they've been spending more time in the living room with Fox News on the television — "swimming in that fluid of meanness," Robin says. This made Robin realize what Abudiab is up against in his interfaith work. Is personally knowing and loving a Muslim not enough to counteract the messages of fear and hatred? "I don't know what to do," she says. "I can't move them any more than just being me."
Lately, Robin has wondered whether she should stop wearing the hijab. "I'm tired of the questions, I'm tired of the looks," she says. "I'm tired of what wearing a hijab means to other people — that I'm oppressed, that I don't have choices. And I'm tired of being associated with terrorists."
"Sometimes I think if I took it off it would make the kids' lives easier. It would make everybody's life easier," she says. "But I would be giving in."