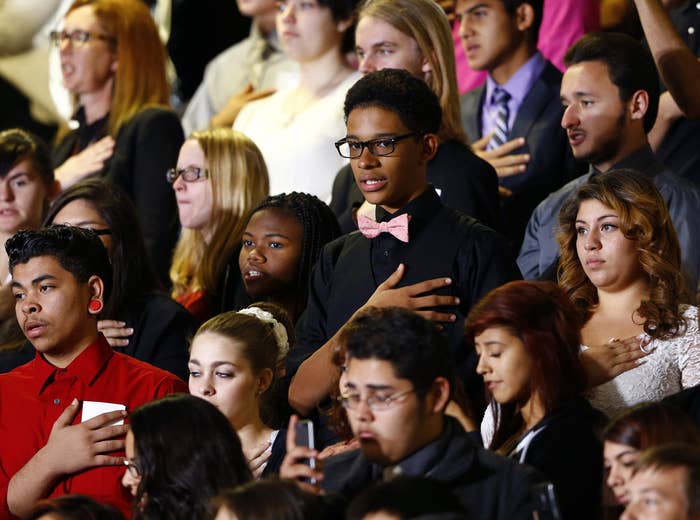 Nearly a year after the Obama administration sternly reminded states that they must provide immigrant students with equal access to public education, there are signs that school districts around the country are excluding immigrant kids from schools or segregating them into alternative programs.
The latest is a lawsuit filed last Thursday by the New York Civil Liberties Union alleging that the Utica School District was denying teenage refugees access to the local public high school, instead funneling them into inferior alternative programs for English language learners. The lawsuit follows similar complaints against school districts elsewhere in New York state, as well as in Alabama and Louisiana.
"It does seem like it's happening over and over again," said Anjali Nair, a staff attorney with the Southern Poverty Law Center, which has found school access problems in various Southern states. "I don't know why or how, institutionally, this doesn't stick."
Children in the United States are legally entitled to a public education regardless of their immigration status, based on to the 1982 Supreme Court case Plyler v. Doe. It is against federal law, for example, for schools to require Social Security numbers, driver's licenses, or other forms of ID that aren't necessarily available to undocumented immigrants. Federal statutes also prevent schools from segregating immigrants into alternative programs due to their national origin or language ability.
Last May, as unaccompanied minors from Central America began to enter the country in unprecedented numbers, the Department of Justice and Department of Education issued guidelines reminding schools that they could not deny access to immigrant children. This was the second time since the beginning of the Obama administration that the federal government felt the need to remind schools not to exclude immigrants. Similar guidelines were issued in 2011, in the midst of a wave of state legislation aimed at cracking down on undocumented immigrants, some of which required schools to check the immigration status of students and their parents before they enrolled.
The Department of Justice "is actively pursuing investigations of both school districts and states that place obstacles to students enrolling in school," a department spokesperson told BuzzFeed News in a statement, citing a settlement agreement from last July with Jefferson Parish Public School System in Louisiana, which had been accused of excluding Latino immigrant students and parents. The settlement was reached jointly with the Department of Education's Office for Civil Rights.
Jonathan Blazer, advocacy and policy counsel for the American Civil Liberties Union, said that these complaints usually come about only after advocacy organizations conduct proactive surveys of school districts within a certain area and identify problems. The NYCLU lawsuit in Utica, for instance, emerged from such a survey in New York and New Jersey. But there are many states where no such surveys have been conducted, meaning it is possible that there are still school districts failing to comply with federal law.
"I would expect that the types of practices that were discovered in those surveys are happening throughout the country," Blazer said.
The most recent lawsuit was filed by the NYCLU and Legal Services of Central New York on behalf of six students from Africa and Southeast Asia in the country legally under refugee status, who say that the Utica School District systematically funneled them into inferior programs based on their national origin. Some of the plaintiffs had actively tried to enroll in the regular high school but were denied access, according to Phil Desgranges, the attorney who filed the suit.
Although the NYCLU suit does not involve unaccompanied minors from Central America, the law governing access for immigrants to public schools is the same, Desgranges told BuzzFeed News. "If you're an unaccompanied minor, you have the right to go to school," he said. "If you're a newly arrived refugee from the Congo, you also have the right to go to school."
The Utica School District "has just received the claim and will respond accordingly," Bruce Karam, the district's superintendent, told BuzzFeed News in a statement. "From what I have been advised, the allegations are totally unfounded and without merit. We have never denied any student entry into our schools. We provide a quality education to all our students."
In another New York state case, the Long Island school district in Hempstead, New York, hired an outside monitor this month to ensure it was complying with an order from the state attorney general to allow undocumented children to enroll. Todd Shapiro, a spokesperson for the school district, told BuzzFeed News that any obstacles preventing undocumented children from enrolling were purely the result of the practical challenges presented by the large number of new students who were suddenly arriving in Hempstead.
"They had over 1,500 new students that showed up for the first day of school," Shapiro told BuzzFeed News. "The school didn't have enough space, didn't have enough staff, didn't have enough desks. It took some time to be able to make room for them."
Last October, the SPLC surveyed public and charter schools in New Orleans and found that 55 out of 83 schools discouraged enrollment by illegally asking for Social Security numbers or other forms of ID denied to undocumented immigrants.
The SPLC complained about similar problems in Alabama last June, when it found that more than 70% of the state's school districts had failed to comply with the federal government's guidelines on school enrollment.
Both New Orleans and Alabama addressed the issues after the SPLC's interventions. A spokesperson for the Alabama Department of Education said they had not received any further complaints since then. The Orleans Parish School Board did not respond to a request for comment.