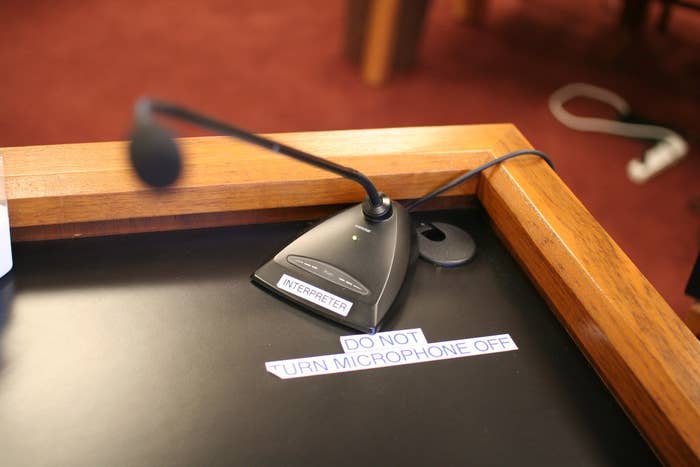 Interpreters across the country are refusing to sign on to a new contract to service U.S. immigration courts, citing what they call unacceptably low pay and poor working conditions.
"They're keeping me from making a decent living for me and family," said Carmelina Cadena, an immigration court interpreter in Florida who is fluent in a rare and sought-after Mayan language from Guatemala. "It's ridiculous."
Language interpreters are crucial to the basic functioning of the country's immigration courts, where business is rarely conducted in English–less than 15% of immigration court cases were completed in English in fiscal year 2014. The conflict between the interpreters and the new contractor, SOS International, or SOSi, threatens the ability of the immigration courts to function, and the ability of individuals to challenge their potential deportation.
"The translation can be absolutely critical in the success of a case, or whether someone ends up being deported," said Laura Lichter, former president of the American Immigration Lawyers Association.
Immigration courts are part of the executive branch and administered by the Department of Justice. DoJ uses a combination of 67 staff and 1,650 freelance interpreters to ensure that immigrants facing deportation understand the proceedings against them. In July, the Justice Department switched contractors, awarding a new contract for more than $12 million annually to SOSi, according to a database of federal contracts. The contract can be extended five years for a total of about $58 million.
The contract was initially slated to kick in on September 21, according to DOJ. However, emails to the interpreters from from Lionbridge, the company that currently holds the contract, state that the switch had been deferred to November. Interpreters around the country refused to agree to SOSi's terms under the new contract because of low pay and ungenerous travel reimbursement and cancellation policies, according to several interpreters interviewed by BuzzFeed News. Because the interpreters are organizing informally, the precise number refusing to sign on is unclear. However, two interpreters in different regions told BuzzFeed News they were each in direct contact with more than 100 interpreters who had refused. On any given day, there are about 300 contract interpreters working for the immigration courts, according to a spokesperson for the courts. That means that about a third of interpreters could be unavailable once the new contract kicks in.
Immigration courts are already beleaguered, with a backlog of some 456,000 cases, an all-time high, keeping some immigrants in limbo for years. Interpreters have long been frustrated by their work conditions: those interviewed by BuzzFeed News complained of low pay, inconsistent and often insufficient travel reimbursement policies, and a general sense of being undervalued given the importance of the work. The new contract, they say, risks making the situation substantially worse by forcing the government to hire underqualified people who are willing to work for even less, meaning that immigrants facing deportation are the ones who will suffer the most as a result.
A Justice Department spokesperson told BuzzFeed News that the contract was awarded to SOSi "based on the best value to the government," and that the "Department has no role in setting compensation rates for vendor employees," referring all questions on pay rates and other working conditions to SOSi.
The spokesperson also said that SOSi's start deadline was extended "to ensure a smooth and comprehensive nationwide transition… and to ensure that all contractor personnel obtained the proper security clearances," but did not respond to questions about whether the extension had to do with interpreters refusing to sign on with SOSi.
SOSi did not respond to multiple emails and phone calls requesting comment.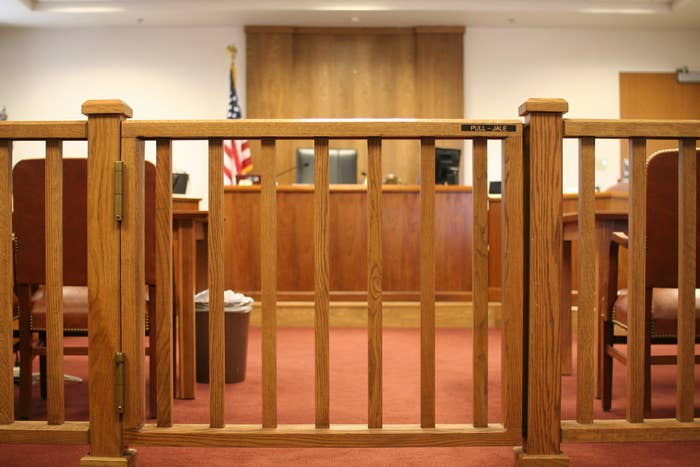 In August, SOSi began reaching out to interpreters who had standing contracts with the previous company, Lionbridge, informing them of the contract change, their new terms, and requesting that they add their name to a list of available interpreters. However, SOSi offered significantly lower pay and worse travel and cancellation policies than those that most interpreters had negotiated with Lionbridge, according to 10 interpreters from around the country interviewed by BuzzFeed News.
Cadena, the interpreter in Florida, said she was making somewhat more than the standard rate for interpreters in federal court, which is $412 for a 7-hour work day, or about $59 an hour. She had been able to negotiate a relatively high rate because of the scarcity of interpreters able to translate directly into English from Akateko, a Guatemalan Mayan tongue spoken by certain immigrant communities in South Florida.
Akateko turns up in immigration court frequently enough to require a readily available supply of interpreters, but it is still rare: From April 2013 to March 2014, there were only 87 orders for Akateko interpretation work in immigration court, according to EOIR data obtained by BuzzFeed News. The pay that Cadena negotiated was enough to support her three sons and her husband, who lost his job during the 2007 financial crisis and spent several years looking for work.
In August, SOSi reached out to Cadena offering $46 an hour for the first two hours of work, and a lower rate thereafter, substantially less than what Cadena was making with Lionbridge. When she researched the new contract, Cadena learned that many of her colleagues who worked with more common languages were being offered even less, and that immigration court interpreters all over the country were chafing at SOSi's conditions. "People are saying, 'I should just go get a job at a factory — I can't survive on that'," Cadena said.
A Spanish interpreter working in South Texas, who spoke to BuzzFeed News on condition of anonymity, said he and several of his colleagues were offered between $30 and $35 for the first two hours, with declining hourly rates thereafter. "It just seemed really odd that, the more you work, you actually make less money," the interpreter said.
Interpreters say these rates are especially untenable for those who have to travel long distances to work — a common arrangement, given that many interpreters work in immigrant detention centers in remote rural areas. The interpreter in South Texas, for example, explained that he routinely has to drive about three hours both ways to work at one particular detention center. With SOSi's new contract, he said, "I would have to work four hours just to make up for the travel cost."
Several interpreters also said that SOSi is offering significantly narrower cancellation policies than Lionbridge: Whereas Lionbridge gave interpreters at least 24 hours' notice that they were no longer needed for a job, SOSi says it will only inform people by 6 p.m. the evening before an assignment, giving interpreters far less time and flexibility to find back-up work.
The immigration court system has long attracted criticism for its patchy, lackluster efforts to provide high-quality language interpretation. A 2011 report by the Brennan Center for Justice at New York University found that the Justice Department consistently failed to provide meaningful language access in immigration courts, in part because immigration court interpreters require lower levels of training and certification than interpreters in state and federal courts. (Immigration courts are administrative, not part of the judiciary.)
Lichter, the former AILA president, said the quality of interpretation in immigration courts has been on the decline for years. "When we talk to some of the better translators, what we're told is that the contracting agencies keep rationing down on the rate they will pay people," Lichter told BuzzFeed News.
The problem becomes especially clear and urgent in high-stakes cases involving asylum seekers, Lichter said. Asylum seekers have to prove they fear persecution back home and that they will face danger if they're sent back. Though nearly all of it is included in an affidavit submitted to the court before testifying, judges rely on oral testimony to determine if someone is telling the truth about what would happen to them if they're sent back to their country, Lichter said.
Lichter recalled a time when a woman was testifying about the six men who gang raped her. The woman recounted how one of the men standing behind her said, "Vamos a hacerla picadillo," which translates roughly to "Let's beat her to a pulp." The interpreter got it wrong, Lichter said, by rendering a literal translation of the Spanish word picadillo as "ground beef."
The difference may seem subtle, Lichter said, but it can be crucial in determining whether, from the judge's perspective, an asylum seeker's story appears to come truly from the heart or falls flat because it doesn't make sense. The federal government is shortchanging the immigration court system by bargaining down on interpreters and support staff, while at the same time being willing to devote large amounts of money to enforcement, Lichter said.
That disparity, Lichter said, shows that the rights and well-being of immigrants themselves are an afterthought in the way the government apportions immigration-related resources. This, she added, is "the big fallacy of how the government treats the immigration system."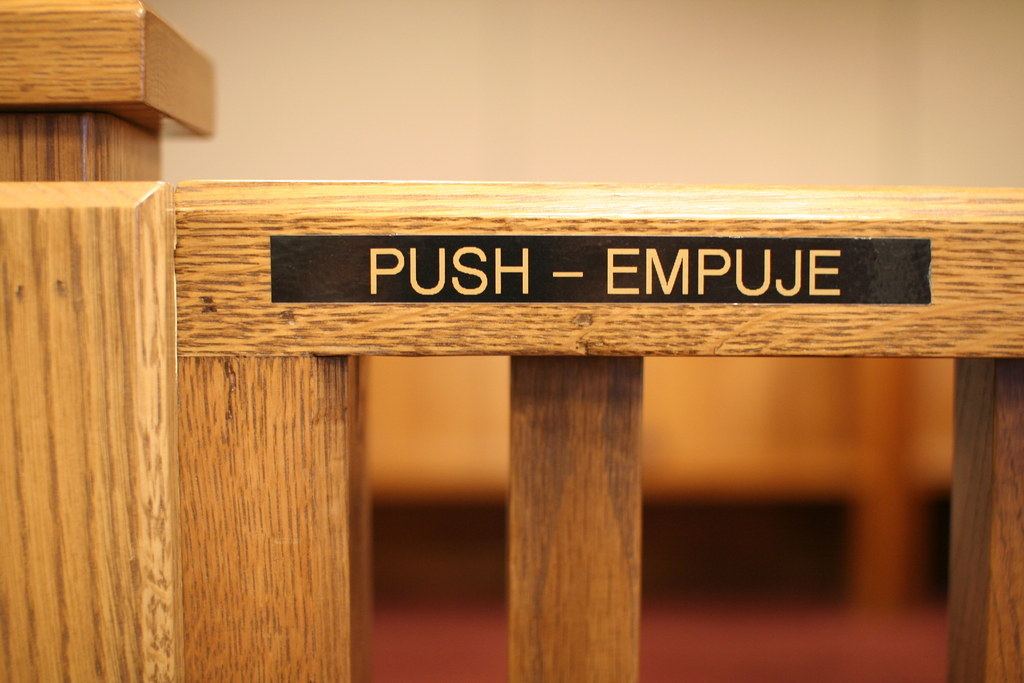 SOSi has received contracts from the federal government worth more than $204 million since fiscal year 2008, ranging from a few thousand dollars to more than $42 million, according to usaspending.gov, a site that tracks federal government spending.
This year SOSi was awarded contracts valued in excess of $400 million to provide support to "thousands of U.S. and Coalition troops in Iraq," according to their site. In 2013 the company won a $85 million contract from the U.S. Air Force for airfield infrastructure construction and engineering work in Iraq.
The company has run into issues in the past when it came to translators and billing for contracts with the United States.
A 2012 audit for a contract SOSi was awarded to perform translation services for the Drug Enforcement Administration found that about 33% of the linguists worked after their certifications had expired. This resulted in SOSi billing the DEA for about $750,304 for linguists without valid certifications. Auditors for the U.S. Department of Justice also couldn't find any certification information for a linguist who had been paid $183,840.
Still, the DEA told investigators they were satisfied with SOSi personnel and didn't have any concerns about their performance.
In 2013, a former SOSi consultant filed a lawsuit on behalf of the U.S. claiming the company overbilled U.S. Immigration and Customs Enforcement for millions' worth of translation work. Before the lawsuit had been filed, two SOSi employees had been arrested for their involvement in overbilling ICE by at least $72,300, according to the lawsuit. The complaint said SOSi didn't disclose the true scope or nature of the misappropriation of funds, arguing the true costs easily exceeded $5 million. The case was dismissed with prejudice because the federal government declined to intervene.
A Justice Department spokesperson declined to comment on SOSi's history other than to say that "the past performance of vendors was evaluated during the competitive process."
Some interpreters told BuzzFeed News that they see SOSi's history as a cause for concern. In the meantime, however, they are primarily worried about the low pay and worse travel and cancellation policies the company is offering. A few have even started looking for other work.
"I pay my rent with my immigration court job," said Angelina Llongueras, an interpreter who works with Spanish and French-speaking immigrants. "I'm looking, very quickly, for whatever other alternatives I can find, because I don't like what's coming."
UPDATE
This story has been updated with additional information to clarify the value of the contract awarded to SOSi.