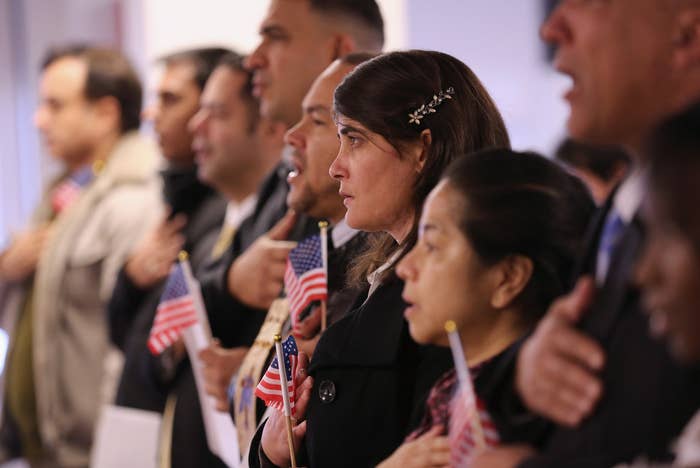 The handful of for-profit tech companies developing software to help immigrants with government transactions are running into resistance from professional immigration attorneys.
"I don't care how much you program a piece of software, there are things it just can't analyze for you," Crystal Williams, executive director of the American Immigration Law Association, told BuzzFeed News. "So while it's not a human being engaging in the unauthorized practice of law, it's a piece of software that has infinite potential to get it wrong."
The tech companies bill their products as a public service, saying they provide a safe and accessible solution to immigrants who can't afford lawyers and who could otherwise wind up the victims of predatory "notarios," or fraudulent immigration consultants, and at a cost substantially lower than hiring a lawyer. But AILA and many of its members say that such programs are extremely risky for immigrants, because even the most mundane transactions in immigration law are too complex for software to reliably handle, and small, unintentional mistakes in paperwork can get an immigrant deported.
The immigration bar has already succeeded in getting one for-profit company to backtrack on plans to tap into the immigrant market. Last month, AILA, the nation's largest organization of immigration lawyers, succeeded in getting H&R Block to nix a service designed to help immigrants file paperwork with the government.
H&R Block was AILA's main target. But there was another company in the background: ClearPath, the makers of a software system that bills itself as the equivalent to TurboTax for immigration, and which H&R Block was using to provide immigration services in its retail stores.
ClearPath and other companies like it say they take these risks into account, and that they do not intend to prevent people who need to see a lawyer from doing so. "There's tremendous value in attorneys helping folks with more complicated cases," Felice Gorordo, ClearPath's CEO, told BuzzFeed News. "We're not trying to take the place of attorneys by any means. We're just trying to be another solution for folks that feel comfortable doing it themselves."
Critics argue the immigration bar's resistance to these technologies is driven at least in part by a desire to maintain a de facto monopoly on legal immigration services. It is also reminiscent of the obstacles encountered by companies like LegalZoom, which offers a suite of electronic legal forms, and which has faced lawsuits in numerous states from attorneys accusing the company of unlawfully providing legal advice.
Richard Granat, co-chair of an "e-lawyering" task force in the American Bar Association and the president of two companies offering electronic legal services, said these efforts to restrict alternatives have less to do with protecting the public from harm than protecting the income streams of lawyers. Blanket opposition to these technologies, Granat said, "simply puts a stop to innovation, and to increased access to justice."
If these software solutions are carefully regulated, they could provide desperately needed help to immigrants who can't afford lawyers and can't find help from over-exerted nonprofits, said Kevin Johnson, dean of the law school at the University of California, Davis. "In the ideal world, we'd all have knowledgeable lawyers spending as much time as necessary filling out these forms," Johnson said. "But the truth of the matter is the resources aren't unlimited."
ClearPath and the other companies — which include FileRight.com and a new arrival called Road to Status, due to launch in the coming weeks — all offer more or less the same product. Like TurboTax does with tax documents, these websites break up the information included in immigration forms into easily navigable, step-by-step questions, which then feed the data into a completed form. Tech firms, of course, are no more immune to tilting the playing field in their favor than attorneys are — TurboTax has spent millions lobbying Congress against establishing a free electronic tax filing service.
Nevertheless, immigration-focused e-filing companies offer these services at prices far lower than the cost of an attorney. ClearPath, for instance, charges between $50 and $200 per form, depending on its complexity. By contrast, immigration lawyers typically charge at least $2,000 for such transactions.
Immigrants can also turn to nonprofit legal-services providers for help. But many of these organizations operate at capacity, and they often take only the cases of those who most desperately need help, rather than those going through routine applications. Many in the immigration advocacy world also fear that nonprofits will be overwhelmed by the potentially millions of immigrants who will qualify for the Obama administration's new deportation relief programs, if and when these programs overcome legal obstacles and go into effect.
Most of the websites that offer these services also have functions designed to detect people with complex cases and to refer them to attorneys. "I've been doing immigration law in my office for almost 15 years, and I understand how complex it is," said Javad Khazaeli, the founder and CEO of Road to Status. "And one of the parts of our model is to put people in touch with attorneys who we believe, after checking them out, are ethical attorneys who understand what they're doing."
Before he entered private practice, Khazaeli was a senior attorney with Immigrations and Customs Enforcement (essentially a prosecutor for immigration courts), and he says his experiences watching immigrants navigate the system alone compelled him to start Road to Status. Similarly, ClearPath was founded by Michael Petrucelli, who was formerly the head of U.S. Citizenship and Immigration Services, the federal body that processes the very forms the software is designed to simplify. On its advisory board, ClearPath also has two other former directors of USCIS, a former secretary of Homeland Security, and even a former president of AILA.
But these credentials do little to assuage many professional immigration attorneys, who say the stakes are simply too high to leave immigrants at the whim of any software system. Williams, the AILA president, said this is why the TurboTax analogy is flawed. "If I had filed [a tax return using TurboTax] with a small mistake, the IRS would let me file an amended return, maybe pay a penalty," Williams said. "But if you make a mistake on an immigration form, or the program makes a mistake for you, you can wind up being deported. The immigration system is very, very unforgiving."
Williams said AILA is not currently planning to take any specific action against the software developers, in part because they do not yet have a broad reach. Indeed, it was ClearPath's partnership with H&R Block, a large company with a highly recognizable brand and potential access to millions of customers, that triggered the first concerted effort by AILA to obstruct the growth of these alternatives.
Gorordo, ClearPath's CEO, said his company is willing to work with AILA to hammer out any future disagreements. He pointed to the fact that TurboTax took many years to build a customer base large enough to fundamentally transform the business of filing taxes. This process, too, was met with no small amount of pushback from accountants and tax lawyers.
"We're trying to transform consumer behavior, to get them to think that they can do this online instead of doing it with an attorney," Gorordo said. "And that takes time."