Under Pressure, H&R Block Kills Immigration Services Program
The tax preparation giant had offered a pilot program in Texas helping immigrants fill out forms with the government. The program was shut down under pressure from a national immigration lawyers' group, which said it ran afoul of the law.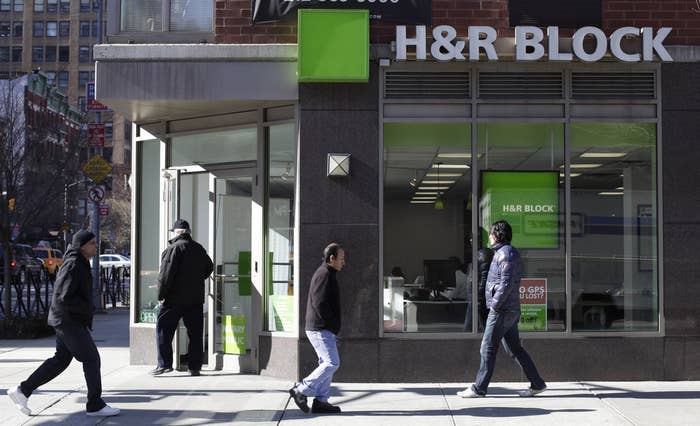 Immigration lawyers pressured H&R Block, the tax preparation giant, to shut down a pilot program meant to help immigrants file forms with the government. The service would have put H&R block in direct competition with attorneys and legal groups dedicated to helping immigrants navigate federal laws.
The program, which was limited to Texas and aimed at the Latino community there, gave immigrant customers access to specialized software that would help them with applications for green cards, deferred action, and other immigration-related transactions. It also offered in-person help with the software from bilingual assistants.
State and federal laws strictly limit who can provide legal advice to immigrants, however, and the American Immigration Lawyers Association (AILA) said H&R Block's program ran afoul of those restrictions and would have put immigrant consumers at risk of harm, because they could wind up filing inaccurate information or applying for programs they weren't eligible for.
Those restrictions exist in part because immigration law is extraordinarily complex, and making mistakes can put an immigrant in deportation proceedings. "The truth is these forms are complex, they're difficult, and they have traps for the unwary," said Kevin D. Johnson, dean of the school of law at the University of California, Davis. "People offering low-cost solutions to complicated legal problems may not always give the right advice."
If effective, however, H&R Block's program might have also siphoned business from the lawyers who make up AILA's membership.
H&R Block withdrew the program earlier this month. "Let's just say it was some quiet diplomacy that we were able to bring to bear," said Reid Trautz, director of the Practice and Professionalism Center at AILA, who led the campaign against H&R Block's immigration services. "They're going to take an opportunity to reevaluate."
H&R Block did not respond to multiple requests for comment. However, the company took down several websites that had previously advertised the immigration services.
The conflict between H&R Block and AILA comes amid nationwide anxiety over the implementation of Obama's executive action on immigration, which will protect some 5 million undocumented immigrants from deportation.
"We're talking about potentially millions of people who might be eligible for relief, and we don't have nonprofits that can provide free assistance to millions more people than they're already helping," Johnson said.
Implementation of Obama's executive actions was delayed last month by a federal court injunction. But if the government prevails in court, the wave of applicants is likely to overwhelm immigration attorneys and nonprofits already straining to meet demand for their services, and create opportunities for scammers who exploit immigrants' desire for legal status.
Most such scams are small scale and often go unreported, but there have occasionally been high-profile federal cases against larger operations. Last year, for example, two Los Angeles women who offered so-called "notario" services were federally indicted. Each one pled guilty and agreed to pay close to $80,000 in restitution to immigrants they defrauded by submitting fraudulent green card applications.
Because low-income immigrants are rarely able to afford hiring an immigration lawyer, Johnson said, a reputable company like H&R Block could provide desperately needed, affordable services. "If they're providing good services, this could be a good thing for the community," Johnson said. "The question is: How do you make sure they're providing good services?"
Before H&R Block agreed to withdraw the services, AILA considered filing formal complaints with various state and federal bodies. One Texas law firm and AILA member filed a complaint against H&R Block with the state's Unauthorized Practice of Law Committee.
AILA said at the time that it it was not motivated by a desire to keep away potential competition. "This is not AILA saying this is bad for lawyers, it's going to take business away," Trautz told BuzzFeed News in an interview before H&R Block agreed to shut down the service. "We're happy to have people go to other qualified people. But they have to be qualified, otherwise it's going to do harm."
Before it took down the websites, H&R Block advertised its immigration services as "multiservicios," or multiservices, saying it could help immigrants simultaneously pay their taxes and file forms that could help them modify their immigration status.
The cost of the services started at $119.95, according to a Spanish radio spot posted online by ClearPath, the software company that partnered with H&R Block to provide the services. "This is much cheaper than a lawyer," the radio spot says. "Even that lawyer who's the cousin of your aunt's neighbor and just graduated from law school."
Under U.S. law, only two kinds of people can provide legal advice on immigration matters: licensed attorneys, and people or organizations accredited by the federal Board of Immigration Appeals. H&R Block is not such an accredited organization, according to the BIA's website. Because this designation is limited to charitable groups and nonprofits, immigrants who need help with forms are generally stuck between under-resourced nonprofits and private lawyers they can't afford.
As a result, the dearth of qualified, affordable legal service providers for immigrants persists. "It's indicative of a larger problem in immigration law," Johnson said. "If you're a noncitizen, and you're in removal proceedings or you're just filing paperwork, you have no right to counsel unless you can afford it."