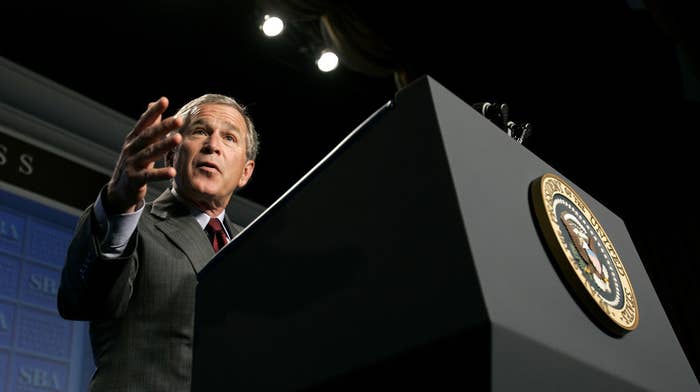 Former President George W. Bush received a $200,000 speaking fee from an oil company that was recently charged by the SEC for being a Ponzi scheme.
Bush received the fee, according to SEC documents and publicly available websites, to act as the keynote speaker in a purported "U.S.-China Energy Summit" held in San Francisco, Washington, D.C., and Houston in 2012. The summit was organized Bingqing Yang, the CEO of Luca International Group, an oil company based in the San Francisco Bay Area with operations around the United States and several investors from China. U.S. Representative Judy Chu and then-San Francisco City Supervisor David Chiu, who now sits in the California State Assembly, were also featured as speakers.
"While President Bush did speak at an energy summit by that name in 2012, he has no relationship with the firm," Freddy Ford, a Bush spokesperson, said in an email to BuzzFeed News.
A spokesperson for Chu said that she was not present at the summit, and a spokesperson for Chiu said that he only delivered brief welcoming remarks.
Prominent politicians, especially former presidents, can typically command high fees as public speakers after leaving office.
On Monday, the SEC charged Yang, along with three of her associates and various corporate holdings under the Luca International Group, with running a large pyramid scheme that targeted both Chinese investors and Chinese-Americans in the United States. The scheme, according to the SEC, netted $68 million by fraudulently telling investors their money was going into oil rigs. In fact, the companies in question were heavily indebted and near collapse, and investors' funds were used to pay previous investors (in a classic Ponzi scheme), fund a lavish lifestyle for Yang, and lure new investors with junkets and conferences.
One such conference was the U.S.-China Energy Summit in September 2012, at which attendees — mainly potential investors from China — were treated, according to the SEC complaint, with an "expenses-paid golf junket to Pebble Beach, California" and "lavish dinners." All of this was paid for, the SEC complaint says, with funds obtained fraudulently from previous investors and misappropriated to fund the junket. The complaint says that the $510,000 cost of the conference "included a $200,000 speaking fee for a former president of the United States," but does not identify the president by name.
However, the website for the summit, which remains active as Wednesday, includes a page that identifies Bush as the keynote speaker. The website's event agenda, which lists events as taking place between Sept. 16 and 25, 2012, also lists a "Golf Tournament" at Pebble Beach, all of which matches the information in the SEC complaint. According to the agenda, Bush would have delivered his address during the summit's stop in Houston on Sept. 20 of that year.
In a letter posted to the summit's website, Yang encouraged "everyone who is interested in investing [in the] U.S. oil industry" to attend the summit.
Xinhua English, an arm of the news agency of the Chinese state, covered the speeches in Houston, and quotes Bush as saying that Chinese investors in American oil could "expand horizons about what works and what does not work."
This story has been updated to include comment from a George W. Bush spokesperson.