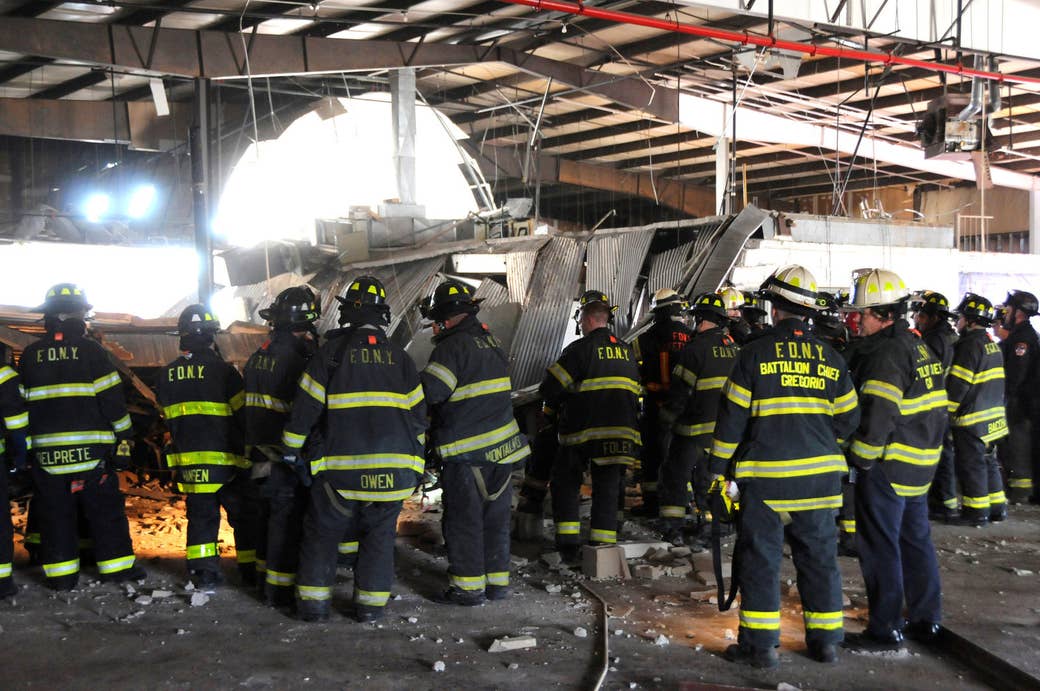 A BuzzFeed News analysis has found that, in recent years, the risk of dying on the job has been growing for Latino construction workers at rates that far outstrip the rest of the industry. Fueled by the economic recovery and a nationwide construction boom, Latinos are dying in greater numbers and at increasingly disproportionate rates.
After the housing bust bottomed out in 2010, the fatality rate among Latino construction workers rose by nearly 20%. For non-Latinos, the fatality rate has dropped by more than 5%.
According to data from the Bureau of Labor Statistics (BLS), between 2010 and 2013, the number of deaths among Latinos in the construction industry rose from 181 to 231. The number of deaths also rose in the industry overall, from 774 to 796. But Latinos account for this rise entirely: During the same period, deaths for non-Latino construction workers fell from 593 to 565. (The numbers for 2013 are preliminary, and are likely to go up across the board when BLS revises them in the spring.)
Over the last decade, construction work has gotten safer. The industry's overall fatality rate dropped from 11.5 deaths per 100,000 workers in 2004 to 8.6 in 2013. Although Latinos die at higher rates than non-Latinos, they have also benefitted from this increase in safety: In the same period, their fatality rate dropped from 13.5 deaths per 100,000 workers to 9.8.
But that trend has begun to reverse in recent years — for Latinos only. As more workers have joined the construction workforce in the ongoing boom, Latinos have crowded into the more dangerous segments of the industry, with increasingly fatal results.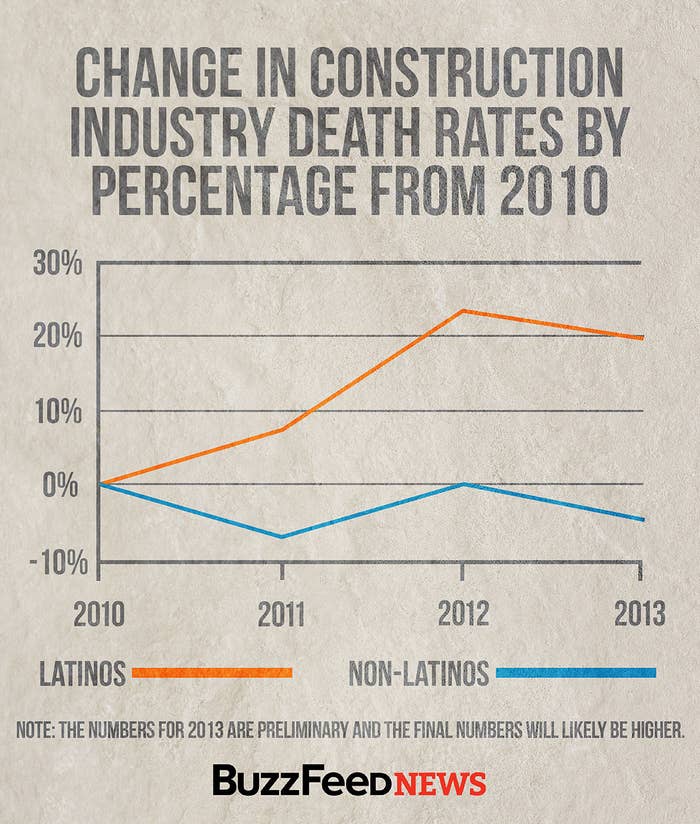 For its own calculations, BLS uses data on the number of hours worked within a certain industry or population. However, this data is not broken down by race or ethnicity. For this reason, BuzzFeed News used BLS's estimates on the number of employees of different ethnicities within the construction industry. While these methods yield different numbers, they are closely aligned over time — in other words, both hours-based and employee-based calculations reveal the same trends overall.
Several experts and advocates interviewed by BuzzFeed News, as well as a number of research studies from the last decade, propose similar explanations for these trends: Latinos in the construction industry are very frequently immigrants, many of them undocumented. For these workers, construction is a different and altogether more dangerous world than it is for the rest of the workforce.
Immigrant workers are concentrated in non-union jobs with small contractors — the most freewheeling and least regulated corner of the industry. In New York, for example, several recent studies have found that federal inspections far more commonly uncover violations by small contractors than by large, unionized employers.
Smaller employers are also extremely unlikely to have their job sites inspected in the first place. The Occupational Health and Safety Administration (OSHA), the agency in charge of enforcing workplace safety regulations, has for years been chronically understaffed. Together, the agency's federal and state offices have just under 2,000 inspectors — enough to visit every job site in the country roughly once every 139 years, according to an AFL-CIO report released last year.
"The agency doesn't have anywhere near the inspectors it would need to realistically be able to make a dent," said Nadia Marin Molina, a staff attorney for the National Day Laborer Organizing Network. "It's so under-resourced that it's a mockery of what you would consider enforcement."
When OSHA does uncover violations, the consequences are, more often than not, slaps on the wrist. Only 84 criminal cases have been prosecuted under the federal act that created OSHA in 1970, according to the same AFL-CIO report. In the same period of time, there have been more than 390,000 workplace fatalities.
Monetary penalties are similarly weak: The average fine for a "serious" violation in fiscal year 2013 was $1,895. The average fine for a violation involving a workplace fatality, meanwhile, was $9,751.
In a statement to BuzzFeed News, OSHA said that overall workplace deaths have dropped significantly since OSHA was created in 1970. The statement also noted OSHA has "made robust efforts to reach out to the most vulnerable workers — Latino workers among them."
However, the statement also said that OSHA sees a need to raise penalties, which can only be done by Congress, and acknowledged the agency's limited ability to inspect work sites. "OSHA is a very small agency with a big job," the statement said.
In November 2014, Delfino Jesús Velázquez, a Mexican immigrant working for a Staten Island construction company, died in an accident at a car dealership he was helping to demolish. Velázquez's death immediately ignited outrage in Staten Island's community of day laborers, who say that the accident, like many of those that befall immigrant construction workers, was preventable. Velázquez's employer, a contractor named Formica Construction, did not have any valid work permits for the site, as reflected in records from New York City's Department of Buildings. And this is not the first blemish on the company's record — in 2007, one of its owners was convicted of criminally negligent homicide after Lorenzo Pavia, also a Mexican immigrant, died buried in a collapsed trench. Both deaths — before and after the housing crash and recovery — represent the disproportionate cost borne by Latino workers in the construction industry.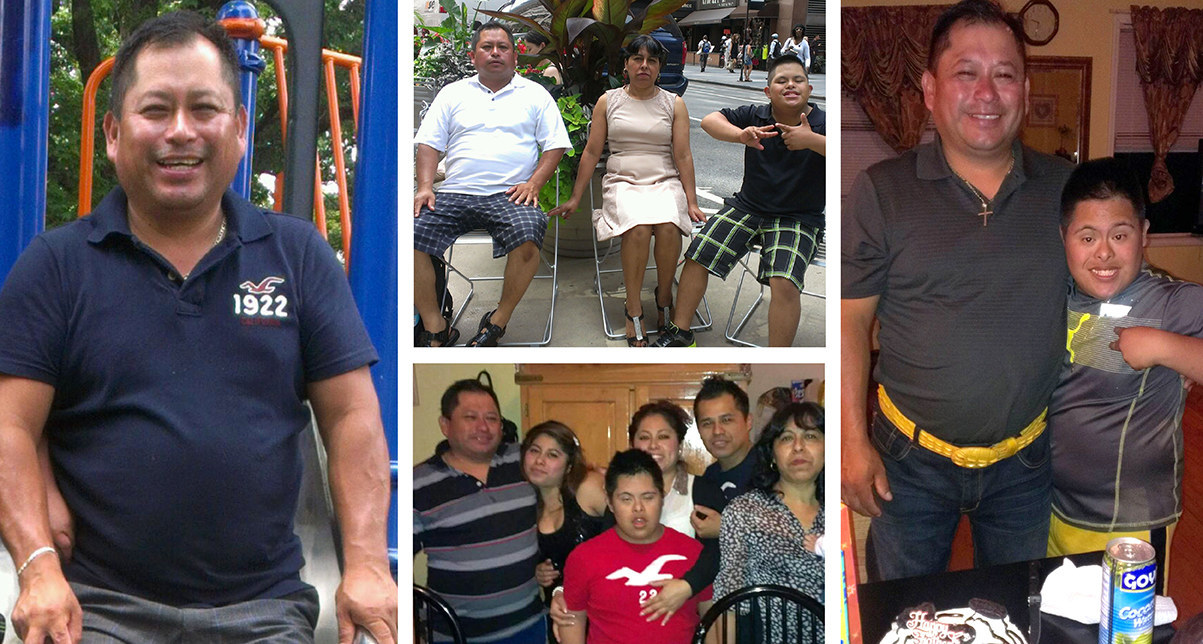 Formica Construction was founded in 1948 by the grandfather of Kenneth and William Formica, the brothers who now control the company. The family also owns, among other businesses, a trash hauling outfit named Flag Container Services and a yacht club named Atlantis Marina.
Prior to 2003, the family's businesses had encountered their occasional misfortunes. In 2000, their marina's flagship party boat, a 115-footer called the Atlantis Princess, caused a wave near a fishing pier that dragged a toddler into the water. The toddler's teenage sister drowned trying to rescue her. Two years later, a dock worker fell into an uncovered manhole operated by Flag Container Services. He later settled a lawsuit against the company.
BuzzFeed News did not receive any response to calls and emails sent to various numbers and email addresses listed for William and Kenneth Formica. A woman who answered calls to the publicly listed telephone numbers for Formica Construction and Flag Container Services declined to give her name, hung up repeatedly, and refused to take a number or a message.
An employee at the office of John Z. Marangos, a Staten Island attorney, confirmed that he represents Formica Construction. However, the employee, who declined to give her name or title, said the firm would not comment on the workplace fatalities.
During December 2003, Kenneth Formica was overseeing the construction of 28 townhouses in Staten Island's West Brighton neighborhood. Four laborers were on the project, including Pavia, a 39-year-old Mexican immigrant. To connect the houses to the city's sewer main, the workers had dug a large trench: 40 feet long, 6 feet wide, and 15 feet deep.
Kenneth Formica would later testify both to OSHA and in court that he knew that trenches more than 5 feet deep were required by law to have structural supports. Nevertheless, he decided to leave the trench they were working in that day unshored.
Pavia and the other workers had been laying 10-foot segments of pipe in the trench. Shortly before 3 p.m., while sitting in the cabin of an excavator, Formica told Pavia and one other worker to climb inside the trench to measure the remaining distance to the sewer main. "They were actually walking out of the trench," Formica later told OSHA, "when it collapsed."
Pavia was completely buried in 15 feet of dirt. The other worker was buried to the neck. Court records and press reports say that Formica tried to use his excavator to rescue Pavia. Instead of digging him out, the excavator decapitated him at the neck. Pavia had already died of asphyxia, according to his autopsy report. The second worker survived.
About three years later, in February 2007, Formica sat in a courtroom at the Richmond County Supreme Court and pleaded guilty to one count of criminally negligent homicide, a felony. In addition to six counts related to Pavia's death, Formica's indictment included another count related to an incident on March 4, 2003, in which he ordered a laborer to work inside another unsafe trench.
Formica did not serve his sentence all at once. Instead, he would serve 16 weekends in jail, intermittently, checking himself in at 9 a.m. on Saturdays and going back home at 6 p.m. on Sundays. He was also fined $5,000. His conviction was "the first time in recent history that a Staten Island contractor was found criminally liable for the death of a worker," according to the Staten Island Advance.
"A tragedy like this is preventable, and, especially in this case, foreseeable," the prosecutor told the court. "The purposes of the criminal laws are served by this plea and sentence. Formica is deterred from acting in this criminally negligent fashion in the future."
Later that year, Formica Construction applied to renew its license as a home improvement contractor. The city's Department of Consumer Affairs denied the application because of Kenneth Formica's criminal record. They cited both his conviction for Pavia's death and an arrest, in September 2007, for criminal possession of a loaded firearm. But the company filed suit against the city, and a judge granted Formica Construction the renewed license.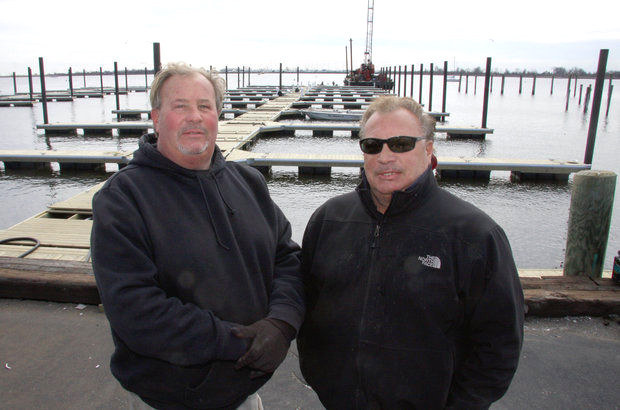 Formica Construction filed papers in the lawsuit calling Pavia's death an isolated accident and defending its practices and reputability. One incident, the company successfully argued, should not deprive the Formica family of their ability to make a living.
Formica Construction is listed in New York state corporate records under William Formica's name. But in an interview last year with the Staten Island Advance, both William and Kenneth Formica described themselves as controlling Formica Construction and the family's other businesses. People with knowledge of the company, who asked not to be named for fear of reprisal, told BuzzFeed News that the brothers continue to supervise Formica Construction's workers.
Workplace safety experts and advocates in New York argue Formica Construction's story is emblematic of how loose construction practices systematically claim the lives of immigrant workers. Regulations, they say, are grievously under-enforced in large segments of the industry, which allows contractors to repeatedly cut corners in ways that increase the risk of fatal accidents.
"Nine out of 10 times, you can go on a work site and, if you're used to these things, you can spot a number of OSHA violations," said Charlene Obernauer, executive director of the New York Committee for Occupational Safety and Health. This is especially true, Obernauer said, of small, non-union contractors like Formica.
Obernauer said that the case of Formica Construction also shows how, even in those rare instances of criminal liability, the penalties are too slight to dissuade contractors from flouting regulations in the future. Formica's case was prosecuted locally, but under federal law, the maximum jail sentence for a worker death is six months.
"It's so, so ineffective," Obernauer told BuzzFeed News. "Even though this person was charged with criminally negligent homicide, at the end of the day it didn't disrupt his business. It didn't really even disrupt his life. And when he continued to be in business, he still operated the same way — he still cut corners."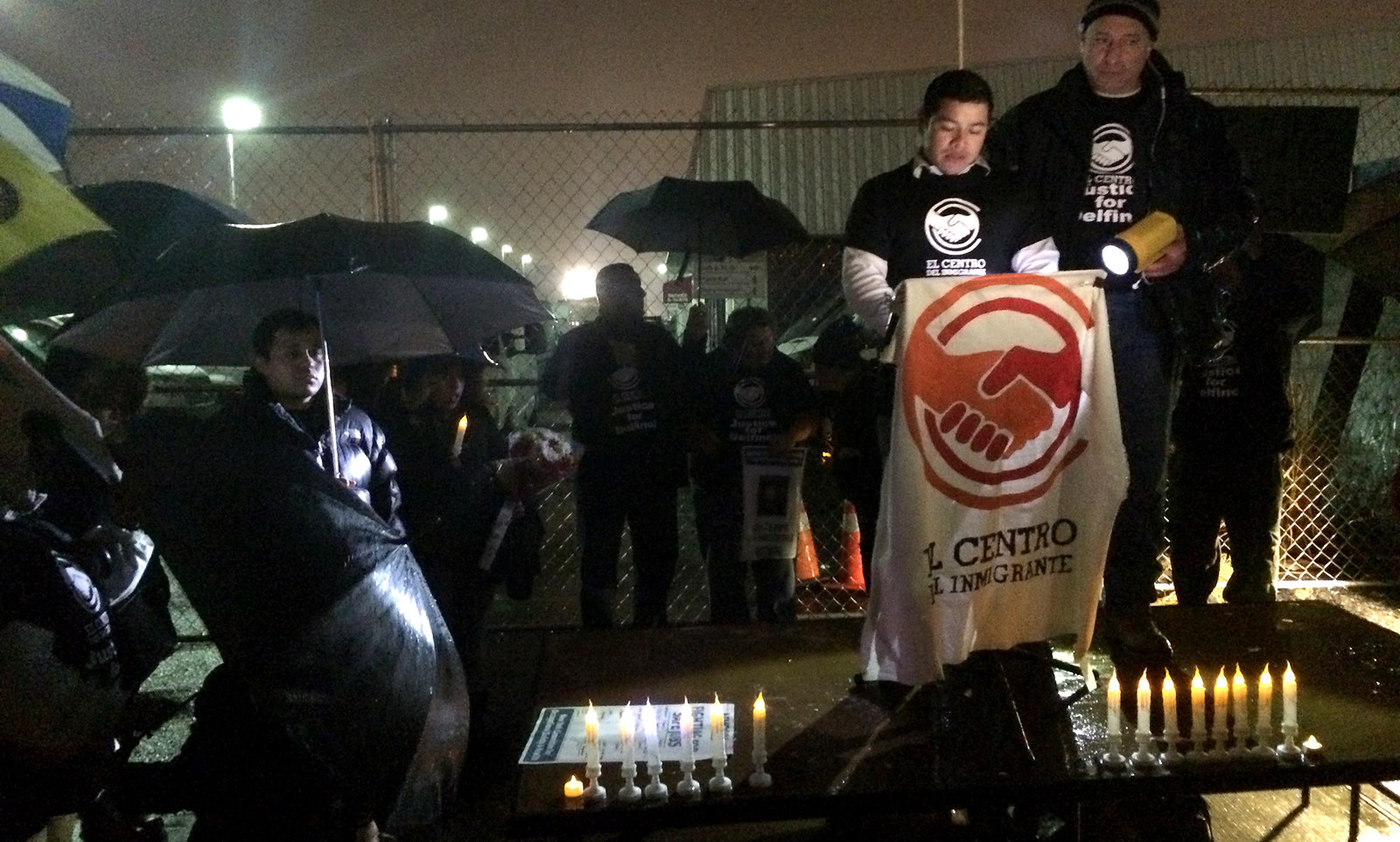 The week after Velázquez's death, some 50 day laborers gathered for a vigil in front of the car dealership where the accident took place. Jorge Martinez, an organizer for El Centro del Inmigrante, a workers' center in Staten Island, read out statistics on Latino workplace deaths. Standing under umbrellas in frigid rain, the workers stood and listened, knowing someday they might be among those counted in the numbers.
"Delfino Velázquez's death will not be the last if the authorities do not pronounce themselves, and if they don't immediately change the penalties for violations of the law," said Martinez. "We have seen clearly how employers like Formica brazenly violate their responsibility to workers, and to society at large."
Velázquez moved to the U.S. to pay for medical care for his fourth and last child, who was born with Down syndrome. Eventually he earned enough money to move his family to Staten Island, where he worked in construction, the trade he had practiced in Mexico.
"He didn't want the family to be separated," said his wife, Martha. "He deprived himself of a lot of things to make sure we could all come here together."
With his family under the same roof again, Velázquez took birthdays and holidays so seriously that his children sometimes teased him for it. "Even after we were grown up he would decorate the house with colored balloons," said Mónica, his oldest daughter. "Maybe it was his way of compensating for the years he spent here without us."
Eventually, Velázquez began working regularly for Formica Construction. On Nov. 12, 2014, a man named Robert Meehan, who worked for Flag Container Services, the Formica family's sanitation business, died crushed under a dumpster he was unloading from a truck at the Richmond County Country Club. OSHA is investigating the incident.
Velázquez began to grow apprehensive around this time. "He would ask, 'Who will look after you if something happens to me?'" said Mónica. "I would tell him not to say those things."
Kendall Taggart and Jeremy Singer-Vine contributed reporting.
UPDATE: May 29, 2015
After its investigation into Delfino Velazquez's death, OSHA fined Formica Construction $121,000 for seven different worksite violations on May 29.
On May 18, OSHA fined Flag Container Services, the Formica family's sanitation company, $12,400 for six violations related to the death of Robert Meehan.