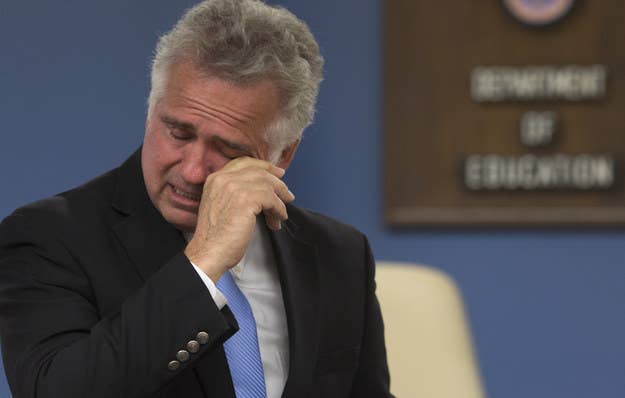 The top education official in Arizona lost a Republican primary election Tuesday night in the wake of a scandal surrounding blog comments that denigrated Latinos, people who receive public assistance, and others.
The schools chief, John Huppenthal, is also polarizing for having led the effort to ban courses in Arizona schools directed at particular ethnic communities. The ban came after the rise of a popular Mexican-American Studies program in Tucson.
Although Huppenthal was mired in the blog-comments controversy during the primary, the election also hinged on his wavering support for Common Core standards. His opponent, Diane Douglas, aggressively decried the standards as federal intervention in state affairs.
Huppenthal blamed Common Core for his loss and minimized the role of the comments. "We understand that the Common Core issue was a raging forest fire," he told the Associated Press.
Nevertheless, the posts were a consistent thorn in Huppenthal's side since he acknowledged making them in June, one that his opponent used against him.
In the online comments, Huppenthal called welfare recipients "lazy pigs" and compared Planned Parenthood's support of abortions to the Holocaust. He also declared his strident opposition to all forms of Spanish-language media, telling Latinos: "This is America, speak English."
Huppenthal had drawn the ire of Arizona's Latino community long before when, as state senator and later as superintendent, he led the charge on ending the Mexican-American Studies program in Tucson's public schools. The combination of the ethnic studies ban and the racially charged online comments led to accusations from Latino leaders of outright xenophobia.
David Morales, a longtime political blogger in Arizona, told BuzzFeed this election might reflect a shift in Arizona politics away from what he called "anti-Mexican" positions. The fact that the comments scandal so tarnished Huppenthal's public image and that both Republican candidates took great pains to make the election about Common Core rather than ethnic studies shows that these issues "leave a bad flavor in the Republicans' mouth," Morales said.
In the meantime, Huppenthal's ouster does not necessarily signal a bright future for Mexican-American Studies in Arizona. The decision banning the Tucson program is being litigated in federal court, and Douglas, the Republican candidate, will now face Democrat David Garcia in the general election for superintendent.
"Of course we're very pleased with the result that [Huppenthal] is out," said Sean Arce, the former director of the Tucson Mexican-American Studies program. Even though much is riding on the federal court case and the general election, Arce said, "This is a signal for some real possibilities for political change, particularly in regard to public education."