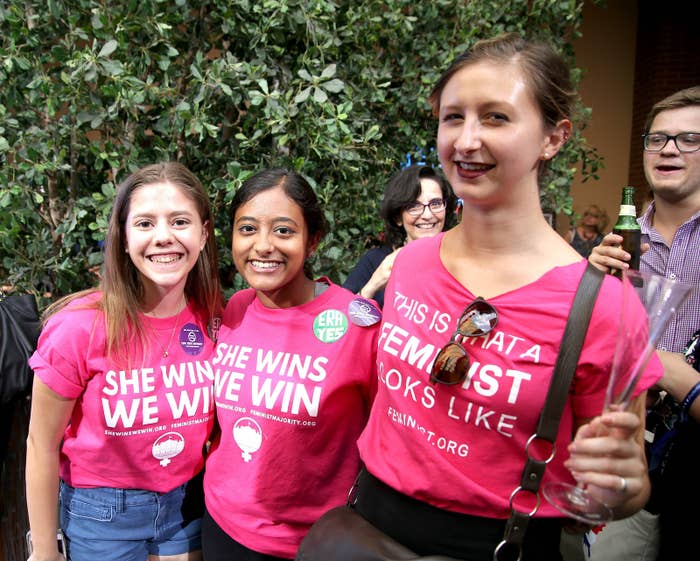 Women planning on traveling to Washington, DC, to attend a mass protest against the new president will now also have the opportunity to learn how to run for office themselves.
EMILY's List, the largest women's organization in Democratic politics and one of the official sponsors of the Jan. 21 Women's March On Washington, on Friday announced it would hold a candidate training session for approximately 500 women interested in getting into politics.
Attendees will be taught how to run successful campaigns for all levels of government, including advice on where and when to run for office. They will also be taught how to build a network of supporters and donors, and connect with local and national partner groups that could help their political bids.
Some 170,000 people have indicated on Facebook that they will attend the Women's March, scheduled for Jan. 21, the day after Donald Trump is sworn in as president. About 250,000 others have indicated they are "interested" in attending the protest, which is seeking to "send a bold message to our new government on their first day in office, and to the world that women's rights are human rights."
EMILY's List President Stephanie Schriock said it made sense to try to use the protest as a way to recruit future female leaders.
"Women are watching the Trump presidency and Congress and we're going to be ready from day one to stand up against the GOP's dangerous agenda," Schriock said in a statement. "That starts with marching and continues with recruiting and electing more Democratic women to offices across the country."

The event is being held in partnership with a number of other left-wing groups, including the Latino Victory Fund, the Gay & Lesbian Victory Institute, the New American Leaders Project, Higher Heights for America, and Emerge America
The candidate training session will be held on Jan. 22, the day after the protest, in downtown Washington.
Registration will be available to interested women on a first-come, first-serve basis on the EMILY's List website.