A Virginia woman who lost her job after a photo of her flipping off President Trump's motorcade went viral last year is suing her former employer.
Juli Briskman filed her lawsuit in Fairfax County Circuit Court on Wednesday, alleging her free speech was violated when she was forced to resign as a marketing analyst at Akima over the photograph. She is suing for wrongful termination and breach of contract.
"[Briskman] chose in her private time and in her capacity as a private citizen to express her disapproval of President Trump by extending her middle finger," her lawyers wrote in their complaint. "Although many will disagree with plaintiff's message and her means of expressing it, there can be no doubt that such speech is at the very core of the First Amendment and the Virginia Constitution."
Briskman was riding her bicycle in Sterling, Virginia, on Oct. 28 when Trump passed her in his convoy after leaving his country club.

Getty photographer Brendan Smialowski, who was traveling with the White House press corps along with the convoy, snapped the now-iconic photograph.
"I don't employ that gesture very often but I wanted to express my opinion, and I was faced with tinted, bullet-proof glass, and I was assuming the person in the car was who I thought it was," Briskman told BuzzFeed News. She said she was upset at the time over the president's decision to end the DACA program and his response to the hurricane in Puerto Rico.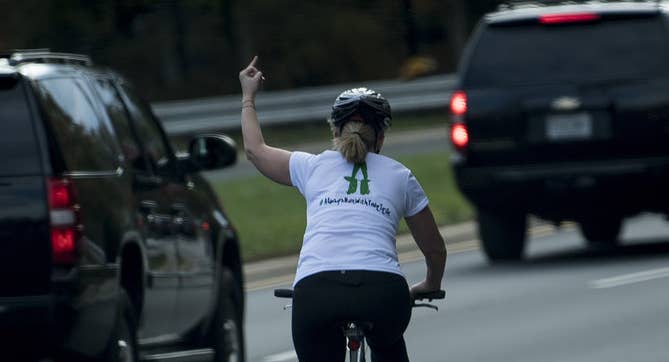 The photograph soon spread on social media, and although Briskman's face wasn't visible in the picture, she uploaded the photo to her Facebook and Twitter pages the next day. However, her attorneys said Briskman did not upload the photo to her LinkedIn page, which was the only social media account that mentioned she worked for Akima.

According to the complaint, she declined to be interviewed by the press and told her company about the photo the Monday she returned to work. The next day, she was called into a meeting and told she was being asked to resign to protect the company.
The lawsuit says she was told she was being dismissed because the photograph was a "social media tattoo" that could link her to Akima, which feared the Trump administration might retaliate by jeopardizing their government contracts.
"Firing an employee because you're afraid of unlawful retaliation by the government is called 'autocratic capture,' and we need to be concerned about it in the United States," said Cameron Kistler from Protect Democracy, a nonprofit assisting Briskman that bills itself as nonpartisan.

Briskman alleges that although Akima said she violated their social media policy by posting obscene content, another employee was not fired after he posted on Facebook, "You're a fucking Libtard asshole" to someone's political post.
Briskman's attorney, Maria Simon, told BuzzFeed News this discrepancy in the mixed ways the company chose to enforce its social media policy was a crucial point in their case.

"It's not about a huge settlement," Simon said when asked what damages they are seeking. "It's about the right to be able to peacefully protest and not be terminated for that."
Representatives from Akima did not immediately respond to a request for comment.
"I never imagined that my 'one-finger salute' to the Presidential motorcade and its occupant would cost me my job," Briskman said. "The actions of my company were swift and unexpected. It is un-American."

Briskman told BuzzFeed News she has since found new employment but would repeat her one-finger protest again if she had the chance.
"I still feel the same — if not more angry and frustrated," she said.
CORRECTION
The name of the nonprofit, Protect Democracy, was misstated in an earlier version of this post.