NBC Nightly News anchor Brian Williams on Wednesday recanted a story he and his network have long perpetuated about his helicopter being shot down while he was covering the invasion of Iraq in 2003.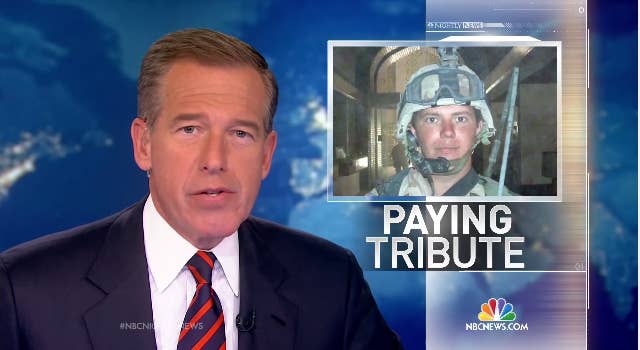 His admission was first reported by Stars and Stripes.
The anchor repeated the story on Jan. 30 during a piece about his reunion with one of the soldiers he said rescued the news team.
Describing it as a "terrible moment," Williams said "the helicopter we were traveling in was forced down after being hit by an RPG," while images of a helicopter with a hole in its tail were broadcast.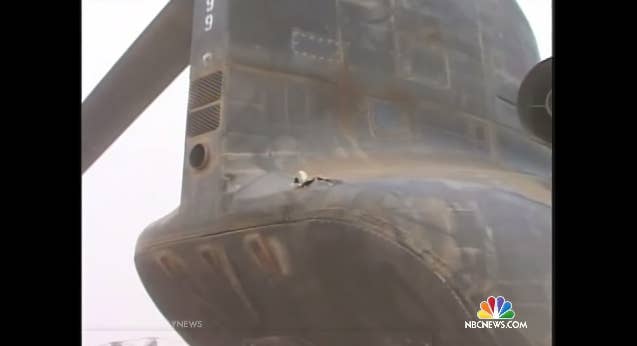 "Our traveling NBC News team was rescued, surrounded and kept alive by an armor mechanized platoon from the U.S. Army 3rd Infantry," Williams said.
When the story was posted on NBC's Facebook page, one commenter called Williams out for fabricating the story.

The comment reads:
Sorry dude, I don't remember you being on my aircraft. I do remember you walking up about an hour after we had landed to ask me what had happened. Then I remember you guys taking back off in a different flight of Chinooks from another unit and heading to Kuwait to report your "war story" to the Nightly News. The whole time we were still stuck in Iraq trying to repair the aircraft and pulling our own Security.
The same user also posted further down the comments, writing:
It wasn't even the chopper behind him. We were on a flight about an hour in front of them. The place we were shot at was a long ways away from where we even saw him and his crew. We all made the call to continue flying as long as the aircraft was still holding together. So not only was he not on the aircraft and arrived about an hour after we landed, we were also miles and miles away from the area that anything happened. Tool indeed.
Another commenter also criticized Williams' version of events.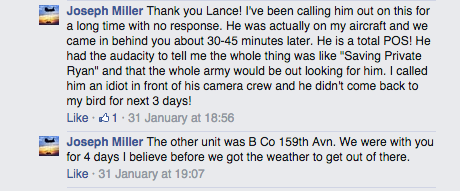 These posts read:
Thank you Lance! I've been calling him out on this for a long time with no response. He was actually on my aircraft and we came in behind you about 30-45 minutes later. He is a total POS! He had the audacity to tell me the whole thing was like "Saving Private Ryan" and that the whole army would be out looking for him. I called him an idiot in front of his camera crew and he didn't come back to my bird for next 3 days!

The other unit was B Co 159th Avn. We were with you for 4 days I believe before we got the weather to get out of there.
On Wednesday afternoon, Williams wrote the following reply:
To Joseph, Lance, Jonathan, Pate, Michael and all those who have posted: You are absolutely right and I was wrong. In fact, I spent much of the weekend thinking I'd gone crazy. I feel terrible about making this mistake, especially since I found my OWN WRITING about the incident from back in '08, and I was indeed on the Chinook behind the bird that took the RPG in the tail housing just above the ramp. Because I have no desire to fictionalize my experience (we all saw it happened the first time) and no need to dramatize events as they actually happened, I think the constant viewing of the video showing us inspecting the impact area -- and the fog of memory over 12 years -- made me conflate the two, and I apologize. I certainly remember the armored mech platoon, meeting Capt. Eric Nye and of course Tim Terpak. Shortly after they arrived, so did the Orange Crush sandstorm, making virtually all outdoor functions impossible. I honestly don't remember which of the three choppers Gen. Downing and I slept in, but we spent two nights on the stowable web bench seats in one of the three birds. Later in the invasion when Gen. Downing and I reached Baghdad, I remember searching the parade grounds for Tim's Bradley to no avail. My attempt to pay tribute to CSM Terpak was to honor his 23+ years in service to our nation, and it had been 12 years since I saw him. The ultimate irony is: In writing up the synopsis of the 2 nights and 3 days I spent with him in the desert, I managed to switch aircraft. Nobody's trying to steal anyone's valor. Quite the contrary: I was and remain a civilian journalist covering the stories of those who volunteered for duty. This was simply an attempt to thank Tim, our military and Veterans everywhere -- those who have served while I did not.
Despite blaming the fabrication on "the fog of memory," the NBC archives show that on March 26, 2003, the network broadcast a piece entitled "Target Iraq: Helicopter NBC's Brian Williams Was Riding In Comes Under Fire."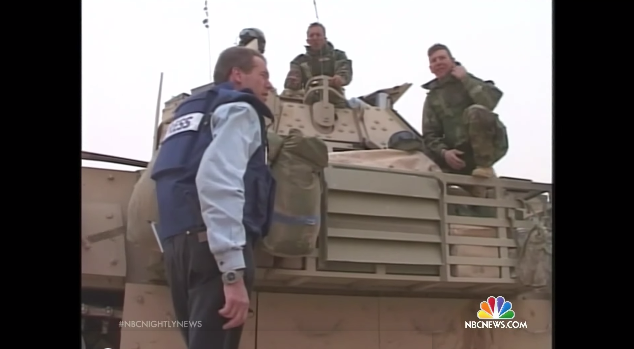 The clip's description reads, "NBC's Brian William recounts being shot at by a rocket propelled grenade while riding along in Chinook helicopter on a mission over Iraqi airspace."
"Two of our four helicopters were hit by ground fire, including the one I was in. RPG and AK47" he said.
"No kidding?" Letterman replied.
"We were only at 100 feet doing 100-forward knots," he said. "We landed very quickly and hard and we put down and we were stuck, four birds in the middle of the desert and we were north out ahead of the other Americans."
"We got hit, we sat down, everyone was OK," he said. "Our captain took a purple heart injury to his ear in the cockpit, but we were alone. They started distributing weapons and we heard a noise. It was Bradley fighting vehicles and Abrams tanks coming. They happened to spot us. This was the invasion. The U.S invasion. They surrounded us for three days during the sandstorm that was so big that is suspended the war effort. It was called 'Orange Crush.' And they got us out of there alive."
"I have to treat you now with renewed respect," Letterman told Williams. "That's a tremendous story."
NBC did not immediately respond to a request for comment from BuzzFeed News.