A Boy With Autism Is Receiving Mail From Around The World And It's A Christmas Miracle
William Thomas, 12, wanted mail for Christmas, and now he's been inundated with hundreds of letters.
Everyone loves to receive letters in the mail, but perhaps not as much as 12-year-old William Thomas. William — from Blaine, Washington — is severely autistic and doesn't speak, so he communicates mostly through sign language and the written word.
His mom, Kay Thomas, says William's condition means he is often socially excluded, never being invited to birthday parties or having guests attend his own. But Kay is adamant that deep down William is a normal kid, just like any other.
"He understands a lot," she wrote in a Facebook post. "He understands too much. He just can not communicate the way we do, but he is sharp as a tack. He feels love and affection and I think he finds mail from others as affection."
So when Kay asked William what he wanted for Christmas this year, his response was simple: mail.
"I always knew he loved getting his mail but when he asked for it, I cried," Kay wrote. "I actually sat here and cried. Both happy and sad tears. Happy because he was expressing his wants and sad because of how I was going to figure out how to get him what he wants."
Just days before Thanksgiving, Kay decided to enlist the help of Facebook users to make William's Christmas wish come true, starting a page to get the word out about his simple wish for the holidays.
"I want him to know the world loves and values him in a way that he understands and feels," she wrote. "I was hoping someone out there would want to sit down and send mail to William. He deserves to feel the love from the world like the rest of us do because he makes this world a better place."
Her post immediately went viral, receiving thousands of likes in just a few hours.
One piece of mail arrived on the first day, while five more arrived on day two. On day five, William received 26 pieces of mail, while 40 arrived on day six.
Kay told BuzzFeed News hundreds of pieces have now arrived from as far as Northern Ireland.
"I never expected this to go past 50-100 people," she told BuzzFeed News. "I tried to warn the post office that things were starting to get out of control. They're now having to make two deliveries a day to me."
A local mail company, Hagen's of Blaine, has even donated a mail box to William to handle all his extra mail.
Kay says she's taken to leaving pieces of mail around their house so William can go on scavenger hunts.
Naturally, William has been very excited to read all his mail.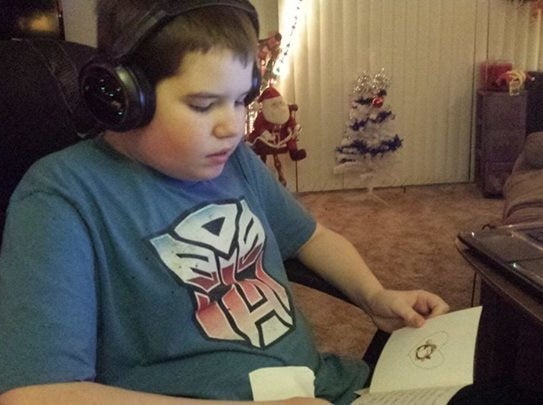 Kay told BuzzFeed News the response has restored her faith in humanity.
"It's been amazing, incredible" she said. "I can't even describe it. It's like everyone is meeting your child the way you want them to as the cool, awesome, funny kid that he is, and not seeing his autism, and that's the best gift a mother can get."
"I am thankful from the bottom of my heart to all the people bringing joy and happiness to my child," she said. "It is incredible to me that everyone is taking the time to sit down and write him a letter. In a world where everyone is so busy, so many people are taking five minutes out of their day to send some love and generosity and kindness to my son."
If you would like to send William a letter, check out his Facebook page. Or send your letter to:
William's Mail
PMB# 175
816 Peace Portal Dr.
Blaine, Washington
98230
USA