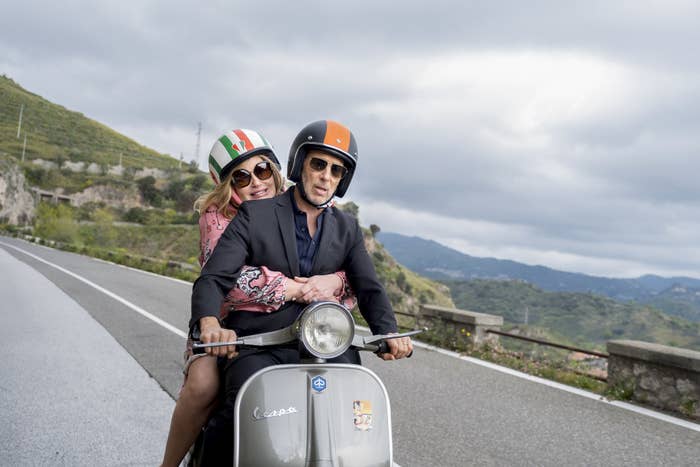 Fans of Dominic Fike gathered at the Terminal 5 music venue on Manhattan's west side on Thursday night to hear the singer and Euphoria star perform. But after playing a set, Fike left the stage before singing one of his biggest hits. Instead, the house lights stayed dimmed and another tune began blaring from the sound system.
"Suddenly he walks off stage and the White Lotus theme plays, which is kind of iconic," Jane August, a TikTok creator who works at Terminal 5, told BuzzFeed News. "The house lights didn't come on and I was wondering, 'Is this an interlude? Is he just really into The White Lotus?'"
"And then he never comes back, the house lights go up, and everyone just vibes to the White Lotus theme," August said. "I thought it was so funny. I was like, finally! It's heard in a club!"
For composer Cristobal Tapia de Veer, it feels surreal to think of crowds of people dancing to a short theme song he composed for an HBO drama about privileged, mostly white rich people on vacation — surreal, but fantastic.
"It's really unexpected," Tapia de Veer said Friday after being told of the scene at Terminal 5. "Unlike producing the stuff for a band or my own record, this is never the intent for a show. It's always about serving the show and not thinking really about a stand-alone hit or single or anything like that. So it's kind of the cherry on top."
When the second season of The White Lotus premiered on Oct. 30, the show had a new location, a new cast (save for fan favorite Jennifer Coolidge), and a new opening theme song. Gone were the drums and bird songs that matched the tropical setting of the first season in Maui. Instead, this new theme for the Sicily-set season begins with oscillating notes on a harp and an operatic voice that conveys a celestial mood.
Gradually, orchestral strings, piano chords, and cymbals are layered in before a lone woman's voice sings an interrupted note that evokes a stereotypical ululating Native American war cry. Soon, the voice sounds almost alien in its pitch, reaching impossible notes, before a synthetic EDM dance beat suddenly builds and drops.
What began as an opera now feels like a euphoric nightclub. It's impossible not to start swaying or dancing. But then, just as quickly as it began, the song is over and you're suddenly reminded that you're just watching a TV show.
The White Lotus theme song, titled "Renaissance," only clocks in at a little over 90 seconds, but it's had a very big impact online — and, evidently, in dance clubs — where it has swiftly taken on a life of its own.
On TikTok, in particular, the song is frequently used as background audio and has been the subject of multiple videos and memes. Some of the TikToks capture people's joy and surprise upon hearing the tune for the first time, while others insist that they will never hit the "skip credits" button on the streaming platform, lest they lose the chance to dance in their living rooms. Some said they've listened to the song so many times that they expected it to show up in their Spotify Wrapped data.
Tapia de Veer has seen — and enjoyed — the memes, but admits that he's not very plugged in to social media, so the song's online impact has mostly been a mystery to him. "There was an article somewhere talking about the theme and how it's done and how it appears that it was almost designed to be a hit on TikTok," he said. "It's just funny because I'm not really aware of that stuff."
The Chilean Canadian composer, who lives outside Montréal, had already won awards in the UK for his work scoring the British TV series Utopia and National Treasure when White Lotus creator Mike White asked him to score the show's first season last year. Tapia de Veer's ensuing work composing the show's tribal music score and theme song eventually won him two Emmys — and an invitation to return for another round.
White wanted the new theme to share elements with the first, but to still feel somewhat Italian — much like the fictional luxury hotel brand would feel different in a new setting. Initially, Tapia de Veer only wanted to work on the theme song due to his busy schedule, but it proved so popular with the creative team that he and collaborator Kim Neundorf eventually did the whole score too.
The success of the song has surprised Tapia de Veer, not least because he hesitated on sending it to White for an entire month, unsure if it was any good. "This felt maybe too clean-sounding compared to the first one," he said. "The music for the first season was more aggressive and more chaotic."
The club side to the track comes from Tapia de Veer's admiration for Italian film director Paolo Sorrentino, who has shown on projects like The Young Pope how to weave together classical music or opera with electronic music. The composer hopes that the end result — further emphasized by the increasingly perverted and unhinged frescoes that form the visuals for the credits — should transport viewers to a new exhilarating realm akin to a vacation.
"It feels like it's club-friendly already. It feels like a party and just an all-out celebration," Tapia de Veer said of the theme. "When the beat drops, we're going through those chords. It feels big to me. It feels very emotional and like we're getting into a journey."
What the first and second season songs do have in common is their unusual singing style, which some online have compared to a turkey gobbling.
The vocals are the work of Colombian Canadian singer Stephanie Osorio, whom Tapia de Veer recorded holding a long, single note as she wavered the sound through her hand. By sampling that sound, he was then able to play different versions of it on a keyboard. Even the super-high-pitched screeches in the theme — which some have guessed were birds similar to those in the first season's song — are just Osorio's voice manipulated to unnerve listeners.
The end result feels like the auditory manifestation of the recurring visual close-ups of figures from paintings and sculptures that White has scattered throughout the show, as if there were some spiritual life force haunting the characters and this is its siren song.
"You really recognize it as a human voice — it doesn't sound like a robot — but the notes are very hard to do," Tapia de Veer said. "If you try to sing it, you realize there's something wrong. There's something weird going on, so it's kind of otherworldly."
Creating a sense of travel and freedom has been central to the show since its inception. The first season of The White Lotus was filmed in 2020 amid strict pandemic lockdowns at the Four Seasons Resort Maui. Released the following year, viewers who may have been confined to their homes for long stretches of time almost felt like they were being treated to a tropical vacation, albeit with some less-than-desirable company.
With restrictions eased for the second season, the characters and audience were able to travel even further beyond the walls of the hotel (in reality, another luxury Four Seasons property).
For Tapia de Veer, then, it's only natural that his music should feel just as freeing and transportive. "Maybe there's a sense of freedom coming out of the music, out of being in that [pandemic] situation," he said.
And while the composer warned there's a lot of "unexpected … dark stuff and dramatic stuff" in the final few episodes that await fans of The White Lotus, he hopes his music is a reminder that there is always something worth dancing for.
"Things can always feel like a celebration. It doesn't matter what's going on," he said. "As long as we're here, we can still keep celebrating that we're here."