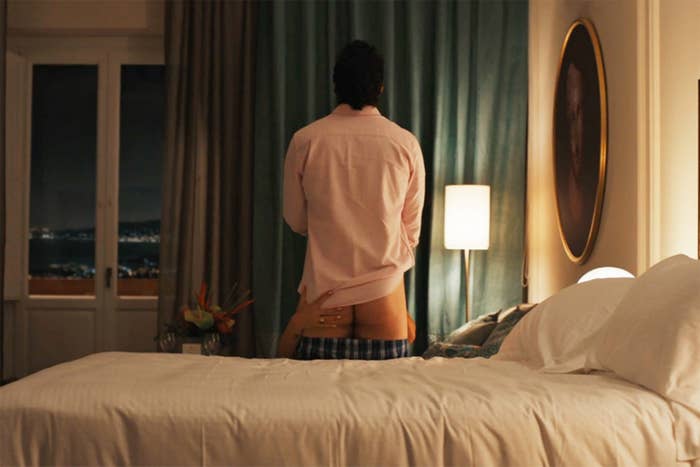 Opening Twitter late Sunday night, I realized that HBO has successfully created another Game of Thrones — and I'm not talking about the House of the Dragon prequel.
The second season of The White Lotus has quickly become one of those shows that social media reacts to in real time, and if you want to avoid spoilers, you'd best lock your phone in the freezer until you've had a chance to see the latest episode.
That is all to say: I learned about the shocking final scene of Episode 5, which aired on Sunday, when someone posted a screenshot of the South Park song "Uncle Fucker." By the time Jennifer Coolidge's Tanya wandered in upon Essex lad Jack (Leo Woodall) sticking it to his uncle Quentin (Tom Hollander), I'd had more time to process what was coming — in more ways than one — than she did.
Incest is, apparently, another thing The White Lotus has in common with Game of Thrones.
The depiction of anal sex in Sunday's fifth episode, "That's Amore," has already been compared by critics (and show creator Mike White) to a butt-focused scene in the first season, in which hotel manager Armond (Murray Bartlett) is found rimming junior employee Dillon (Lukas Gage). In both scenes, the sex between two men is depicted pretty explicitly. In both scenes, the two men are discovered in a moment that's shocking to viewers and other characters alike.
The first season of The White Lotus explored privilege and imperialism against the backdrop of a luxury Maui resort. The show's second season, set in Sicily, sets up themes of power and gender. But its other focus is definitely butts.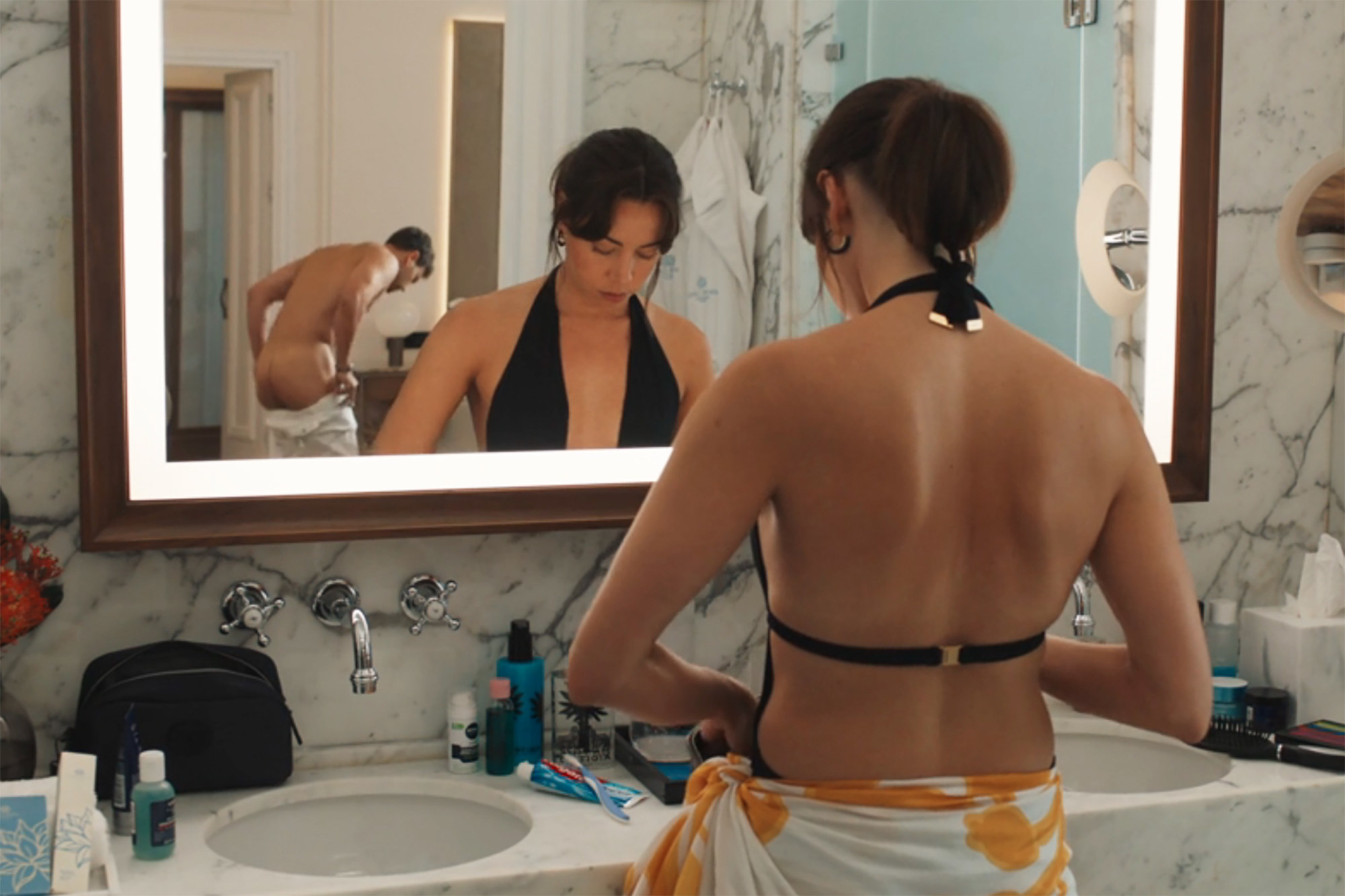 While Season 1's butt shot earned its own press cycle, it was basically a stand-alone. Aside from that memorable rimjob, and a scene in which Steve Zahn's character examined his testicles for cancer in the pilot episode, the only other nudity we briefly glimpsed was the butt of Kai (Kekoa Kekumano), the native Hawaiian hotel worker. (Trust me, I went back and checked for reasons of journalistic accuracy.)
In contrast, Season 2 is positively brimming with butts. In the first episode alone, we see the butts of smarmy rich guy Cameron (Theo James) and Tanya's new husband Greg (Jon Gries). By the end of Sunday's fifth episode, we have also seen the butts of Ethan (Will Sharpe) and piano player Giuseppe (Federico Scribani), and twice seen the butts of Albie (Adam DiMarco) and Jack, as well as Uncle Quentin taking it in the butt.

So why all the butts?
When it comes to the seeming incest at least, White, the show's creator — who is bisexual — has said he's intrigued by pushing sexual boundaries. "There's a pleasure to me as a guy who is gay-ish to make gay sex transgressive again," White told Variety. Indeed, the show's wild opening credits seem to signal this lewd spiral with frescoes that depict gradually more perverted and unhinged scenes.
But when it comes to the others, well, I didn't do media studies at college for nothing. Perhaps it's just that the cast is full of male actors who are down to clown. But I think the motif is also a pretty clear extended visual metaphor: These men are butts. Gender dynamics and masculinity are central to this season of The White Lotus, and time and again it's the male characters who are making an ass of themselves.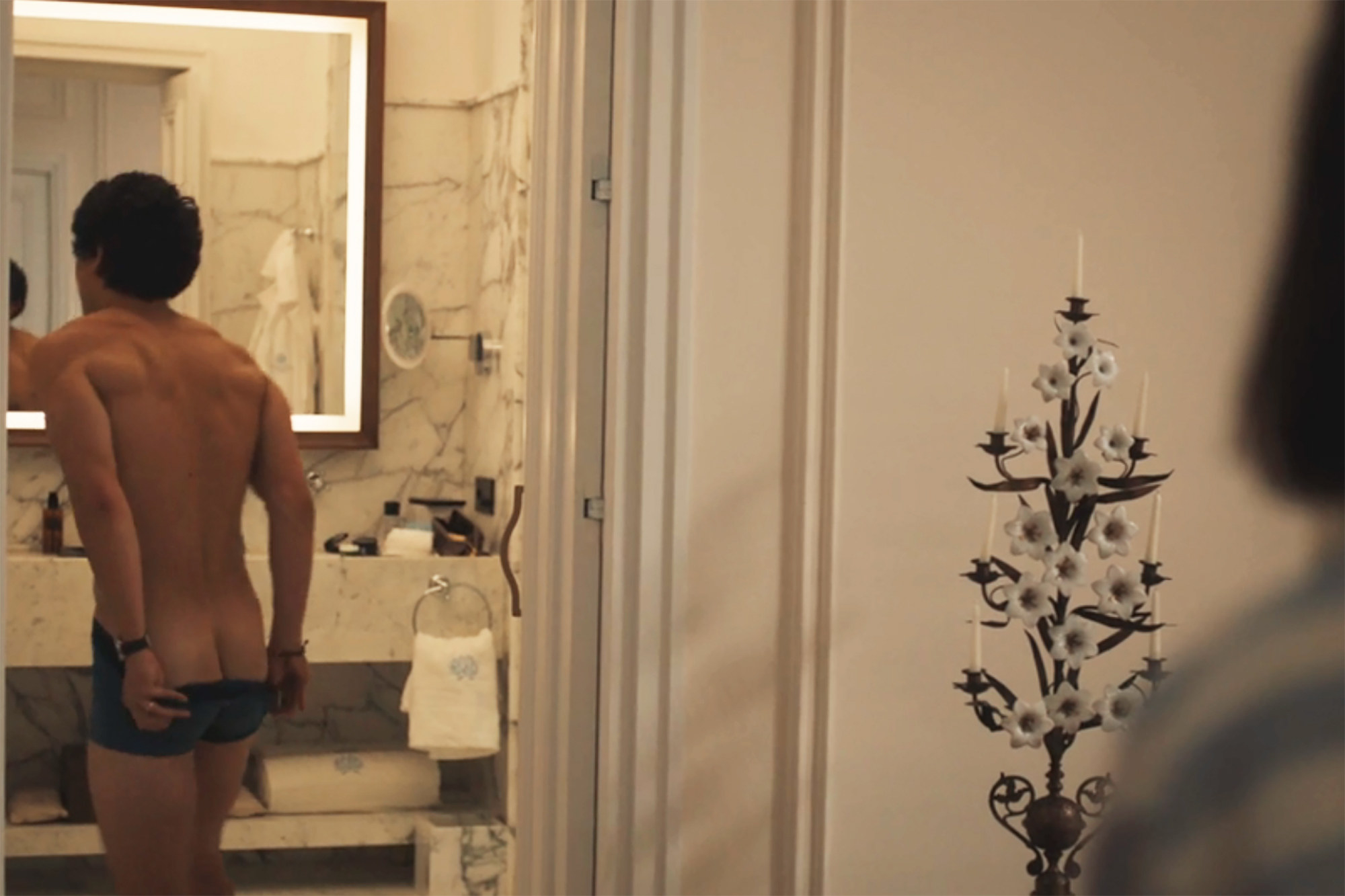 The most obvious example of a man shitting the bed is Ethan, who spent most of the fourth episode lying (by omission) to his wife, Harper (Aubrey Plaza), about the debaucherous night he'd had with Cameron and sex workers Lucia (Simona Tabasco) and Mia (Beatrice Grannò). Only after Harper confronts him with the condom wrapper she's discovered is he forced to admit to his deception. But even then, his first instinct isn't to try to make amends; instead, he tries to convince her she should be grateful that he only lied and didn't commit adultery. What a butt!
Ethan's friendship with finance bro Cameron is itself a study in masculine competitiveness and validation. In an awkward conversation, it emerges that Cameron would always sleep with the girls Ethan admitted to liking, in what Ethan describes as a "bad case of mimetic desire," or the idea that he only wants what those with higher status do. What's more, Cameron's seeming inability to pay Mia and Lucia, as well as his weaseling attempts to get his hands on Ethan's money, seems to indicate that he's a bum, not just an ass.
Consider also the three generations of Di Grasso men holidaying at the Sicilian resort, who, as at least one astute TikToker has already pointed out, represent three varying archetypes of misogyny. Grandfather Bert (F. Murray Abraham) is hopelessly outdated, ignorant as to how uncomfortable he makes women feel (his character's flatulence — quite literally, hot air from the butt! — seems to make more sense in this reading). Dad Dominic (Michael Imperioli) pretends to be enlightened, but still either betrays women and tries to win them back (in the case of his wife) or tries to control them (in the case of the sex workers he hires). And while son Albie may at first seem progressive, chastizing his father and grandfather for their old-fashioned words and deeds, he clearly harbors a growing resentment that Portia (Haley Lu Richardson) doesn't seem interested in his "Mr. Nice Guy" persona.
All three seem like photocopies of the same type of man, each one slightly more faded than the last but with the writing just as legible. Their perverse attitudes aren't biologically inherited, but rather passed down from generation to generation.
"You've normalized it for him," Bert tells Dominic over dinner, referring to Albie's sudden interest in spending time with sex worker Lucia.
"Yeah, like you normalized it for me," Dominic responds. "You know the reason I am the way that I am is because of you."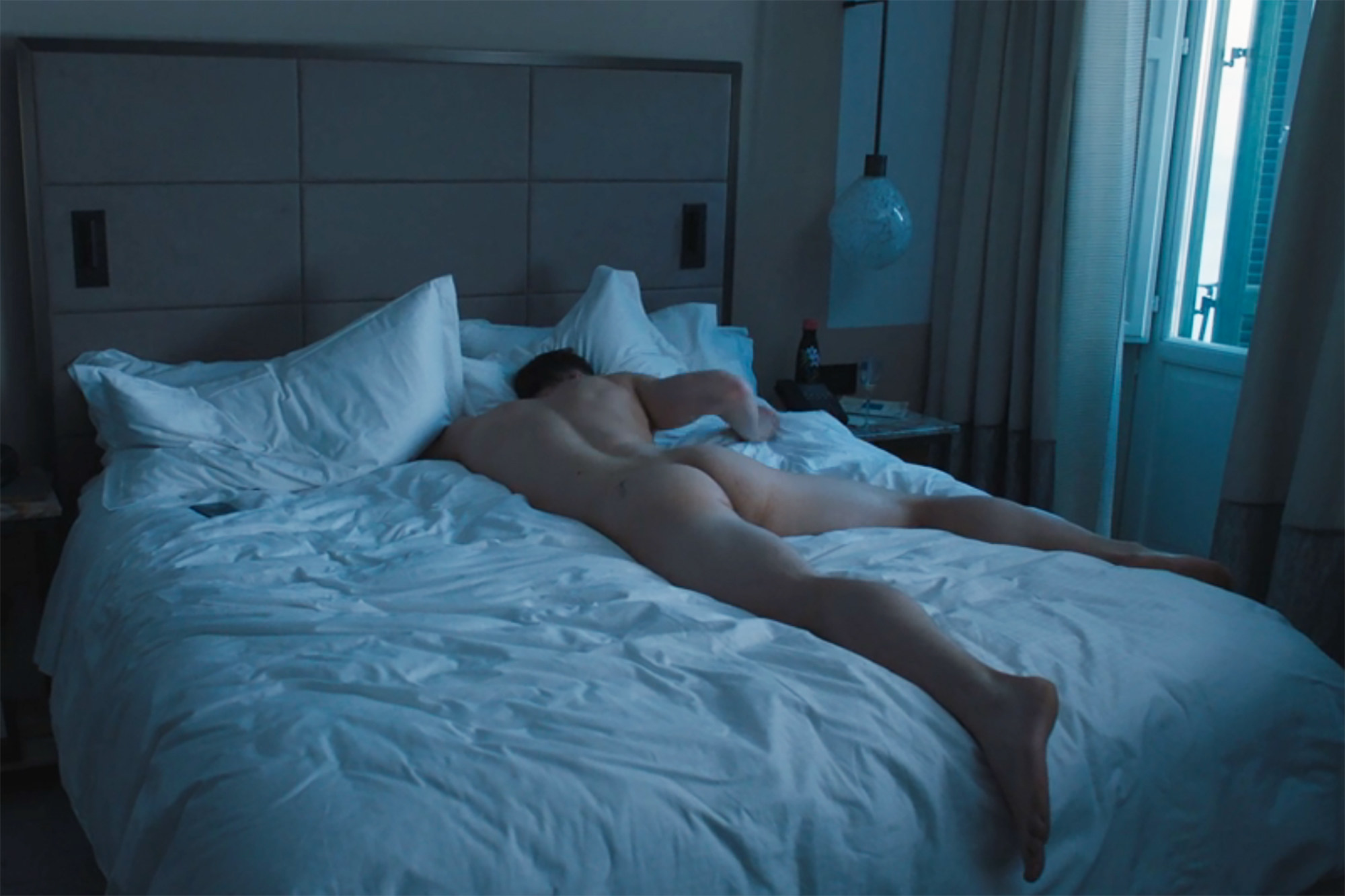 The show's depiction of the male gaze varies. Sometimes, it's clearly menacing and overwhelming, like when Harper walks the streets of Noto amid a crowd of men (an homage to a similar shot on the same location in the 1960 Italian film L'avventura). But at other times, the lecherousness is simply annoying, like when manager Valentina (Sabrina Impacciatore) complains to a man at a coffee shop that she simply wants to enjoy her espresso in peace.
Gay men aren't let off the hook for looking at women as objects. Quentin only seems to "collect" Tanya because, as he later says to her, he admires beauty and was captivated by her chic style at the hotel restaurant.
Confronted with a sea of asses, the women of The White Lotus seem to have few options. They can try to exploit these men for financial and professional gains, like Lucia and Mia, or they can try to reckon with them, like Harper, who is discovering just how disillusioning that can be. Some, like Portia, will find themselves drawn to assholes against their better judgment.
Daphne (Meghann Fahy) has evidently decided to fight back with her own bad behavior, insinuating a close relationship with the personal trainer who bears a suspicious resemblance to her kids. "If anything ever did happen, you do what you have to do to make yourself feel better about it," she tells Harper after the latter shares that their husbands have been up to no good.
"The point is, maybe you should get a trainer," Daphne says with a smile.
What better way to get back at an asshole than to find someone who can help with squats? ●