Monday saw the return of the Easter Egg Roll event to the White House, the first time since 2019 that the tradition has been held because of the pandemic.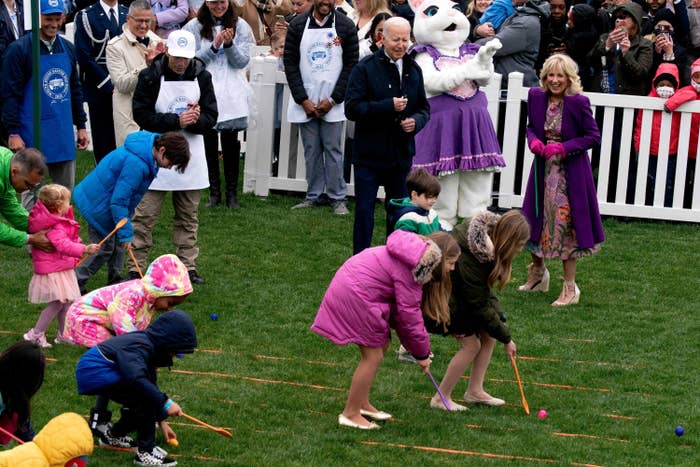 Amid light rain, President Joe Biden and first lady Jill Biden welcomed kids and their families to celebrate Easter with a book reading, an egg hunt, and the rolling of colorful eggs with wooden spoons across the White House lawn.
The tradition dates back to 1878 and the administration of Rutherford B. Hayes, the 19th US president.
This year's event was themed around "EGGucation" in keeping with Jill Biden's background as an educator.
But it also saw the return of the giant Easter bunnies to the White House, two of whom were on hand as the Bidens made short remarks from the balcony.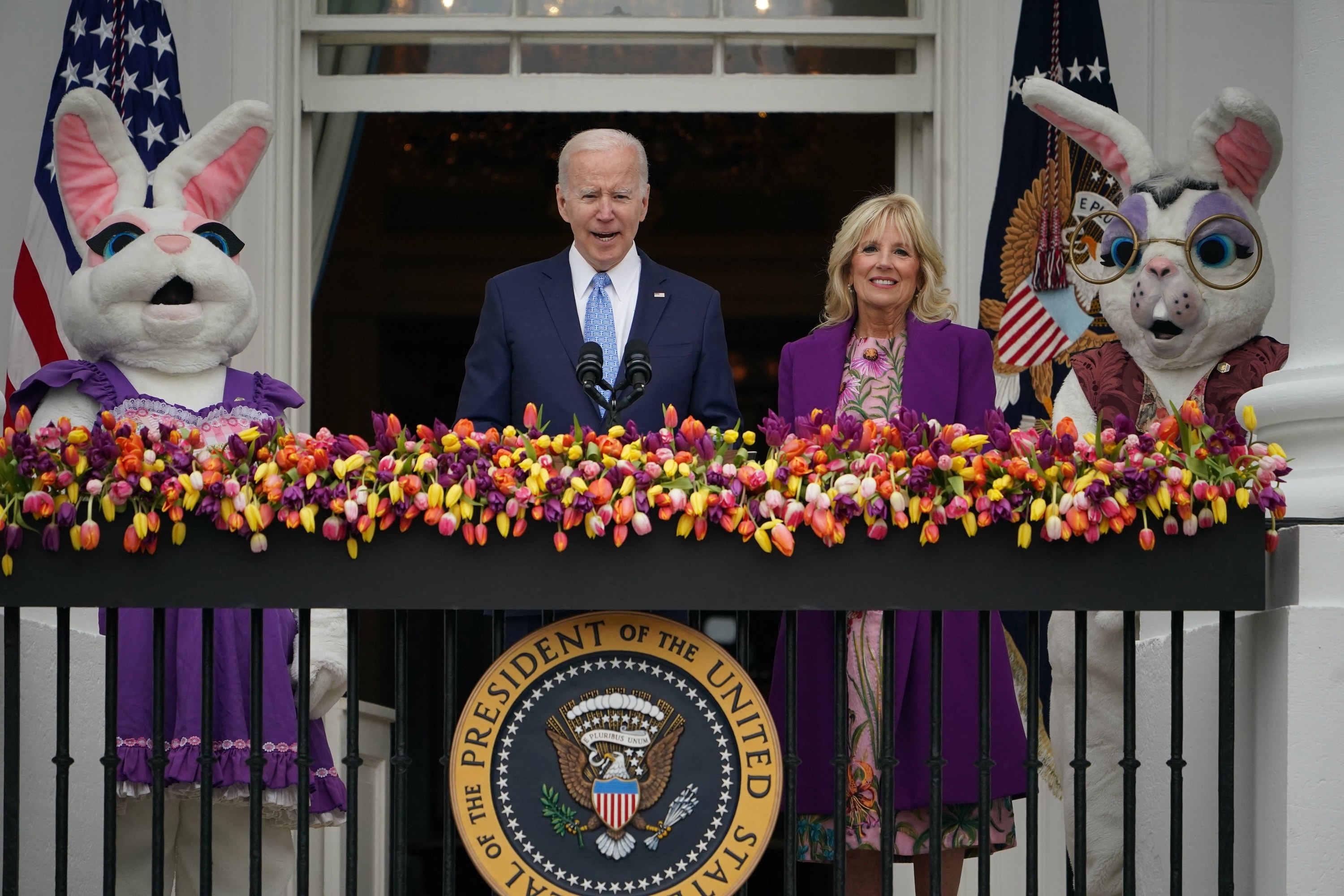 If that particularly shocked and disturbed one on the right looks familiar, it's because it's the same bunny that looked frozen in a state of perpetual horror as former president Donald Trump spoke back in 2019.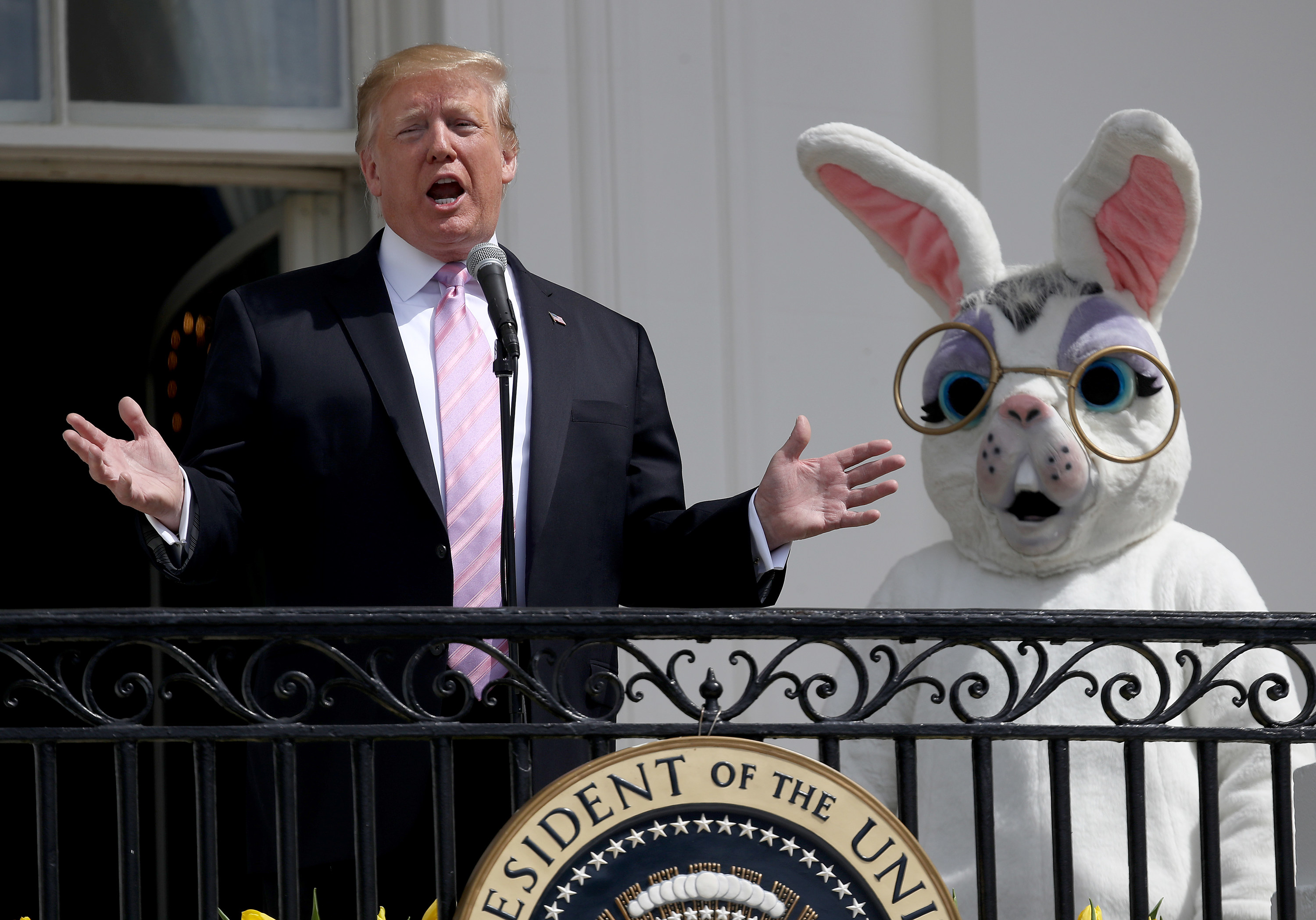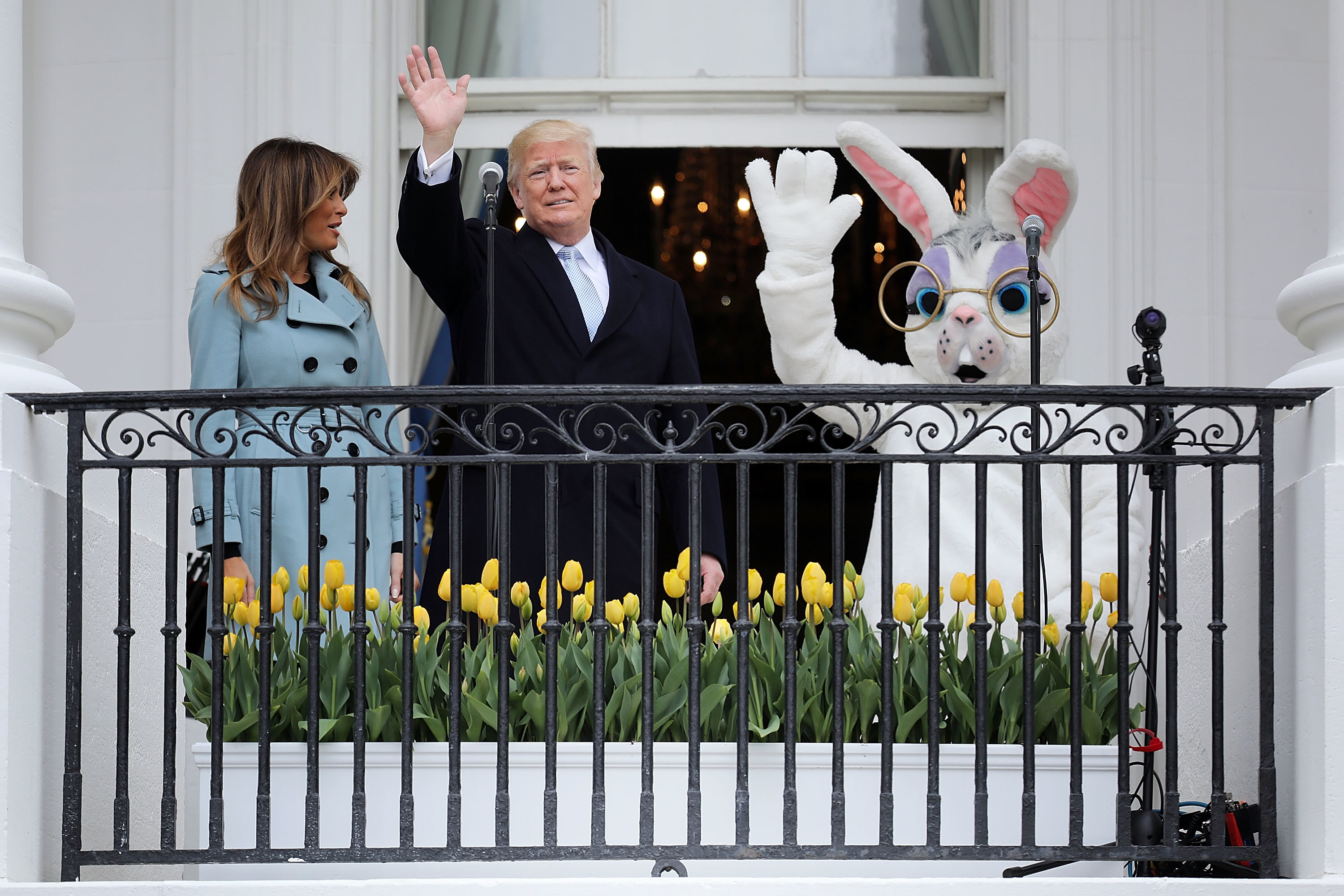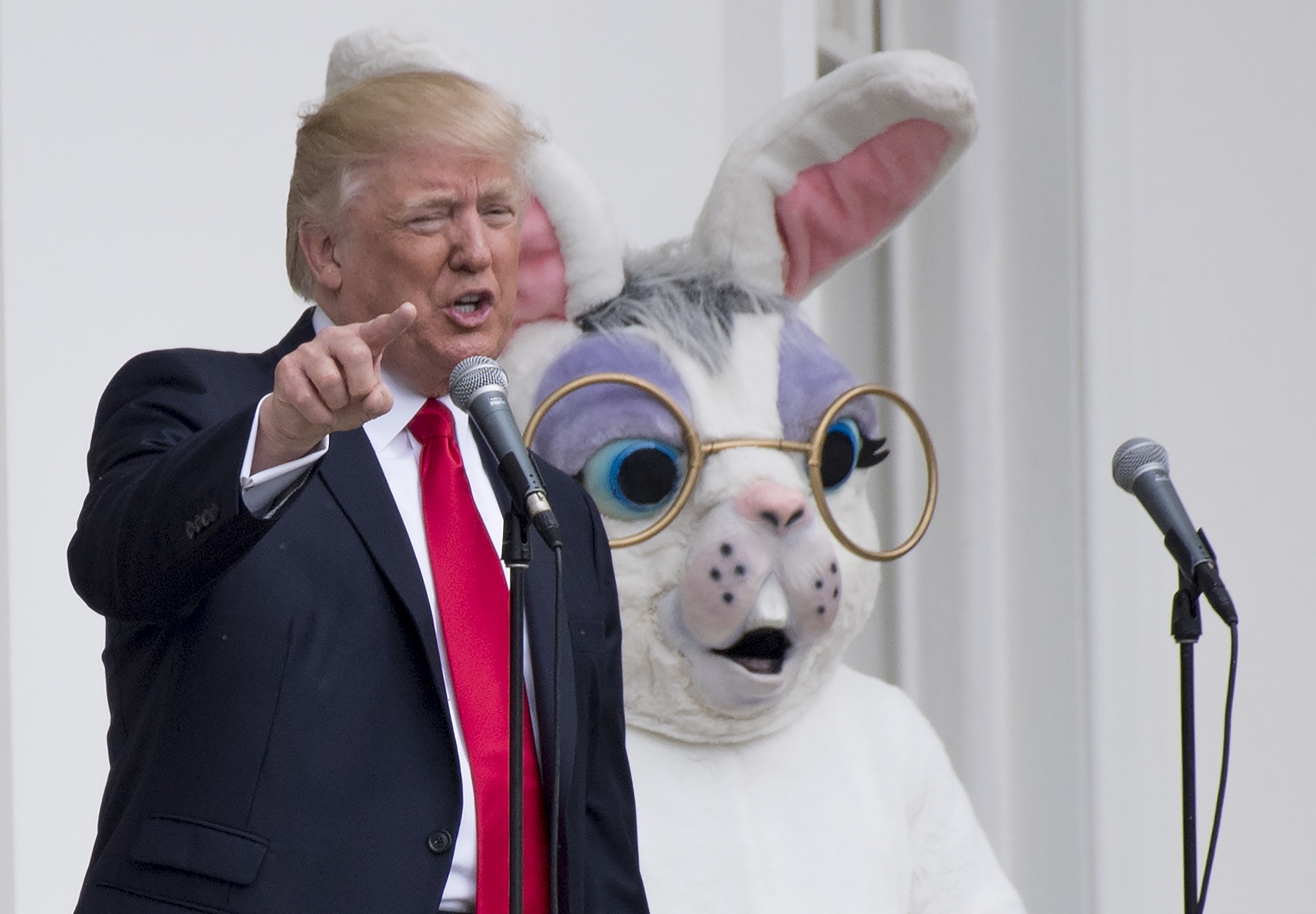 Shocked Bunny has apparently become one of the US's most storied traditions.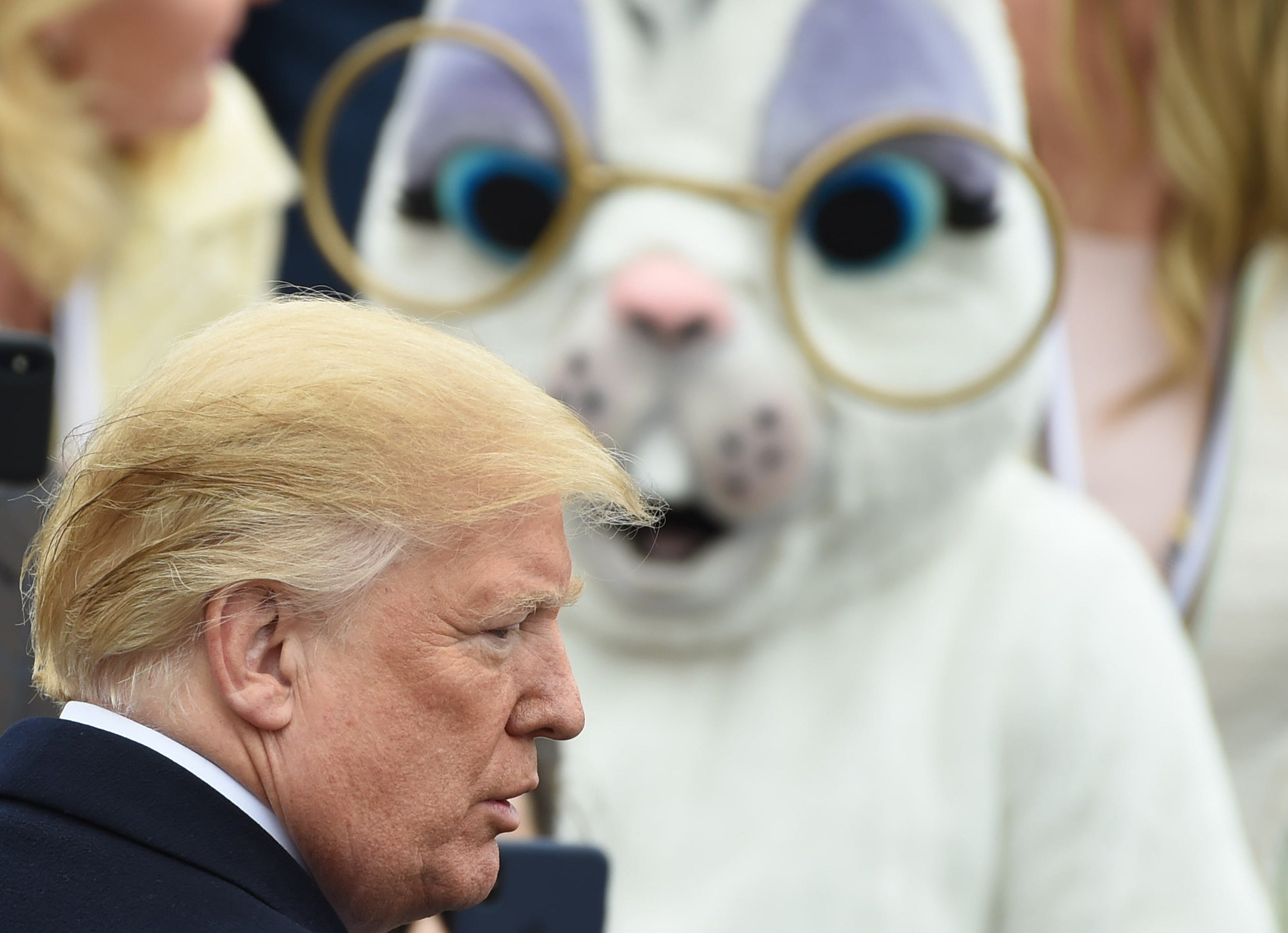 They appear to be nonpartisan in their shock, having now been alarmed by both Democratic and Republican presidents.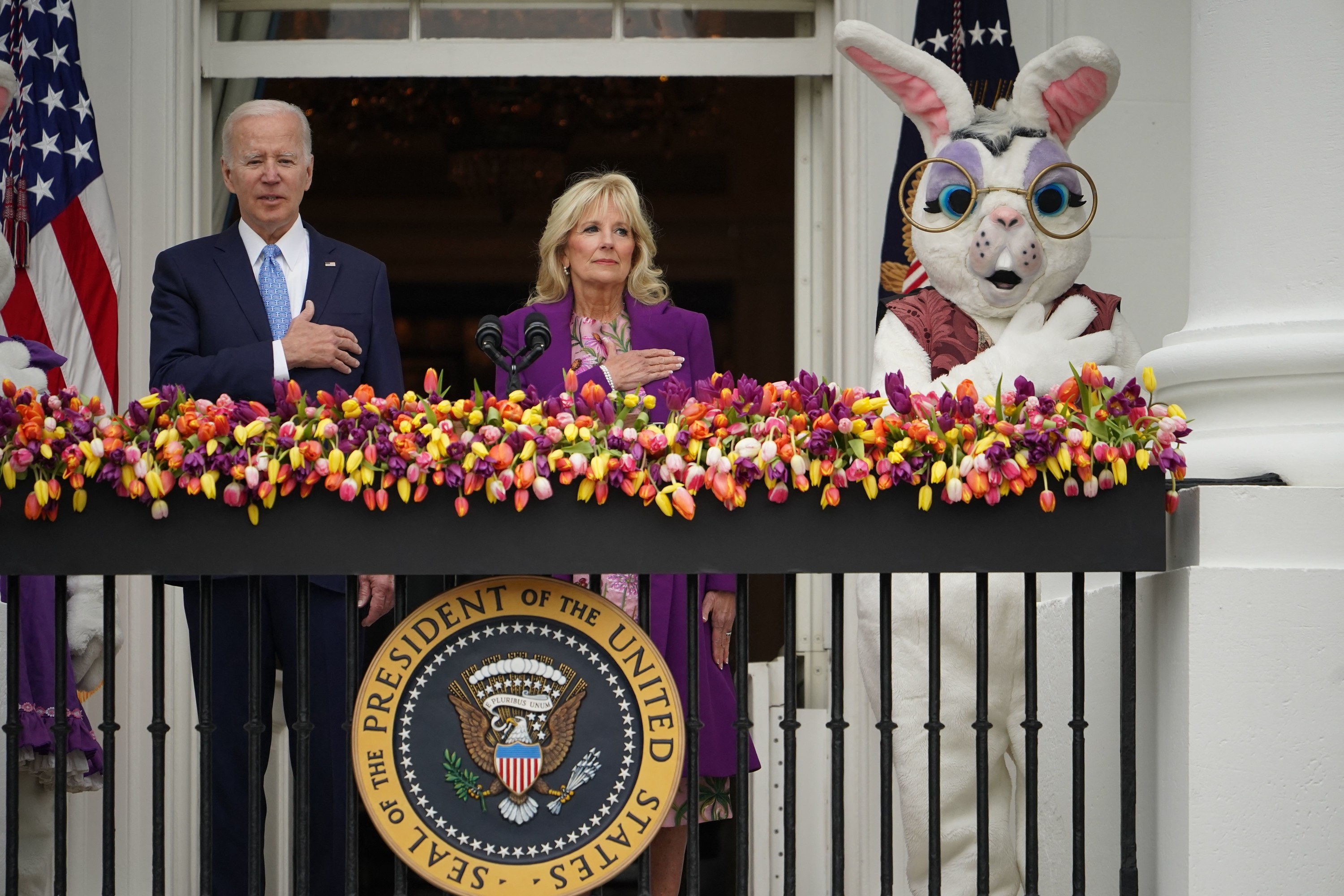 Here's the same bunny last year wearing a mask that barely covers their shock at what I can only imagine was in response to the global pandemic. Relatable!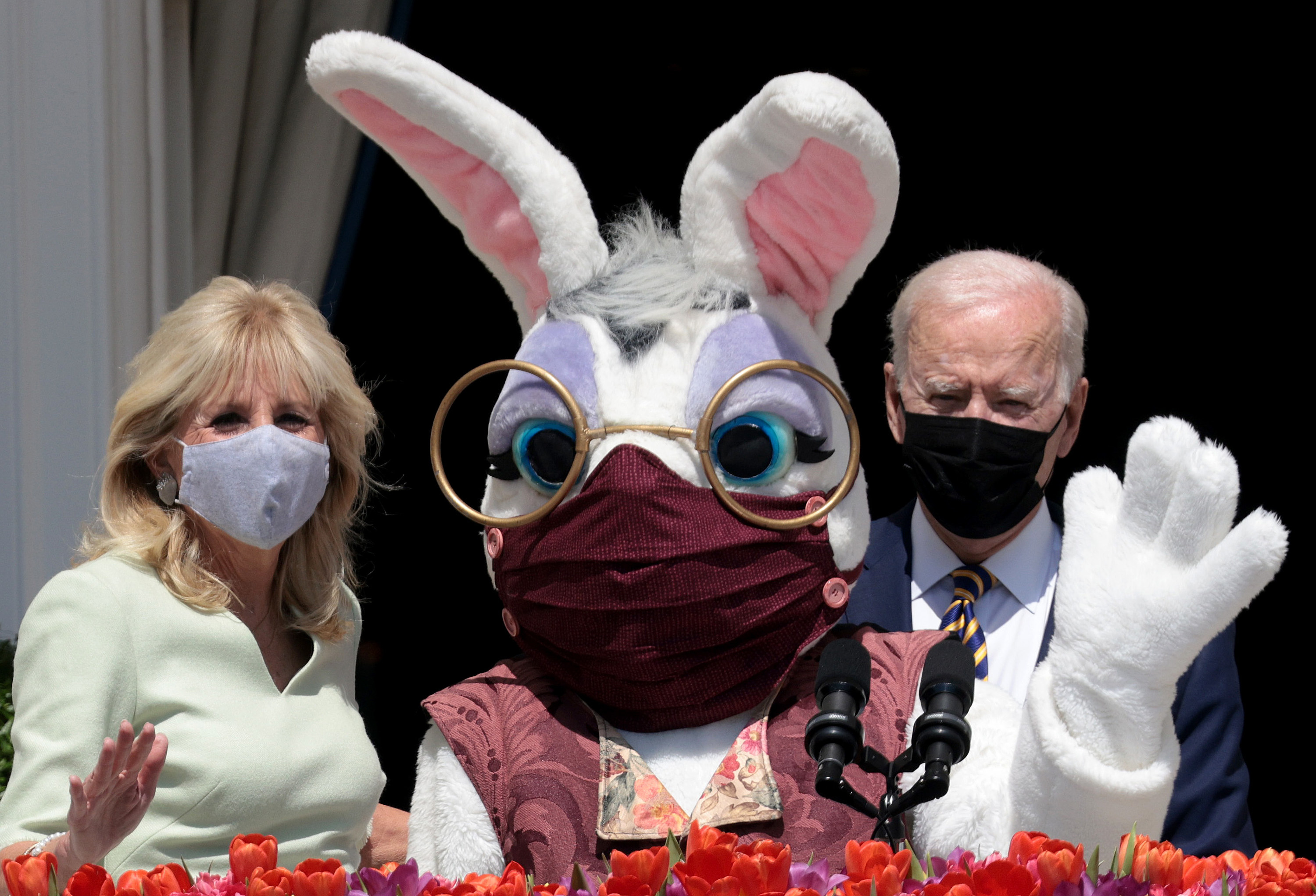 But this other bunny was also spotted Monday at the White House, wearing a fashionable purple ensemble and looking perhaps more stunned than alarmed.
As was this THIRD bunny, who was invited to the White House briefing room to make an appearance for reporters.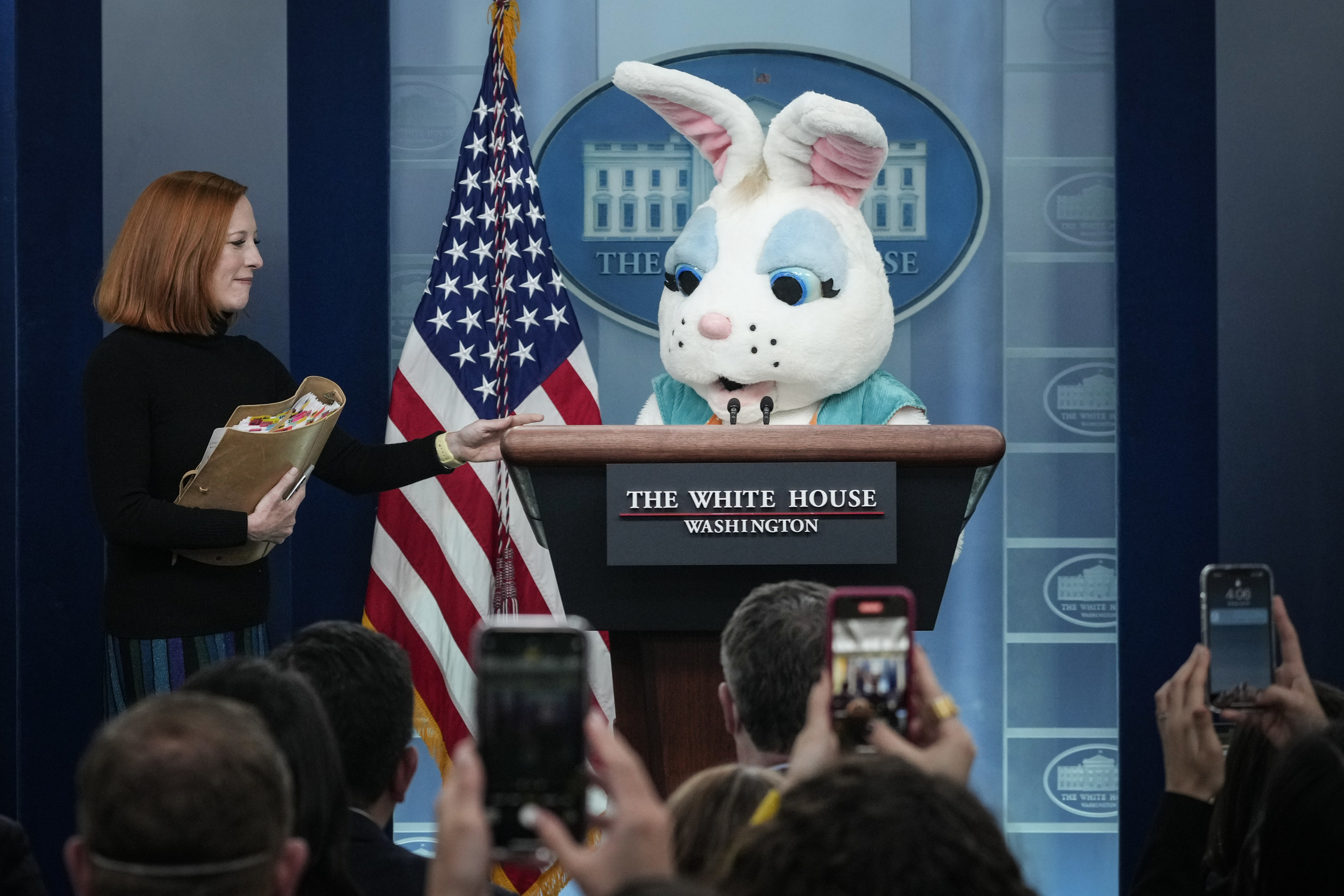 You'll notice this bunny differs from the others because they have some sultry little beauty spots and a little vest that matches the very retro light blue eyeshadow that's giving Agnetha from ABBA vibes.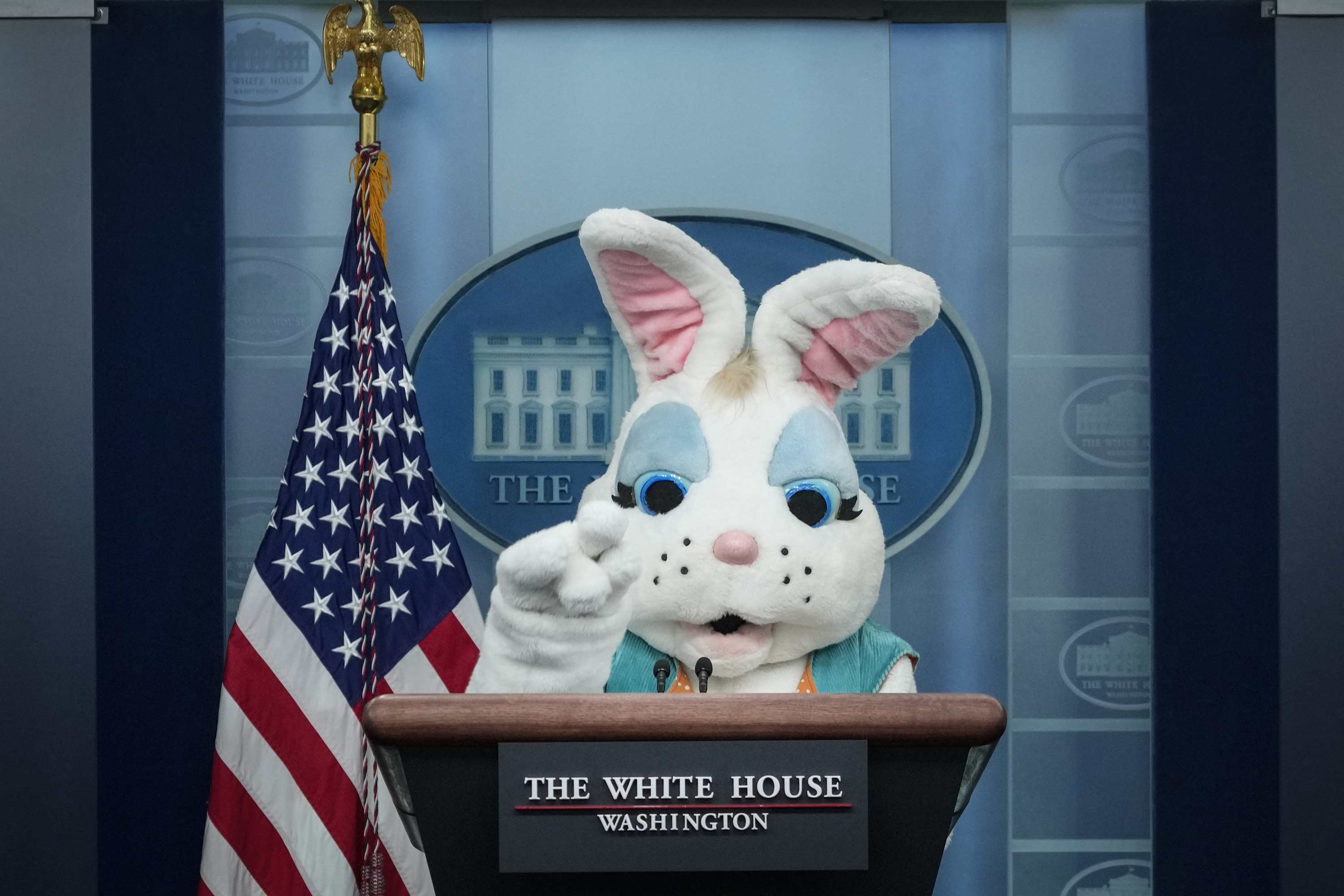 Shocked Bunny, you'll recall, has purple eyeshadow. (Note: In my mind, all these bunnies are part of the LGBTQ community. They walk around wearing makeup and no pants. They're definitely queer.)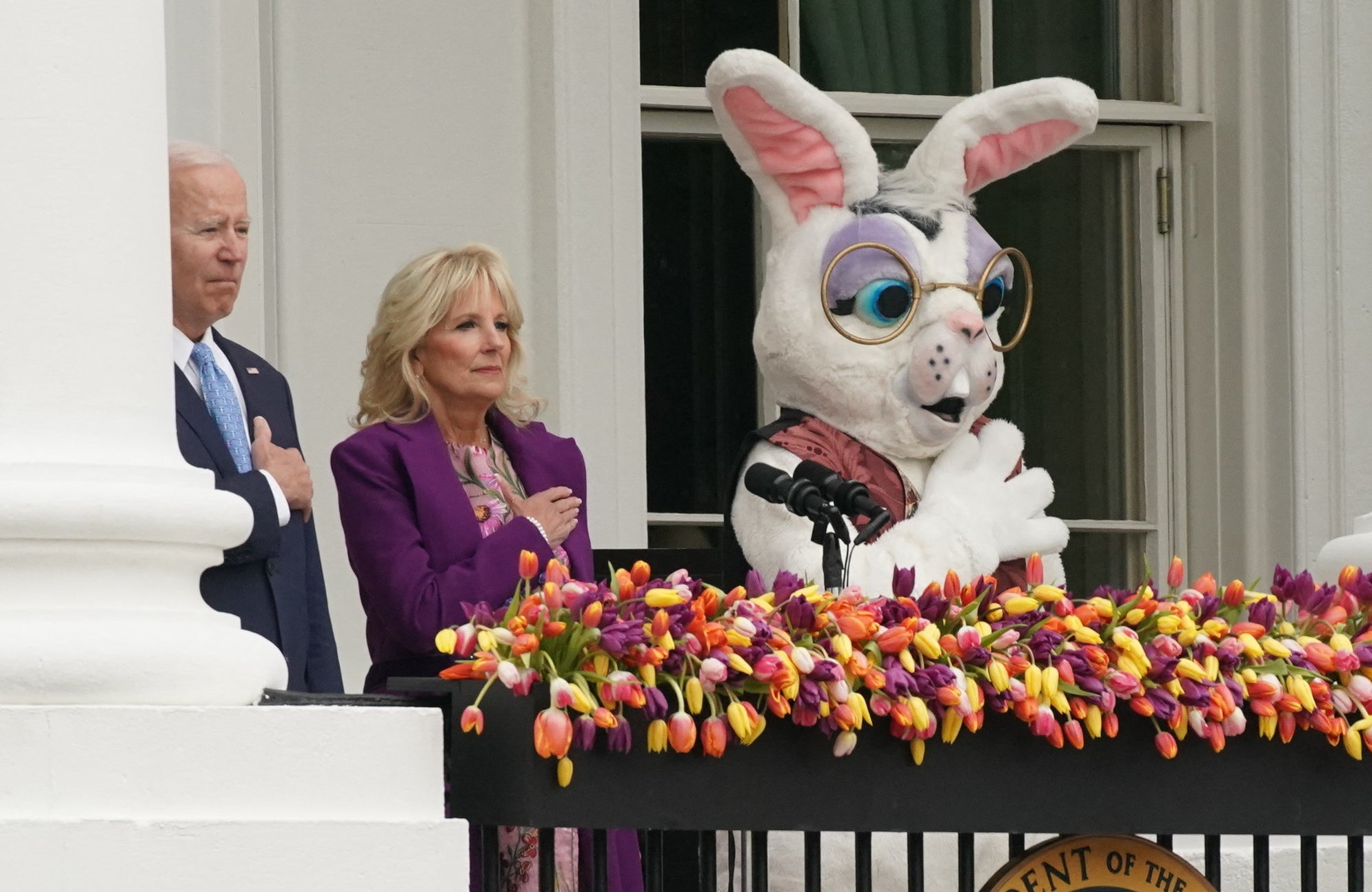 So along with this queen with the purple dress and pink eyeshadow (which, to be frank, don't really go together that well), that makes THREE bunnies on just Monday alone!!!
So just exactly how many bunny costumes have their been?
An exhausting (OK, 30-minute) review of photo archives reveals that same ABBA Bunny was present without clothes (kinky!) throughout the Obama administration. Here they are in 2016...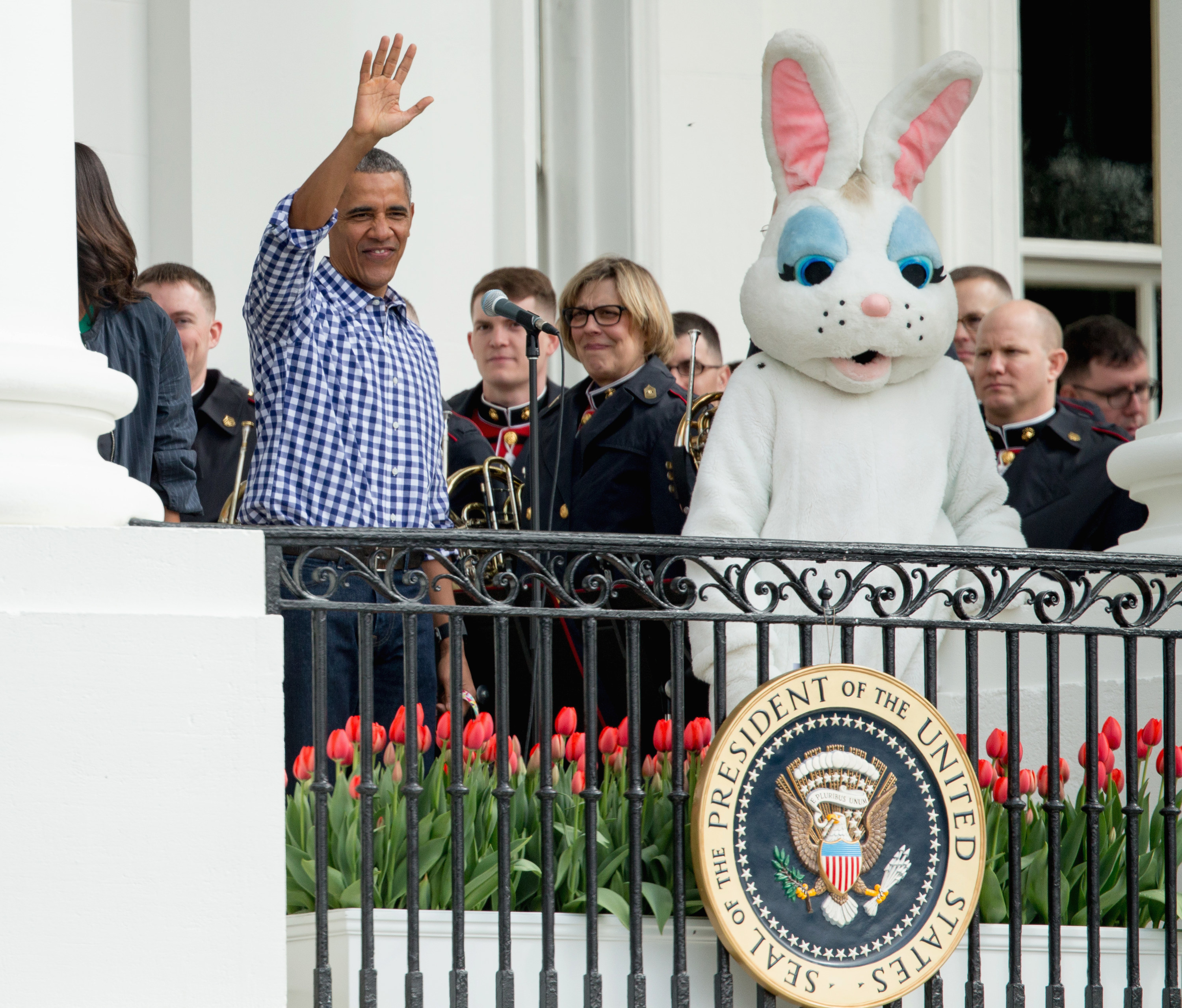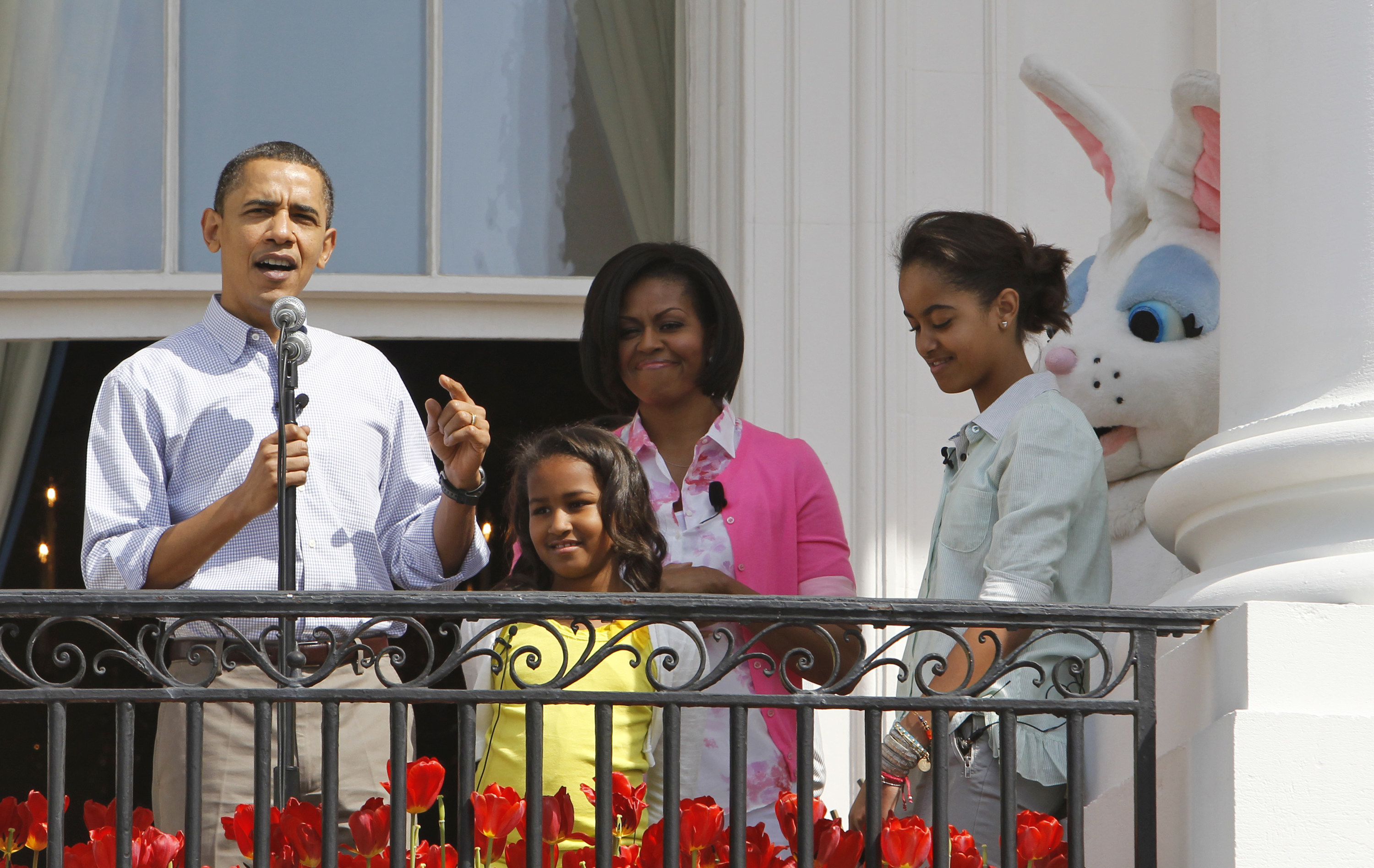 ABBA Bunny was also present back in 2006, but wore clothes (I assume because of the more conservative George W. Bush administration).
(Fun fact: Sean Spicer once wore that costume).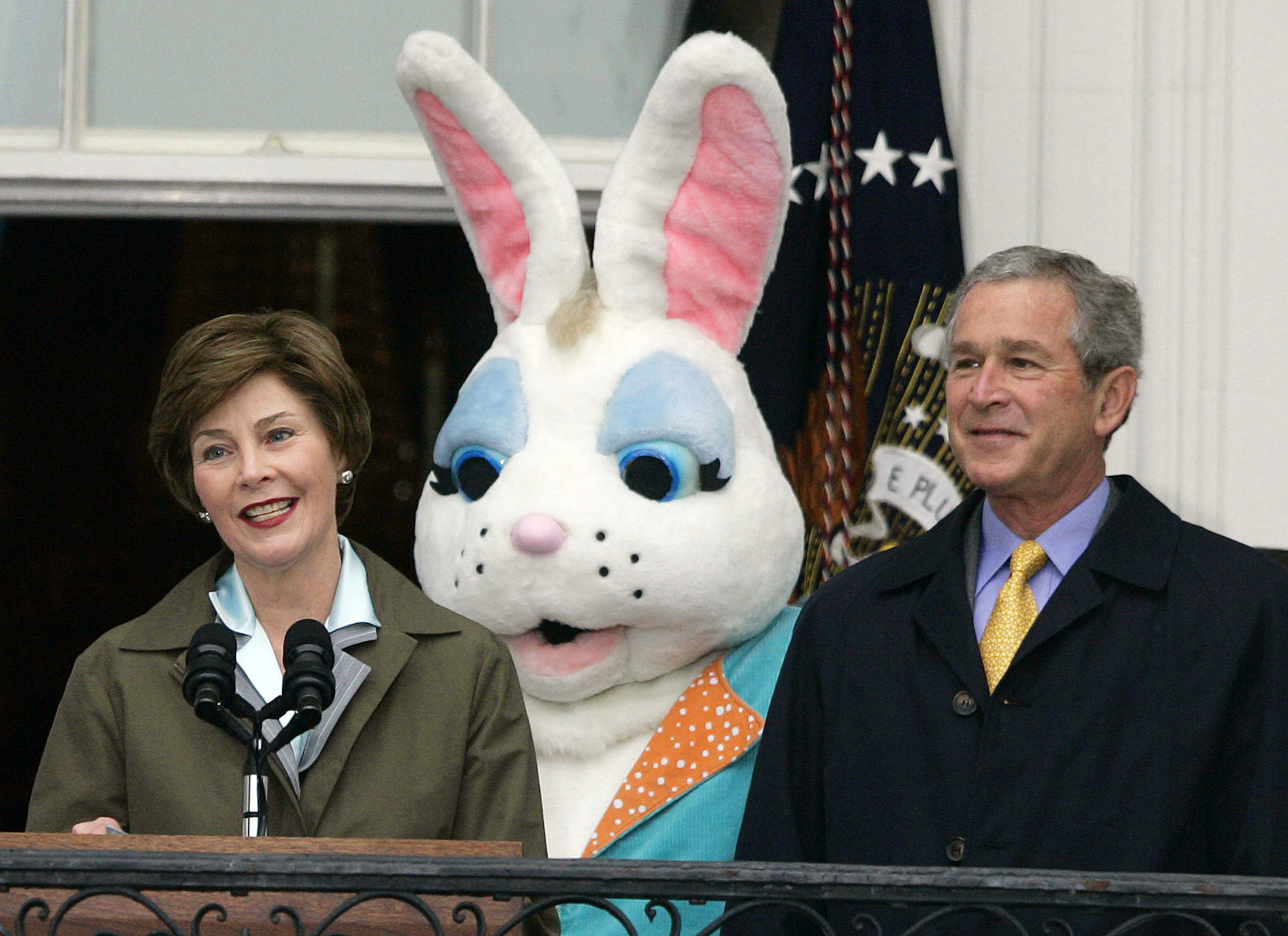 But our old friend Shocked Bunny was around back in 2009 when they were also alarmed by things Obama said.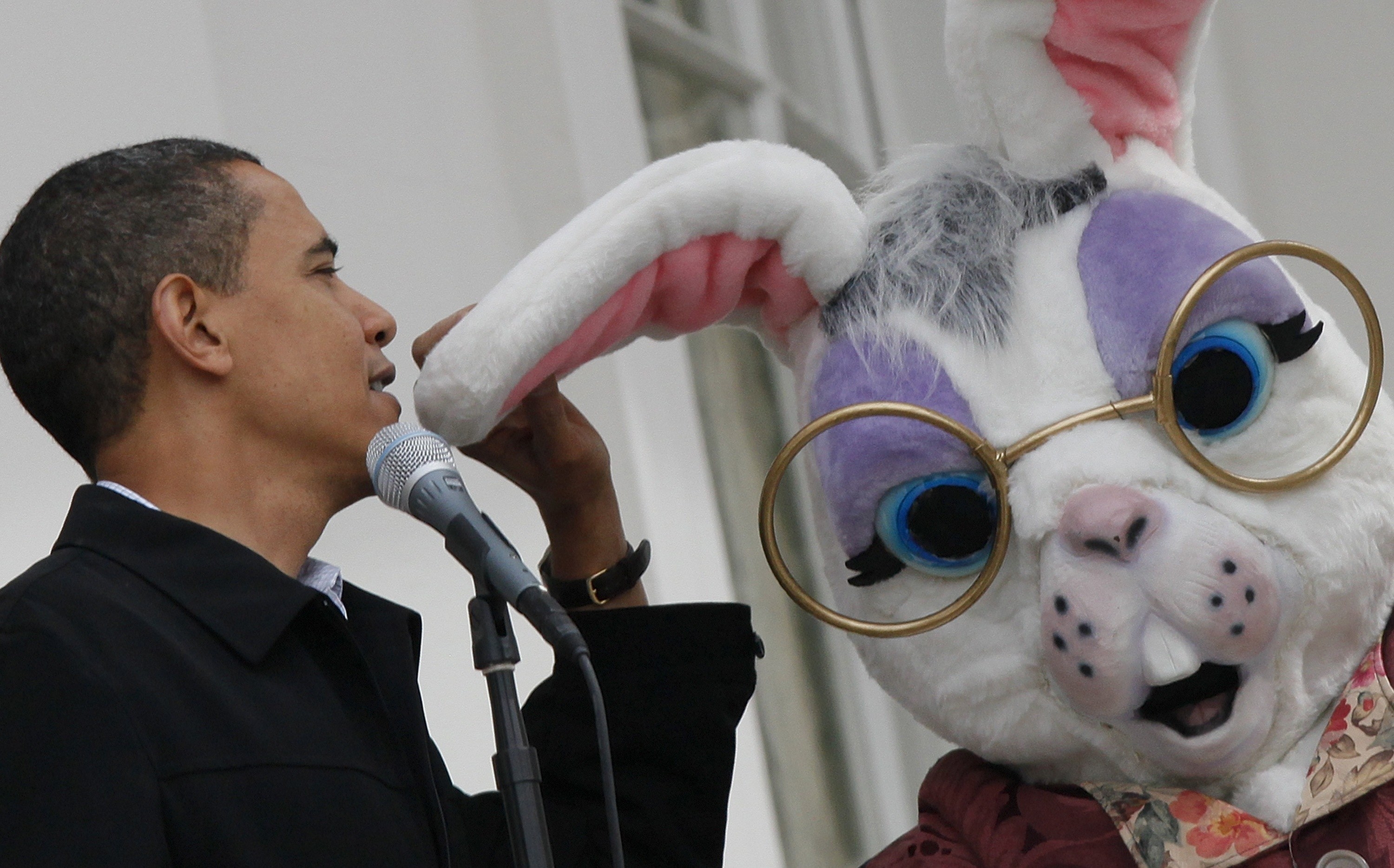 And here's Shocked Bunny looking alarmed by Bush in 2008.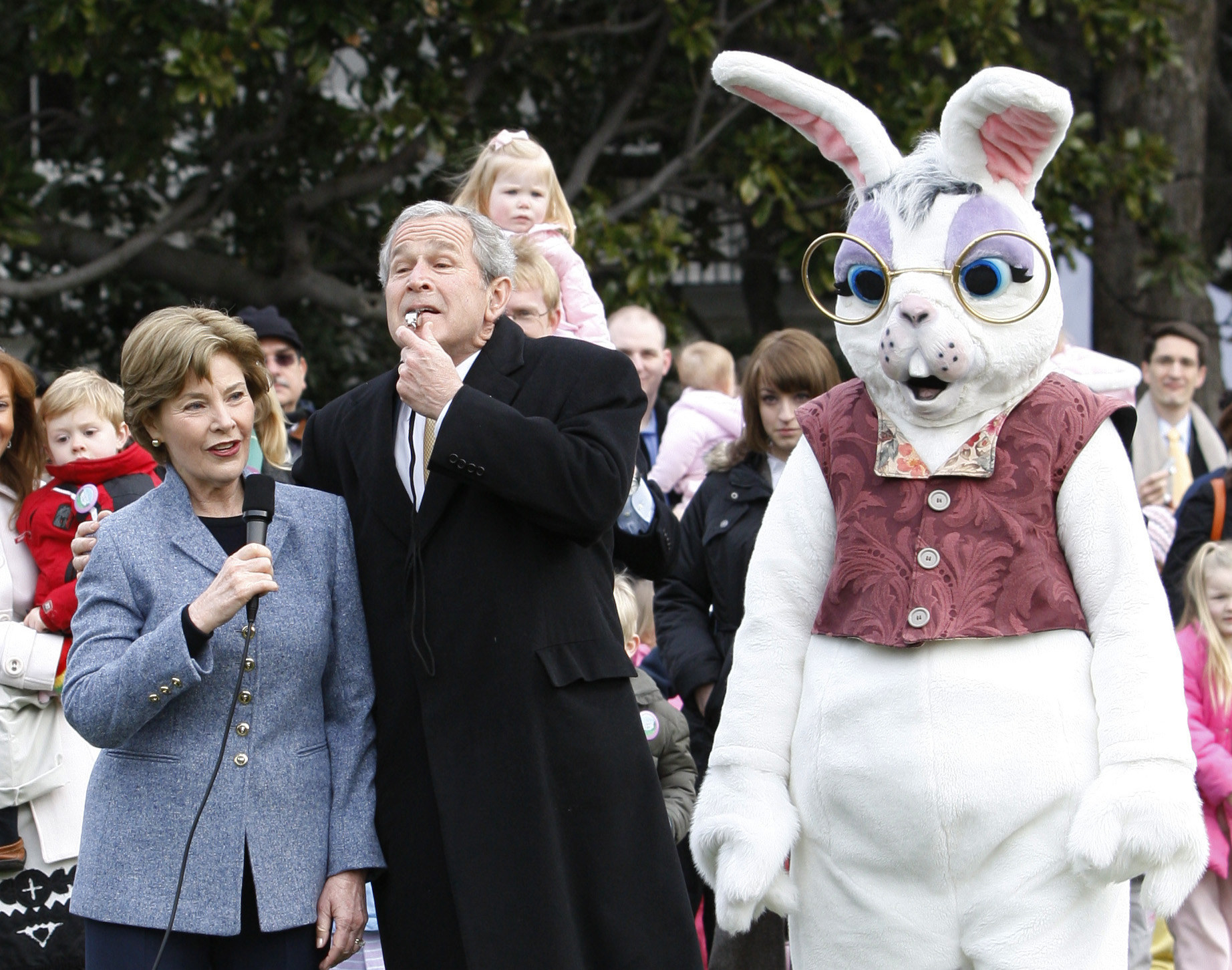 So we know the same three bunnies, including this queen again, have been around for a long time.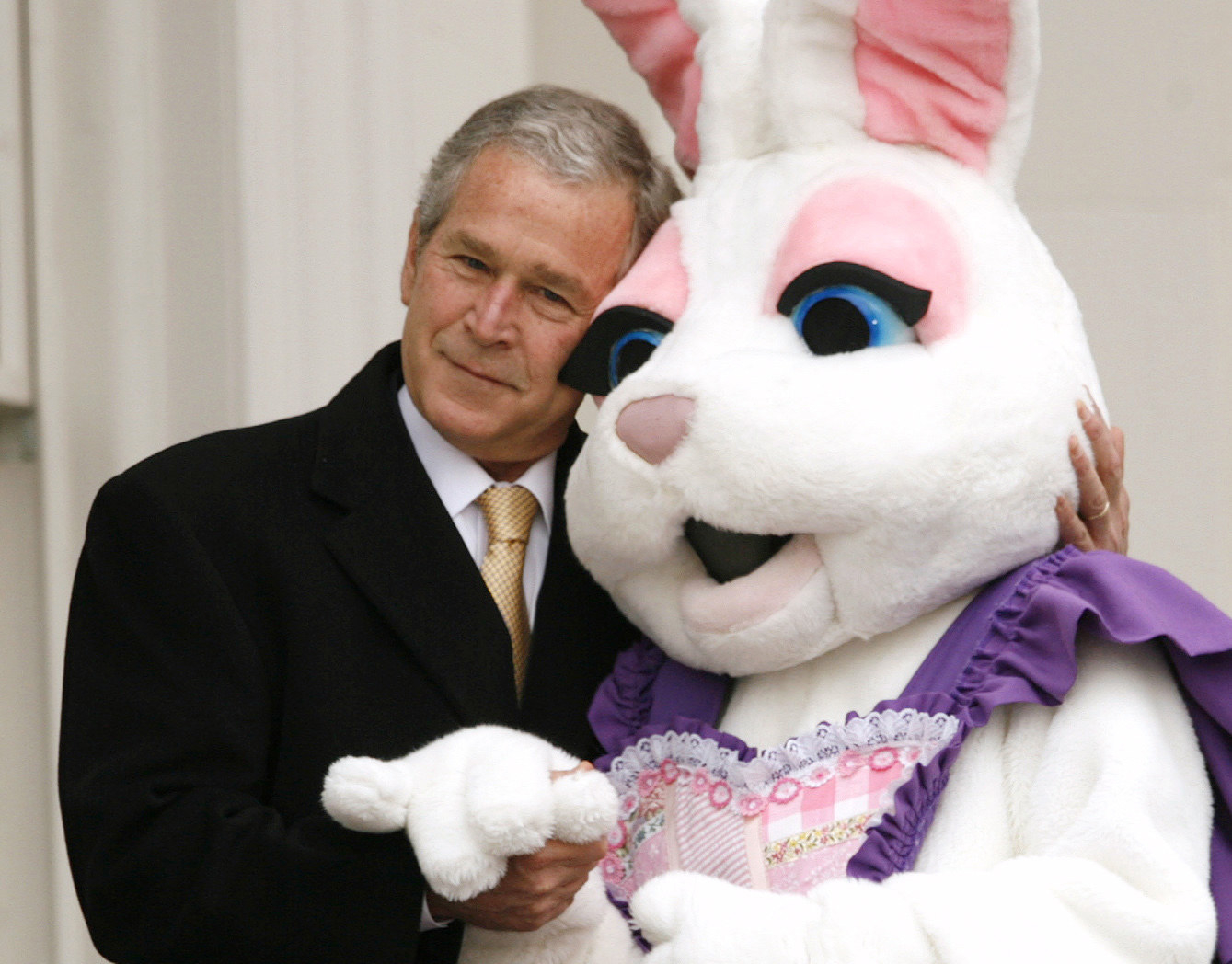 Just FYI: I actually reached out to a Jill Biden spokesperson to ask if the costumes were owned by taxpayers. He said he'd look into it (lol) but speculated they could be owned by the White House Historical Association nonprofit. I'll update this story if I hear back, and then will expect a Pulitzer nomination without delay.

(Update: scroll to the end of this story for the big reveal!)
But wait! There's more. Here's Pink Bunny with the Clintons in 2000.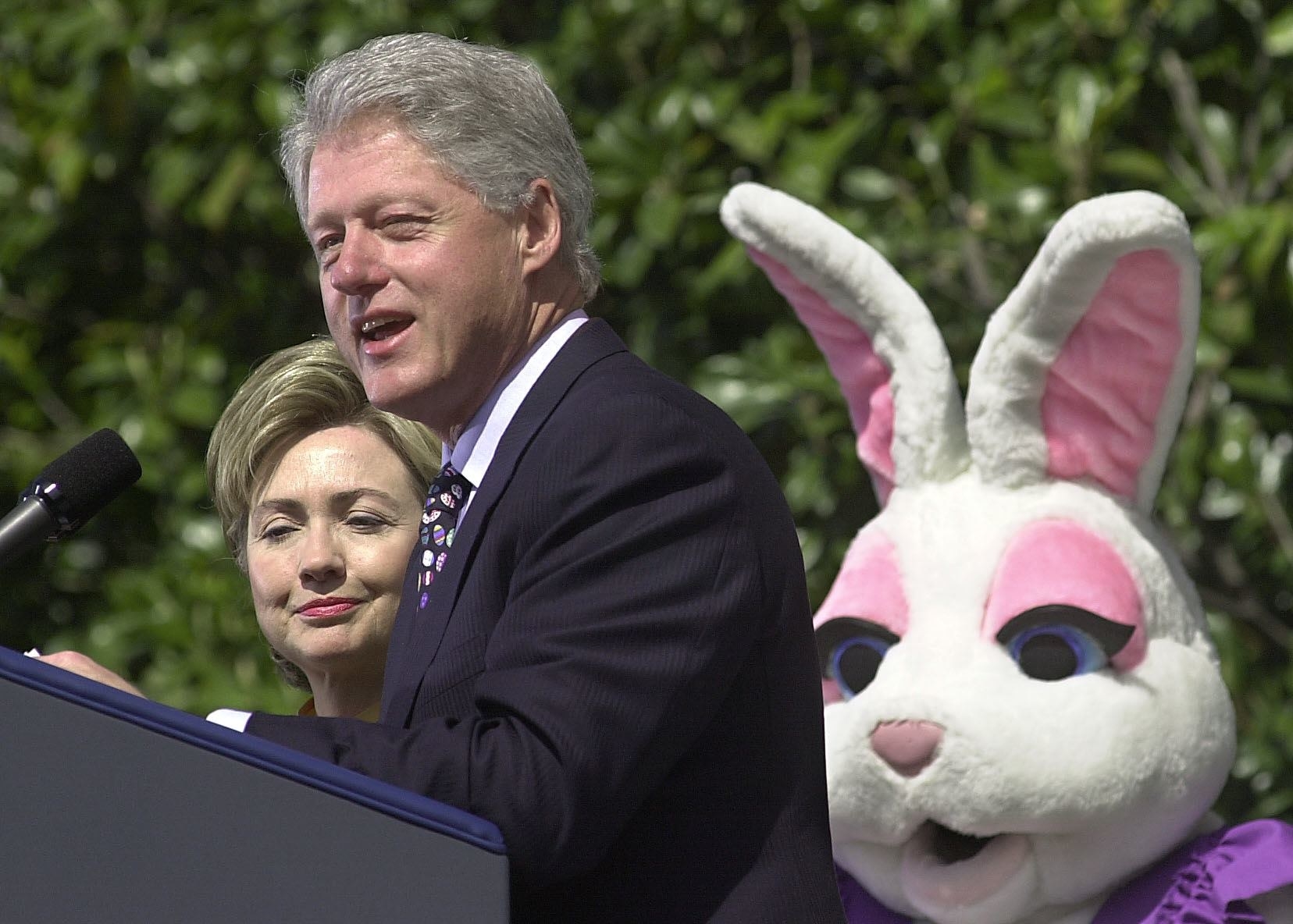 And again in 1998. (They haven't updated that look in over 20 years. Tired!)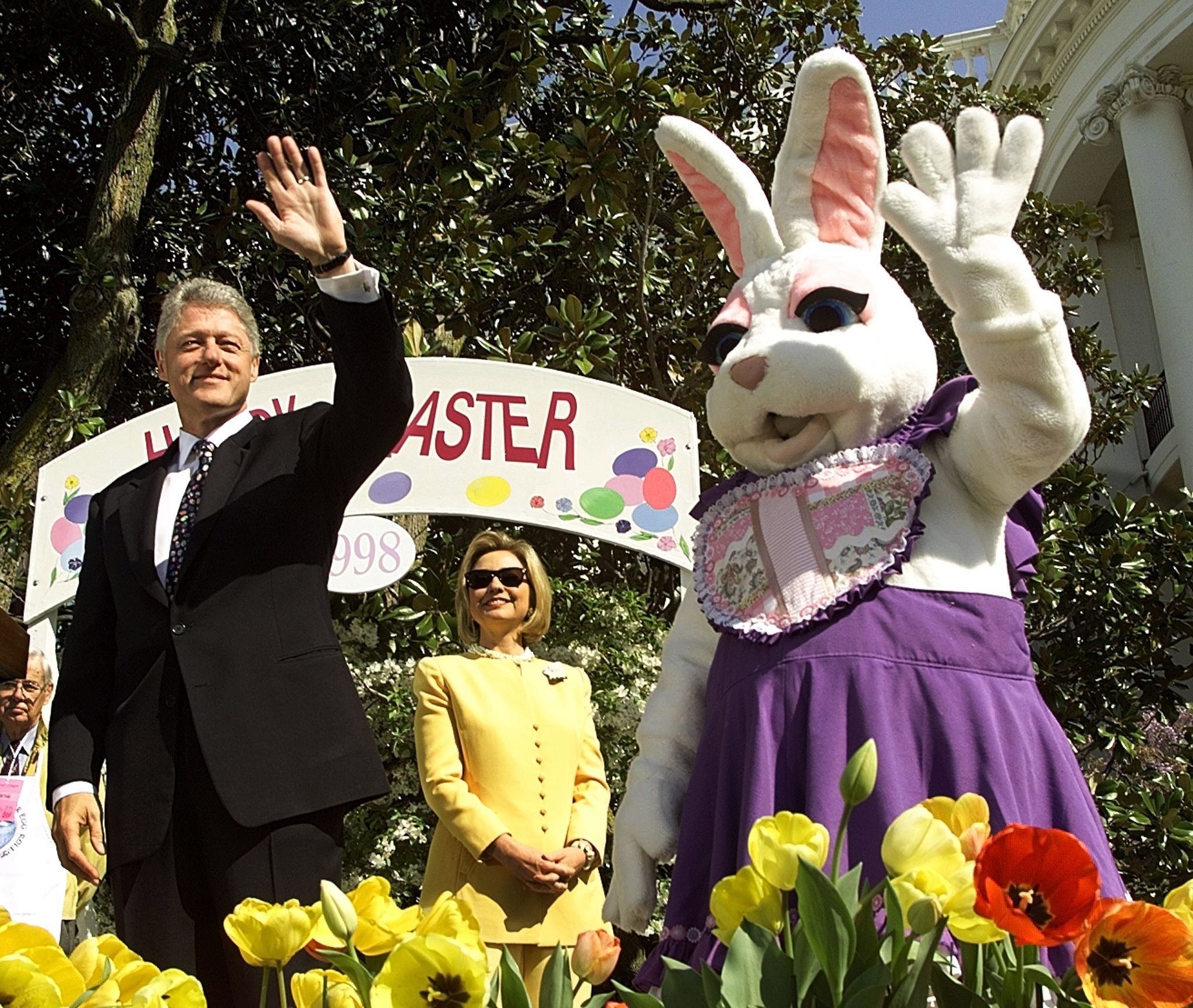 And just look who I found looking as shocked as ever all the way back in 1993.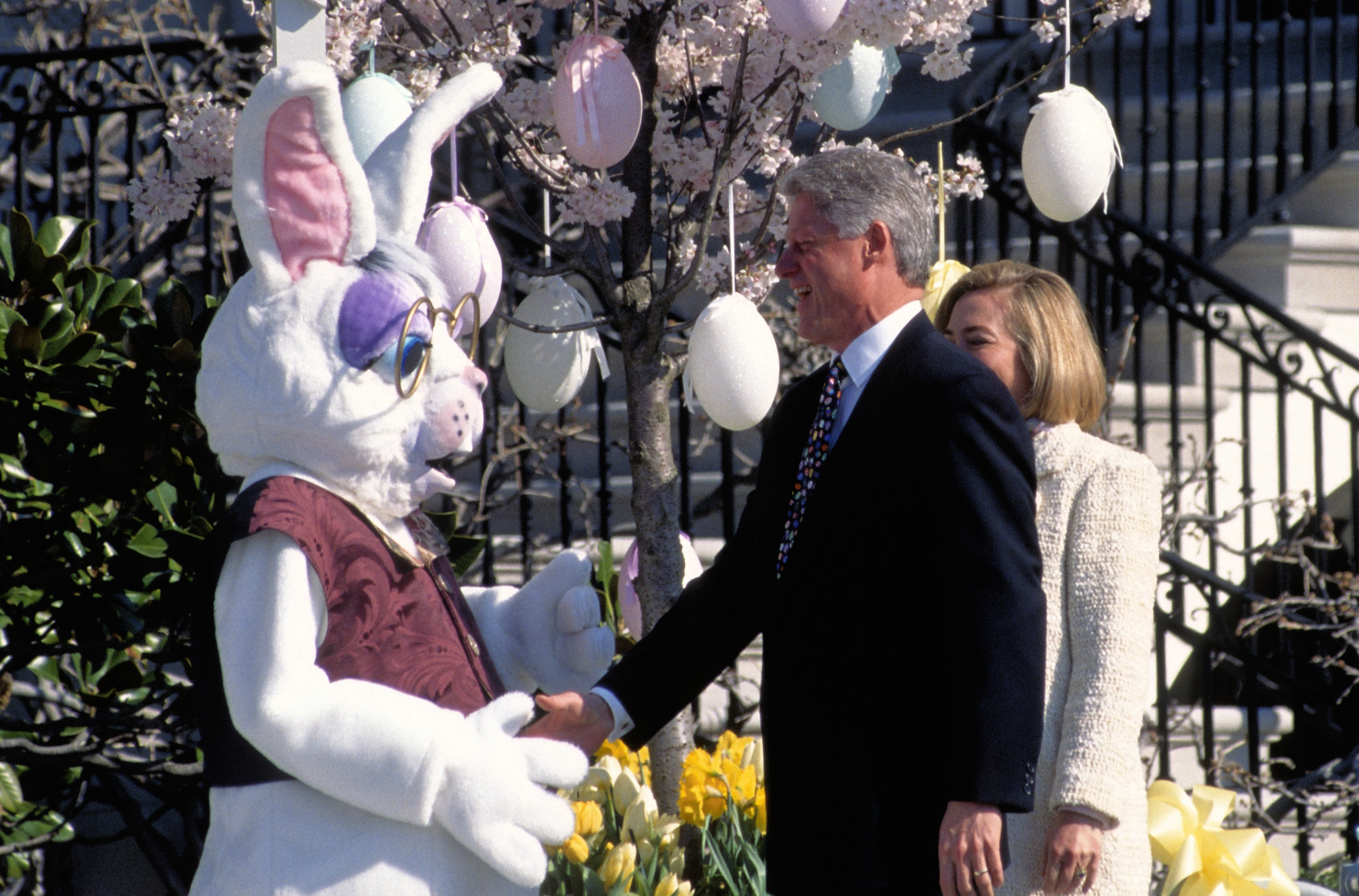 We won't spend too much time on this bunny, who appears to only have made one appearance with Clinton. What a flop!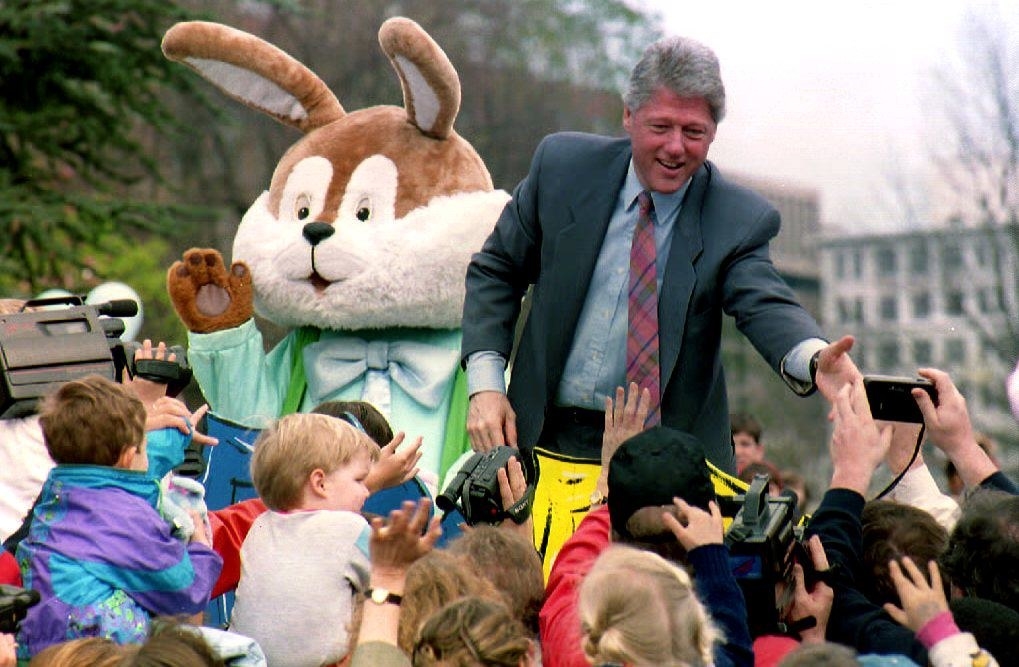 Meanwhile, these two nightmarish bunnies haunted the administration of George H.W. Bush.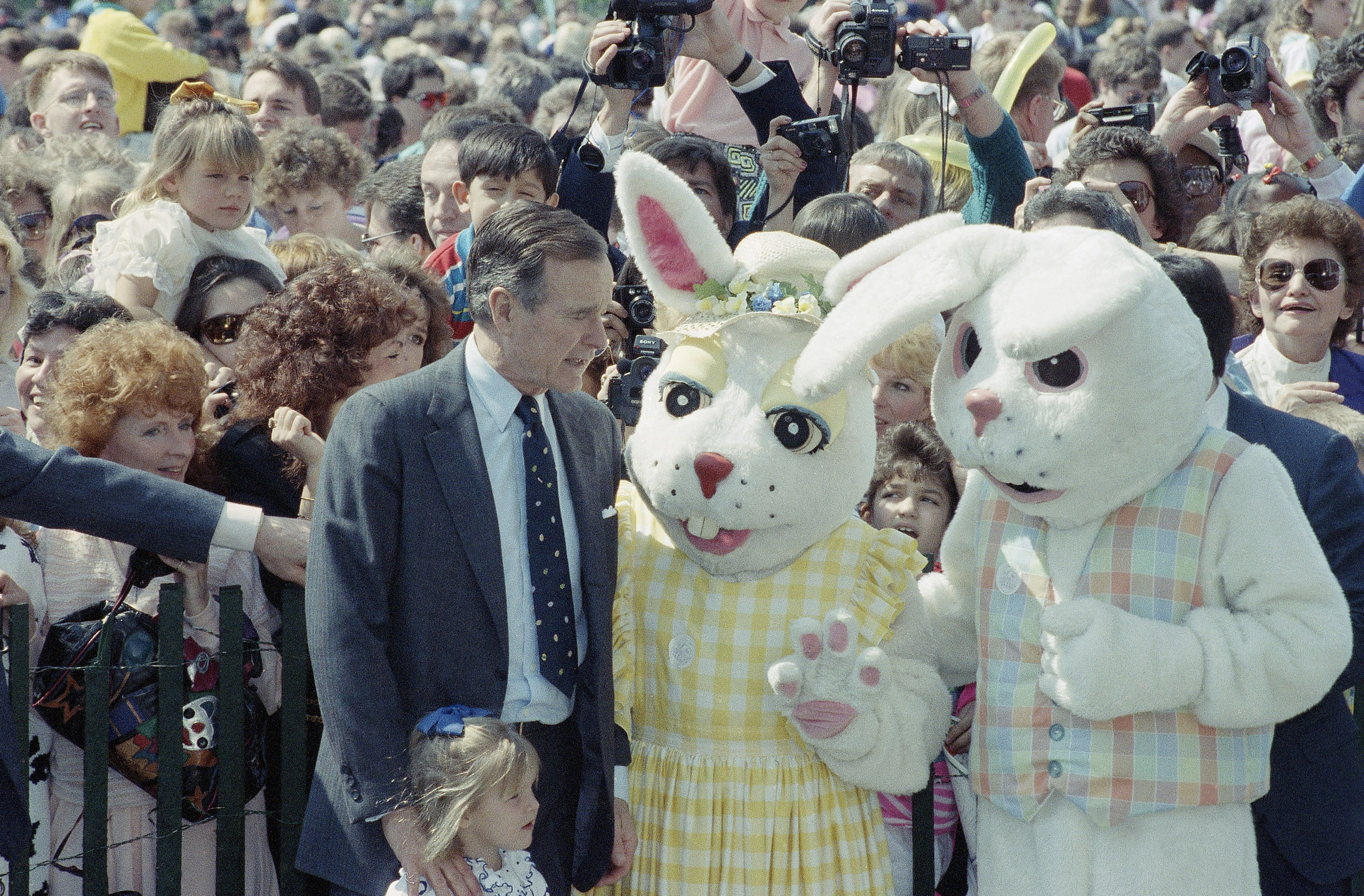 The one on the right appears to have first been introduced to terrify children by Nancy Reagan, as this 1981 photo shows.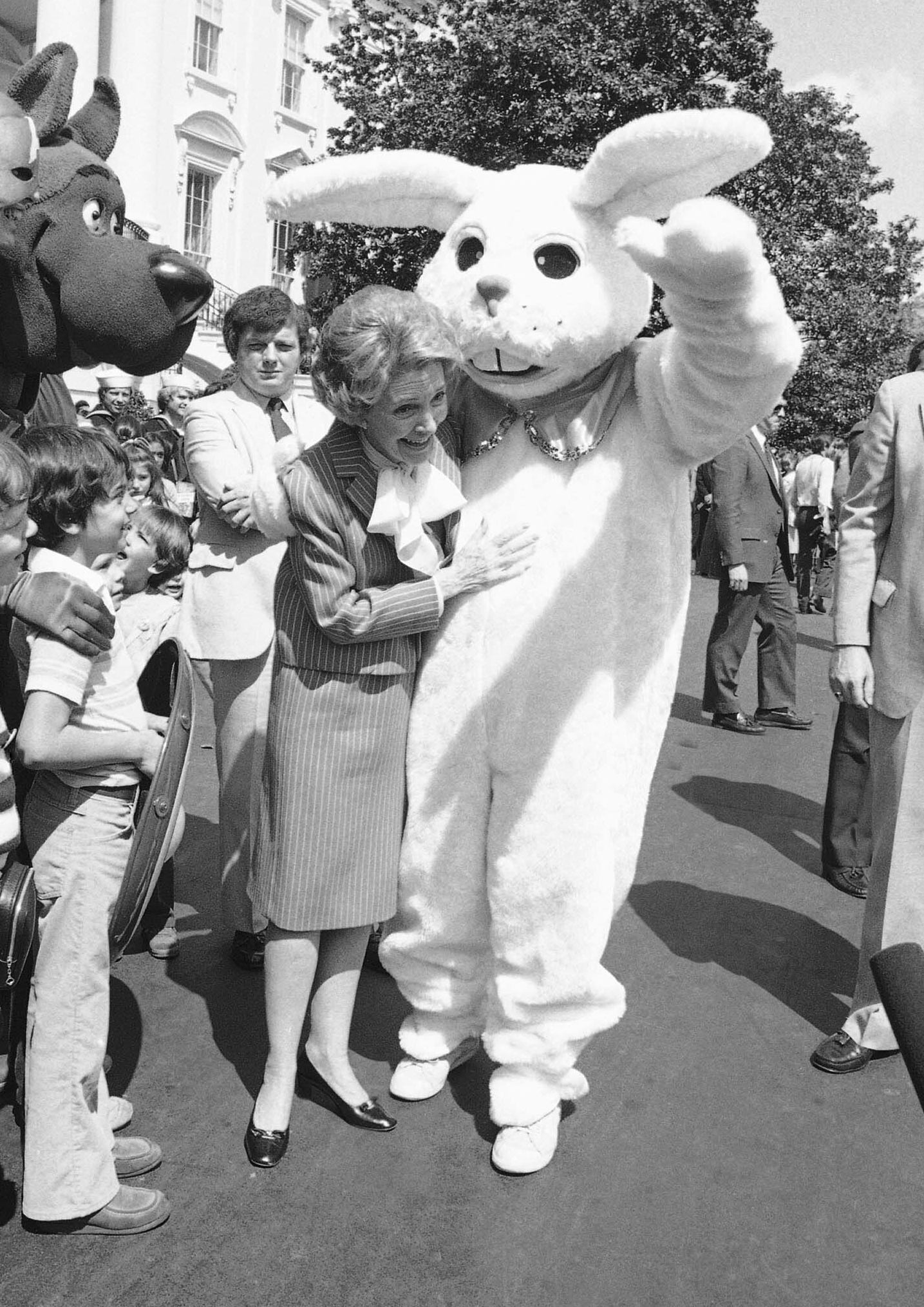 But really, she was doing the country a favor because just look what the Nixon administration wrought on the American people.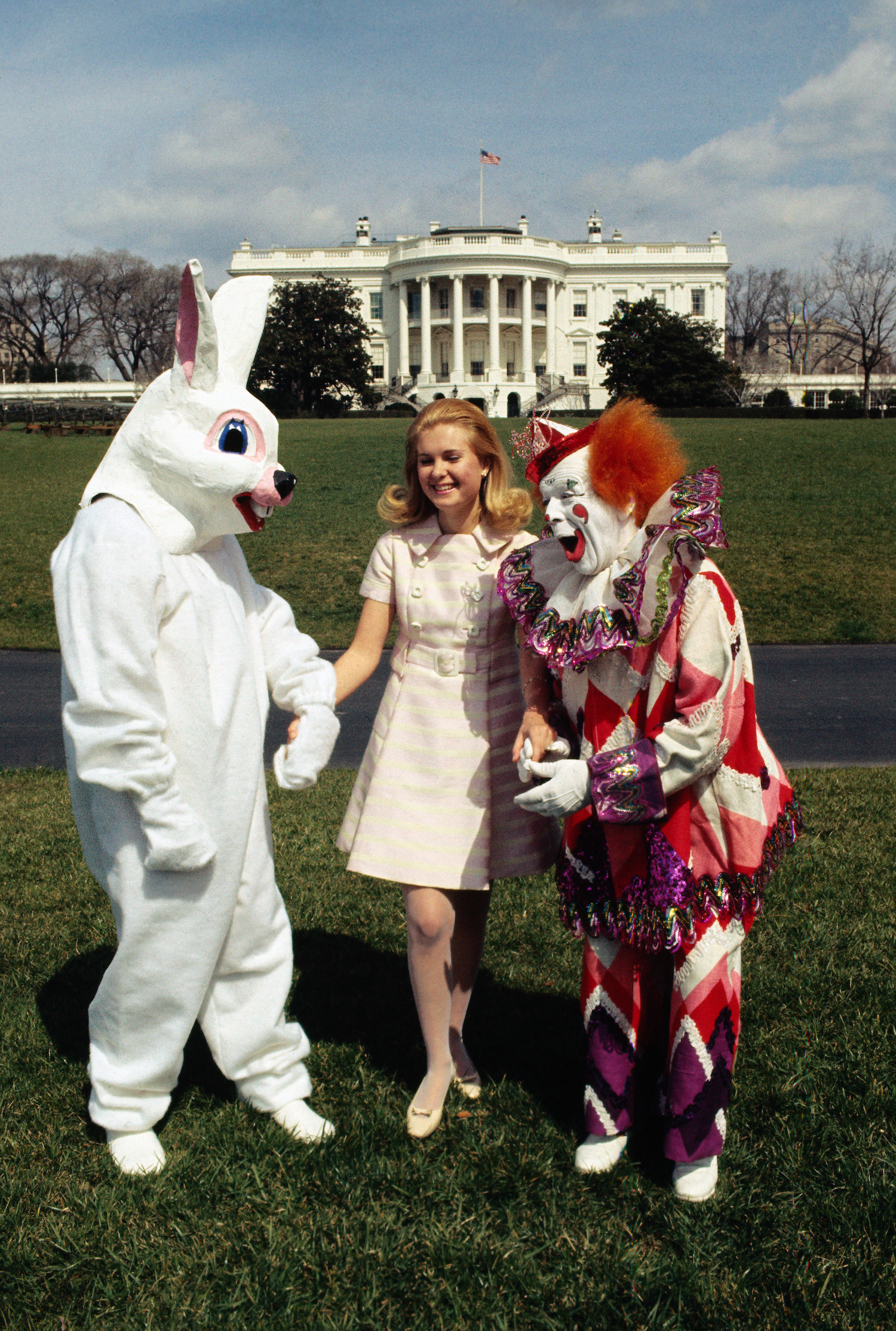 Yes, that's former first daughter Tricia Nixon in 1970 doing what appears to be a summoning circle outside the White House with the bunny from Donnie Darko and Pennywise the Clown.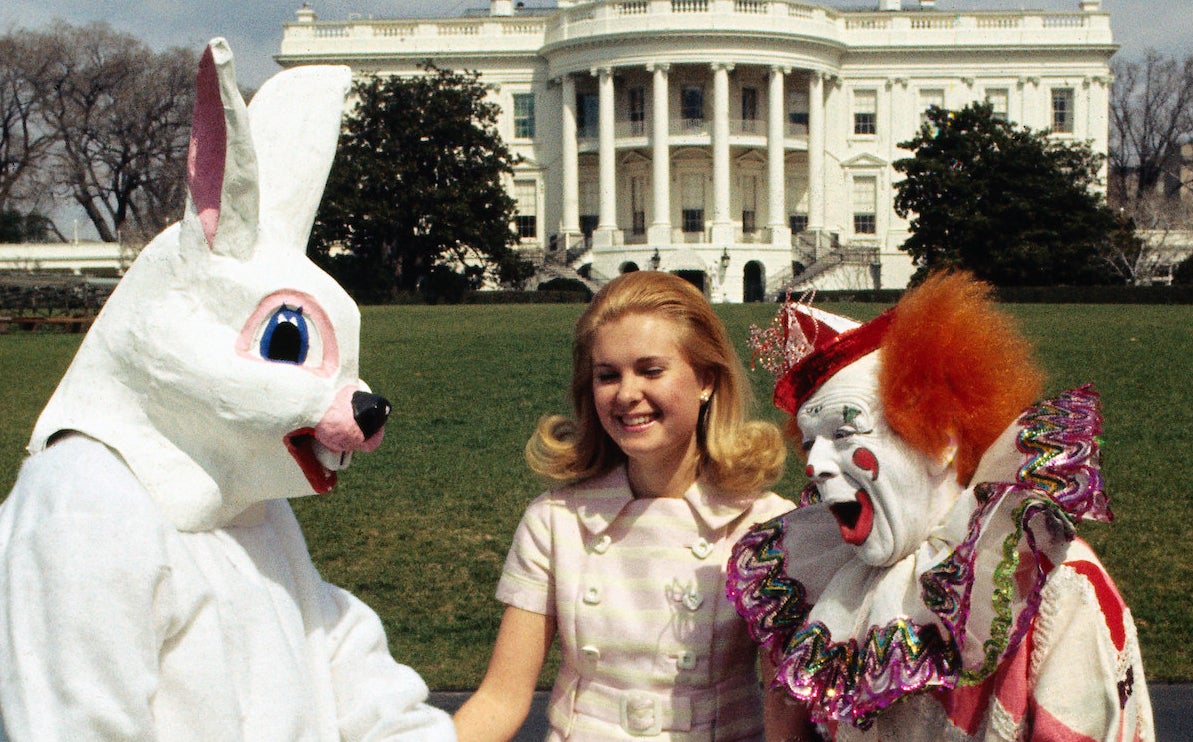 So by my count, that's seven human-sized bunnies (if we're being generous and including that last monstrosity) throughout White House history.
I can't exactly tell you what the point of all this was, but I assume if you made it to the end of this story you probably look like this now.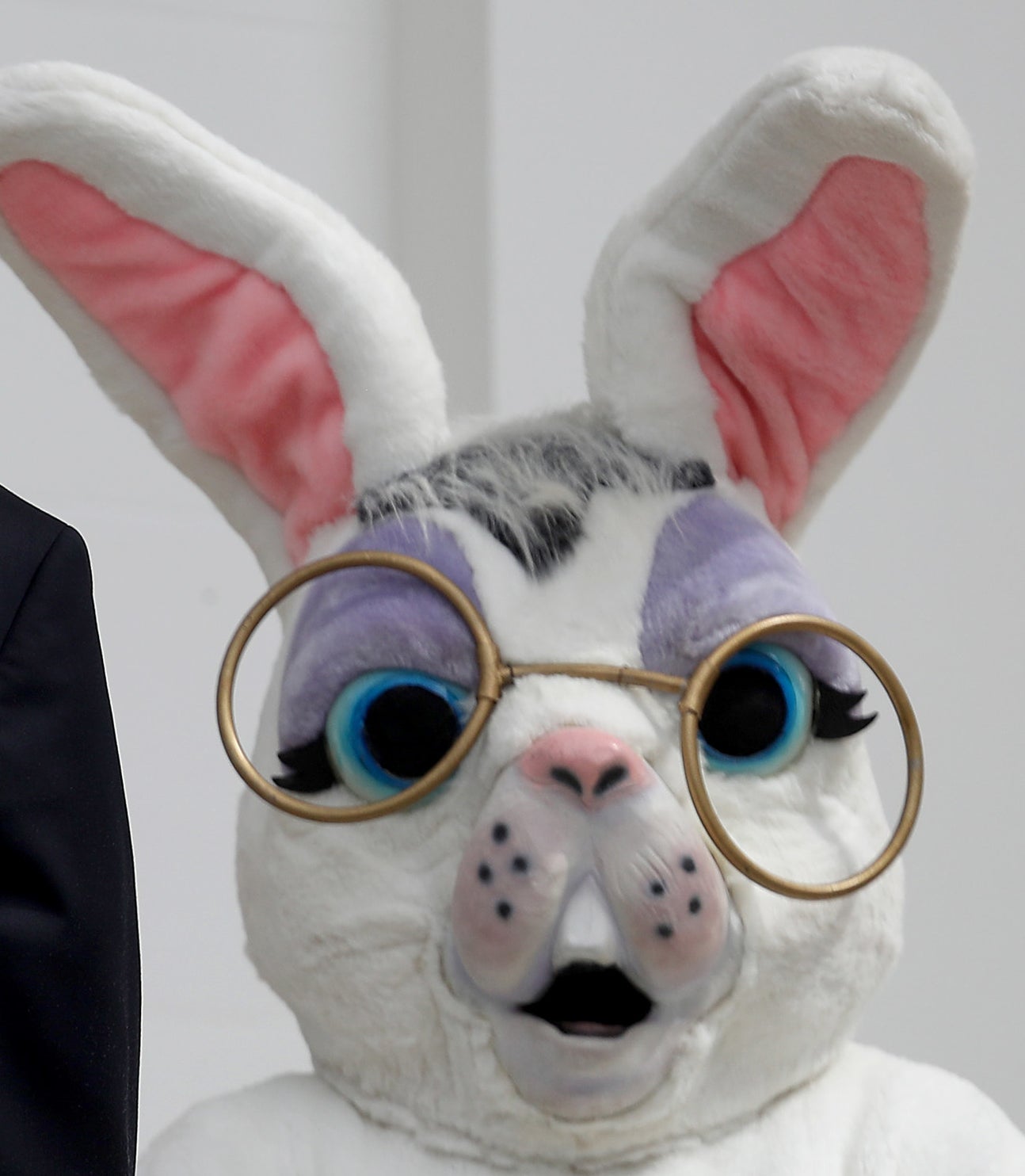 UPDATE
After this story was published, two friends of a late Ohio costume store owner reached out to BuzzFeed News to solve the mystery of the bunnies. John Schenz of Cincinnati began making the bunnies for the White House event back in the 1980s and traveled every year to DC for the Egg Roll, costumes in tow.
He did this until his death from lung disease in 2020 — the same year the event was canceled because of the pandemic.
Reached by phone, a friend of the late costumer told BuzzFeed News that he and two other of Schenz's associates are now carrying on with the tradition in his memory. (This person asked that they all remain anonymous in order to keep attention on Schenz.)
The bunnies were never owned by the White House, nor did taxpayers ever pay for Schenz to rent them to the government for the event.
Instead, he commuted at his own expense each year because he loved the joy they brought people.
The three bunnies pictured on Monday — "Mama," aka the bunny with pink eyes and a purple dress; "Papa," aka the shocked bunny in glasses; and "Junior," the bunny with blue eyes — were all originally made by Schenz.
Schenz's three friends now store the costumes "in an undisclosed place close to DC."
This year's event was the first time all the bunnies had been at the White House without the late costumer.
"It was surreal, but it was also a lot of smiles," his friend told BuzzFeed News. "The Easter Bunny always makes everybody smile."