On Saturday morning, President Trump delivered the commencement address at the evangelical Liberty University, giving a long speech on faith, football, and following your dreams to a supportive crowd.
On Saturday afternoon, he then tweeted the word "We."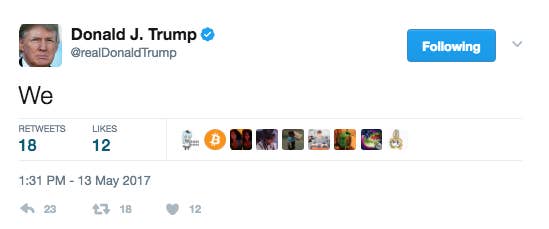 The accidental tweet was deleted within a few minutes.
But not before the good people of Twitter dot com took notice and responded like the responsible adults they are.
Some wondered from where Trump sent the tweet.
Others thought he might be doing some light reading.
But others were thinking of how press secretary Sean Spicer might spin this one.
Some anti-Trumpers interpreted the president's words (word) in their own way.
But a ton of people just responded with song lyrics.
Eventually Trump tweeted some promo for a Saturday night interview on Fox News. It seems he was probably trying to type the word "Will."
But even that tweet got trolled.
In conclusion, Dear Twitter: