"France Is At War," Hollande Says, As He Announces New Efforts To Fight ISIS
"Terrorism won't destroy the Republic, because the Republic will destroy terrorism," French President François Hollande vowed in a rare address to Congress.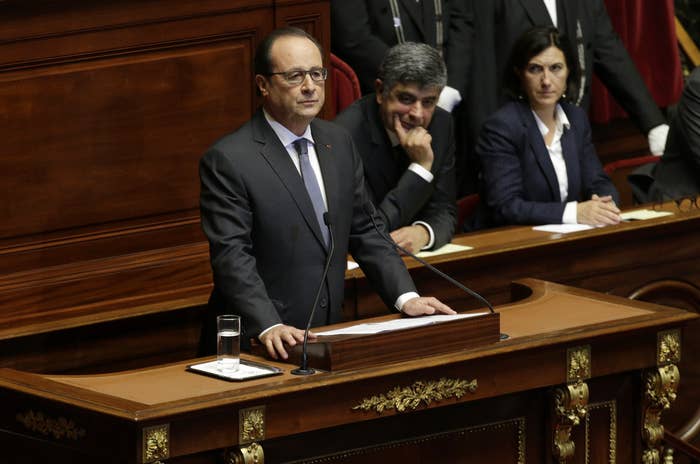 French President François Hollande on Monday called for a global coalition to come together in the fight against ISIS, saying his country needed to strengthen both its security and its laws in the aftermath of last week's deadly terrorist attacks in Paris.
"France is at war," Hollande said in an address in Versailles to an extraordinary session of Congress, comprising members of both the upper and lower houses of parliament.
"We are not in a war of civilizations. These assassins don't represent a civilization. We are at war with jihadist terrorism which threatens the whole of the world and not only France," he said.
The French leader said his country was in mourning after ISIS terrorists killed at least 129 people and injured more than 350 in scattered gunfire and bomb attacks against Parisian bars, restaurants, a stadium, and a concert hall on Friday night.
"The faces of the dead, of the injured, of their families, haunt my mind. This memory feeds my unwavering resolution and yours too," he told lawmakers.
Hollande announced he would be formally requesting the Congress approve a three-month extension of the state of emergency he declared in the immediate aftermath of Friday's attacks. He said he hoped the measure would be approved by lawmakers by the end of the week.
Authorities have already placed more than 100 people under house arrest and carried out some 168 searches since the state of emergency was declared.
"But beyond the three month period, we must be in a state of law to fight terrorism," Hollande said.
The French constitution, he said, would need to be modified to better enable authorities to respond to the threat posed by terrorism. Hollande argued French citizens with dual nationality who were convicted of terrorism offenses should be stripped of their citizenship, while saying authorities should be able to block dual-nationals returning to France if they posed a terrorist threat.
"We know, and it is cruel to admit, that French people killed other French people on Friday," he said of the attackers.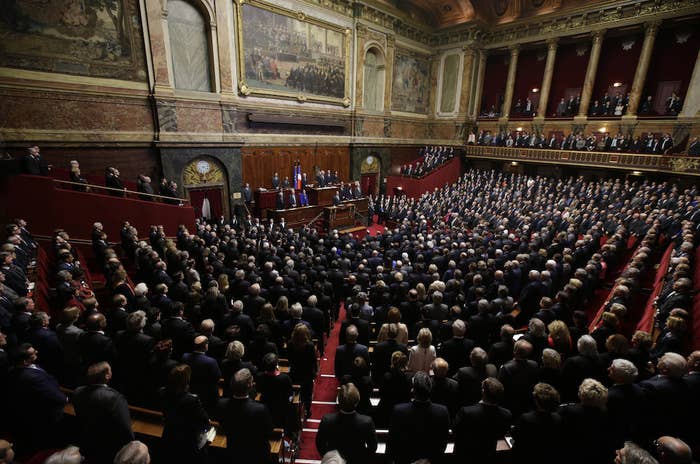 Hollande criticized what he said was a fractured and incoherent international response to fighting ISIS, announcing he would meet with Presidents Vladimir Putin and Barack Obama to "unite the strength" of France, Russia, and the United States.
He also announced he would request the U.N. Security Council convene to adopt a special resolution condemning terrorism as evidence of the international coalition against ISIS.
Describing war-torn Syria as "the biggest manufacturing center of terrorists in the world," Hollande said he would send more French fighter jets to Syria to continue airstrikes launched Sunday against ISIS targets in retaliation for the Paris attacks.
But, he said, France must not turn away those fleeing violence in Syria and other war-torn areas, as has already been demanded by the far-right Front National party. "They are the victims of the same terrorist systems and that's why we should welcome those who have a right to asylum," he said.
Additionally, the president announced measures to boost anti-terrorism efforts on the home front, with 5,000 news jobs to be created within two years in the police force and National Gendarmerie, a division of the defense department, as well as 2,500 new roles in the justice department. Further, Hollande said there would be 1,000 more personnel recruited to work at France's borders, pledging to make no job cuts in defense until 2019.
"In my determination to fight terrorism, I want France to stay herself, and for the barbaric people who attack her and want to disfigure her not to succeed," he said.
Hollande observed that many of those people killed were young people out enjoying themselves at bars or restaurants the end of the working week. "What crime had they committed?" he asked. "Their crime was simply being alive."
"Terrorism won't destroy the Republic, because the Republic will destroy terrorism. Vive la République et vive la France," he concluded, as lawmakers from across the political spectrum rose to their feet in applause before breaking into a rendition of the national anthemn, "La Marseillaise."
"Arise, children of the Fatherland, the day of glory has arrived," they sung. "Against us tyranny's bloody banner is raised."