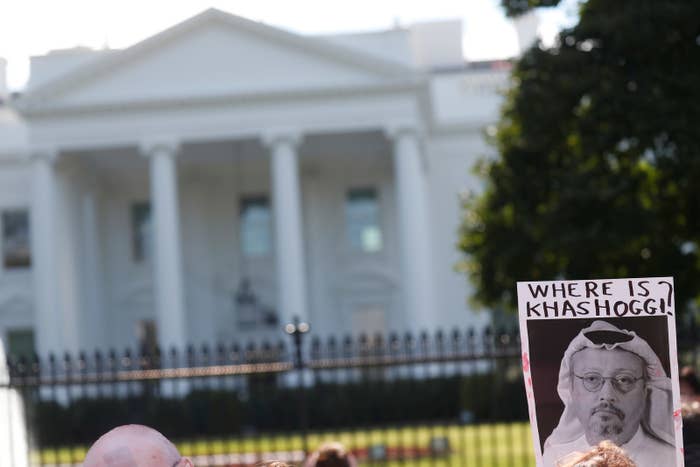 Saudi Arabia's explanation for the death of newspaper columnist Jamal Khashoggi is "utterly devoid of credibility" and designed to shield the country's powerful crown prince from blame, Khashoggi's former employer said Saturday.

The editorial board of Washington Post, which published columns penned by Khashoggi, said Saudi Arabia had concocted a "fable" by announcing late Friday that the journalist had been killed when a fight broke out between him and officials who had been sent to meet him at the Saudi Consulate in Istanbul, where he was trying to obtain documents for an upcoming marriage.
"The new Saudi cover story is contradicted not just by evidence collected by Turkish authorities and by journalists but also by the reporting of the U.S. intelligence community," the Post's editorial read.
The Saudi account of Khashoggi's death differs from the conclusions drawn by Turkish investigators, who have said that he was deliberately killed by a team of assassins dispatched to Saudi Consulate. According to the Washington Post, CIA officials have listened to an audio recording that Turkish officials say proves Khashoggi was killed and dismembered minutes after entering the consulate on Oct. 2 by a team of assassins. Eighteen Saudi nationals have been arrested, officials said.
Speaking to reporters Sunday, President Donald Trump denied that US officials had heard the audio recording of the attack, calling it a "false report."
"So far we've heard about it, but nobody's seen it," the president said. "We've heard all about it. We're hearing about it just like you're hearing about it."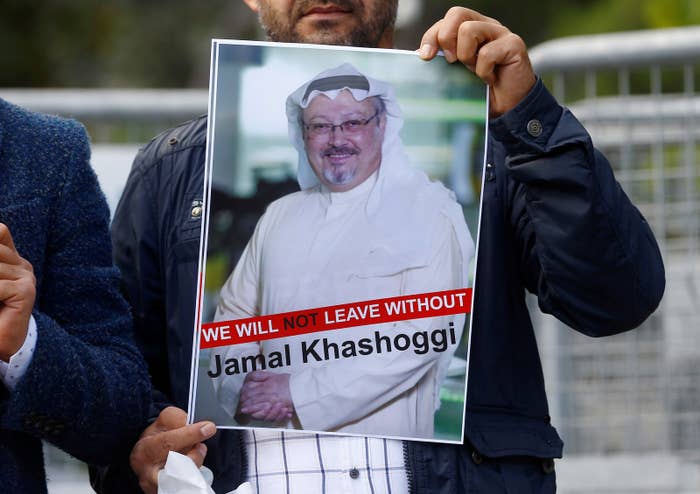 Trump, who has said he does not want to jeopardize a lucrative arms contract with Saudi Arabia, told reporters on Friday he found that country's explanation credible.

"Saudi Arabia has been a great ally. But what happened is unacceptable," he said. Trump also described the mass arrests of Saudi nationals as a result of the Saudi investigation into Khashoggi's death as a "big first step."
But Khashoggi's editor at the newspaper, Karen Attiah, told CNN it was ludicrous to think the 60-year-old, bespectacled, "very kind, gentle man" would have tried to fight 15 men.
"No, that was not a fight," she said. "That is, if anything — if we're going to give any credence to this — it's a setup and an ambush, frankly, at the hands of Saudis at a consulate."
"It just lacks all credibility," she continued. "It's insulting, insulting to any thinking person's intelligence."

Tweeting on Friday night, Attiah was even more direct with her thoughts on the Saudis' sudden explanation after two weeks of silence.
In a statement, the Washington Post's CEO and publisher, Fred Ryan, said the Saudis had put forward no proof and had instead "repeatedly offered one lie after another."

"This is not an explanation; it is a coverup," he said.
And the paper's editorial board, which operates independently from the paper's newsroom, called the Saudi explanation was a "blatant coverup exercise" designed to shield Crown Prince Mohammed bin Salman from blame. The newspaper called for an UN-led international investigation into the death.

US allies in Europe also pressed for a deeper, more transparent probe Saturday, with German Chancellor Angela Merkel calling the Saudi explanation of what transpired in the consulate "inadequate."
"We condemn this act in the strongest terms," Merkel said in a joint statement with German Foreign Minister Heiko Maas. "We expect transparency from Saudi Arabia about the circumstances of his death ... The information available about events in the Istanbul consulate is inadequate."

The high representative for the European Union similarly described the circumstances surrounding the journalist's death "deeply troubling," particularly the "shocking violation of the 1963 Vienna Convention."
"Therefore the European Union, like its partners, insists on the need for continued thorough, credible and transparent investigation, shedding proper clarity on the circumstances of the killing and ensuring full accountability of all those responsible for it," the EU statement said. "The memory of Jamal Khashoggi, the family of the journalist as well as his friends deserve justice."
French officials echoed those sentiments in their own statement Saturday, condemning the apparent murder of Khashoggi and imploring Saudi leaders to conduct an honest investigation into the circumstances surrounding his disappearance.
UPDATE
In a phone interview with the Washington Post on Saturday night, Trump was more critical of Saudi Arabia, saying, "obviously there's been deception, and there's been lies."
Still, the president defended the Gulf Nation as an "incredible ally" and said he's not yet convinced the crown prince was to blame.
"Nobody has told me he's responsible. Nobody has told me he's not responsible. We haven't reached that point . . . I would love if he wasn't responsible," he said.