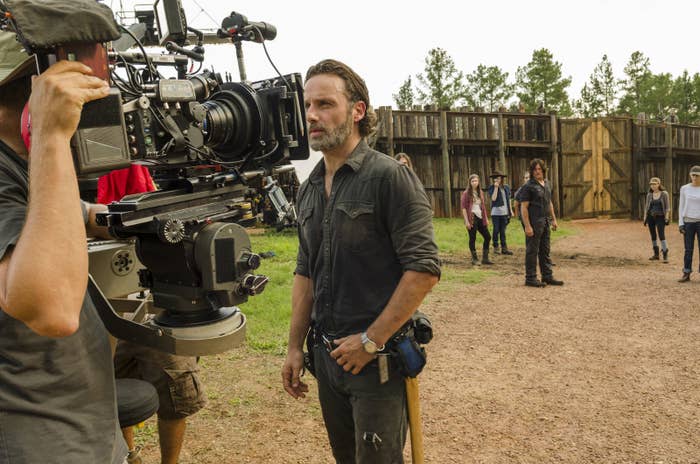 A stunt performer who was injured on the Georgia set of AMC's popular zombie show, The Walking Dead, has died.
John Bernecker died from accidental blunt force trauma on Wednesday evening, Coweta County coroner Richard Hawk told BuzzFeed News.
Bernecker and another actor were rehearsing a fight scene on a balcony when the stuntman lost his footing and fell 30 feet onto concrete, sources told Deadline Hollywood.
In a statement to BuzzFeed News, AMC said Bernecker's family had decided to take him off life support, following organ donation.
"We are deeply saddened by this loss and our hearts and prayers are with John's family, friends, and colleagues during this extremely difficult time," AMC said.
Scott M. Gimple, executive producer and showrunner of The Walking Dead, said the cast and crew were "heartbroken."

"John's work on The Walking Dead and dozens of other movies and shows will continue to entertain and excite audiences for generations," Gimple said. "We are grateful for his contributions, and all of us send our condolences, love, and prayers to John's family and friends."
Michael D'Aquino, a spokesman for the Occupational Safety and Health Administration (OSHA) in Atlanta, told BuzzFeed News officials had opened an investigation Friday into Bernecker's death.
According to his IMDb page, Bernecker had been performing stunts in film and television since 2009, having worked on big-name projects including Get Out, The Fate of the Furious, Logan, The Hunger Games, and 22 Jump Street.
He performed as a stunt double for Will Ferrell in 2015's Get Hard, as well as for Kellan Lutz in 2015's Extraction.
Lutz was among those paying tribute to Bernecker on Twitter on Friday.