Last week, a guy stopped Reynolds in a Starbucks and asked him if he knew he was famous online. "I was like, 'Yeah, yeah. I know,'" he told BuzzFeed News. "I can't believe this is coming back again."
You see, Reynolds is a big meme online because when he sports a full beard, he looks EXACTLY like the famous painter Vincent van Gogh.
"Since the first day I decided to grow a beard in 2010 I've had people asking me, 'Has anyone ever told you you look like Vincent van Gogh?'" Reynolds said.
"I remember the first time I was like, 'No, never,' but then it was all the time."
It all started in April when he was riding the New York City subway with his husband and someone snapped a photo of them and uploaded it to Reddit.
The creepshot went insanely viral, notching up more than 2 million views on Imgur and finding its way on to Twitter.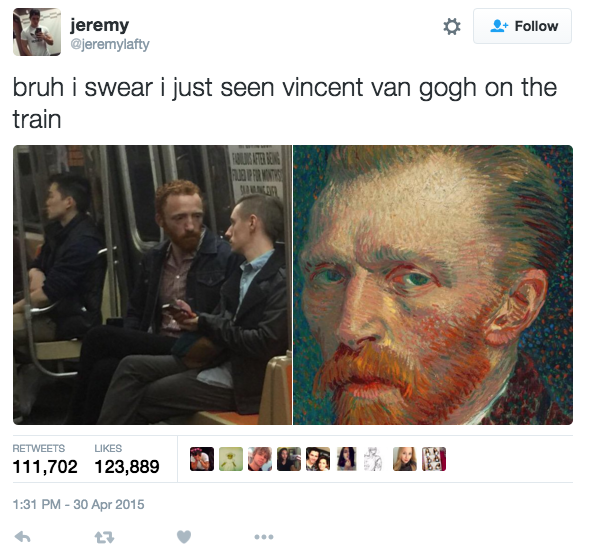 For a short while, Reynolds' name was all over the media.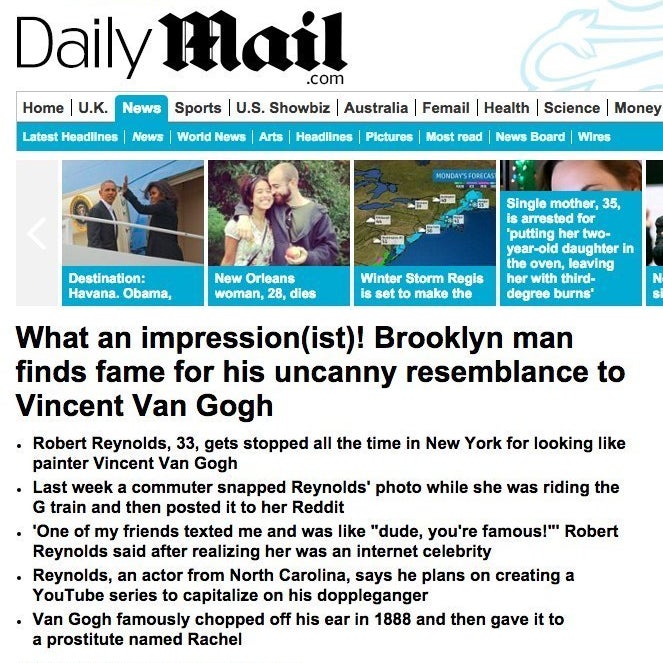 Seizing his moment, Reynolds embraced his Van Gogh resemblance.
One episode even pokes fun at the creepshot that sparked his viral fame.
Eventually all the craziness died down and Reynolds even shaved off his beard.
But then last week, when Reynolds tweeted about his Starbucks experience, the whole thing blew up yet again.
As an actor, Reynolds said he's happy to embrace his online fame: "I kind of feel sorry for the guy who took the picture because I was on TV all over the world, and he didn't get any notoriety out of it."
He says he's glad people who missed out on the fun story the first time get to enjoy it now, and he doesn't expect people to stop taking creepshots of him anytime soon.
"I was home for Christmas in North Carolina and we were at a bar in small town and one of my friends kind of looked at me and said, 'I think that lady at the bar is taking our picture,' and my husband looked and said, 'Oh no. She's taking Robert's picture.'"