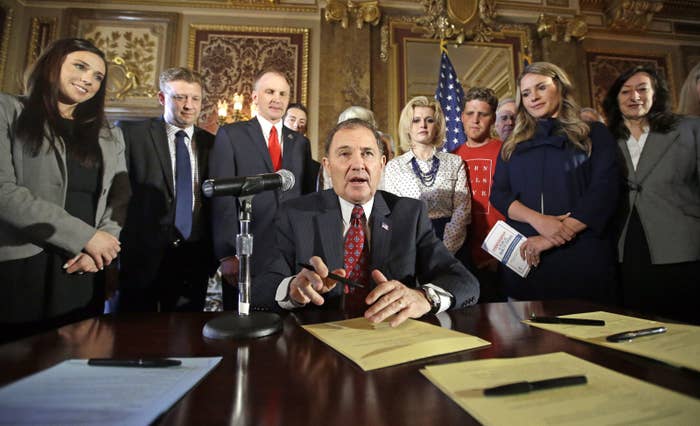 Utah's governor on Tuesday signed a bill declaring a public health crisis in his state caused by pornography.
At a ceremony in Salt Lake City, Gov. Gary Herbert said the bill, which is a non-binding resolution and has no practical effect, was intended to sound "a voice of warning" to "the real health risks associated with viewing pornography."
"People generally know about the dangers of drugs and alcohol that can be found out there that tempt our youth...but we also want our young people to know that there are particular psychological and physiological detriment that comes from addiction to pornography, too," Herbert said.
The resolution also states that pornography "perpetuates a sexually toxic environment," is contributing to the "hypersexualization of teens," and "is linked to lessening desire in young men to marry, dissatisfaction in marriage, and infidelity."
Republican Sen. Todd Weiler, who sponsored the bill, told reporters porn was a plague in society.

"We need to recognize this is one of many health crises that we're facing," Weiler said. "It's time that we stand up and take back our communities."
Weiler criticized fast-food restaurants and public libraries for providing free WiFi to children, allowing them to view pornography online.
"If a library or McDonald's or anyone else was giving out cigarettes to our children or anyone else we would be picketing them, and yet our children are accessing pornography on their tablets at their sites and we seem to be OK with that," he said.
Brigham Young University professor Brian Willoughby said he hoped the resolution would spark a broader public conversation on pornography.

"Numerous studies have now connected pornography use to lower mental health outcomes, lower relationship wellbeing, and detrimental expectations about sex and sexual intimacy," he said.
The governor also signed a bill requiring computer technicians to report any child pornography discovered while fixing a computer.