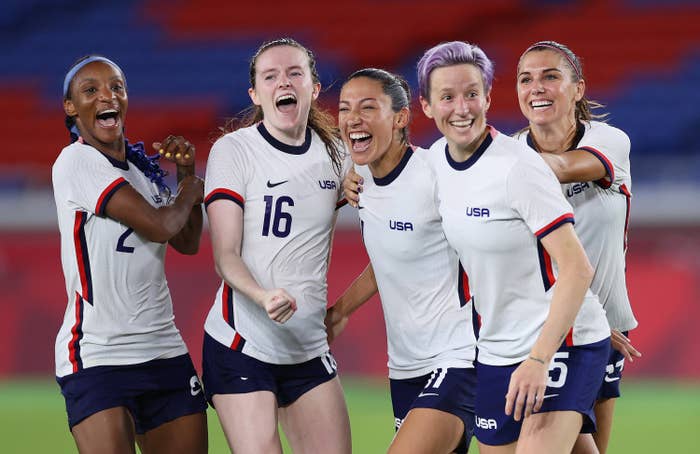 US Soccer and the US Women's National Team (UWSNT) have reached a landmark agreement to end a long-running legal dispute over equal pay, the groups announced Tuesday.
Under the terms of the settlement, players on men's and women's teams will be paid the same at all future tournaments, including the World Cup.
US Soccer will also pay $22 million to several dozen current and former players on the UWSNT, as well as $2 million to a fund to support them in their post-career work and charitable efforts focused on women's soccer.
The settlement is contingent on the ratification of a new collective bargaining agreement for the USWNT.
"When we win, everyone wins!" midfielder Megan Rapinoe said on Twitter after the settlement was announced.
In a joint statement, the two groups said that while getting to this day had "not been easy" they were excited to continue advancing women's soccer.
The lawsuit had been a source of great tension between soccer officials, players, and fans for years. Cries of "Equal pay!" rang out through the stadium when the women's team won the 2019 World Cup. The following year, players turned their jerseys inside out during the national anthem in protest.
UWSNT players first filed an Equal Employment Opportunity Commission complaint in 2016 and then an equal pay lawsuit in federal court in 2019.
But a judge dismissed that claim in 2020, ruling they had insufficient evidence.
Tuesday's surprise agreement, then, represents something of an unexpected victory for the players as US Soccer is offering not only what is essentially backpay but also a commitment to equal pay going forward.
"This is just such a monumental step forward in feeling valued, feeling respected, and just mending our relationship with US Soccer," UWSNT player Alex Morgan told Good Morning America.
"It's a really amazing day," Rapinoe added. "I think we're going to look back on this day and say this is the moment that US Soccer changed for the better."