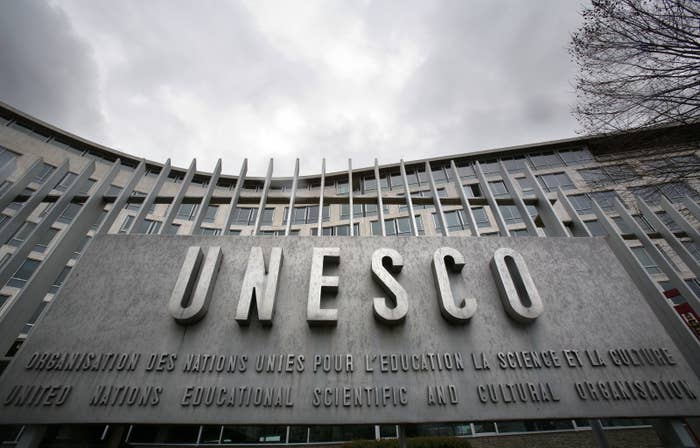 The Trump administration has chosen to withdraw the United States from the United Nations' cultural body, citing a "continuing anti-Israel bias" in the group, the State Department announced Thursday.
Israeli Prime Minister Benjamin Netanyahu subsequently announced his country would also leave the agency.
The US had stopped providing funding to the United Nations Educational, Scientific and Cultural Organization, or UNESCO, when members voted in 2011 to recognize Palestine as a member.
But on Thursday, the US notified UNESCO Director-General Irina Bokova of its intention to withdraw and instead establish a permanent observer mission.
"The decision was not taken lightly, and reflects US concerns with mounting arrears at UNESCO, the need for fundamental reform in the organization, and continuing anti-Israel bias at UNESCO," State Department spokeswoman Heather Nauert said in a statement.
The withdrawal will be effective on December 31, 2018.
UN Ambassador Nikki Haley said the decision was also in part due to UNESCO's "outrageous and politically based decision" to designate the Old City of Hebron and the Tomb of Patriarchs as being in Palestinian territory.
"The purpose of UNESCO is a good one," Haley said. "Unfortunately, its extreme politicization has become a chronic embarrassment."

Israeli Prime Minister Netanyahu said he had instructed his foreign ministry to prepare Israel's withdrawal from UNESCO in parallel with the US.
"I welcome President Trump's decision to withdraw from UNESCO," he said in a statement posted to Facebook. "This is a courageous and ethical decision because UNESCO has become a theater of the absurd and instead of preserving history, distorts it."
When UNESCO members voted to recognize Palestine as a member in October 2011, the US immediately stopped contributing the 22% of the agency's budget it had previously provided.

The Obama administration was highly critical of the 2011 vote, calling it a "premature" and "regrettable" move that complicated peace efforts between the Israelis and the Palestinians.
"There are no shortcuts [to Palestinian statehood], and we believe efforts such as the one we have witnessed today are counterproductive," then-US ambassador to UNESCO David T. Killion said.
UNESCO is most famous for its list of world heritage sites, but it also supports education and press freedom initiatives.
Nauert said the US wished to remain a non-member observer state "in order to contribute US views, perspectives, and expertise on some of the important issues undertaken by the organization, including the protection of world heritage, advocating for press freedoms, and promoting scientific collaboration and education."
President Ronald Reagan withdrew the US from UNESCO in 1984 amid claims the organization was overly bureaucratic and anti-American, but the country rejoined in 2003 under President George W. Bush.