The University of Michigan says it's "extremely disappointed" in the behavior of some of its students, after a video emerged showing an aggressive, profanity-laced verbal assault of an Uber driver.
In the video, which was uploaded on March 23 but garnered more than 150,000 views on Sunday, a group of young men identified as members of a U of M fraternity were filmed swearing repeatedly and hurling gay slurs at the driver, Artur Zawada, in Ann Arbor.
"You're not going to let us go?" a student can be heard asking at the beginning of the video as Zawada begins recording.
"You're canceling us again why? For what?" a man in a black, fur-lined jacket asks as he pulls out his own cell phone, before continuing:
They don't give a shit about you. They don't give two fucks. There's 50 of you, and there is one of me here. Who spends the most money, you little fuck?

Yeah, fuck you, Artur, you little faggot fuck. You wanna kick me off? Kick me off, you little piece of shit. You're an Uber driver. Go fucking drive, you little fuck. Minimum wage faggot. Go fuck yourself.

You're working all day? Guess what? I'm going to sit on my ass and watch TV. Fuck you.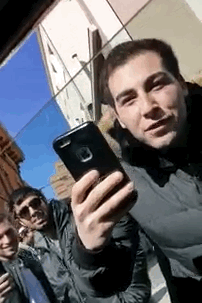 Zawada did not immediately return a request for comment from BuzzFeed News, but he told college news network The Tab he had driven the customer on previous trips that had gone badly.
"I already told him I would never take him again. He knew that but he didn't cancel the trip," he said. "I pulled in, I didn't even say anything to the guy, and that happened. So I pulled out my cell phone and recorded him. He should just have canceled before I came over. They were looking for trouble. They were hoping I would lose my cool."
Ann Arbor Police Sgt. Aimee Metzer told BuzzFeed News that Zawada had filed a complaint with police alleging he had been verbally abused on March 20 by Uber passengers.
In the complaint, filed on March 23, Zawada also said he had driven the man before.
Metzer said the police would keep the complaint on file.
Uber did not immediately return a request for comment on Sunday, but a U of M spokesperson told BuzzFeed News campus officials had seen the video.
"Our dean of students has talked with both the Uber driver and the students," the spokesperson said. "We are extremely disappointed in the behavior depicted in this video. No one should be treated with such disrespect."
The university spokesperson had no information on whether any disciplinary action was taken.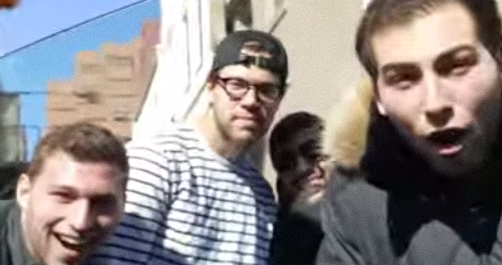 Campus newspaper the Michigan Review identified the man in the video wearing the black coat as Jake Croman, who is listed by the Tau Kappa Epsilon fraternity as a member of its U of M chapter.
Croman is the son of wealthy New York City real estate developer Steven Croman, and works as an associate at his father's company, according to his LinkedIn page.
A 2013 Getty photo of Jake Croman at a New York society function appears to match the man in the video.
Croman did not immediately respond to a request for comment.
Alex Baker, the chief information officer for Tau Kappa Epsilon, told BuzzFeed News the fraternity was investigating the video, but did not name Croman.
"We are extremely disappointed by the individual's demeaning words," Baker said.
"At the conclusion of our swift, thorough investigation, we will handle the situation with appropriate action. Depending on the details of the investigation, this could include the expulsion of membership."
The viral video was being widely discussed on Sunday at the U of M campus on the social media app YikYak.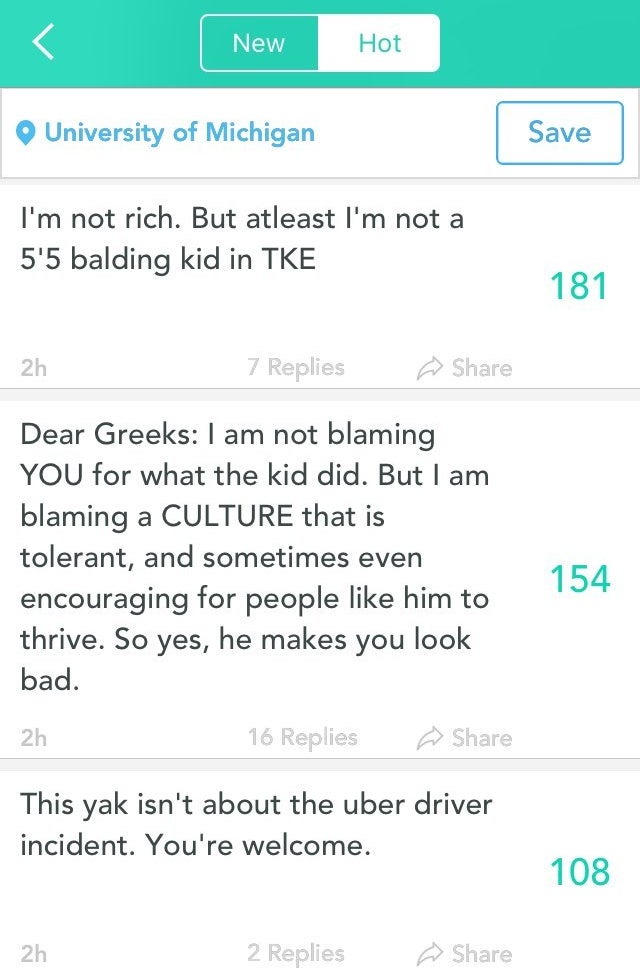 Zawada told The Tab it was the first time he had been treated so aggressively by a customer.
"I have lived in this country for 30 years," he said. "To see someone have complete disregard for another human being — to be abused just because they overloaded the car or they are mean or rude, I have to put a stop for it. I was shocked. I was just in disbelief."
UPDATE:
Following the publication of this story, Jake Croman provided the following statement to BuzzFeed News:
"This video shows one side of an argument I had with an Uber driver two weeks ago after he refused to pick me up on the basis of my religion. What you don't see in the video is that the driver had made a number of offensive anti-Semitic remarks that provoked my response. I am not proud of my reaction to his discrimination and I regret my choice of words. Shortly after the verbal altercation, I filed a complaint with the Ann Arbor Police Department and they are now dealing with the issue."
An Ann Arbor police spokesperson subsequently told BuzzFeed News they could not locate Croman's name in their reporting system.
Croman said he was unable to immediately provide a case number for his report, saying he was away from school.
Zawada did not immediately return a request for comment.
UPDATE
In a statement, Uber told BuzzFeed News it is investigating the incident.
"Any type of aggression or harassment is simply unacceptable and violates Uber's code of conduct for riders and drivers," a company spokesperson said. "We are looking into all the details as we investigate this incident and are in touch with everyone involved."
Both Zawada and Croman have had their access to the app suspended while the matter is investigated.
UPDATE
Croman on Monday afternoon provided a case number for a report he filed with Ann Arbor police.
A police spokesperson confirmed the report's existence and said Croman was one of several people whose name was listed as a complainant on the March 22 report for alleged disorderly conduct. The officer declined to provide further information on the report, citing confidentiality.
After providing the report number, Croman did not immediately respond to questions about what happened immediately prior to the incident in the video.
A communications manager then contacted BuzzFeed News, saying they represented the Croman family.