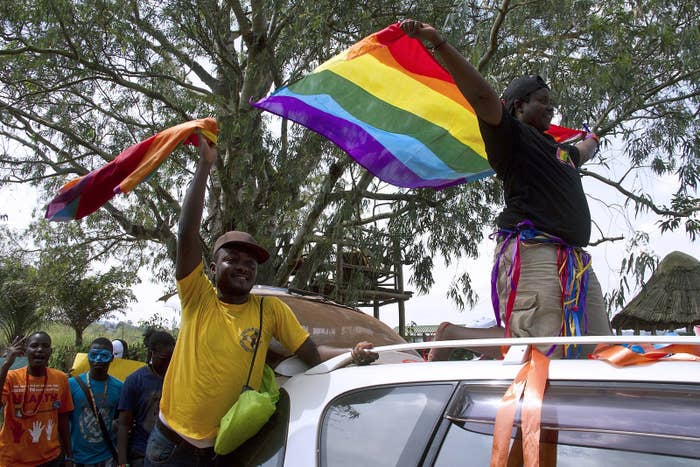 Police in Uganda have blocked LGBT people and their supporters from holding a pride parade, after the country's ethics minister warned such a demonstration would be illegal.
More than 100 people tried to convene on a beach in Entebbe on Lake Victoria but were ordered back into their minibuses by police and told to leave the area, human rights lawyer Nicholas Opiyo told BuzzFeed News.
"The police arrived at the venue before the event organizers," Opiyo said.
After being blocked at the first location, dozens of others were prevented by police from holding a second parade at another location, Kisubu beach.
One woman, Kasha Jacqueline Nabagesera, refused to leave the public beach, so police towed her car, Opiyo said.
LGBT leader Frank Mugisha told Agence France-Presse that one man jumped from a moving minibus and injured himself.

"They are traumatized," he said.

Some demonstrators said officers had been leading parade-goers back to a police station in Kampala, but Opiyo said "nobody has been formally arrested, as far as we know yet."
Homosexuality is illegal in the east African nation under a colonial-era law that prohibits "any act of gross indecency."

On Wednesday, Simon Lokodo, Uganda's minister for ethics and integrity, warned that demonstrators would be arrested and prosecuted.
"We wish to emphasize that whereas the promotion of homosexuality is criminalized under the Penal Code, there is no violence against the LGBT community in Uganda – contrary to some claims made loosely by proponents of this movement," he said in a statement, according to local publication The Insider.
Lokodo said the parade was designed to promote homosexuality to young people.
"We are aware that there are inducements, including money, being offered to young people to promote the practice," he said.
Lawyer Nicholas Opiyo said he believed the minister was unaware that parade organizers had formally notified police of their intention to hold a public gathering. "In terms of the legal procedure, they ticked all the boxes," he said.
Pride parades have been held in Uganda for the past few years without incident, after the country's constitutional court overturned an anti-LGBT law in 2014.
However, organizers canceled a pride parade in August after a meeting between Opiyo and Minister Lokodo.
"We decided to suspend it because of the risks to personal safety," Opiyo told BuzzFeed News in August. "The minister threatened to mobilize a mob and a large police group to beat up anyone who shows up for pride."
Also in August, police raided a transgender pageant in Kampala, detaining several well-known activists, including Mugisha, before releasing them without charge.