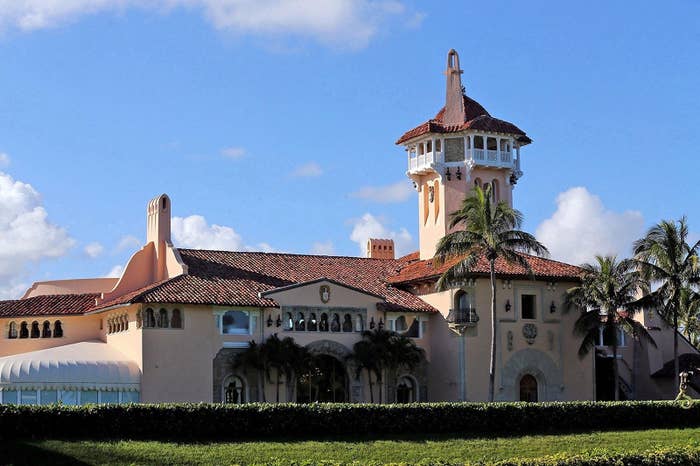 Authorities discovered 184 documents bearing classified information in boxes that Donald Trump returned to national archives representatives in January of this year, prompting investigators to seek a search warrant of the former president's Florida estate to uncover more top secret records, according to an extraordinary FBI affidavit that was unsealed on Friday.
"There is probable cause to believe that additional documents that contain classified [national defense information] or that are Presidential records subject to record retention requirements currently remain at the premises," an FBI agent wrote in the Aug. 5 affidavit. "There is also probable cause to believe that evidence of obstruction will be found at the premises."
There had been great anticipation ahead of Friday's release of the affidavit from political and media observers who hoped the sworn statement prepared by the FBI in support of their warrant request could shed light on the Department of Justice probe into Trump and the dramatic surprise search of his Mar-a-Lago club earlier this month.
Due to the extraordinary public interest in the case, Judge Bruce E. Reinhart with the US District Court for Southern Florida had ordered on Thursday that the document be released with some redactions in order to protect the identities of witnesses and law enforcement, as well as the strategies, direction, scope, sources, and methods of the ongoing investigation.
The affidavit was indeed unsealed with extensive redactions throughout, with whole pages often masked by black lines.
But it also laid out a clearer sense of the timeline of the probe into Trump and his handling of classified documents, as well as the nature of the top secret information.
Trump — whose successful 2016 White House run was due in part to his extensive attacks on Hillary Clinton's handling of classified information when she was secretary of state — is under investigation for taking top secret documents with him when he left the White House and then failing to return them when requested.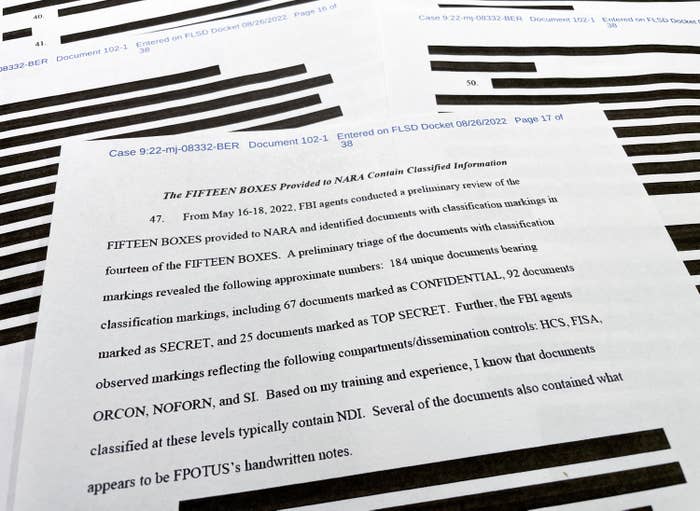 Per the affidavit, the FBI began investigating after officials with the National Archives and Records Administration (NARA) referred the matter to them on Feb. 9 of this year. That came after NARA received 15 boxes of records from Trump at Mar-a-Lago that contained "highly classified documents intermingled with other records."
The FBI said they began an investigation into how the documents came to be removed from the White House and stored at Mar-a-Lago and whether any others remained there.
In a section titled "Boxes Containing Documents Were Transported from the White House to Mar-a-Lago," the affidavit also mentions a CBS Miami news article from Jan. 18, 2021, noting that at least two moving trucks were spotted at Mar-a-Lago in the final days of Trump's presidency.
NARA officials said they had been making continued requests to Trump's representatives since May 6, 2021, to have presidential records returned. This continued for at least six months.
When they did finally receive the 15 boxes in January, officials told the FBI they contained "newspapers, magazines, printed news articles, photos, miscellaneous print-outs, notes, presidential correspondence, personal and post-presidential records, and 'a lot of classified records.'"
"Of most significant concern," the NARA officials said, "was that highly classified records were unfolded, intermixed with other records and otherwise unproperly [sic] identified."
When the FBI reviewed these boxes in May, they identified 184 classified documents in 14 of the 15 boxes, each marked with varying levels of classification.
Some 67 of the documents were marked as confidential, 92 were marked as secret, and 25 were marked as top secret. These three levels of classification refer to documents that could reasonably result in damage to US national security, with the latter two classifications denoting documents that could cause "serious" and "exceptionally grave" damage.
They also found documents that were marked because they concerned intelligence gathering, including some that involved monitoring foreign governments and others that were derived from "clandestine human sources," or undercover spies.
Trump's handwritten notes were also among the documents.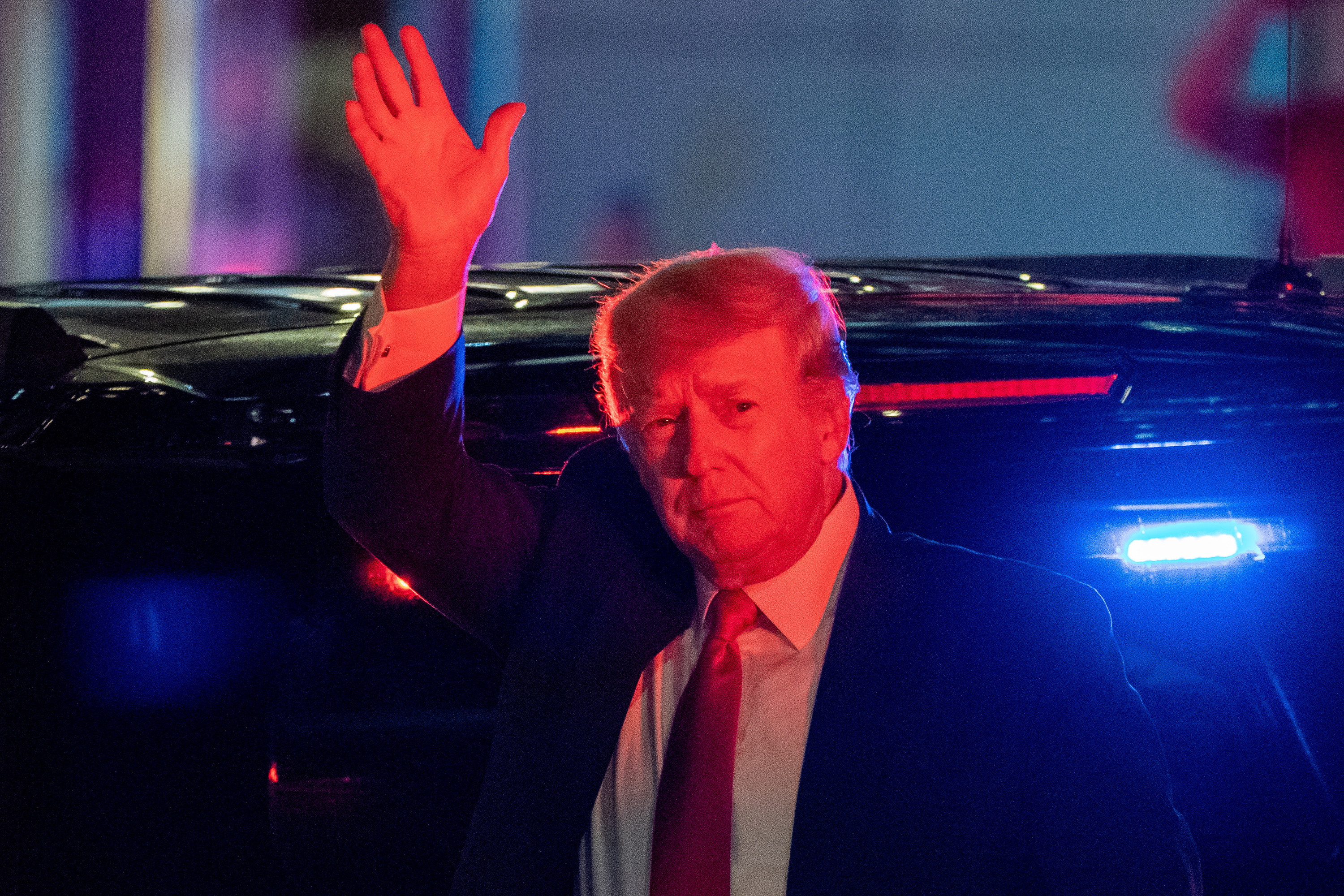 On June 8 of this year, DOJ lawyers wrote to Trump's lawyers to once again reiterate that Mar-a-Lago was not an authorized storage location for such classified information as the documents that had been removed from the White House.
"They have not been handled in an appropriate manner or stored in an appropriate location," they wrote. "Accordingly, we ask that the room at Mar-a-Lago where the documents had been stored be secured and that all of the boxes that were moved from the White House to Mar-a-Lago (along with any other items in that room) be preserved in that room in their current condition until further notice."
Trump's lawyers confirmed receipt of that request the next day.
The FBI said in the affidavit that they believed the documents could be located in a storage room at Mar-a-Lago, as well as Trump's residential suite, his office, the Pine Hall antechamber, and "other spaces."
"Based on the foregoing facts and circumstances, I submit that probable cause exists to believe that evidence, contraband, fruits of crime, or other items illegally possessed... will be found at the premises," wrote the FBI special agent, whose name was redacted.
Two documents unsealed earlier this month — a search warrant and an FBI property receipt — revealed that the former president is being investigated by the Department of Justice for potential violations of the Espionage Act, mishandling government documents, and obstruction of justice.
Per the unsealed FBI receipt that detailed the items taken from the Trump estate during their subsequent Aug. 8 search, FBI agents removed 11 sets of classified documents, including some marked with the highest level of government classification. Other items seized included photos, the executive clemency grant to Trump ally Roger Stone, and a document with information on French President Emmanuel Macron.
In other documents unsealed on Friday related to the motion to release the FBI affidavit, the DOJ asked for that document to be redacted in order to "protect the safety of multiple civilian witnesses whose information was included throughout the affidavit and contributed to the finding of probable cause, as well as the integrity of the ongoing investigation."
The DOJ warned that witnesses could be "subjected to harms including retaliation, intimidation, or harassment, and even threats to their physical safety," noted that FBI agents who had already been identified in the proceedings had received violent threats, and said, "The government has well-founded concerns that steps may be taken to frustrate or otherwise interfere with this investigation if facts in the affidavit were prematurely involved."
Seeking to animate his supporters as he teases another White House run, Trump has sought to cast the Mar-a-Lago search as an "unnecessary, unwarranted, and unAmerican Break-In," per words he used in a statement this week.
"This Mar-a-Lago Break-In, Search, and Seizure was illegal and unconstitutional," Trump added, "and we are taking all actions necessary to get the documents back, which we would have given to them without the necessity of the despicable raid of my home, so that I can give them to the National Archives until they are required for the future Donald J. Trump Presidential Library and Museum."
Despite Trump's blustering claims, the FBI search was not illegal or unconstitutional, as investigators had successfully sought legal permission from the federal judge to search the property.
In a statement Trump released on Truth Social, the social media platform he started after being booted from others over the Capitol insurrection, Trump complained the affidavit was heavily redacted and described it as a "total public relations subterfuge by the FBI & DOJ."
Sen. Mark R. Warner, the Virginia Democrat who serves as chair of the Senate Intelligence Committee, said in a statement, "It appears, based on the affidavit unsealed this morning, that among the improperly handled documents at Mar-a-Lago were some of our most sensitive intelligence – which is one reason the Senate Intelligence Committee has requested, on a bipartisan basis, a damage assessment of any national security threat posed by the mishandling of this information.
"The Department of Justice investigation must be allowed to proceed without interference," Warner said.
Asked by reporters at the White House on Friday whether he believed national security was threatened by Trump keeping the documents at Mar-a-Lago, President Joe Biden responded, "We'll let the Justice Department determine that."