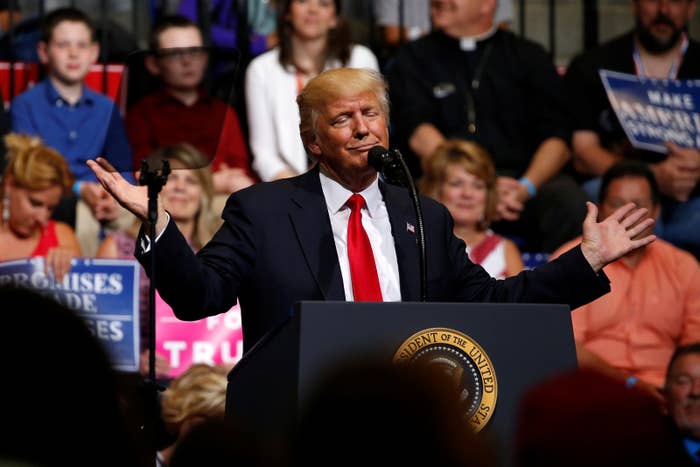 More than a month after suggesting he may have secretly recorded his meetings with FBI Director James Comey, President Trump admitted on Thursday that he has no such tapes.
"With all of the recently reported electronic surveillance, intercepts, unmasking and illegal leaking of information, I have no idea......whether there are 'tapes' or recordings of my conversations with James Comey, but I did not make, and do not have, any such recordings," he wrote on Twitter.
Trump's admission came more than 40 days after he tweeted a vague threat after firing Comey, who alleged the president asked him for a personal pledge of loyalty, and suggested he should "let go" of an investigation into Michael Flynn.
"James Comey better hope that there are no 'tapes' of our conversations before he starts leaking to the press!" the president wrote on May 12.
The cryptic tweet prompted weeks of speculation about whether there were secret recordings. But the White House and the president repeatedly declined to give a direct answer.

On Friday, Trump spoke more on why he said he had tapes when he didn't during an interview with Fox & Friends. When asked by host Ainsley Earhardt why he wanted Comey to believe he had taped their conversations, Trump said:
Well, I didn't tape him. You never know what's happening when you see that the Obama administration, and perhaps longer than that, was doing all of unmasking and surveillance and you read all about it. And I've been reading about it for the last couple of months about the seriousness of the -- and horrible situation with surveillance all over the place.

And you've been hearing the word unmasking, a word you probably never heard before. So you never know what's out there.

But I didn't tape. And I don't have any tape and I didn't tape. But when he found out that I, you know, that there may be tapes out there, whether it's governmental tapes or anything else, and who knows, I think his story may have changed. I mean you'll have to take a look at that, because then he has to tell what actually took place at the events. And my story didn't change. My story was always a straight story. My story was always the truth.

But you'll have to determine for yourself whether or not his story changed. But I did not tape.
The president's admission on Thursday came just 20 minutes after Bloomberg reported that Trump had no such tapes, citing "a person familiar with the matter."
White House deputy press secretary Sarah Huckabee Sanders told reporters she had "nothing to add to the president's tweet."
In his Senate testimony, Comey told lawmakers he kept written records of his conversations with Trump due to fears the president would lie about their encounters.
"I was honestly concerned he might lie about the nature of our meeting, so I thought it important to document," Comey said on June 8. "That combination of things I had never experienced before, but it led me to believe I gotta write it down and I gotta write it down in a detailed way."
"Look, I've seen the tweet about tapes. Lordy, I hope there are tapes," Comey added.
Comey said the president's tapes tweet prompted him to leak, through a friend of his, the contents of a memo to a reporter, because he thought it would prompt the appointment of a special prosecutor.
Trump's tweet on Thursday came as Republican senators unveiled their secret draft bill to replace Obamacare. Amid their criticisms of the health care proposal, Democrats still found time to assail the president.